I can scarcely believe another year has gone by and that we're already set to drop into 2019. 2018 was another year of growth for the food scene in York with high profile new openings and expansions from established locals complementing one another. New development Spark also broadened the city's horizons. On a personal level, the arrival of Baby Fork has proved tiring, challenging, tiring, rewarding, tiring and fun in equal measure, if a little tiring. Here're a few meals and events that stick out from the year. I can't thank you enough for taking an interest in what I've been up to over the last year and I can't wait to share more adventures over the next 12 months.
January started with a trip to London where I took the opportunity to indulge in a Kejriwal from Dishoom, one of my favourite breakfast dishes. This month also saw The Ivy on St Helen's Square open its doors and a fun day helping Brew York put together the newest variant of their Tonkoko Imperial Stout. Mrs Fork showed admirable fortitude for a visit to Whitby to enjoy a stay at The White Horse & Griffin despite her advanced state of pregnancy, even finding space to enjoy a meal at The Star Inn the Harbour. Finally, the Star Inn the City had the chance to show off to the great and good of the food world, hosting the Estrella Damm UK Gastropub Awards which was a very special day.
February was something of a quiet month as we waited for Baby Fork to make her arrival. While her debut was of rather more personal import than that of Humpit Hummus, it was still a pleasure to sample their hummus and falafel. I also finally got the chance to try bread & butter pudding spring roll when Street Cleaver popped up at the Fossgate Social. Millers Fish and Chips in Haxby gave us strength in the days before birth, as did a fabulous Reuben sandwich from Shambles Kitchen.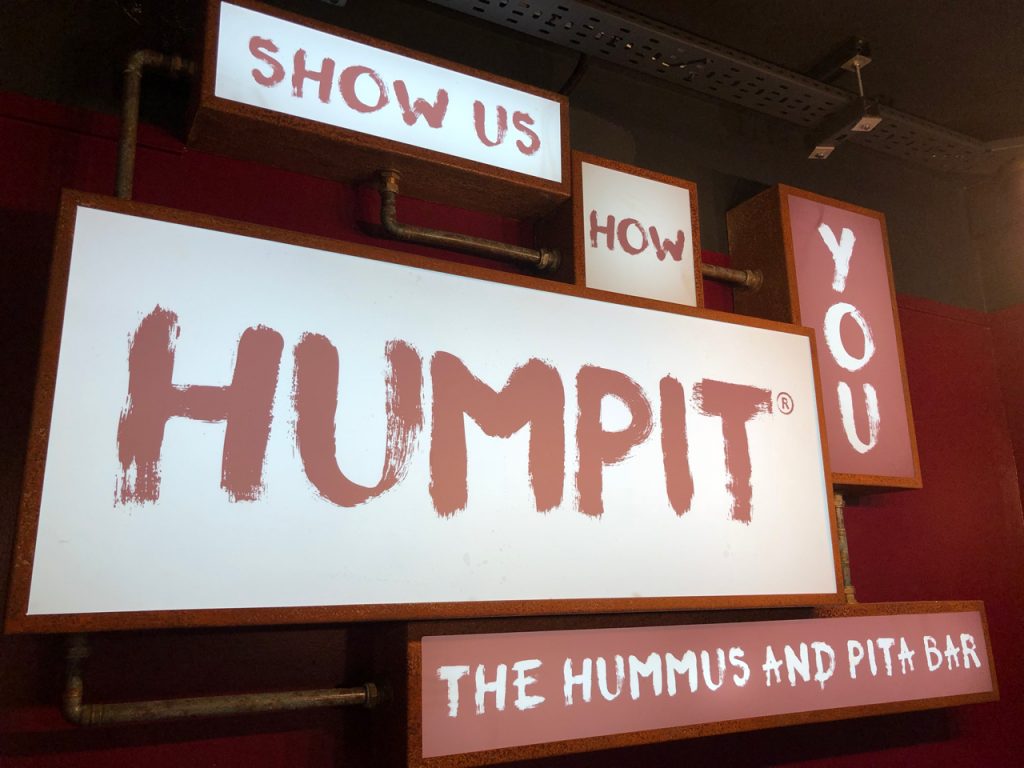 March was mainly marked by a lack of sleep, but I still found time to get out and about. Radix started its cutting edge regular tasting menu at 45 Vinyl Cafe. It was a pleasure to be involved with judging the Garbutt & Elliot Food Entrepreneurs Awards so it was particularly rewarding to see the winners crowned at the Hospitium. There's not much that can prepare you for the first few weeks of parenthood so brunches became something of a refuge. We particularly enjoyed Trinacria (the sausages are superb) and the Brisket Benedict at Source, which was en even more welcome distraction after the loss of one of our beloved cats. The first meal we braved without Baby Fork was to sample the new menu at Goodramgate Ambiente, just as reliably tasty and great value as ever.
In April Tommy Banks launched his first book, Roots, which later shared its name with his new restaurant in York. I had a stab at his ox cheek recipe and produced a dish that even Tommy complimented me on. A trip out of York to Gio's Italian Diner uncovered a great value spot that delivered simple food, done well with great ingredients. Our wedding anniversary celebration was less ambitious than previous years but still took in a delicious rosti at Betty's Northallerton and some beautifully honest pies at Lordstones Cafe. I also finally had the chance to get back to Melton's for lunch, which was a great opportunity to remember the understated quality these guys bring to Bishy Rd.
May brought about the long awaited opening of container park Spark that brought together a well curated selection of the best of local streetfood. While there's been some turnover amongst the traders involved since then, it remains a welcoming space. With a young baby, we were still struggling to get out for special meals so the chance to visit The Park from Adam Jackson remains a fond memory that Baby Fork was able to share with us. With summer starting, it was lovely to pay a visit to Raithwaite Spa and take the time to relax in the sun, not to mention grab some crab sandwiches from The Cod & Lobster en route. This busy month also saw the launch of Yorkshire Cheddar from Wensleydale Creamery with a menu from Yorkshire legend Steph Moon, a pasta class with the indomitable Sara Danesin, the launch of The Cat's Pyjamas in York and Malton Food Festival.
As we got to half way through the year, June took me out to the Herbs Unlimited open day and the openings of Shakespeare's Globe, The Press Kitchen and L'Uva. I also took the chance to check out a fully vegan menu at The Whippet before we popped to Ludlow and enjoyed some small plates with great local produce at CSON's by the river.
By July we were starting to find our feet with Baby Fork a little so managed a few more days out. The hot summer days were perfect for the Yorkshire Sculpture Park and Fountains Abbey. Fantastic meals came from Arras and The Star Inn the Harbour while I finally made it to Everyman Cinema for a Spielburger to celebrate my birthday after a film.
In August I travelled further afield to Leeds to enjoy the launch event for new Pudsey neighbourhood bistro Feed, featuring cheeseburger spring rolls and the "Hangover cone". I also made it to Bradford to finally visit Prashad, which lived up to sky high expectations despite some enforced needlework, and Stamfords in Pocklington that represented great value. Cooking at home included sampling a recipe box from Riverford and it was a real pleasure to see Born to Lose open in Brew York from the guys behind Street Cleaver.
The big things in September were the York Food & Drink Festival, with whom I was very happy to work and curate the food and drinks trails, and the much anticipated launch of Tommy Banks' new restaurant on Marygate, Roots. Sunday lunch came from the Principal and Born to Lose, whose Alternative Sunday Lunch was characteristically brilliant. I also made it to Skosh for the first time in too long and for a great value Bento lunch at Sushiwaka. A lowlight of the year came courtesy of a broken plate that necessitated a rather painful and invasive check for tendon damage in my hand and a number of stitches (NB: link to graphic pic), and I was even late for lunch! Thankfully my thumb remains fully functional, if still rather achey.
Things quietened down in October a little; fine dining came from Hudson's in The Grand and a more casual offering from Los Moros, whose opening and success was great to see. A set price lunch from The Rattle Owl was an accessible treat that makes for a great value midweek lunch.
November took us back to Roots for a final treat before Mrs Fork went back to work. I visited Leeds again to check out Dough, the new city centre offering from the guys behind Feed, and the Assembly Food Hall that packed a cracking burger from Slap & Pickle. The lunchtime pie menu from The Whippet hit the spot and I had great fun running a blogger event with the lovely Avocado Events and the Star Inn the City, to whom I wish a quick recovery to after their recent fire.
As we moved toward the end of the year, December took me to The Cutlery Works in Sheffield, a great addition to Kelham Island, which featured some great sashimi and poutine. The Christmas decorations at Castle Howard were good enough to encourage us to make it a habitual visit with Baby Fork in coming years and I finally got to see the stage show of Jeff Wayne's War of the Worlds that even exceeded my expectations.