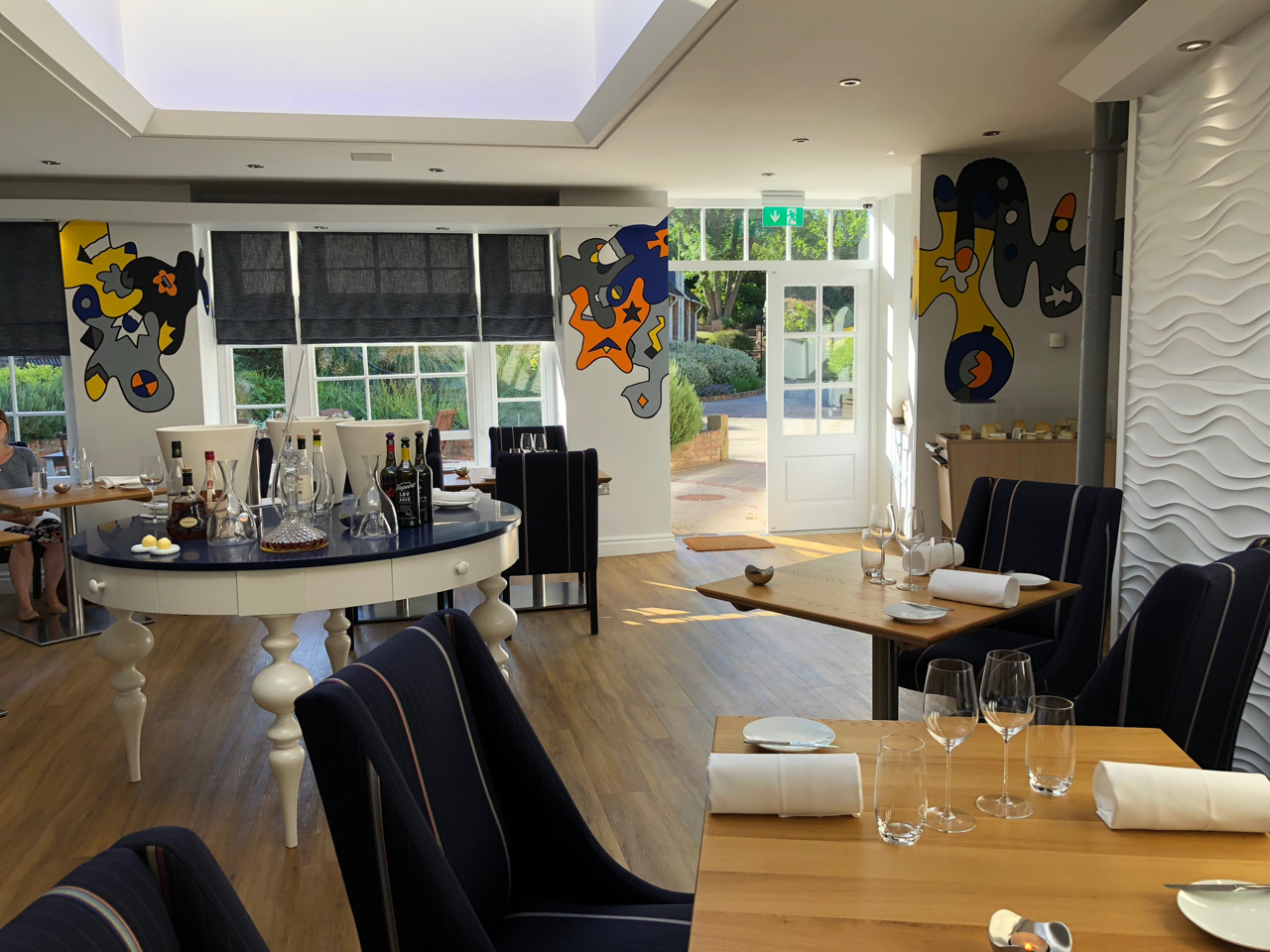 York can be a slightly backwards looking city, happy to rely on existing glories rather than pushing forward. This can be reflected in the restaurant scene. When places are established there's an attachment, justified in many cases, that can last for some time after the place in question has disappeared which can become unwelcome baggage for new places such as Arras York which, since opening a over a year ago has lived under the spectre of Le Langhe. In fact only today I mentioned how much we'd enjoyed a recent meal at Arras and a friend immediately recalled a meal at Le Langhe. Adam and Lovaine Humphrey ran Arras in Sydney for a number of years before the opportunity arose to return to Yorkshire and set up on Peasholme Green.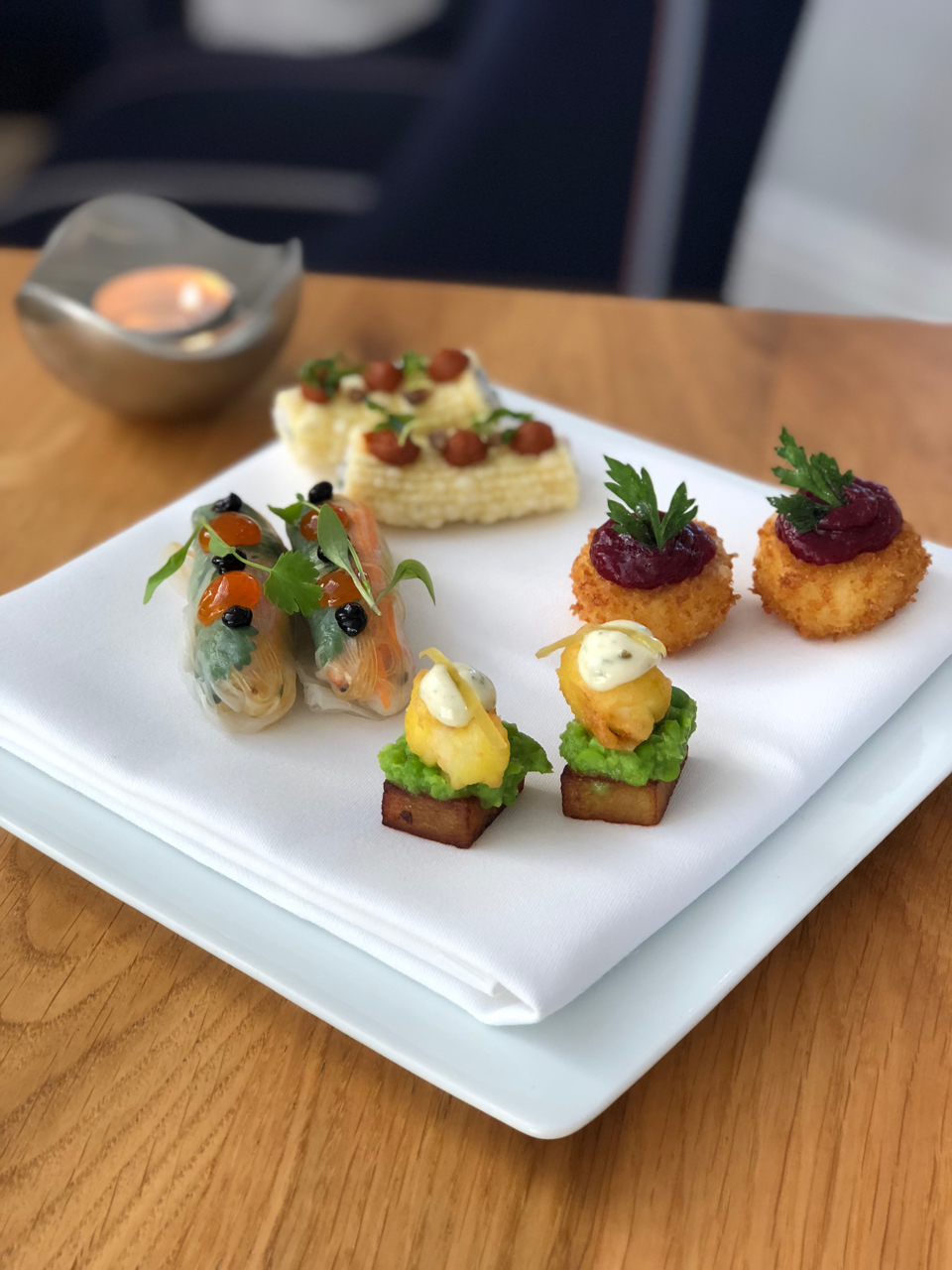 Little has changed to the exterior of the building, save for the addition of some frosting on the windows to hide diners from passers by. Internally though, the changes necessitated by the removal of the deli area are more significant and open up the floor of the building around a central table from which servers can dispense wine. There's been some talk of the interior being too loud, both in terms of decor and music, so I was braced for a jarring entrance, but there was no sign of that. The murals around the room are certainly striking, but far from offensive. It's possible the music has been turned down in response to earlier comments, but it felt like a very pleasant place to enjoy a meal. We were to enjoy five courses (served blind) from the "Arras Kitchen Menu" that would give the chefs ample opportunity to show off, something they started to do immediately through a plate of amuses-bouches.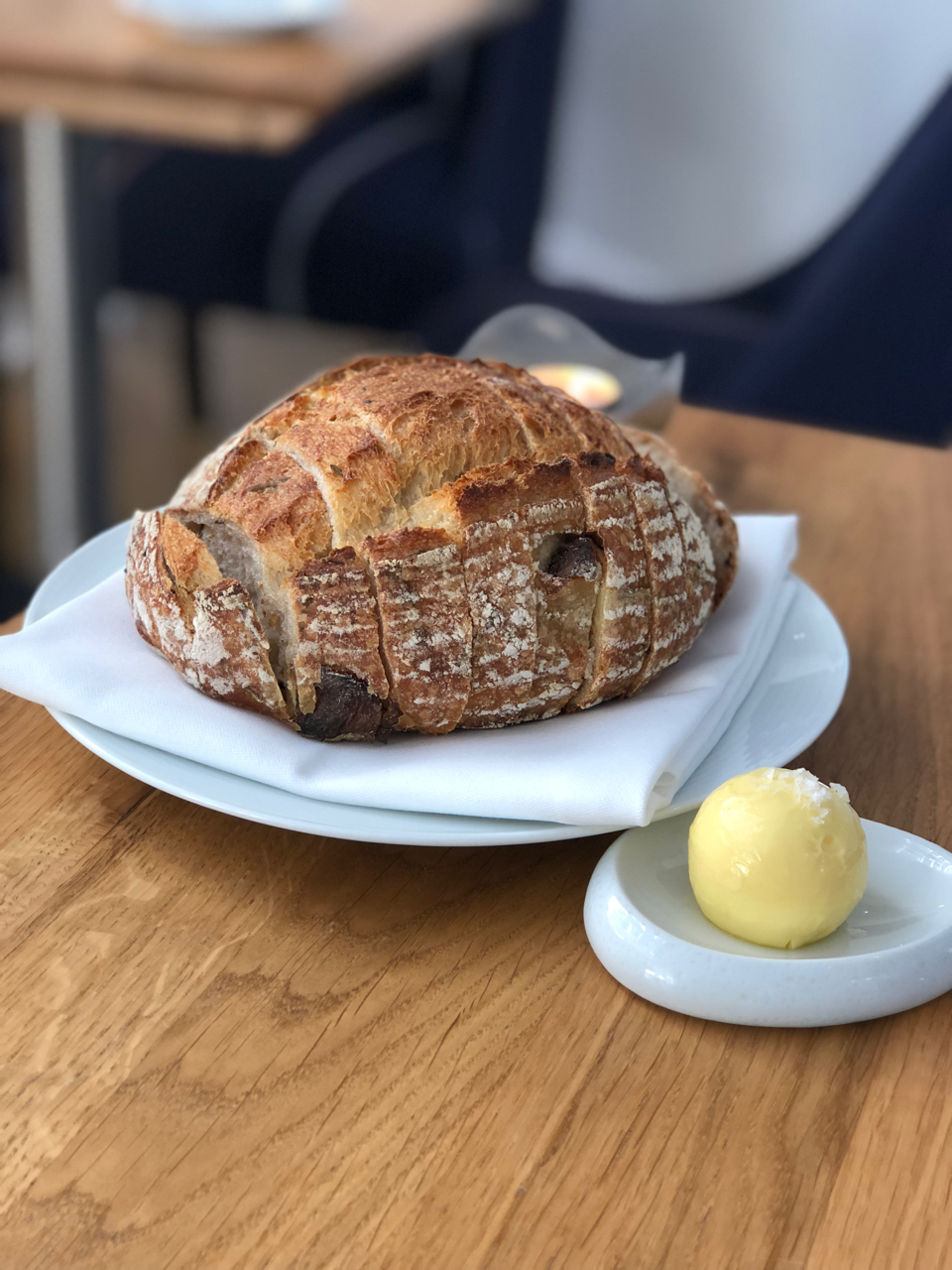 There's a vein of fun through the Arras York experience that we first started to mine with this plate. I loved the delicate mouthfuls of fish and chips with mushy peas that were accented with strands of lemon, while deep fried rigatoni was stuffed with ricotta and dabbed with puttanesca sauce for maximum impact. Glass noodle spring roll packed in the flavour of curry leaf while deep fried camembert did all the good things one would expect of fried cheese. As we polished off these snacks with obvious enthusiasm, we were served a Jersey Royal and nigella seed loaf that would have sated my appetite rather too effectively had we eaten the whole thing. This was as frustrating as it was truly superb, the leftovers following us home at the end of the evening. Our last preview before getting into the first course was a bowl of cold potato and almond soup with gribiche bits grated egg and almond & bread crunch, again it raised expectations of the coming five courses even higher.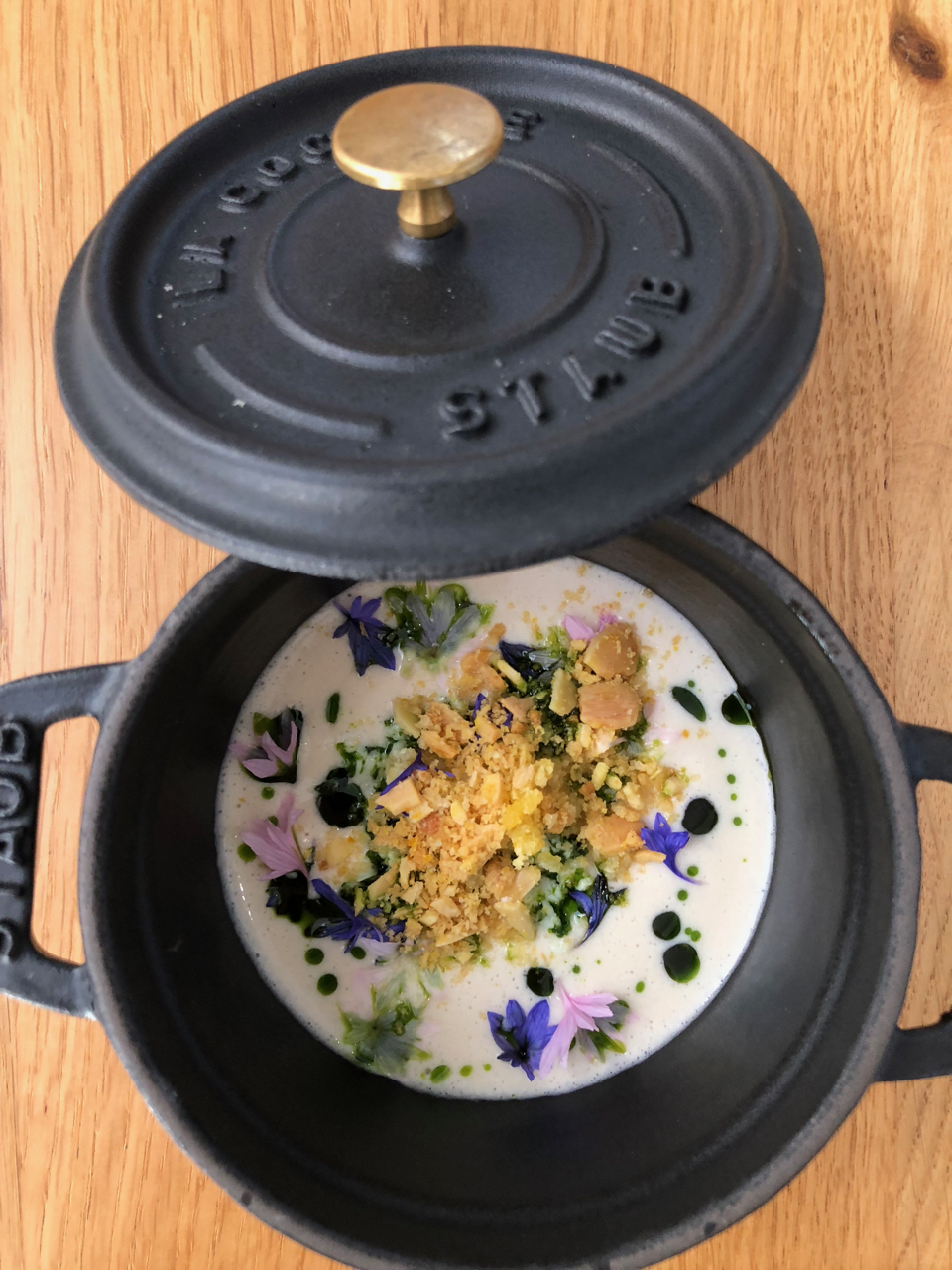 The meal started, or rather continued, with salmon and "Greek salad" which topped the perfect, tender salmon with fried red onion and a piece of light feta mousse that was home to a impressively finely diced cucumber salad. With olive crumb and caramel to finish the plate, this was a simply presented plate on which each element, including the paired rosé, pulled its weight. Next up was a risotto that pulled together apple and smoked eel with melon and home smoked bottarga. Restrained presentation did the dish justice as did the Riesling that confidently grabbed hold of the apple flavours.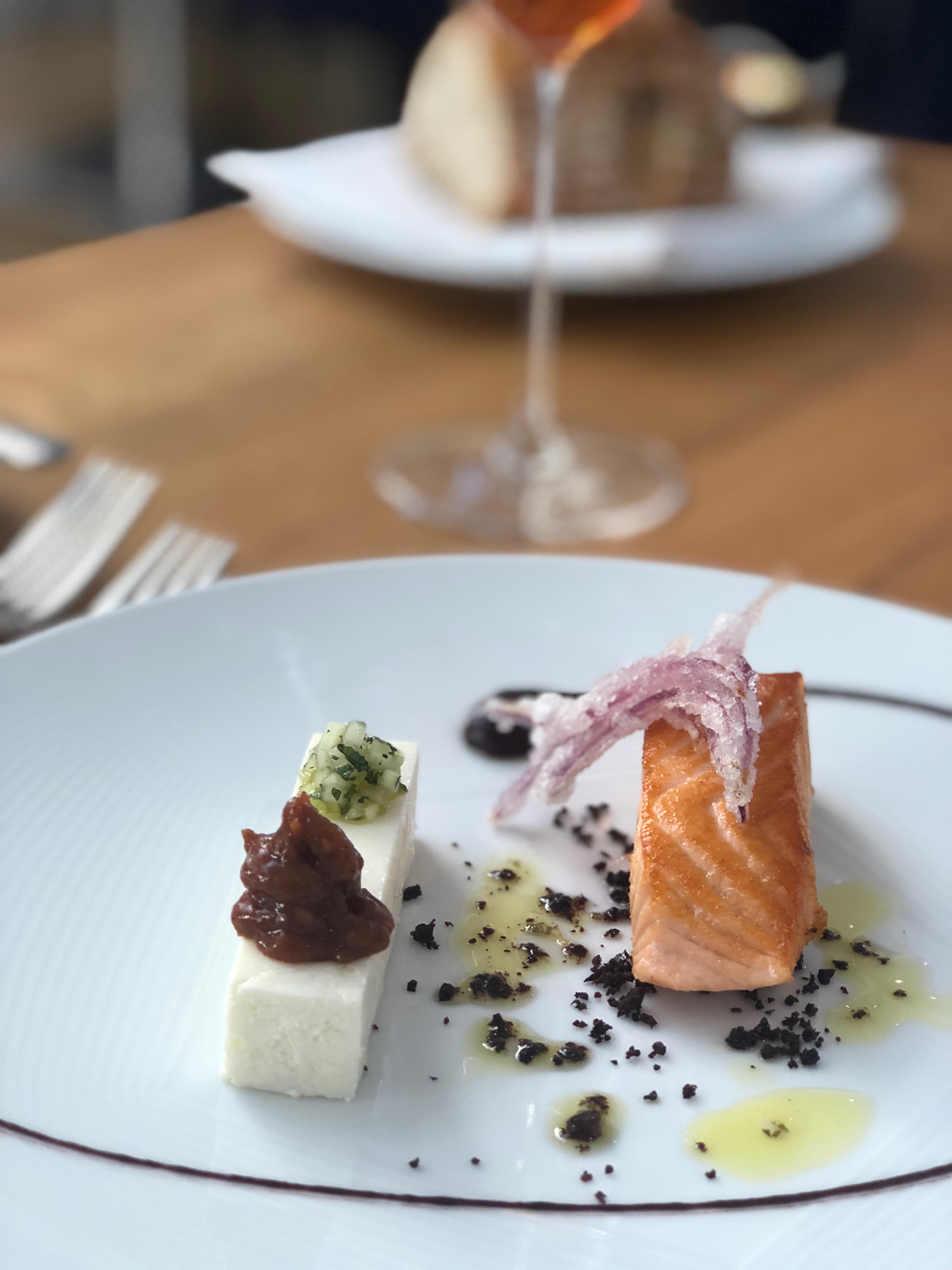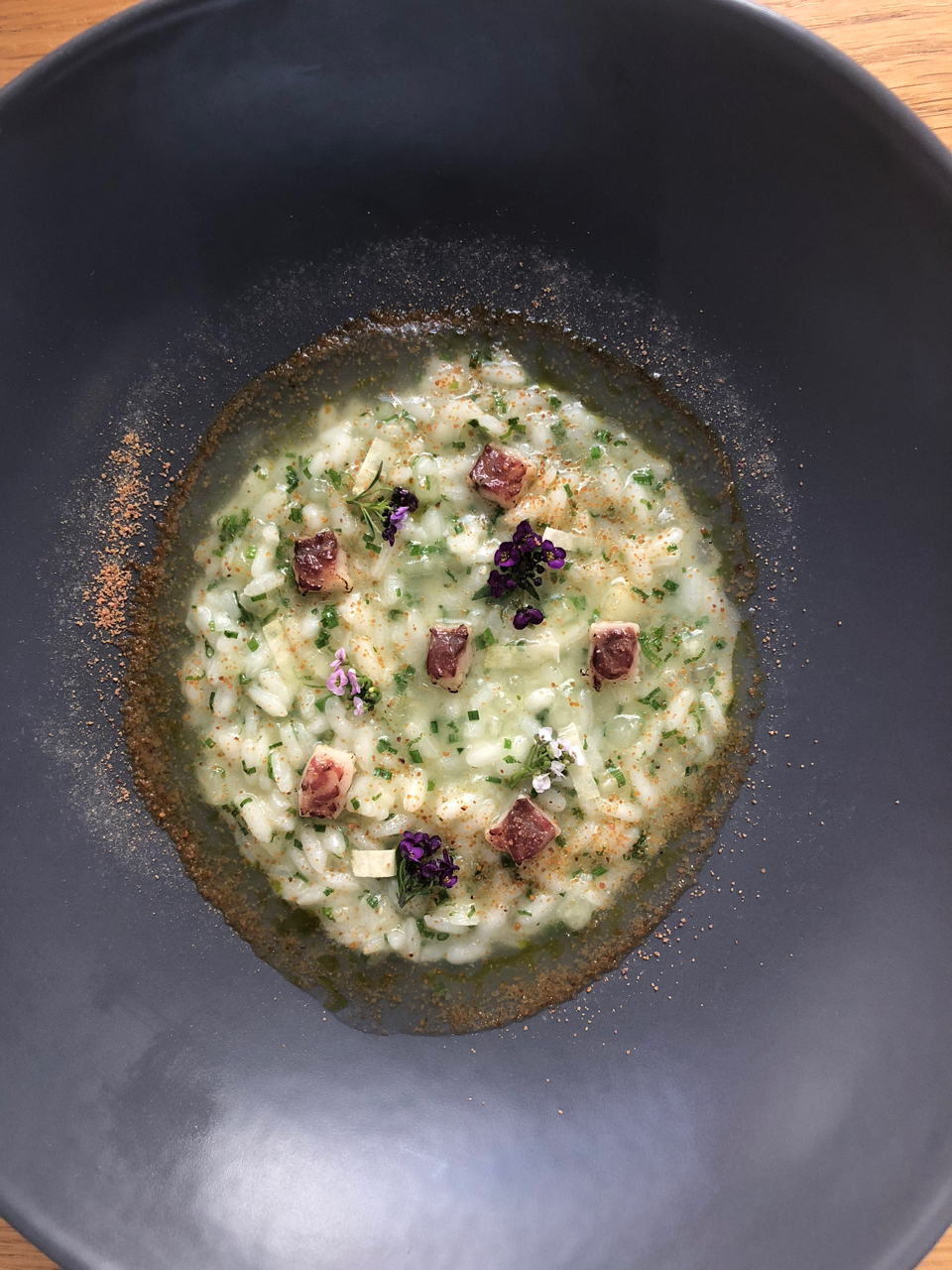 Pork starred in the first of two meat dishes we were served, with pickled veg and a twist on dauphinoise that shot paper thin slices of potato through with five spice flavours. The wine pairings continued to work brilliantly, a fruity Sangiovese this time accenting the Eastern flavours before "a surprising beef dish" came to play. This was a plate with a sense of humour recalling memories of Aussie burgers that, if you're feeling indulgent, apparently come served with "The Lot". Each burger topping extravagance was unfaithfully replicated here with obvious passion and blessed restraint. Slices of bavette steak took care of the burger element while pineapple, gherkin, bacon, onion bounced off one another along with a perfect egg yolk that, when burst, swept around the other components. With a Californian Cab' Sauvignon and Zinfandel, we smiled our way through the plate and prepared for sweet dishes.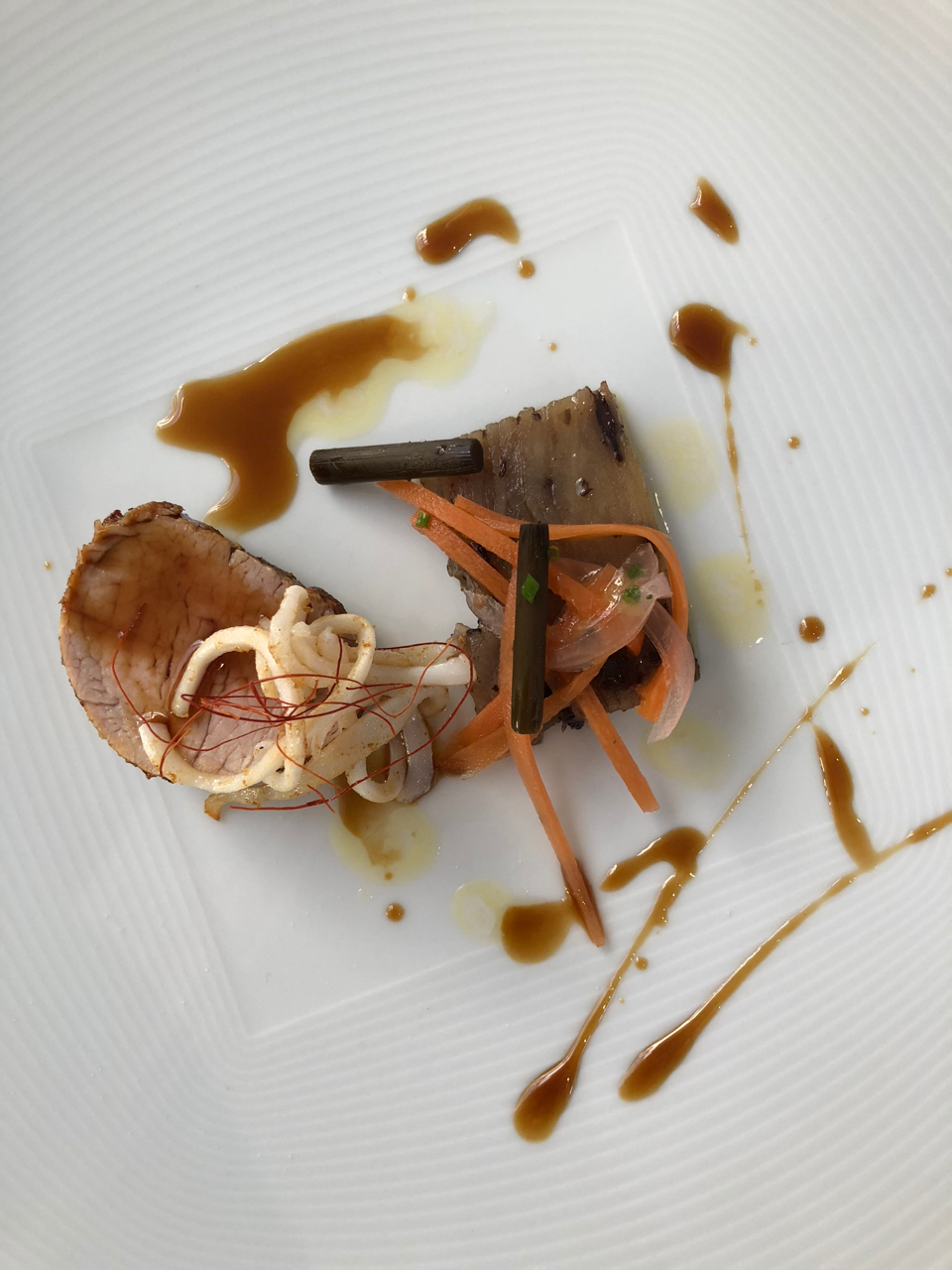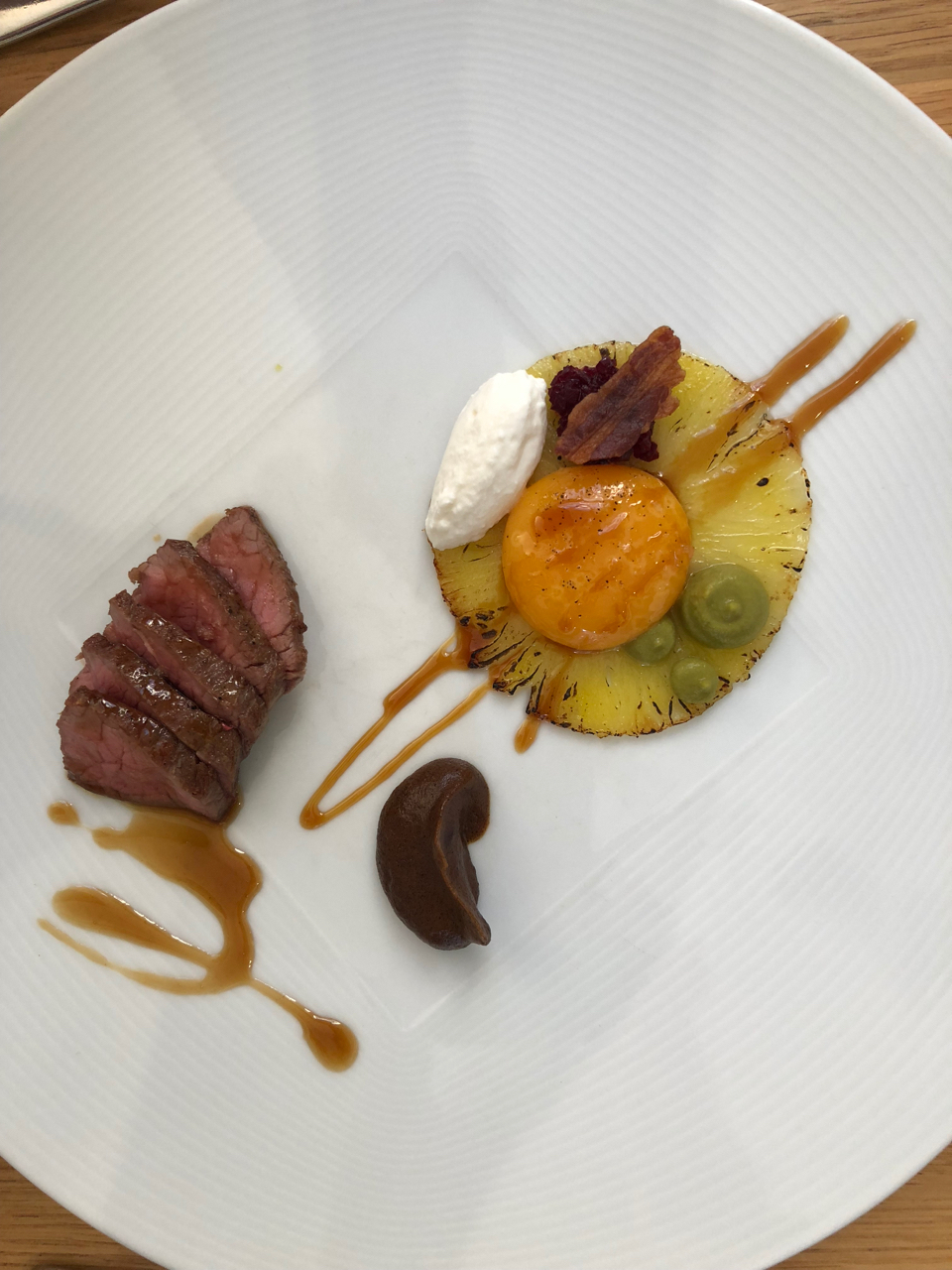 Our dessert was nicknamed "The Veiled Peasant Girl" and threw many variations of apple at us, thankfully without any individual one taking over. This was really just a precursor as far I was concerned though with a show stopping cheese trolley on its way. While the trolley itself couldn't quite compete with the Mouseman beauty at Harome's Star, its contents certainly could. Every cheese was sourced from within the British Isles and the passion with which Adam introduced each one was obvious as he reeled off a list of not only the dairy from which they were sourced, but in many cases the name of the cheese makers. The cheeses we chose were presented with crisp breads, an Eccles cake and something resembling one of Betty's most famous creations. I would happily say that this was a perfect, show stopping, way to end the meal… if it were not for the petits fours. Unfortunately by this point, we'd exhausted the limits of our babysitting so ended up enjoying them at home, but the set of childishly inspired sweets to finish off really was the perfect end.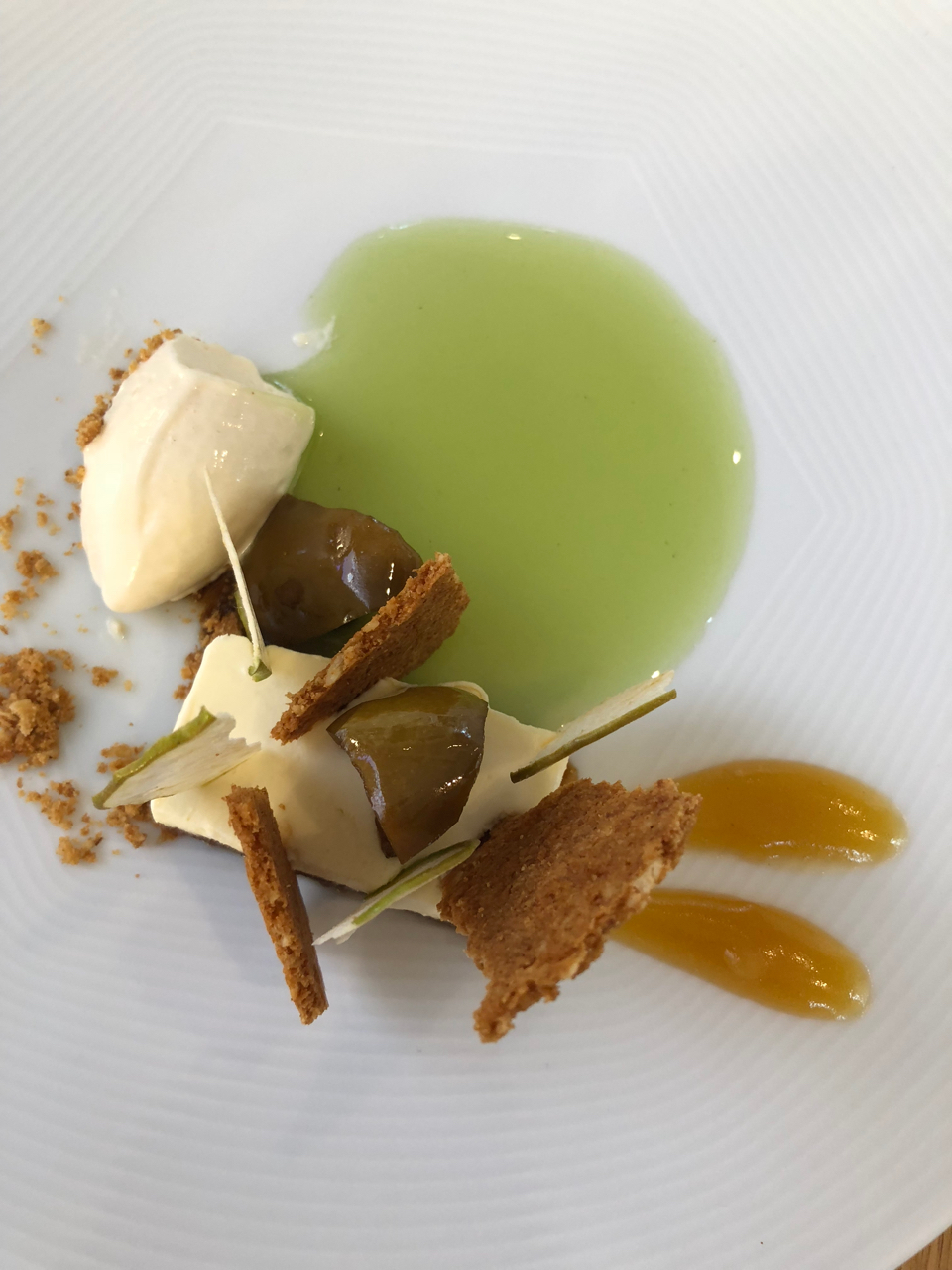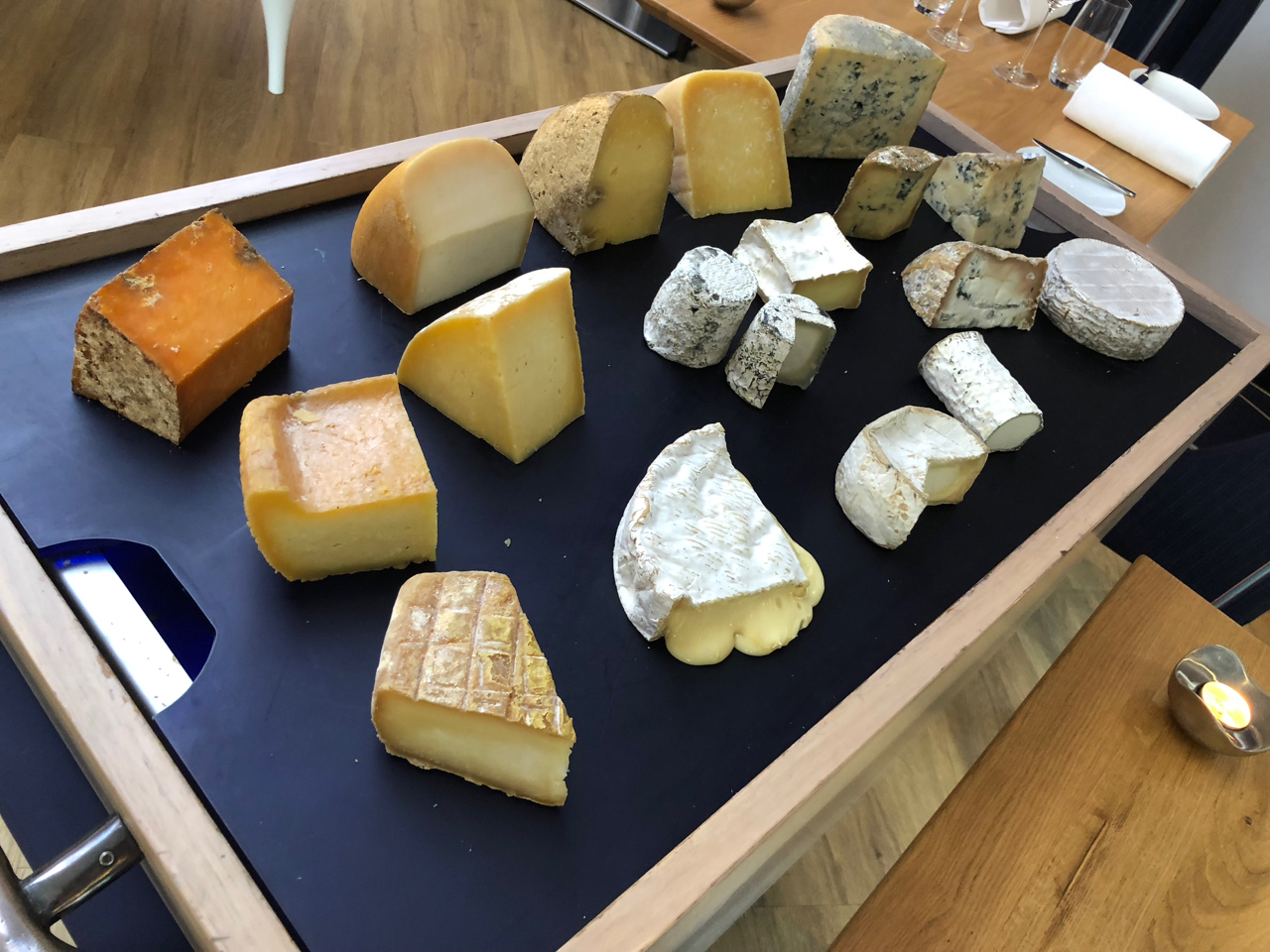 Over the last five years or so the options for fine dining in York have grown hugely and Arras is more than worthy of a seat at the same table. Adam hits a delicate balance of technique, flavour, visual impact and restraint where it's needed. Arras York may occupy the site that Le Langhe once did, but it really doesn't deserve to suffer under nostalgic comparisons. It's very much its own restaurant which I'm looking forward to watching further establish itself as one of the best places to eat in York.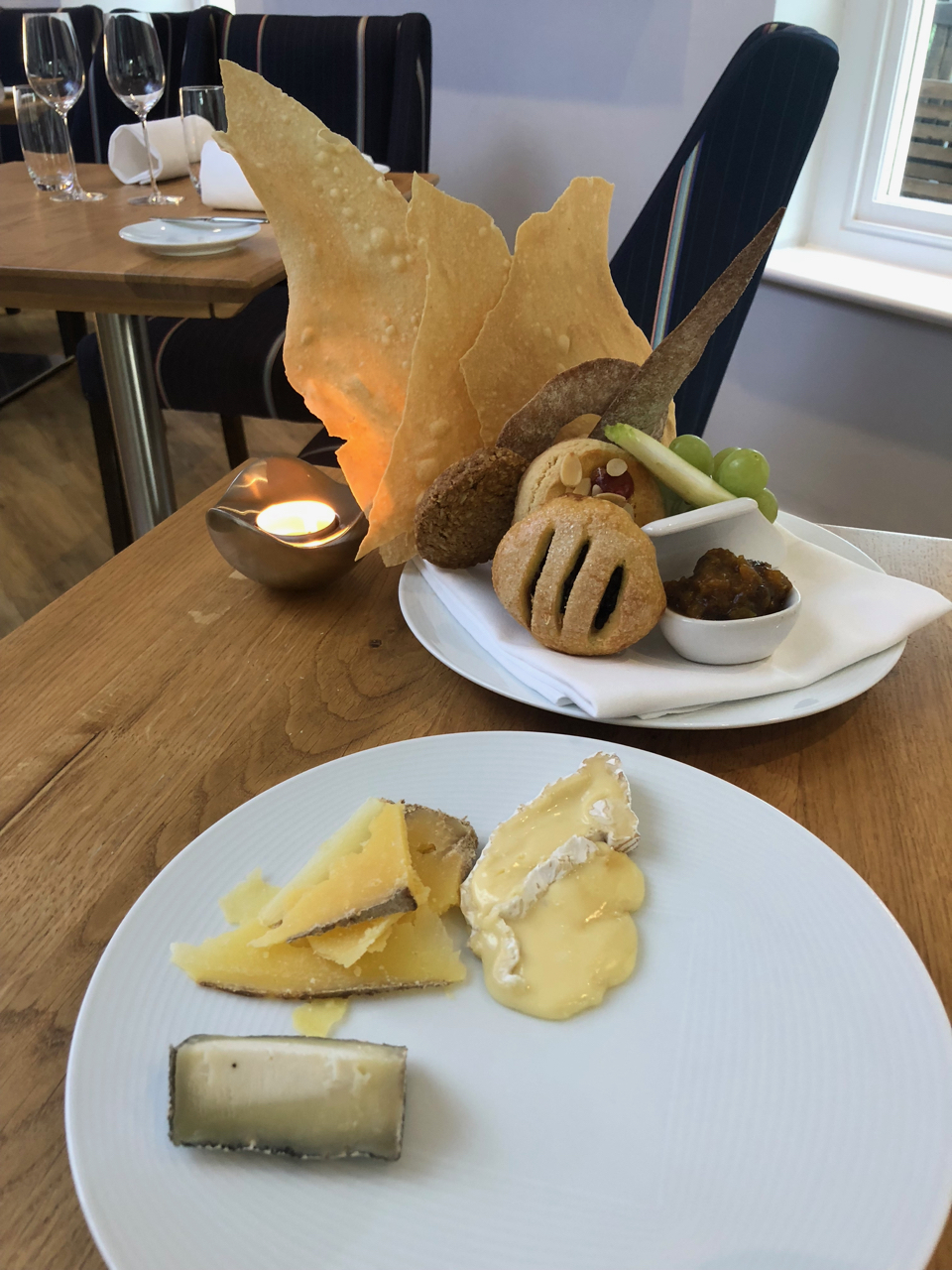 Disclaimer: No charge was made for this meal, opinions are impartial. The 5 course Kitchen menu is £55, drinks pairing an additional £25