Recently we were invited to a wedding near Cardiff by a good friend so decided to break the journey with a couple of days in Ludlow. I hadn't made any particular plans to go out and eatOn a trip while there as we were staying in a beautiful Dovecote opposite the castle that leant itself to eating great produce from the local market, but we did find one absolute gem on the back of a social media recommendation and a friend, CSONS at the Green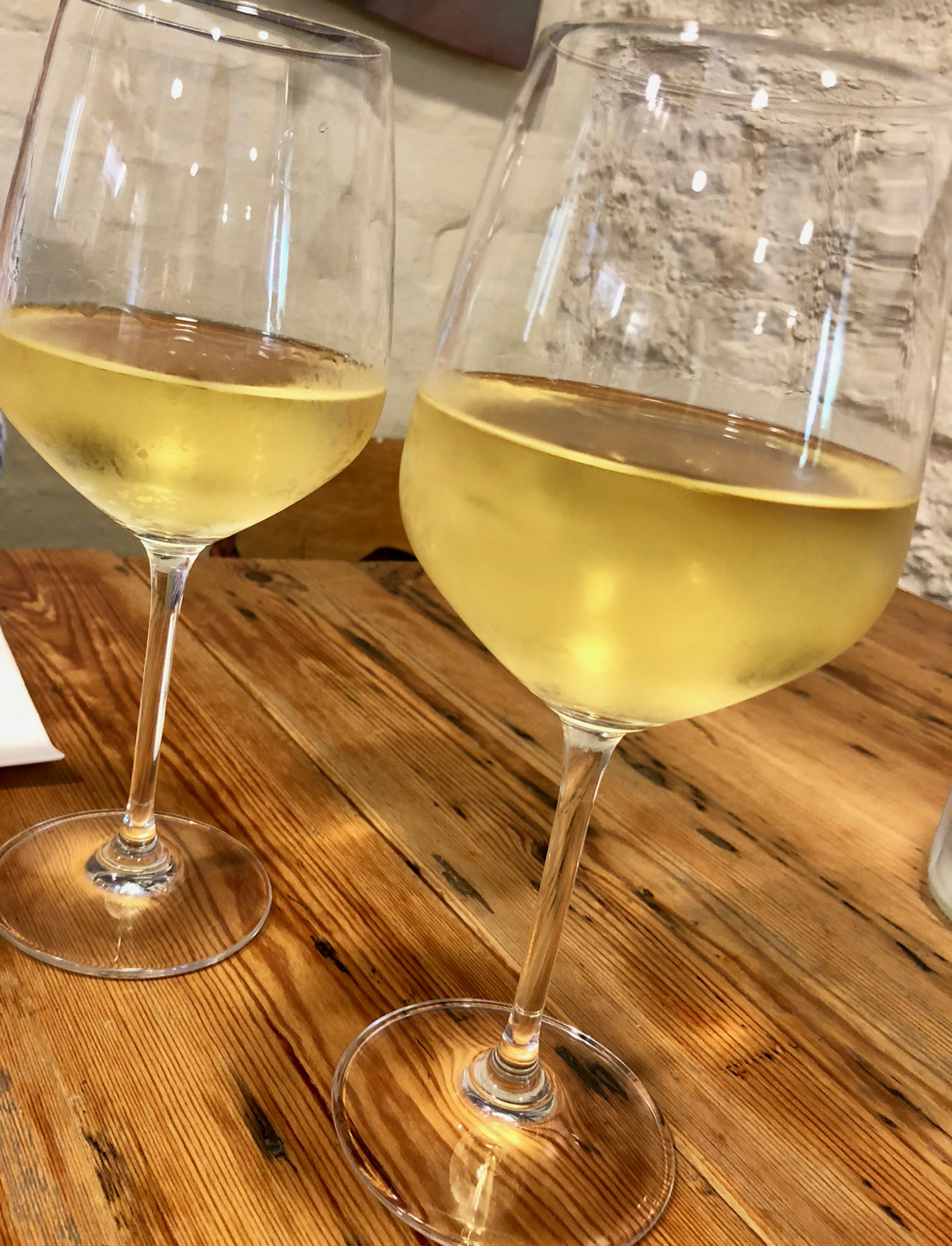 CSONS at the Green Cafe is a family friendly cafe on the banks of the River Teme that almost adjoins The Millennium Green, a popular place to congregate and enjoy good weather, such as the heatwave we were enjoying at the time. The cafe itself is a busy spot that's open for breakfast, coffees, teas and lunch with Friday and Saturday night dinners to follow soon. The "CSONS" in question are the four Crouch brothers who are intent on offering as much locally sourced, high quality produce as possible from suppliers with whom they've focussed on building strong links.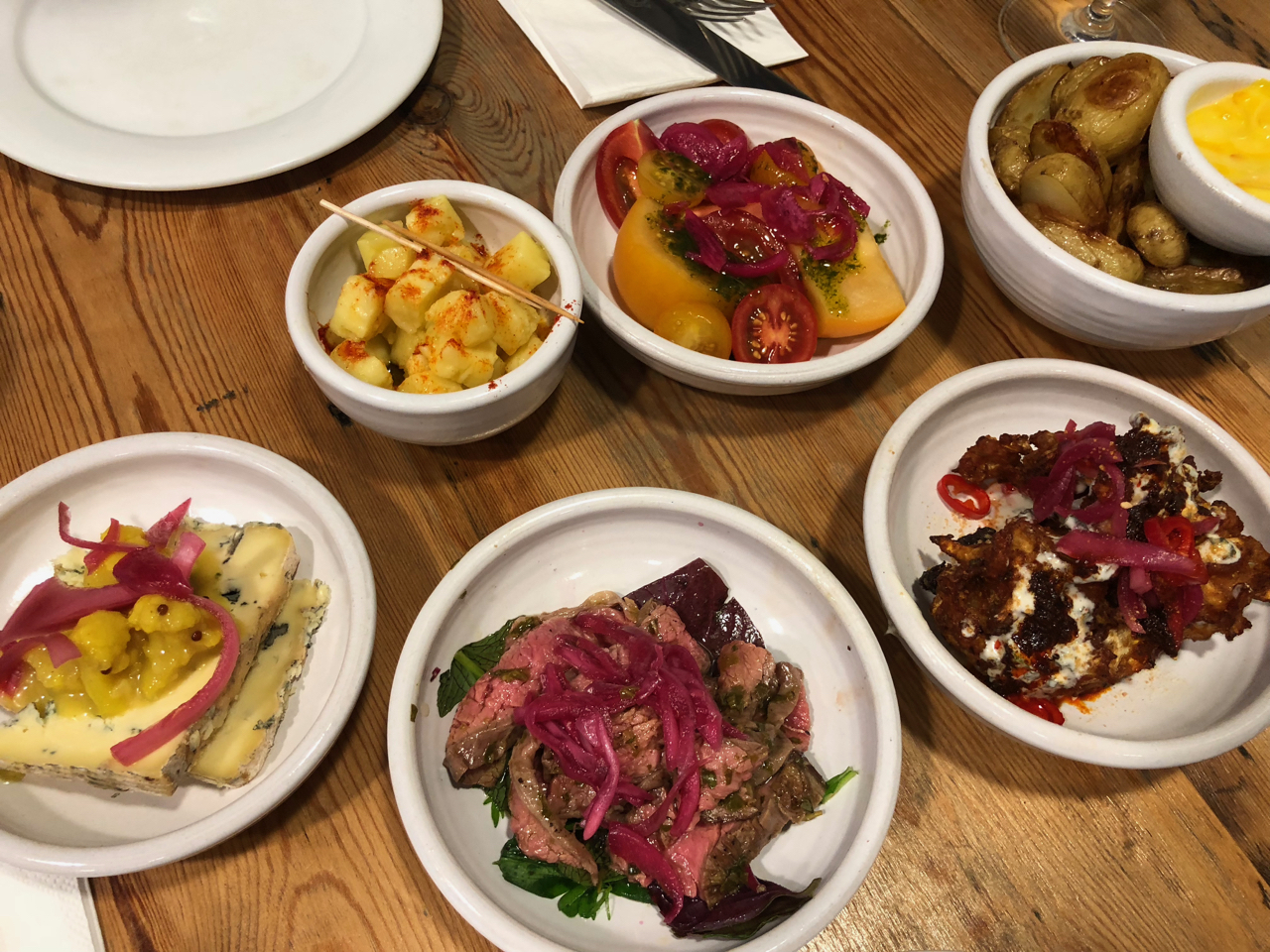 We were visiting for lunch, the menu for which offers the option of a variety of small plates or some more conventional main courses such as burgers, pulled pork sandwiches and jerk chicken. While these all sounded like a fulfilling way to go, the opportunity to get a broader range of dishes on the table was too tempting and we ordered a range of the smaller plates.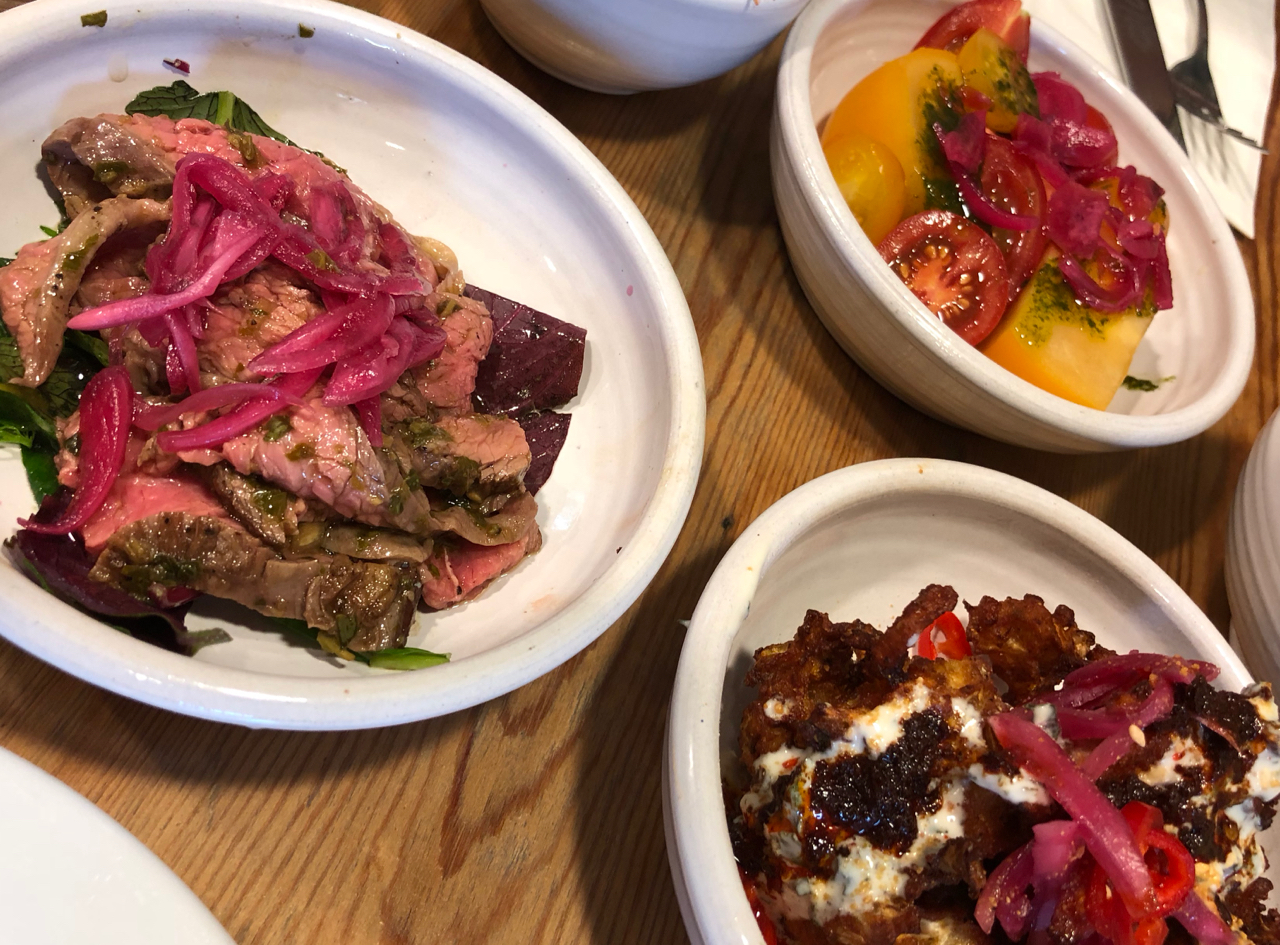 Everything on the frequently changing menu sounded superb, but we managed to restrict ourselves to plates of rare skirt steak with salsa verde, pakora with mint yoghurt & chillies, Little Hereford with paprika & olive oil, Perl Las with piccalilli, Worcester tomatoes with basil & olive oil and roast potatoes with saffron aioli. All of that added up to a hearty, though not over facing, lunch for two with the dishes arriving all at the same time. Whether that was policy or incidental, I'm not sure. The steak was one of only two meat dishes amongst the small plates and did justice to the ingredients with a healthy sear on the steak matching up to the salsa verde perfectly. The pakora were well seasoned and textured, delightfully crisp at the extremities and still soft toward the centre. The rest of the plates relied more on good judgement than undue demonstrations of chef's skills, letting good produce speak for itself while accented with flavours to help it along. The roast potatoes would have made a great snack by themselves and, as accompaniment to the lighter plates, bulked things out beautifully. Tomatoes simply presented with basil were refreshing and Little Hereford cheese benefited from olive oil and a light dusting of paprika but my favourite dish was a creamy blue cheese ("Perl Las") with delightfully judged piccalilli, each bite bringing balance and pleasure. My only criticism of the dishes we had was the overabundance of pickled red onion strands that, while delicious, were rather too populous.
With a glass of wine each the bad news was less than forty pounds. If you find yourself in Ludlow, I wholeheartedly recommend taking a table here. The passion for good quality local produce is obvious and borne out in each dish. Throw in beautiful surroundings (not to mention plenty of family friendliness and baby changing for Baby Fork) and CSONS at the Green really is a winner.