The Whippet Inn has been well established in York for some time as one of the best places to go for a meat fix. Its expertise in charring meat to the right point is difficult to argue with but that specialism makes it rather less appealing for the ever increasing vegan population. With that in mind, The Whippet has recently updated its menu with a range of vegan dishes to complement the existing broad range of meat dishes. When a specialist steak restaurant starts talking about its new vegan offering, it's easy to suspect lazy opportunism, but previous experience of The Whippet was positive and the menu looked well put together, so I happily made the trip across town to try our going vegan with The Whippet.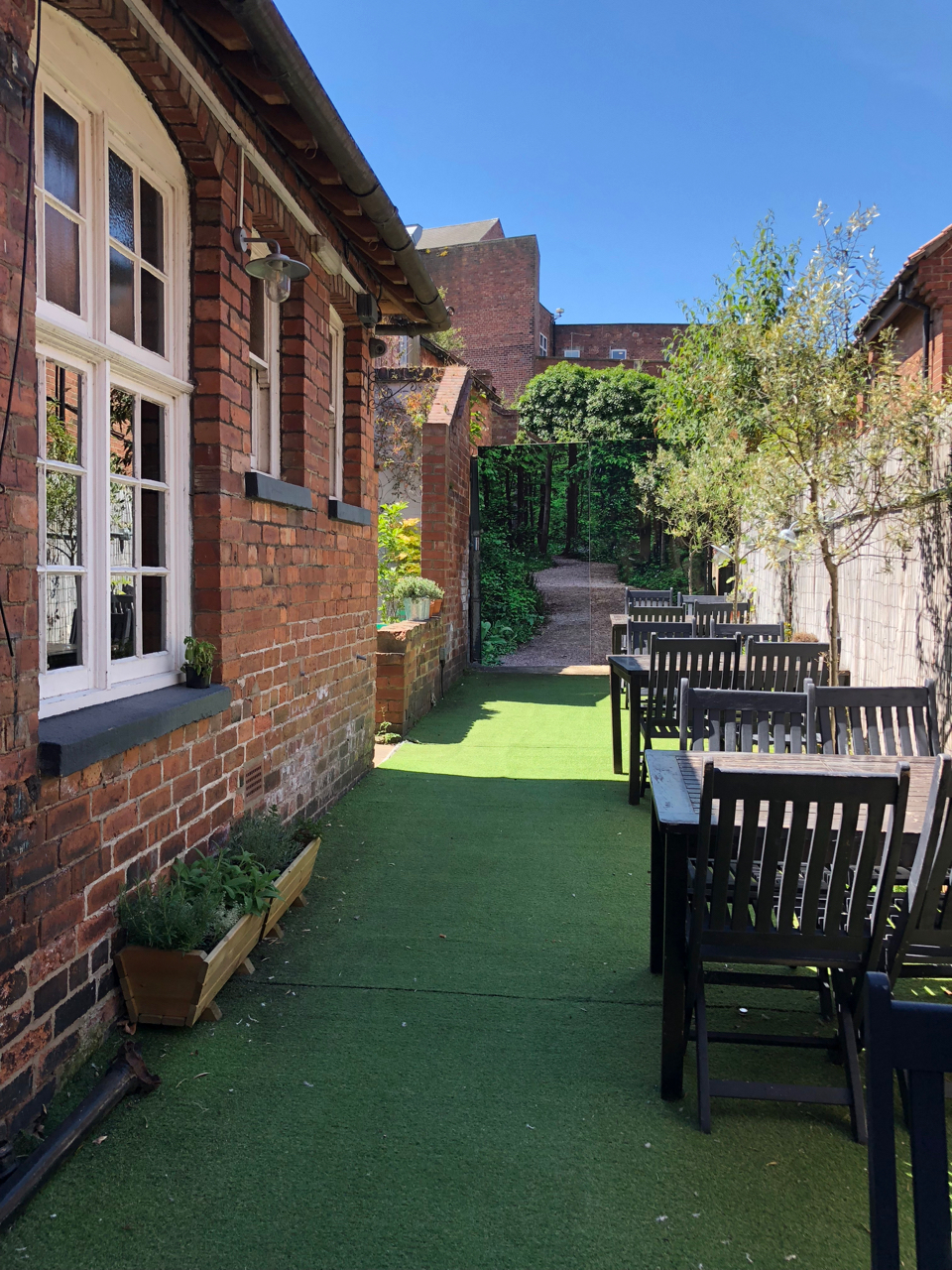 If you're a parent then before planning your visit make sure you arrange childcare: the Whippet bills itself as for adults only and aims to offer something a bit different from other restaurants, something reinforced by the thoroughly adult wallpaper that you wouldn't want to have to explain to a child. With care for Baby Fork duly sorted, we took up a table in the sheltered garden, just out of the scorching sun, and waited for food to arrive. As an aside, I'd prefer to see the garden entirely non smoking when serving as a dining area.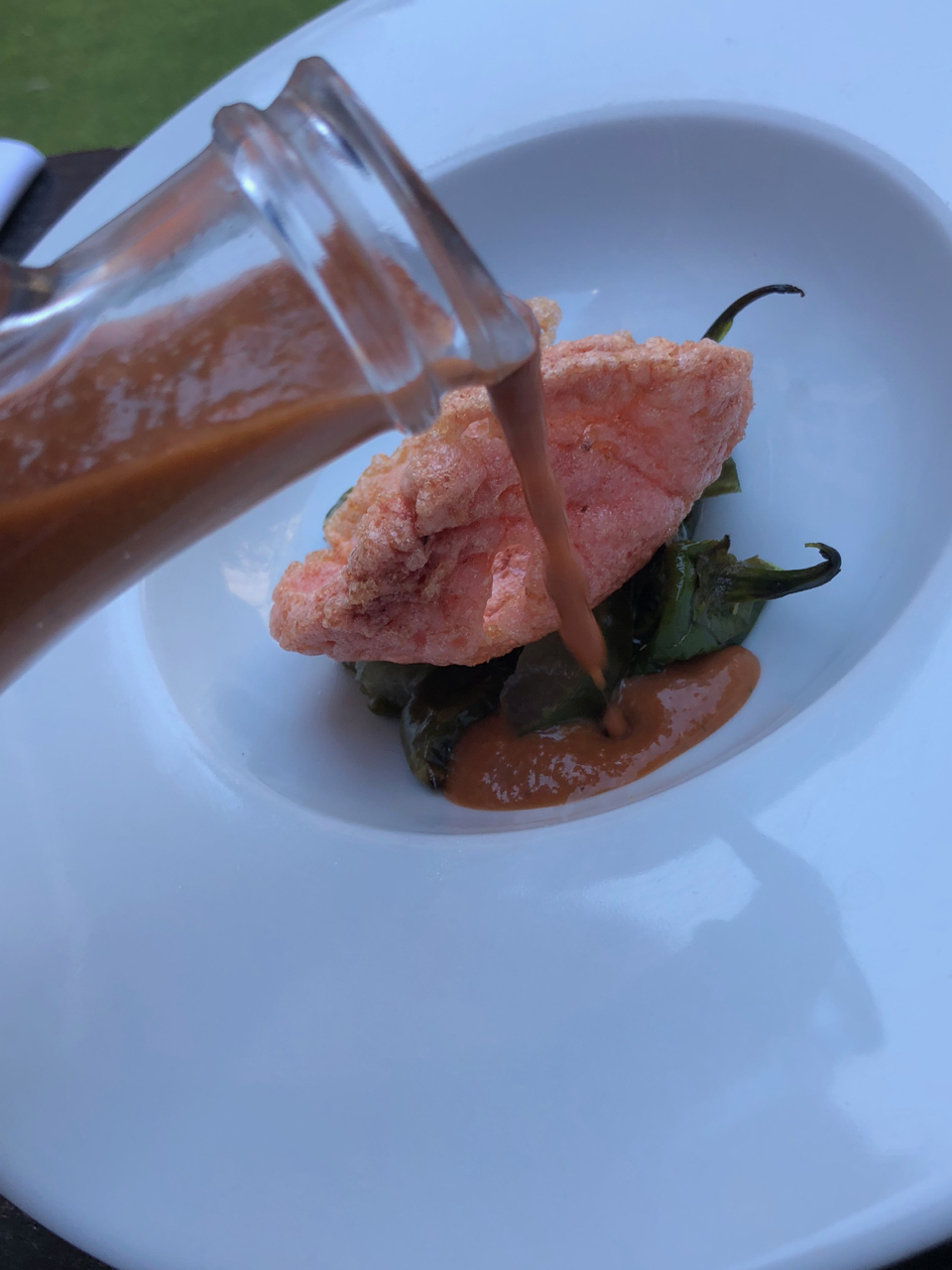 Our first dish was perfect for the hot weather: a Heritage San Marzano tomato gazpacho that was poured at the table over salted padron peppers, fermented cucumber and a beetroot and tapioca cracker. We were sampling this meal at the beginning of the heat wave we're currently enjoying/enduring, so the sharp hit of fresh tomato did its thing well. The tapioca cracker needed eating quickly to retain its crunch against the gazpacho and broadened the dish well. Our other starter was a, rather more unusual, asparagus and almond milk "Panna Cotta" that snaked its way across the plate under some dressed asparagus tips, slices of radish and an olive tapenade. I was surprised at how small a dent in my appetite this dish made but the elements worked together rather than competing, making for an enjoyable plate and certainly one of the most unusual ways I've seen asparagus used.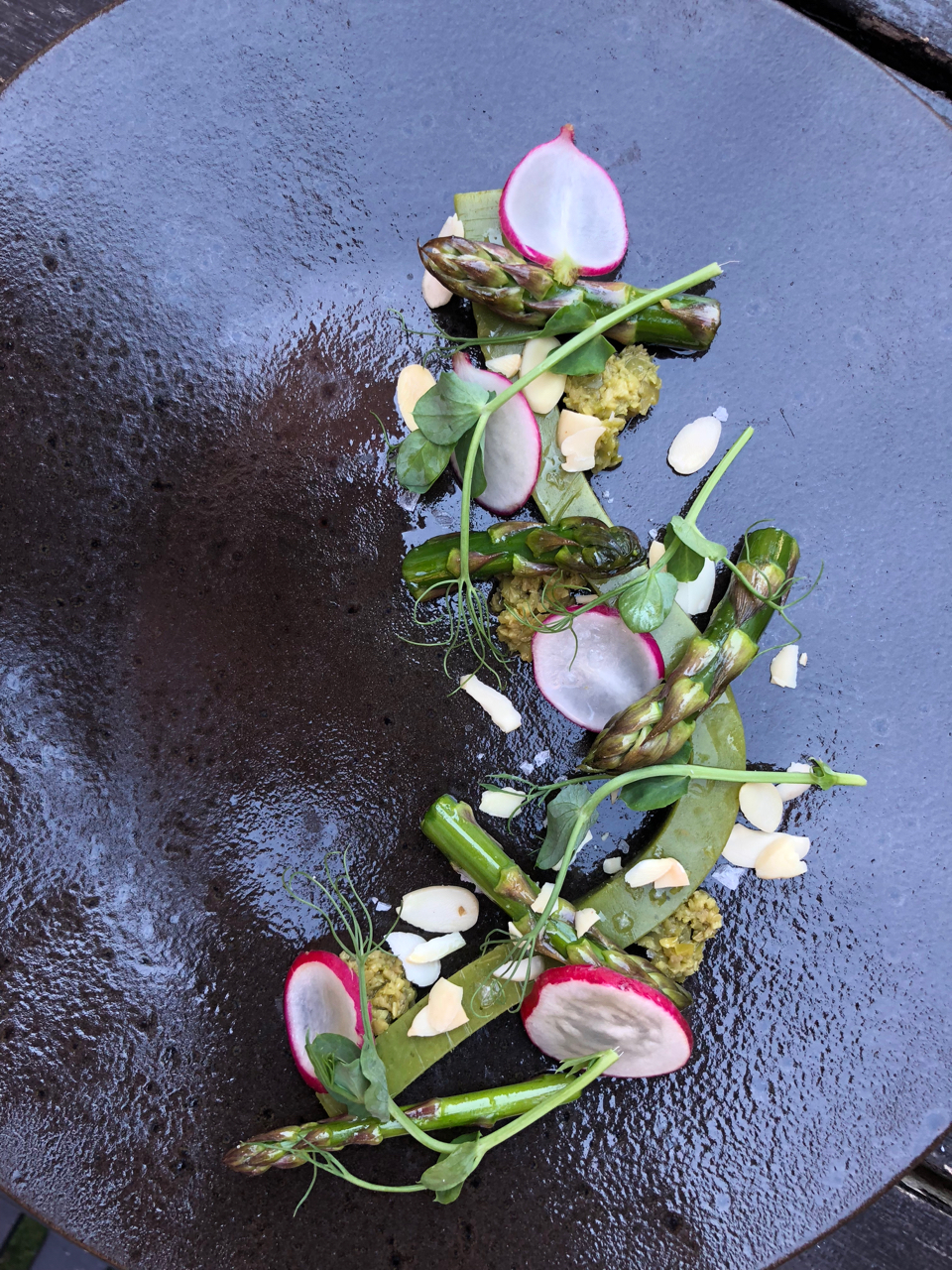 The new range of vegan dishes includes a trio of mains, and despite there being only two of us we pushed forward to make sure we sampled the full range. First up was a roast aubergine and tahini wrap served with charred lettuce hearts, sesame, red chilli and seaweed presented a couple of ways. The aubergine had tremendous depth of flavour and was one of my favourite elements of the meal, working brilliantly with the tahini shot through the aubergine flesh. The pieces crispy fried seaweed on the wrap gave a strong savoury element to the dish that continued into the somewhat strong seaweed broth that would have been in danger of overwhelming the plate without some restraint. Next up was a courgette and chickpea hash that was served as a fried patty over Jersey Royals along with confit fennel. The bubble n' squeak type main element was a wetter mixture than I expected but absolutely delicious and a superb accompaniment to the simply prepared potatoes. The final main we tried was a cauliflower steak spiced with ras al hanout under which had been scattered pomegranate and apricot. Cauliflower "couscous" and garlic roasted beetroot "fries" occupied the rest of the plate, the beetroot being particularly compelling while the fruit and spice helped each other out admirably.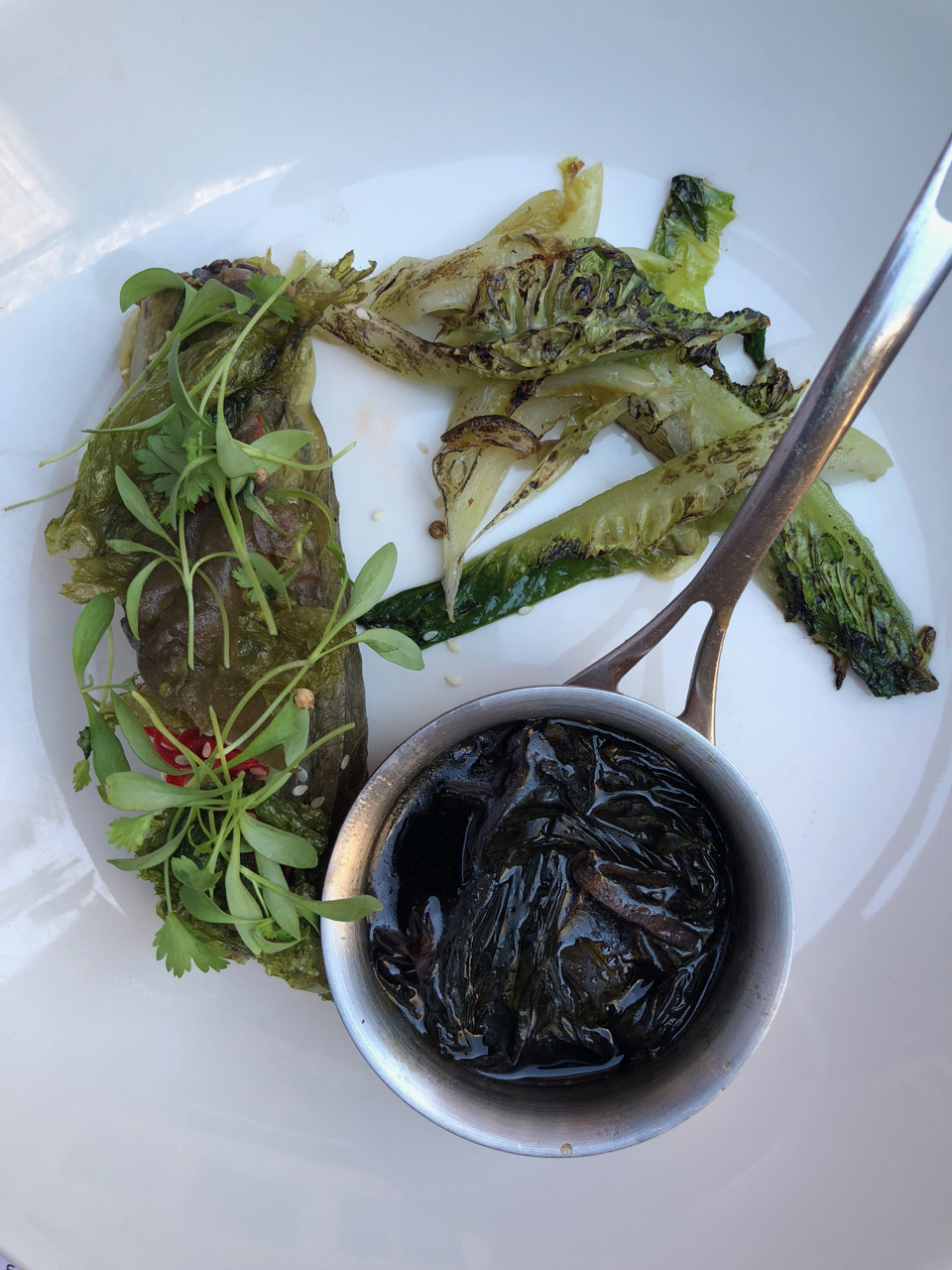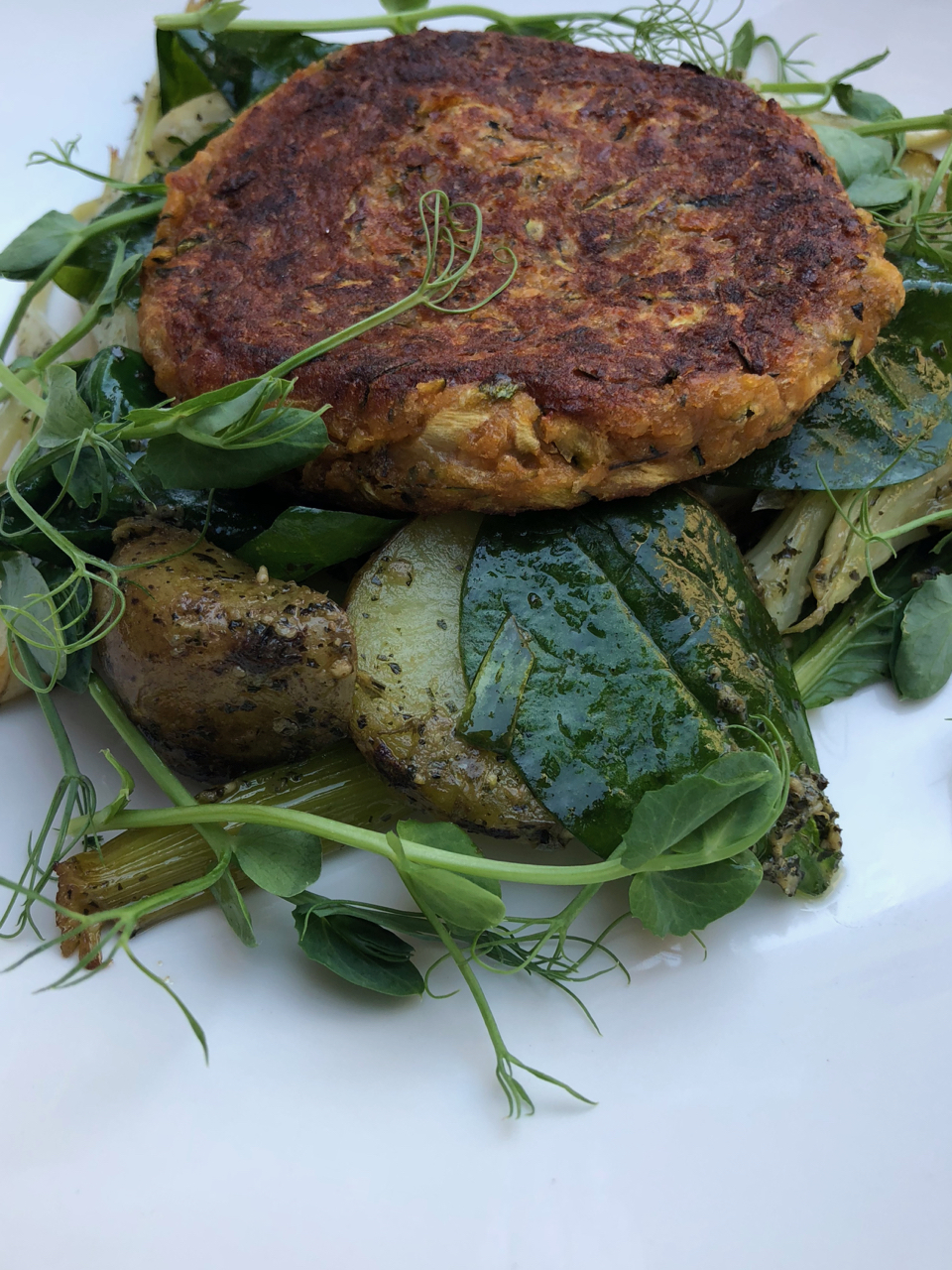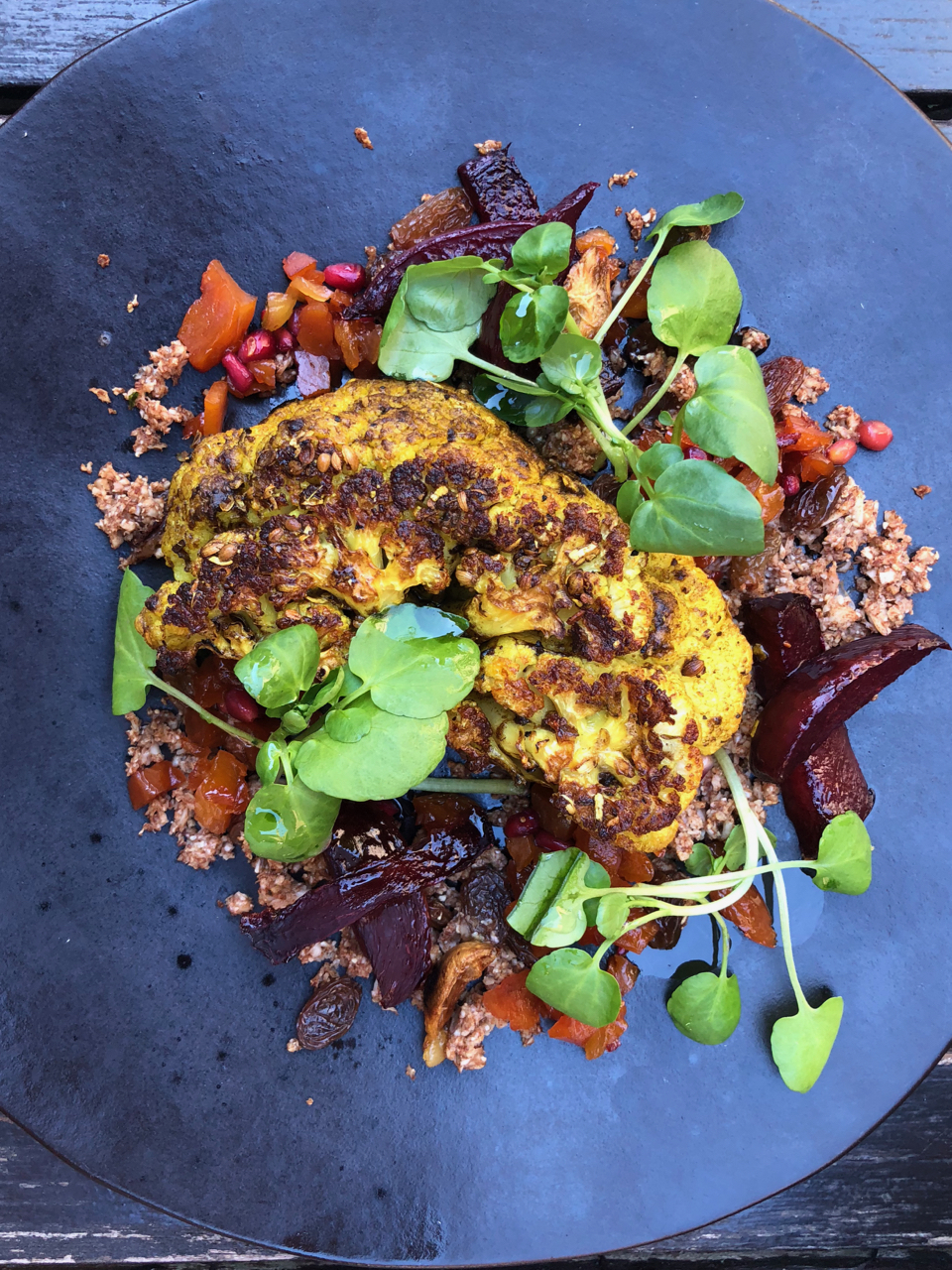 The desserts with which we finished our meal were suitably ornate, starting with a maple and pistachio baklava nestling under slices of peach and a rosewater granita that took the edge off the day's heat perfectly. Finally an eggless macaron that had been delicately filled with strawberry compote sat along with elderflower, gooseberries and a lemon sorbet that was doomed to a short life in this intense heat. Both dishes demonstrated plenty of skill and judgement from the chef.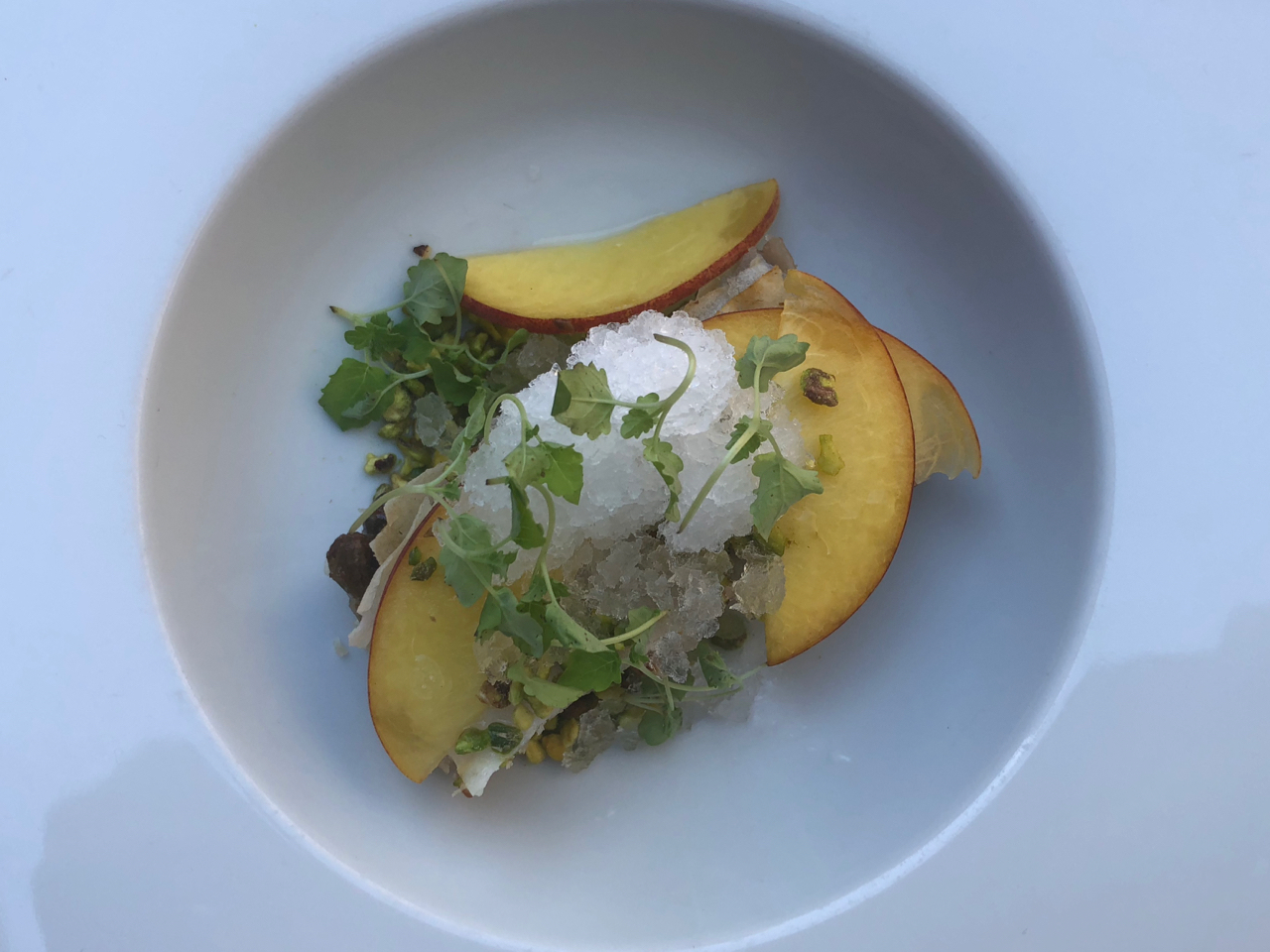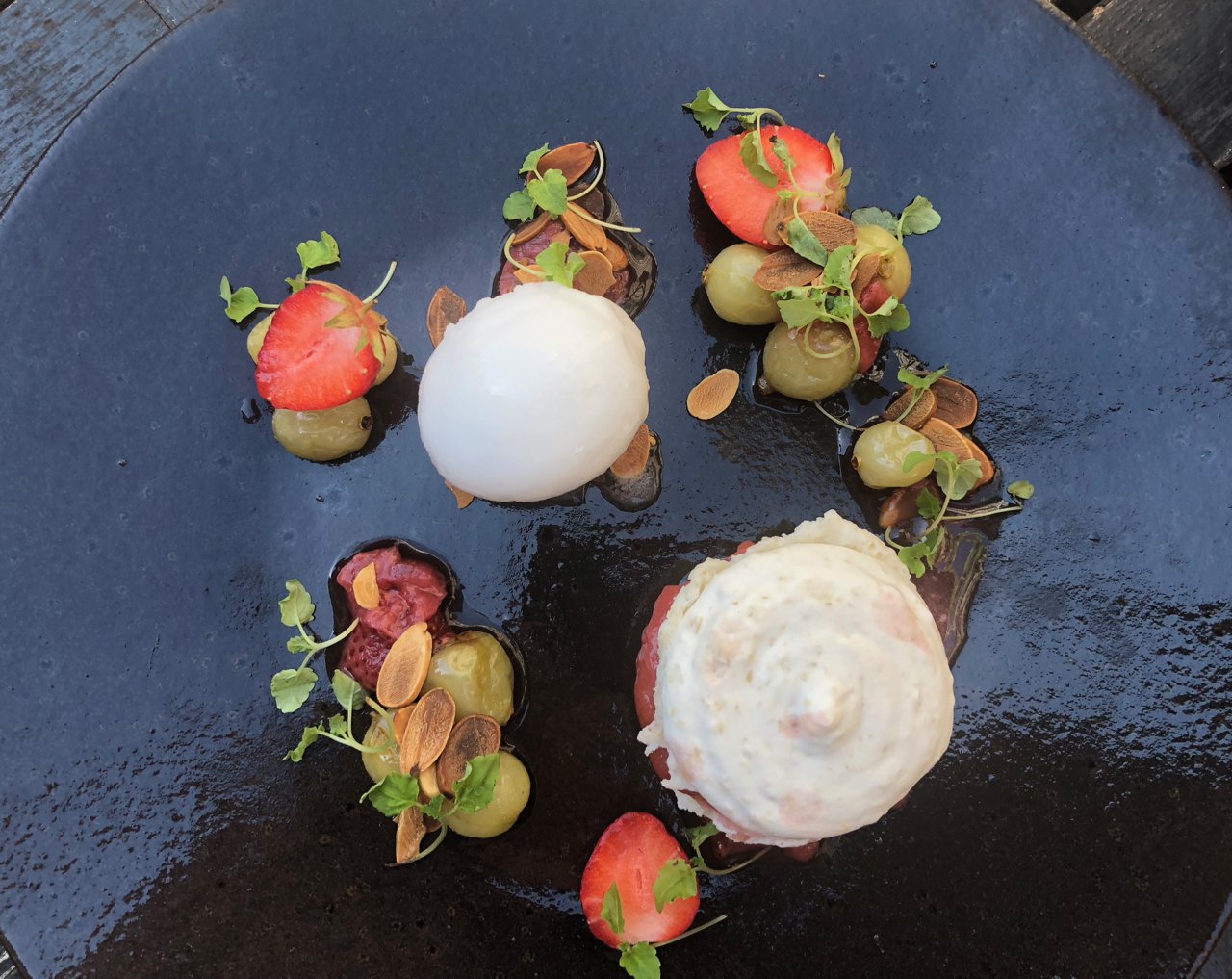 Any concerns that vegan dishes in a steakhouse would be lazy bandwagon jumping were easily dismissed by this meal. There was an abundance of inventiveness and good produce evident that reinforces a genuine desire to offer something of good quality to widen The Whippet's appeal. We went overboard with three main courses between two of us but three courses each for two people would come in around fifty pounds plus drinks. It's increasingly obvious that our society's reliance on intensively reared and heavily processed meat is a bad thing for both our own and our planet's health so any offering such as this that broadens a restaurant's appeal can only be a good thing. I may not be vegan but whatever your dietary choices, there's plenty to enjoy here.
Disclaimer: No charge was made for this meal, opinions are impartial.