For years the only reliable place in York to get a great steak was El Gaucho on Walmgate. For no particular reason, I've fallen out of the habit of going there (for the record, ribeye – rare) but I have managed to take myself for steaks with The Whippet. Seemingly operating on a revolving door policy for owners for a few years, its identity as a steak house is well bedded in now and of some repute.
Previous visits have revealed good beef, irritating pump clips and rude wallpaper so when I was meeting a couple of friends for lunch last week, I had a perfect opportunity to get back and see how things had progressed. The Whippet Inn is a steak restaurant and bar, though if truth be told, not the first pick for a quiet pint given the bar's size and multitude of local alternatives.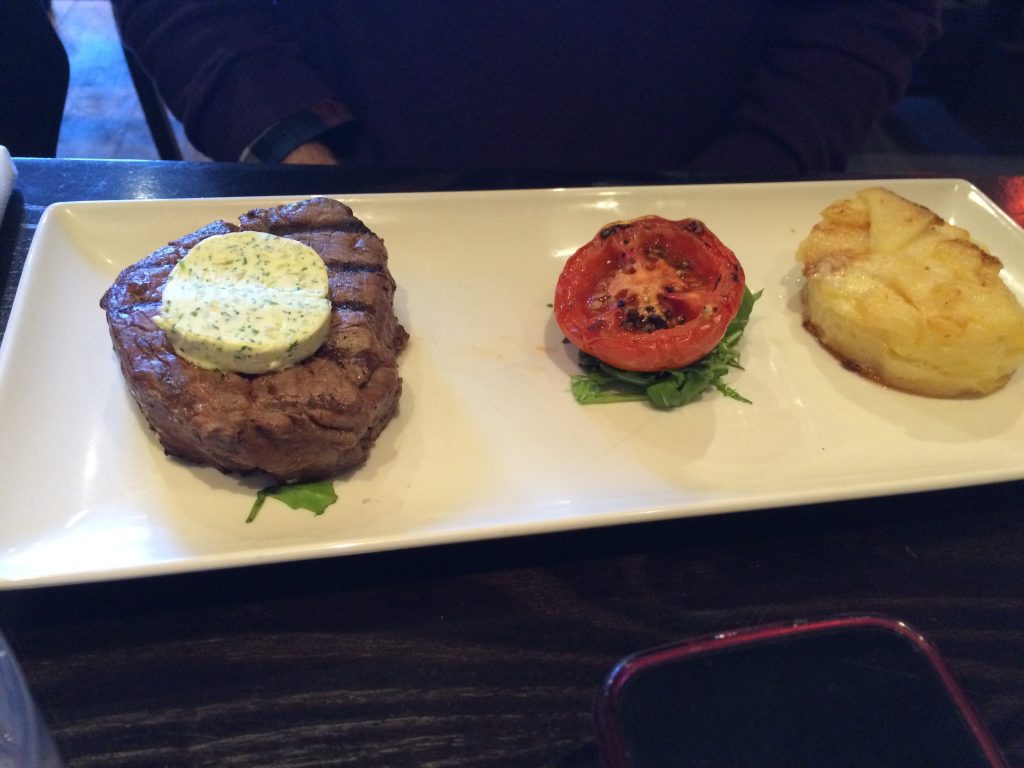 Those steaks though… my only previous visit to eat was superb. An object lesson in upselling, the amount I spent on my main was at least 40% more than originally intended, but entirely worth it. Well-aged, succulent, flavoursome and genuinely rare (but not blue); superb steak.
How have things changed in the last 18 months though? I didn't bother booking a table for my Steaks with The Whippet and got seated straight away on a Tuesday lunch time with a couple of friends. Maybe worth mentioning that I noticed a large (presumed) Christmas party group in the separate dining room as I entered.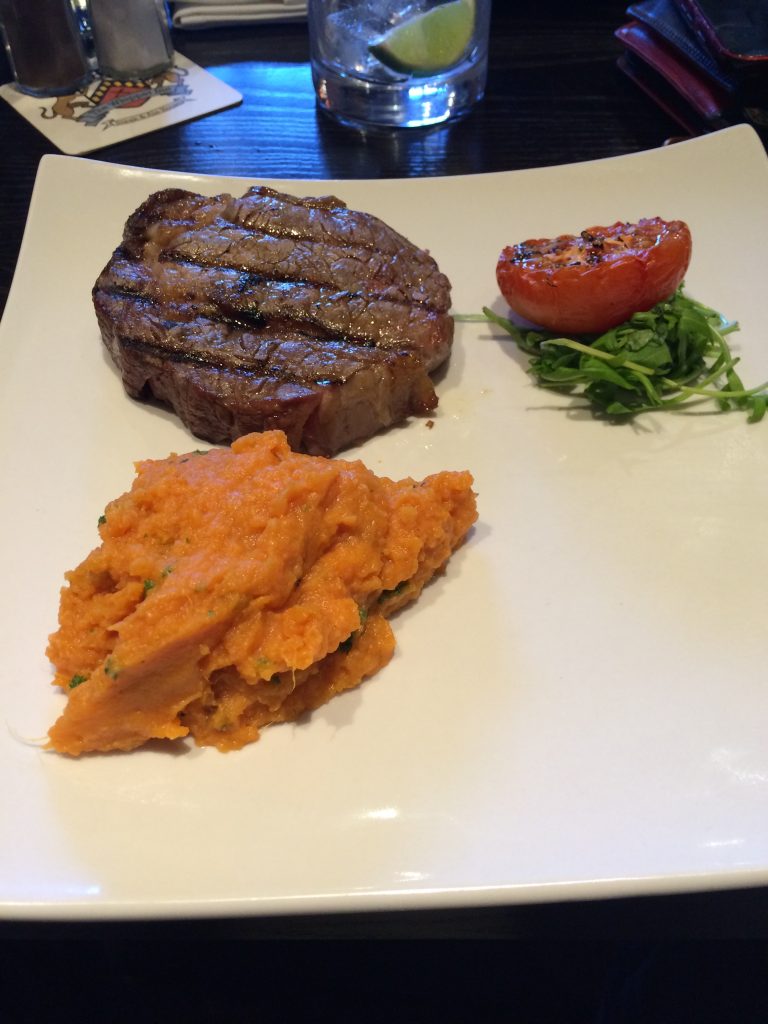 The waiter's appearance lasted only slightly longer than my intentions to order from the cheaper lunch time menu. 40-day dry-aged steak that has been properly rested (pre- and post-cooking) is a difficult proposition to turn down. I went for the rib eye and my friend plumped for the fillet for an extra five pounds. The third member of the party went for duck breast, giving us a bit of variety.
Unlike so many other places, the tap water I'd requested actually appeared as expected. (Yes, I know it's not going to be profitable, but it's water and I'm not paying stupid amounts.) The waiter struck a good balance between salesmanship and description.
Despite not bothering with starters, we seemed to have a significant wait on our hands. I guess something to do with that large Christmas party, but we waited circa 45 minutes for our food.
When they turned up, the Steaks with The Whippet lived entirely up to expectations. It's largely the fault of Cafe No 8 and their steak cooking tuition that I don't order steaks in restaurants these days for fear of disappointment. Luckily, that wasn't the case here. Retaining their moisture but well-charred at the extremities, the steaks were tremendous with even the difference between my "rare" and companion's "medium rare" being apparent to the naked eye. The potato dauphinoise and sweet potato mash we'd respectively chosen to accompany our slabs of meat did all that was required while not emblazoning themselves on the memory and the seared tomato accompaniment was a decently sharp companion, if a little redundant in the face of chunks of meat.
Coffees followed along with the bill, which was not a terrible thing to face. Working out at under thirty quid a head each sounds a fair wedge but factoring in a glass of decent red and a dessert between three, it wasn't unreasonable for the quality on offer. I suppose it's now my duty to head back to El Gaucho, strictly in the name of duty of course.