Since the prospective Mrs YOAF and I set up home together a couple of years ago, I've been lucky enough to partake in a group of friends' annual Christmas curry celebration. The demeanour of this occasion took a slightly more adult turn this year – indeed the previous twelve months have seen three babies, a wedding and an engagement amongst the group – so a setting was needed to accommodate the expanded party, enter Coconut Lagoon.
I didn't organise the event, but I suggested Coconut Lagoon on the basis of self indulgence (far too long since I've visited) and was a bit surprised to hear that it was closed on a Saturday lunchtime. This turned out to be a blessing in disguise as, due to the party size, they were happy to open for us. All boxes ticked!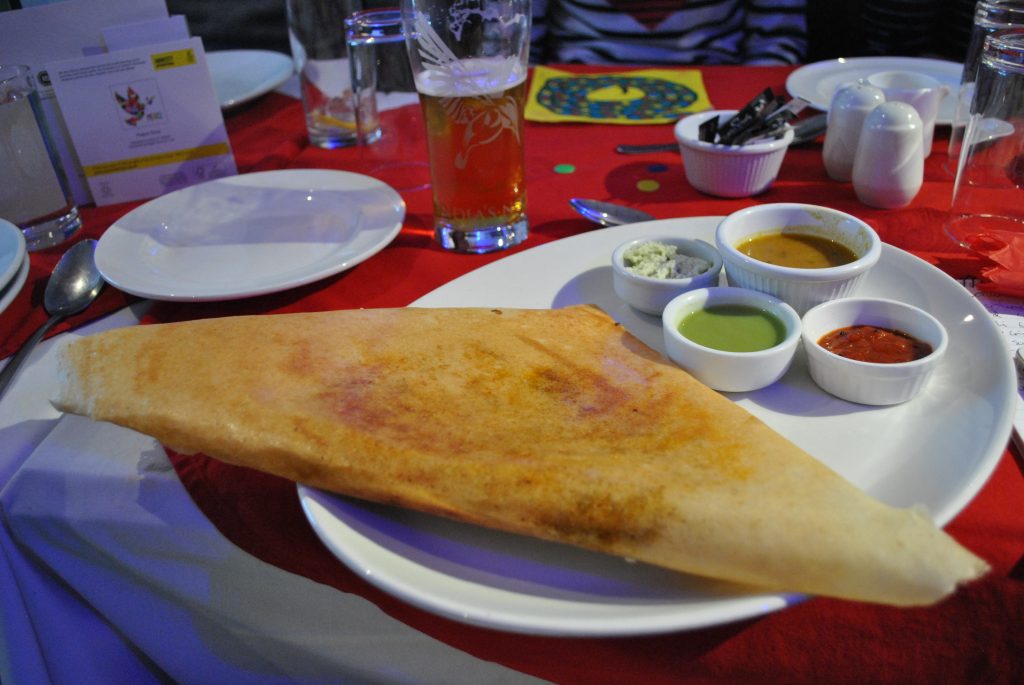 Thirteen of us with ages measured variously in months or years gathered to an opening offering of a shot of a sweet, lemon-flavoured liquid to cleanse one's palate. I seem to recall this coming at the end of the meal on my last visit, at which juncture it was rather more effective and less dividing of opinion.
One of the party started with a coffee about which opinion was rather clearer. A tea pot of extremely weak coffee served with a pack of instant coffee didn't really cut it and was as confusing as it was average.
Moving onto starters, food things improved immediately and dramatically. I'd heard that the "Coli-65" was excellent – cauliflower battered in 'Mixed herbs and spices' – and so it proved to be. I have no idea what it contains 65 of but the texture and flavour was right on the money. Crispy at its extremities but moist in the centre, forget any cauliflower prejudice right now.
On the meatier end of the spectrum the beef dry fry was fantastic. Well adjusted to my slightly pathetic tolerance for spice, as with the cauliflower, what came to the fore was the evident expertise of the chef. Crispy beef is so often a tightrope that chefs topple from to fall on a bed of overcooked dry meat but the contrast between the soft centre and crisped edge was right on the money and flavour penetrated the entire dish (rather than clinging to the outside of the meat).
Reports on the other starters were just as effusive. Lassis accompanying starters for a few of us hit the spot. At this point, my high expectations were getting a hefty kick in the teeth and being raised further.
Hitting the mains, I had no choice but to order a dosa. So far I've found nowhere else in York that offers a great dosa, on the flip side of that I also need to confess that I've not made it to Coconut Lagoon's dosa festival but what I was presented with also found its place nestling in my expectations.

Mixed meat may or may not have been the best way to sample these pleasingly light dosas but these rice flour pancakes are such a lovely combination of size and delicacy, it'd be churlish to argue with any filling. It's worth noting that an onion dosa functions well on its own, rather than being a naan-style accompaniment.

On the other side of the table Fish Mappas gave us a fillet of fish (whose provenance escapes me now but could perhaps be helped by a slightly more accesible website) in a complex sauce begging for discussion.

The rest of the table recovered their composure after taking their fill to complement the dishes, so I loosened my belt to bask in the minor glory of another recommendation well received. One thing I missed from previous visits was the unpretentious need that the waiting staff seemed to have to make sure each meal was matched to appropriate accompaniments. The absolute opposite of snooty service, I would far defer to local expertise as has been the case here before, but nothing was mentioned on this visit. Conceivably that reflected good choices rather than ignorance. Maybe.
Coconut Lagoon occupies a site that previously saw a couple of other restaurants close before their time, so it's fantastic to see them still prospering. Under thirty quid a head for a couple of courses and mixture of drinks is fair so, odd coffee and decisive sweet drinks aside, you really need to get here. I've done myself a disservice not shouting about it earlier.