Over the last year or so, I've kept hearing word of a young chef in Leeds who's been earning a reputation for putting together indulgent dishes that don't let themselves be constrained by any particular genre or convention. Jonathan Hawthorne's name has become hot property in Leeds for some time as his regular XO Supper Club nights have gained a following, but Jono has never quite found his way into a permanent venue…until now. Feed in Pudsey opens this Friday (24th August) with Jono firmly entrenched in the kitchen. I went along to a preview night held at Vice & Virtue, part of the same group of restaurants, to see what Feed Leeds is all about.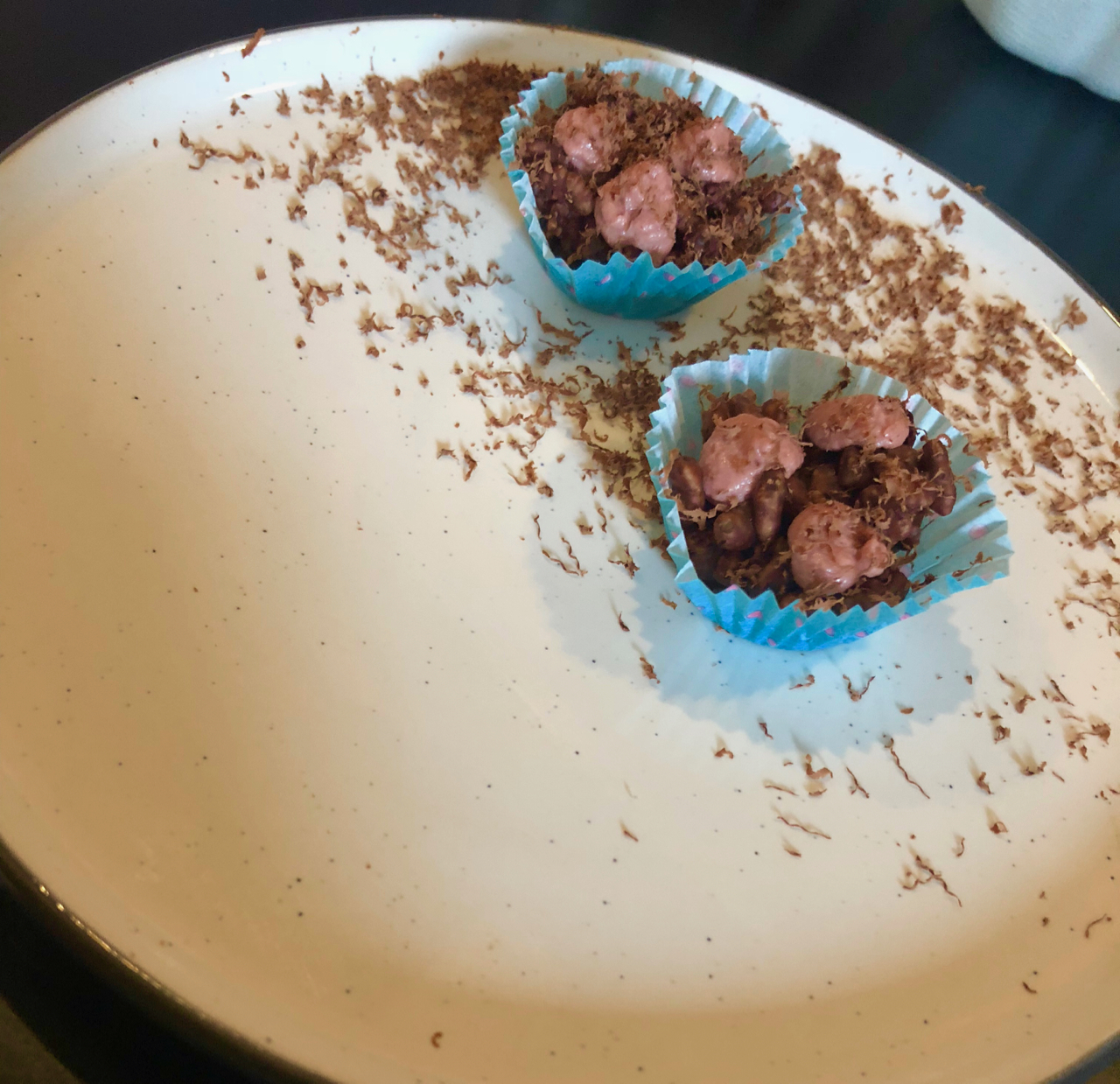 V&V is a short walk from Leeds station on New Briggate, its door nestling on a corner ready to reveal a flight of stairs up to the dining area. It's a smart and comfortable place to eat that's very much part of the Leeds food scene in its own right. I've not seen pictures of what the Feed Leeds space in Pudsey will be like, but this was entirely appropriate for the evening's preview menu. I had worked up a good deal of anticipation for the menu, so was eager to see what would be making an appearance from Jono's repertoire and when I got my hands on it, I was pleased to see it include signature dishes of "cheeseburger spring roll" and "Hangover Cone".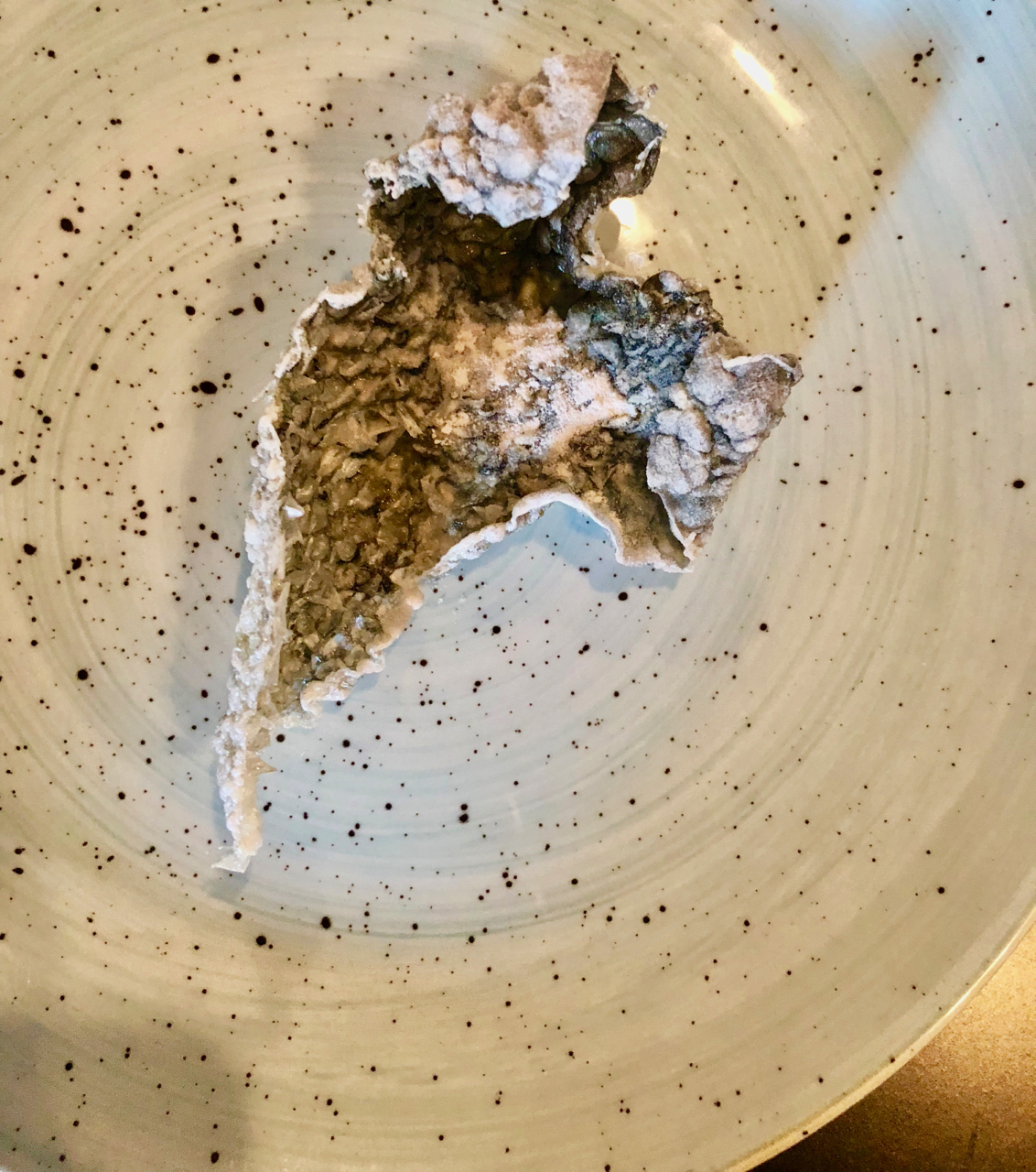 Before we got our chance to go at the first dish, we heard from both Jono and Luke Hawthorne, the man behind V&V who's worked to give Jono free rein in the Feed Leeds kitchen. The guys touched on their ambitions for the new spot and desire to make sure they provide a positive place to work, free of the atmosphere in many kitchens that can prove detrimental to staff's mental health. In particular they talked about having a pragmatic sourcing policy: being happy to go to supermarkets for produce if that's where the best example is to be found. As a consumer, I can admire this approach though there may be some local suppliers who would prefer to see those larger players off the field.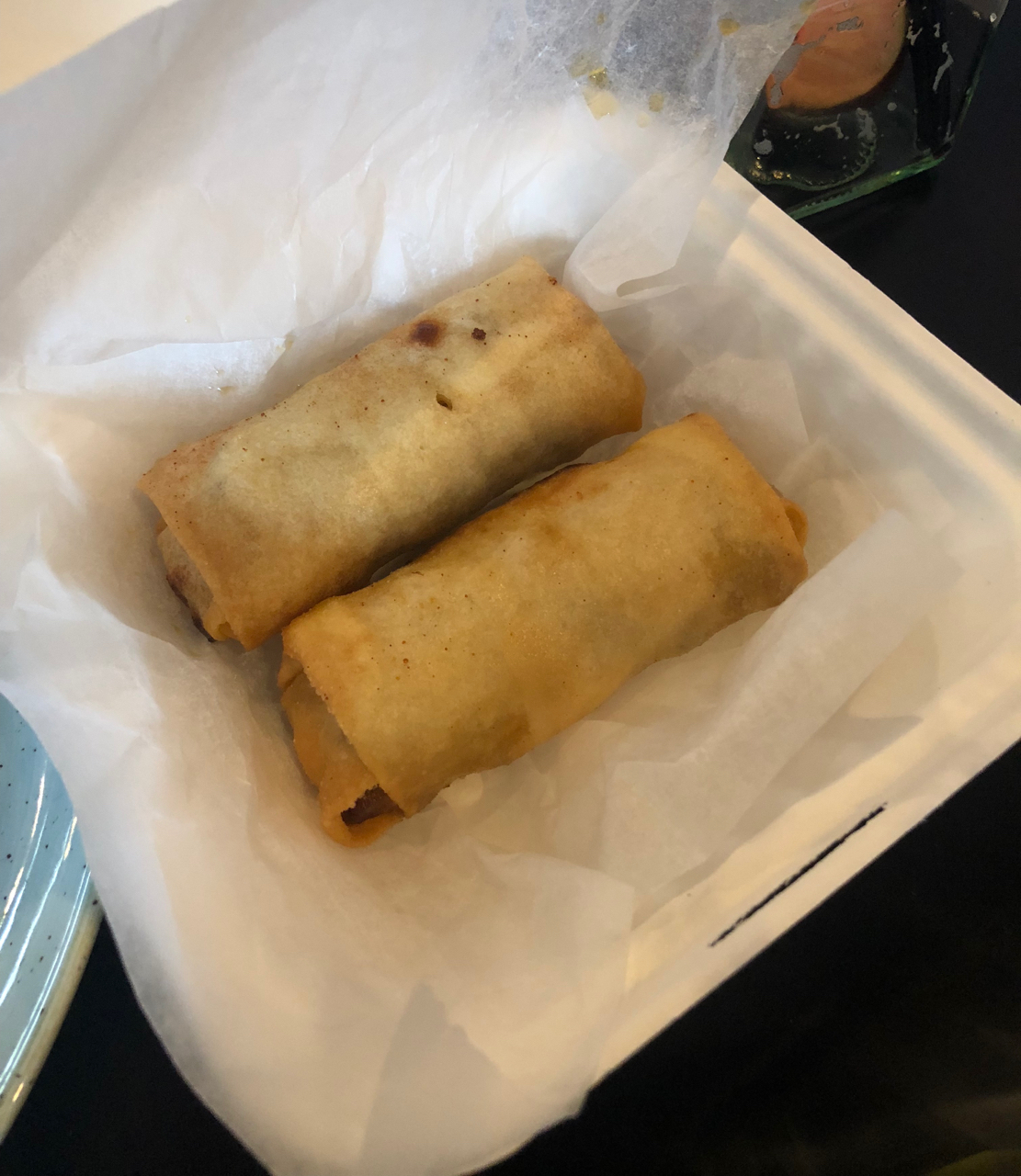 With the niceties out of the way, it was time to get going with the evening's tasting. First up came a trio of bites that included one of the most divisive things I've eaten in some time. Chicken liver parfait rice krispie bun with bitter chocolate is certainly distinctive and a conversation starter, but unlikely to be a best seller in many crowds. I'm pretty confident I enjoyed it, though there will always be a nagging doubt. Still, what's life without being challenged occasionally? The second bite was a crisped piece of salt and vinegar fish skin that changed texture delightfully in the mouth as it slowly rehydrated. But the star of this round had to be that cheeseburger spring roll. This was just as silly as it sounds, I think using gherkin to evoke cheeseburger. If these were available as bar snacks in my local, I'd be chewing through them regularly.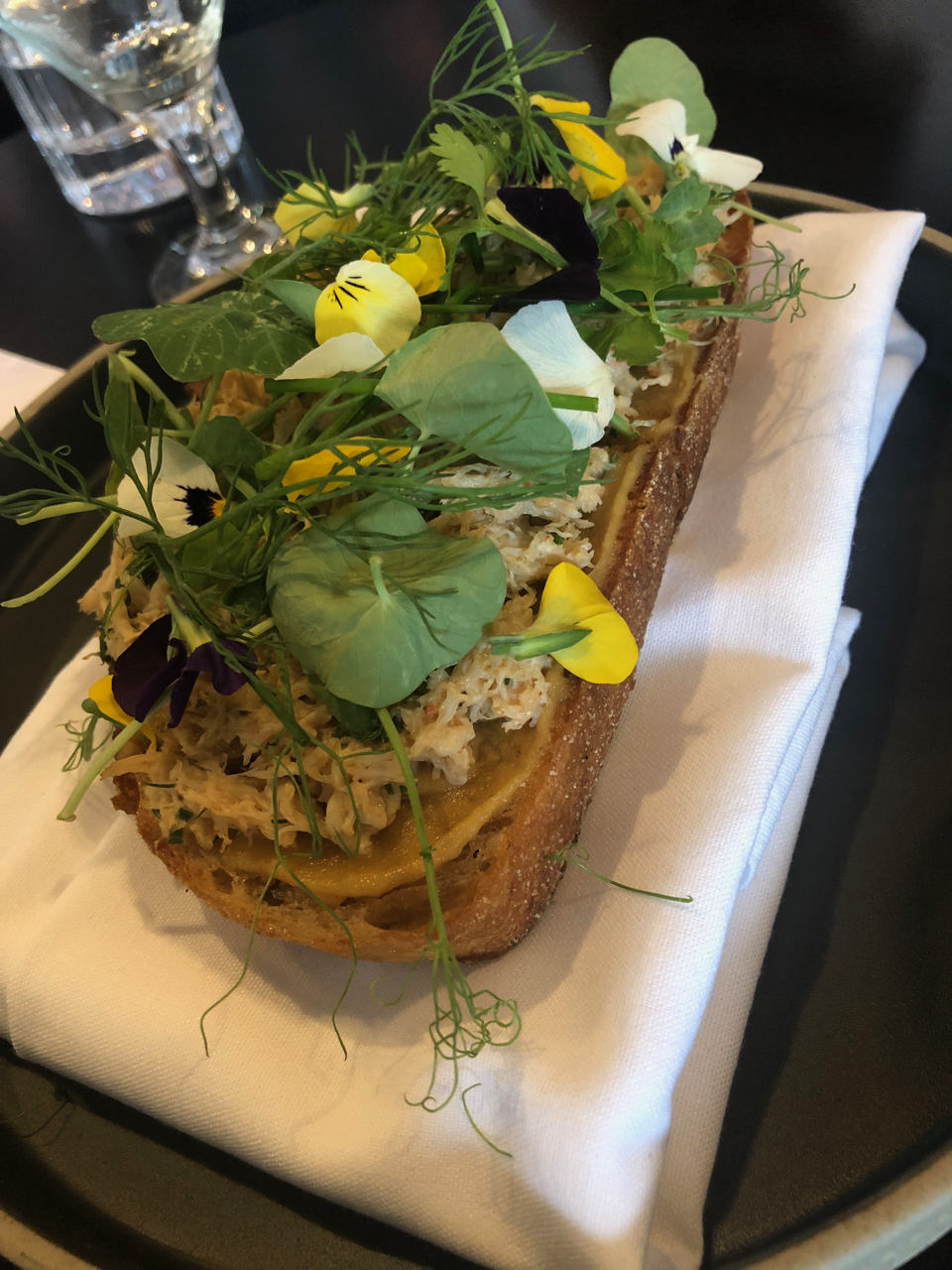 As we moved onto the next plate, things were a touch more conventional with a crab toast which used a bisque butter to add great depth of flavour. This was topped with a salad packing lots of nasturtium leaf to bring things together before we got into a meat course which packed a huge umami hit with dry aged beef sirloin. Draped across the beef were slices of pickled kohlrabi that had a delicately balanced sharpness to go up against that powerful beef. To go with this, we had some roast potatoes which hid under ribbons of uniformly cut lettuce, contrasting well with the heat of the nduja and indulgent fat emulsion with the dish. The beef was cooked perfectly and all the elements worked together beautifully.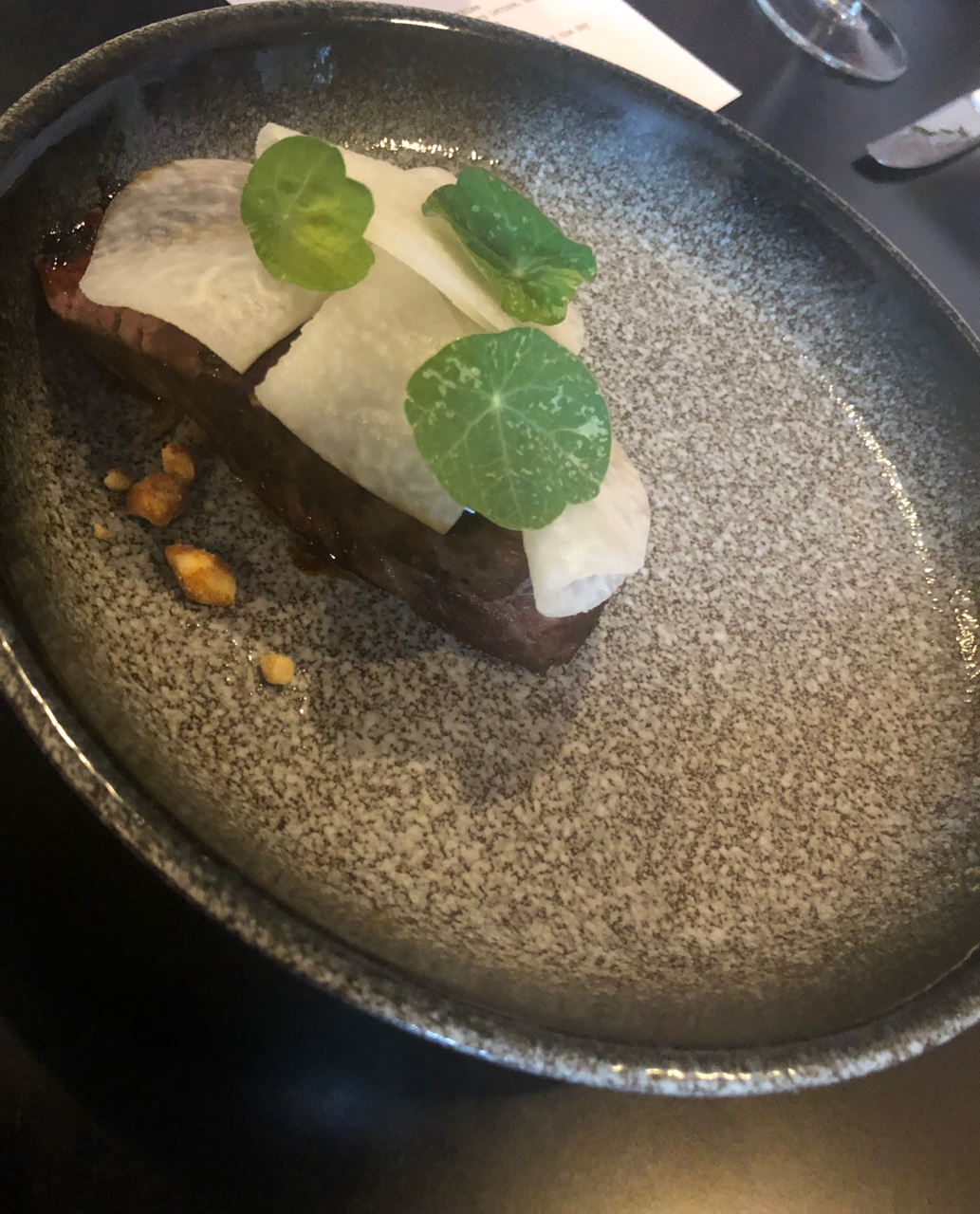 The final dish returned to the unconventional: the "hangover cone". This was introduced as everything on a plate that one might crave when hungover, so presented a striking combination of ingredients that it's safe to say you're unlikely to see together anywhere else. Ice cream, pretzels, ready salted crisps, brownie, bacon and raspberries all sat under the cone and thankfully didn't require a hangover to enjoy. This one was all about unexpected pairings and, judging by the smiles and giggles, was well received across the room.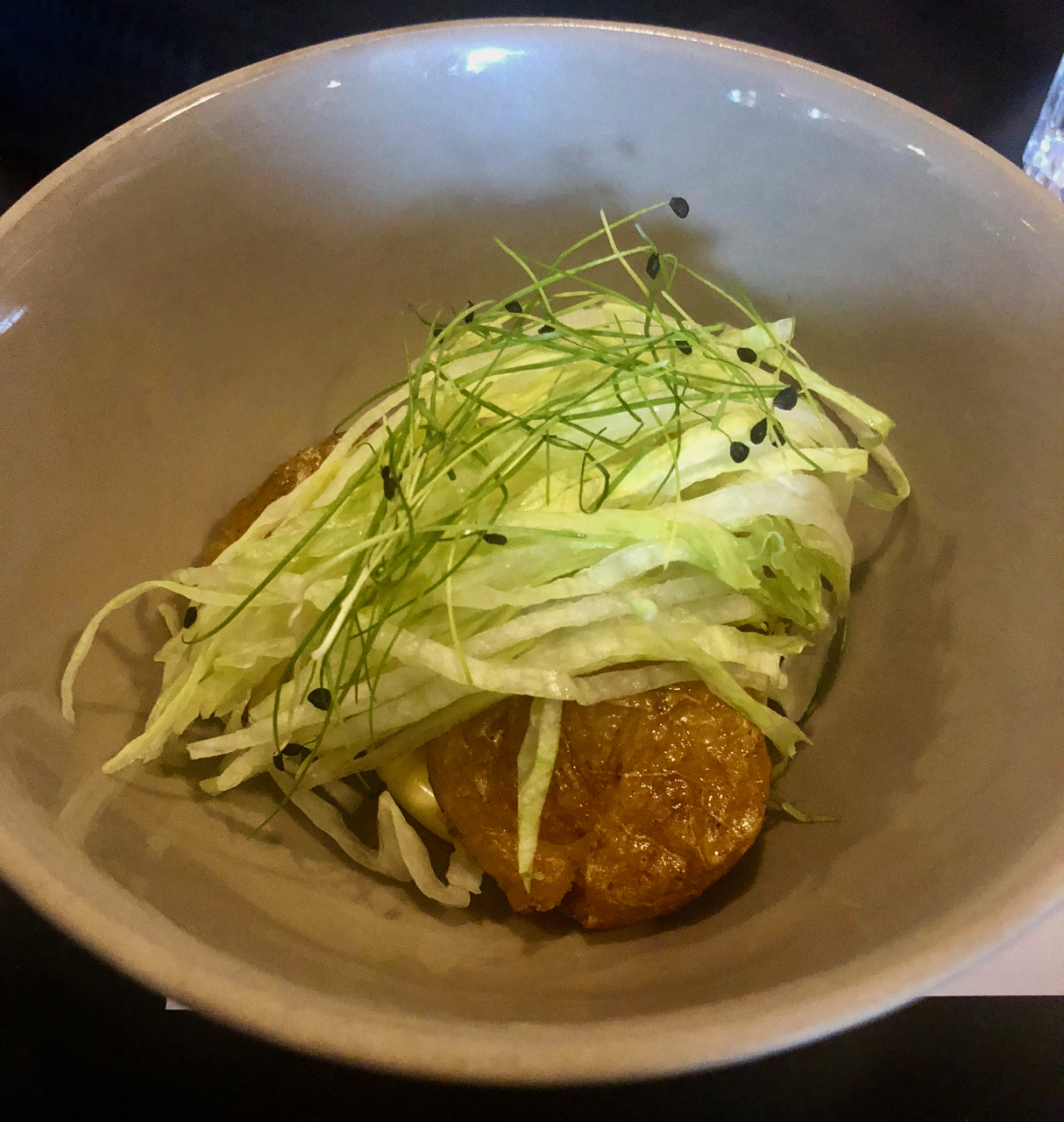 The dishes that made up our evening bode well for Feed Leeds when it opens its doors in Pudsey; a fun mix of the unconventional and well executed which will live in my memory for a long time. It's going to be great fun watching the guys develop and grow together now that Jono has the support he's deserved for some time. I could murder a cheeseburger spring roll right now…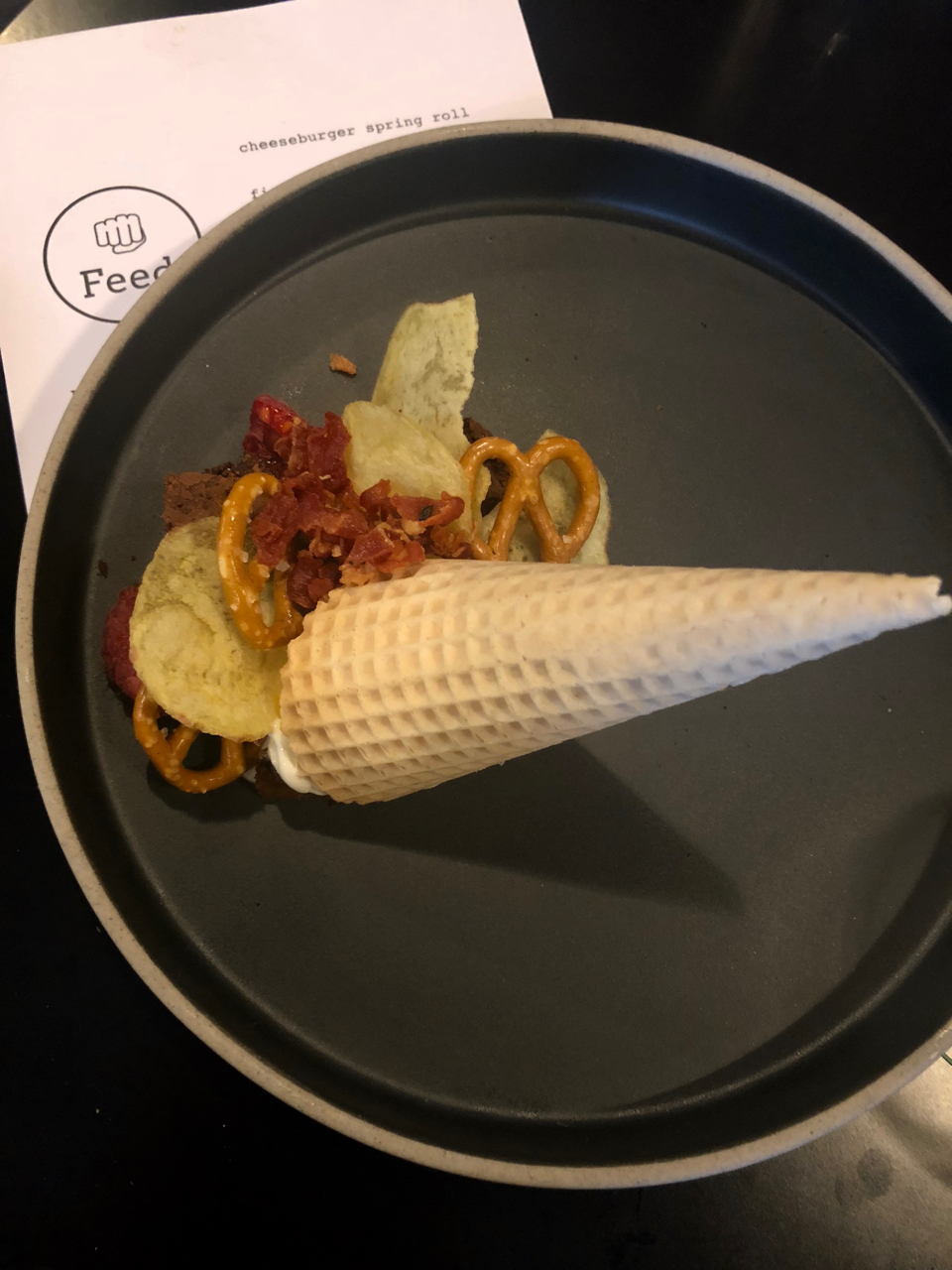 Disclaimer: No charge was made for my attendance. Opinions are impartial.