Leeds is only a short hop on the train and, while I do get there semi-regularly, there's a good list of places that I've yet to make it to. Included amongst these is The Cat's Pyjamas, which counts Jay Rayner amongst its many fans. Thankfully the opportunity to check it out has now landed a lot closer to home with the opening of a branch in York, saving me the cost of a train fare. The Cat's Pyjamas is based on Cumberland Street in a space that, since being occupied by Silvano's Italian, has been home to two Turkish restaurants and a gastropub in fairly short order. Memories of those occupants have been erased by a characteristically funky refresh of the premises that now feels welcoming and informal without lapsing into disarray.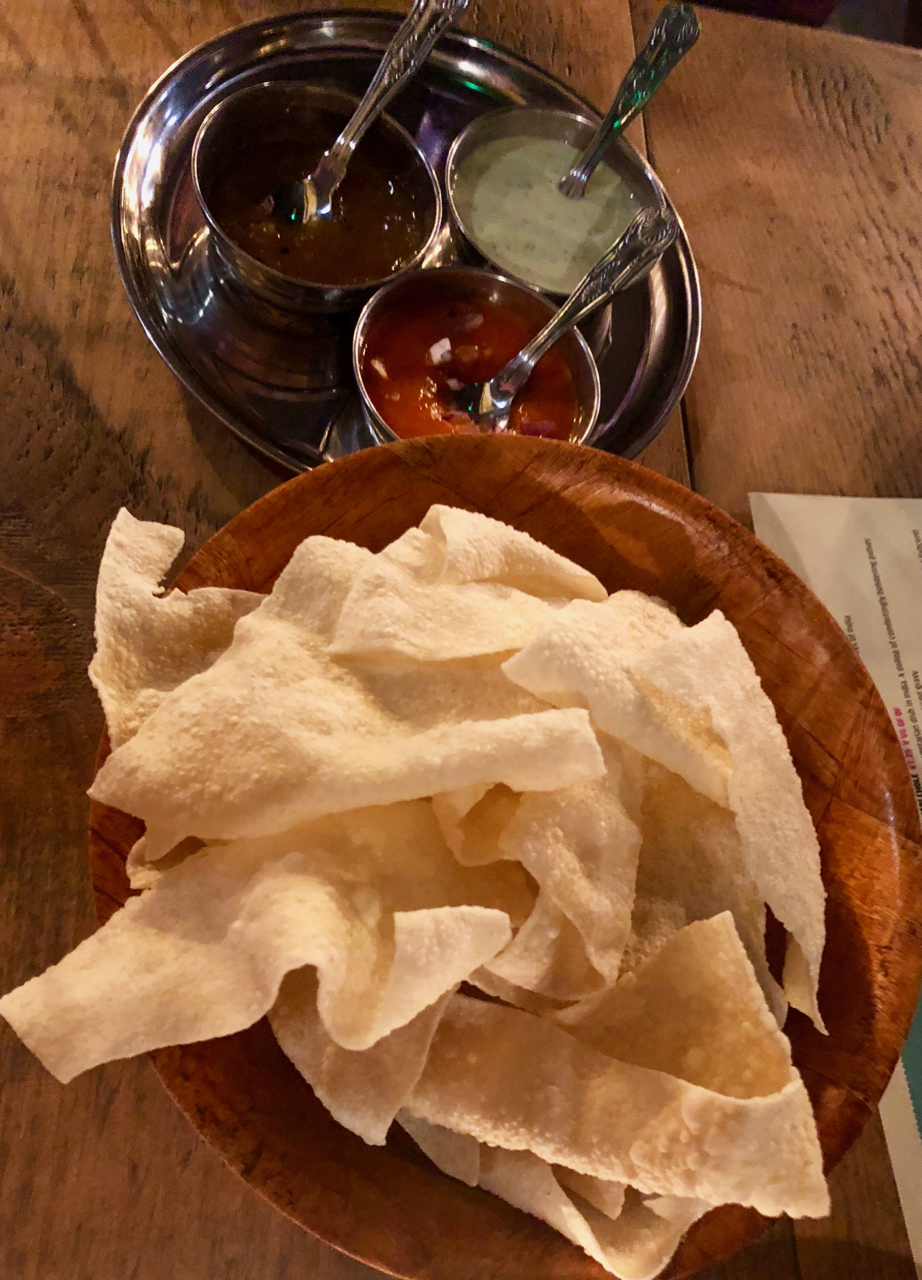 The Saturday night we dined there had a nice buzz about the place as diners made themselves acquainted with the extensive craft beer list that gives the restaurant a key part of its character. We were seated close to another table in a corner, both my companion and I commenting that a little more space between the tables wouldn't have gone amiss. We grabbed a couple of pints of The Cat's Pyjamas Pilsner to ease decision making and set about the menu.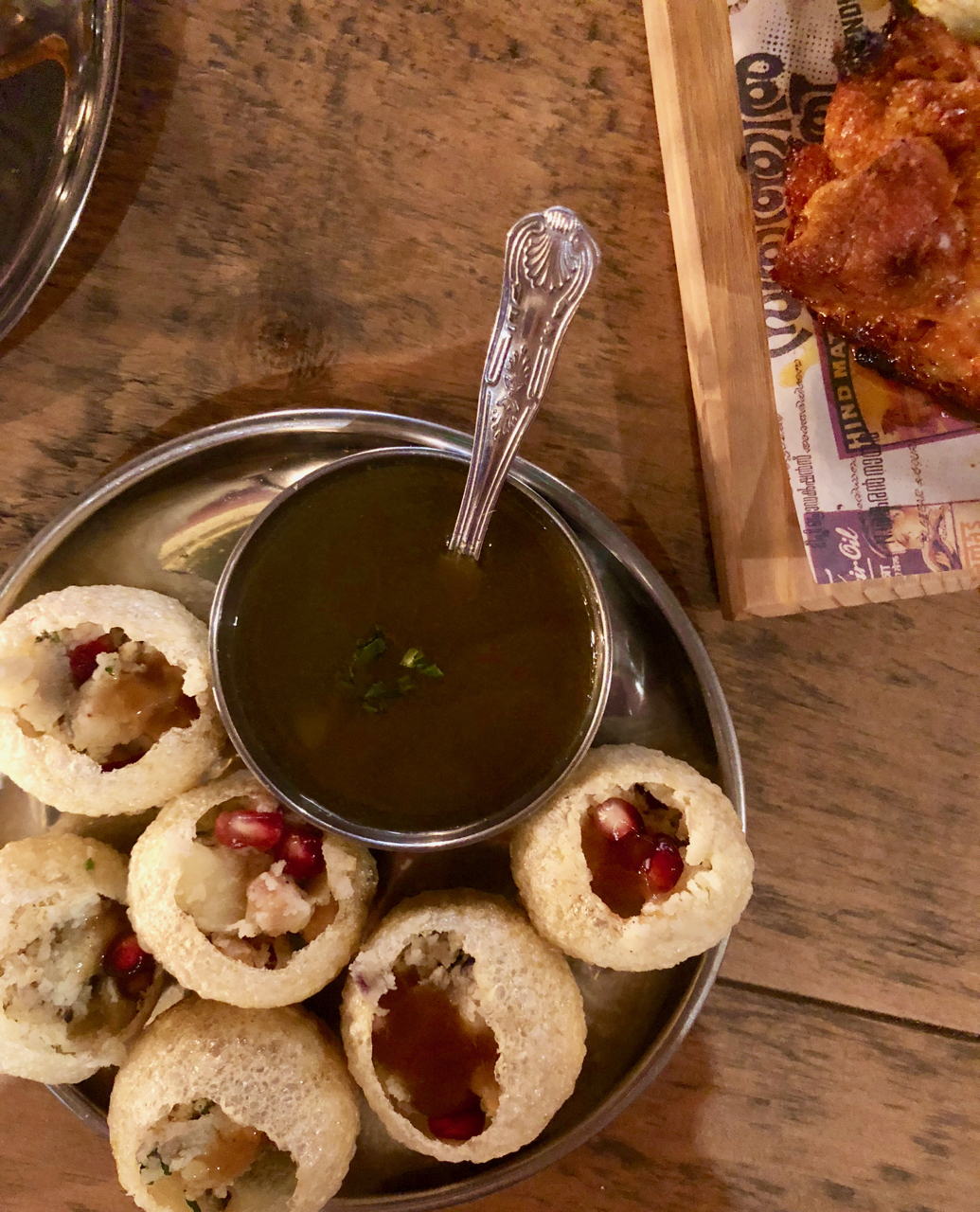 To keep our hands busy along with the beers, we took some poppadoms and a pickle tray to pick over while making further decisions. Those of you who are particularly pedantic about sharing plates absolutely fairly might struggle with the pre-shattered poppadoms, but no such issues were likely to arise as we distracted ourselves from a minor serving catastrophe that required a good number of napkins to rectify. I hadn't expected the menu to be conventionally categorised into starters, sides and mains rather than a series of small plates and curries. We weren't bound by convention though so chose a selection of starters to share, along with a curry to share.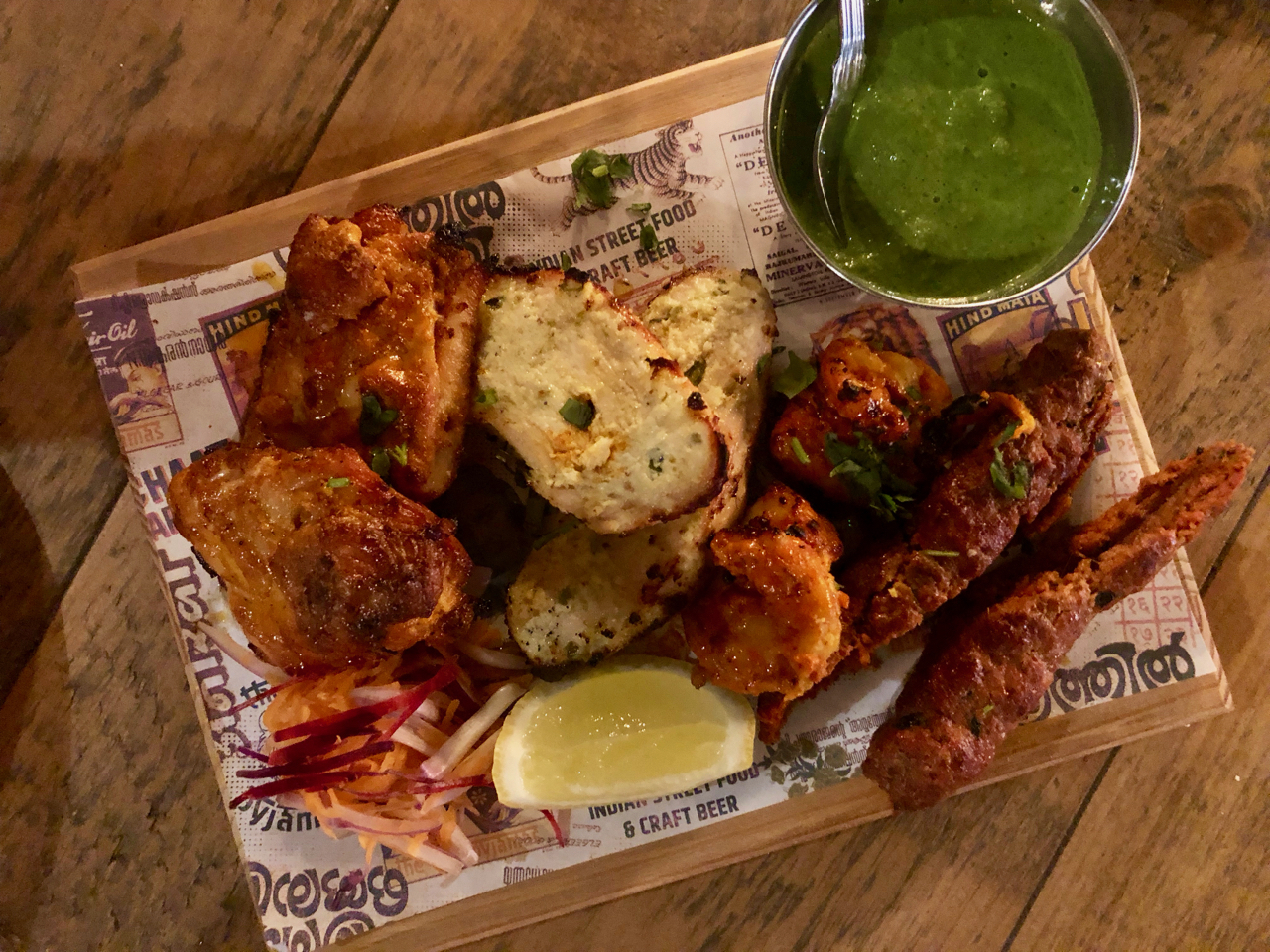 Pan Puri are crisp shells filled with chickpea, tamirind, potato and onion into which one pours a couple of teaspoons of sweet-flavoured liquid before eating whole. We felt that they could have done with a touch more spice, but they were fun, not as messy as they sound and a good way to start before our Tandoori Mixed Grill arrived. The mixed grill featured marinated chicken, spiced lamb skewers and prawns. The tandoori salmon we'd also ordered arrived on the same platter to make a very generous serving of meats variously enhanced with ginger, garlic, coriander, garam masala and basil, amongst other things.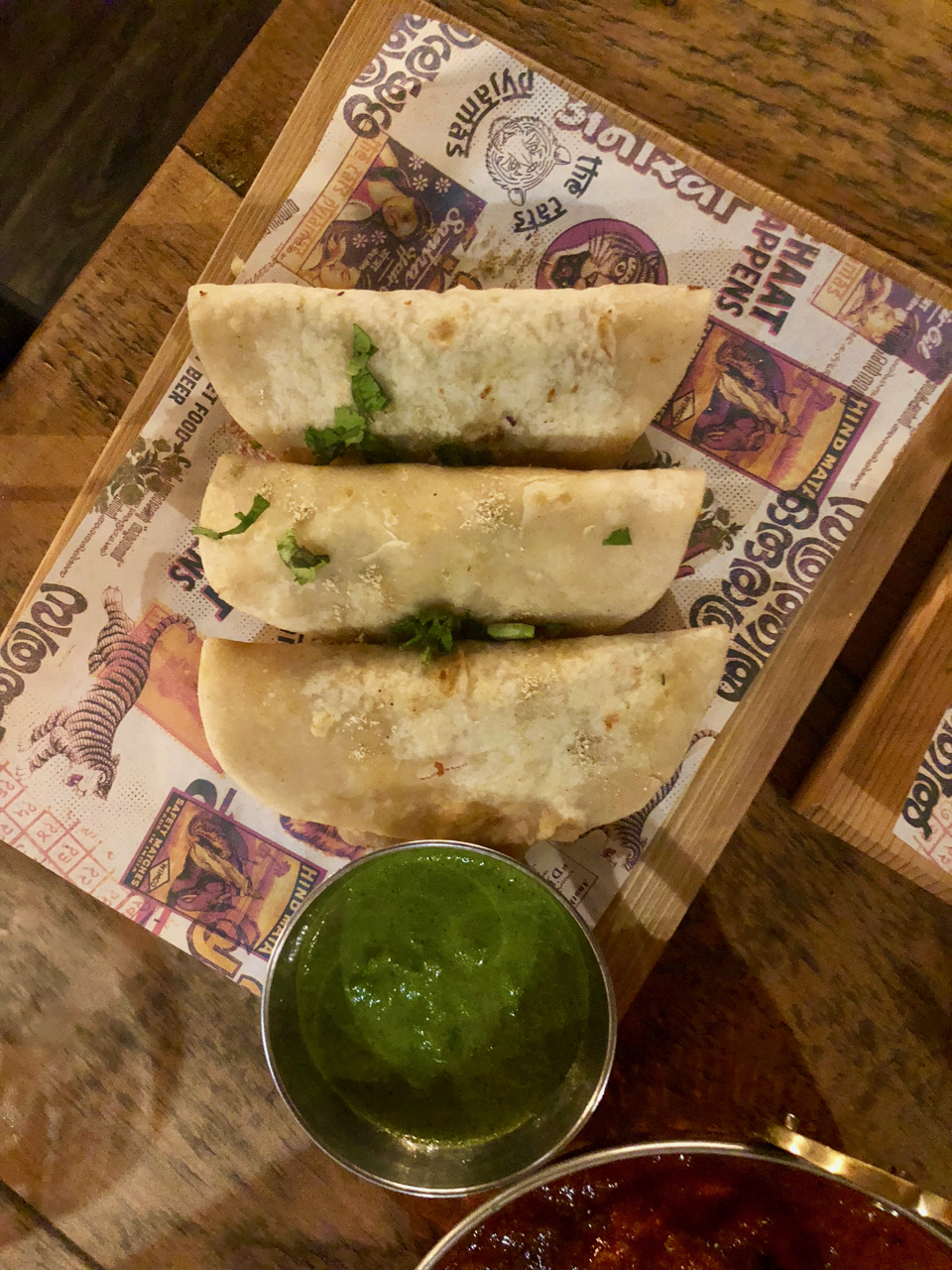 The other two 'starter' dishes we ordered were Paneer Tacos and "Chicken 65". The tacos were unsurprisingly tricky to eat, spilling their tasty filling wherever they like, but delicious with well judged spicing. "Chicken 65" was a spiced twist on fried chicken that hit the spot before we received our curry.
The Pepper Chicken we'd plumped for came in a rich, deeply flavoured sauce based on tomato and slowly browned onion. By this point, our appetites were waning a little, but we ploughed on through at the potential expense of our waistlines and confirmed that the curry was well balanced and very happy to work with our naan.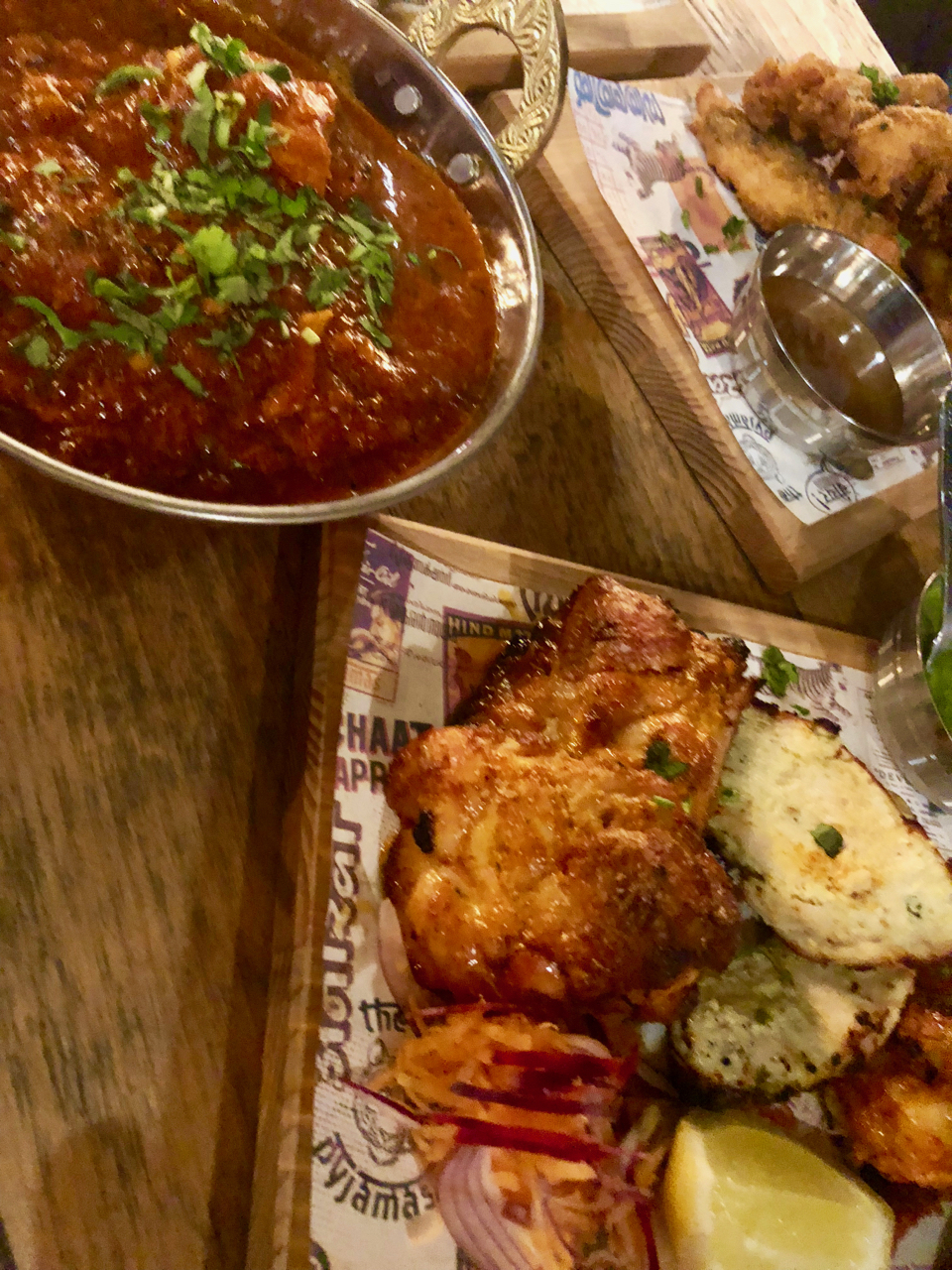 he bill for all that food tickled fifty pounds; a very fair amount for what we'd got through. In truth, we'd over ordered a little in the interest of sampling a good range of the menu. We even had some leftovers to take home, so a meal for two could be easily significantly more affordable that that. I can't see the Cat's Pyjamas being anything other than a great success in York. The price is right, the quality is there and it's a fun place to visit. I'll definitely be back.
Disclaimer: Our visit was complimentary, opinions are impartial