The pending arrival of a baby really does focus your mind on all the ways in which your life is about to change. Along with local and domestic concerns about maintaining cleaning and social routines in your community, there are numerous questions raised about the practicality of travellRaithwaireing and holidaying with a baby that are tricky to answer without attempting. Once Baby Fork arrived and we'd gone through the initial period of sleeplessness, starting to find our feet a little, we started thinking about the mechanics of travelling with a baby and undertook a experimental overnight trip to somewhere local. Having satisfied ourselves that we could manage without forgetting anything totally essential (such as a baby) we pondered where we'd indulge our ability to travel when an invitation arrived to check out Raithwaite Estate. We wrote up a checklist to make sure we didn't forget anything and hit the road North toward Whitby area.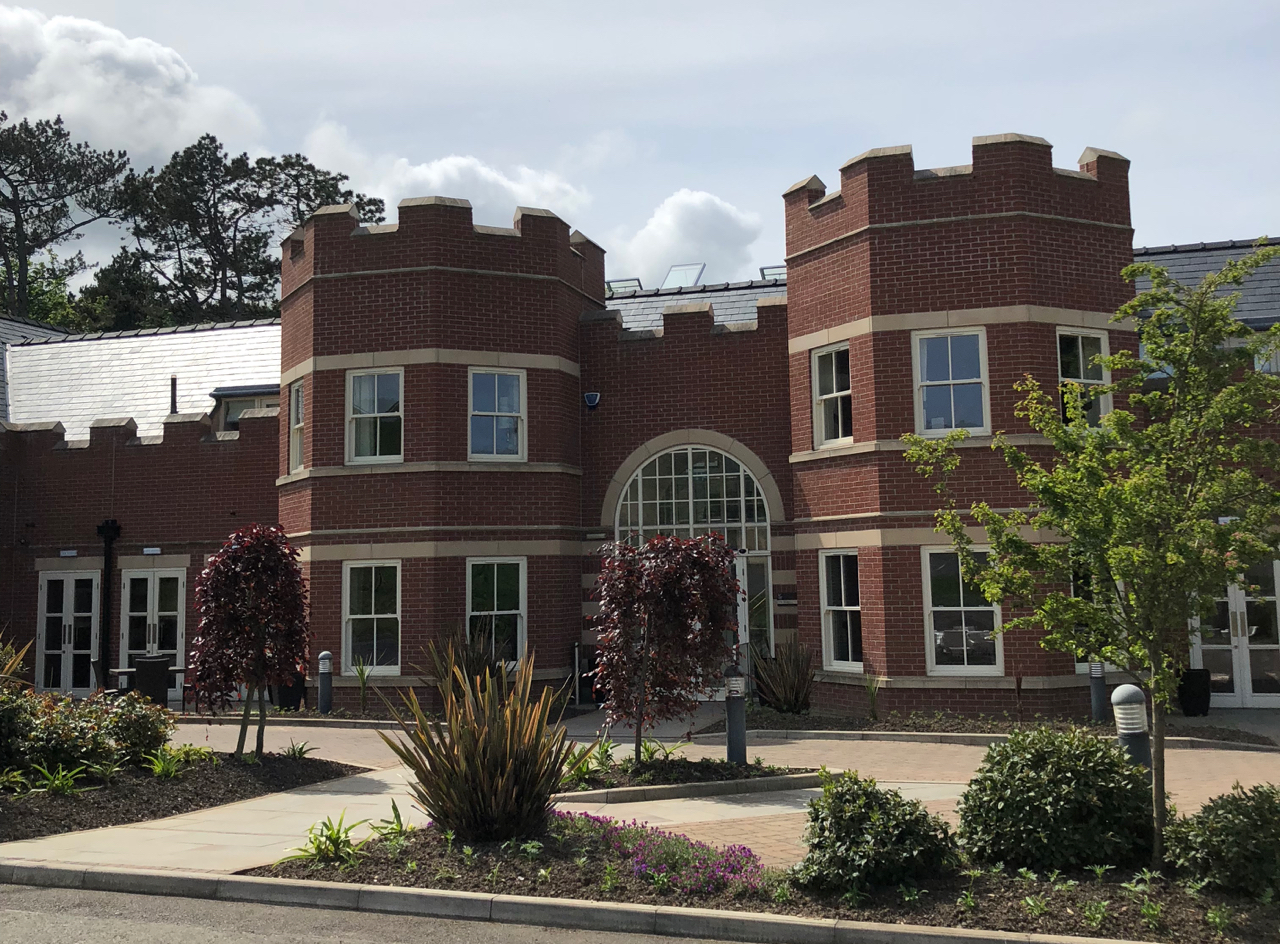 A trip to this area isn't really complete without a stop at the Cod and Lobster for crab sandwiches so we broke our journey there, parking at the top of the hill and realising on the way down how much effort would be involved in getting a pram back to the elevated car park. Thankfully the calories from those crab sandwiches and superb chips did their thing and propelled us back toward the car to carry on North to Raithwaite.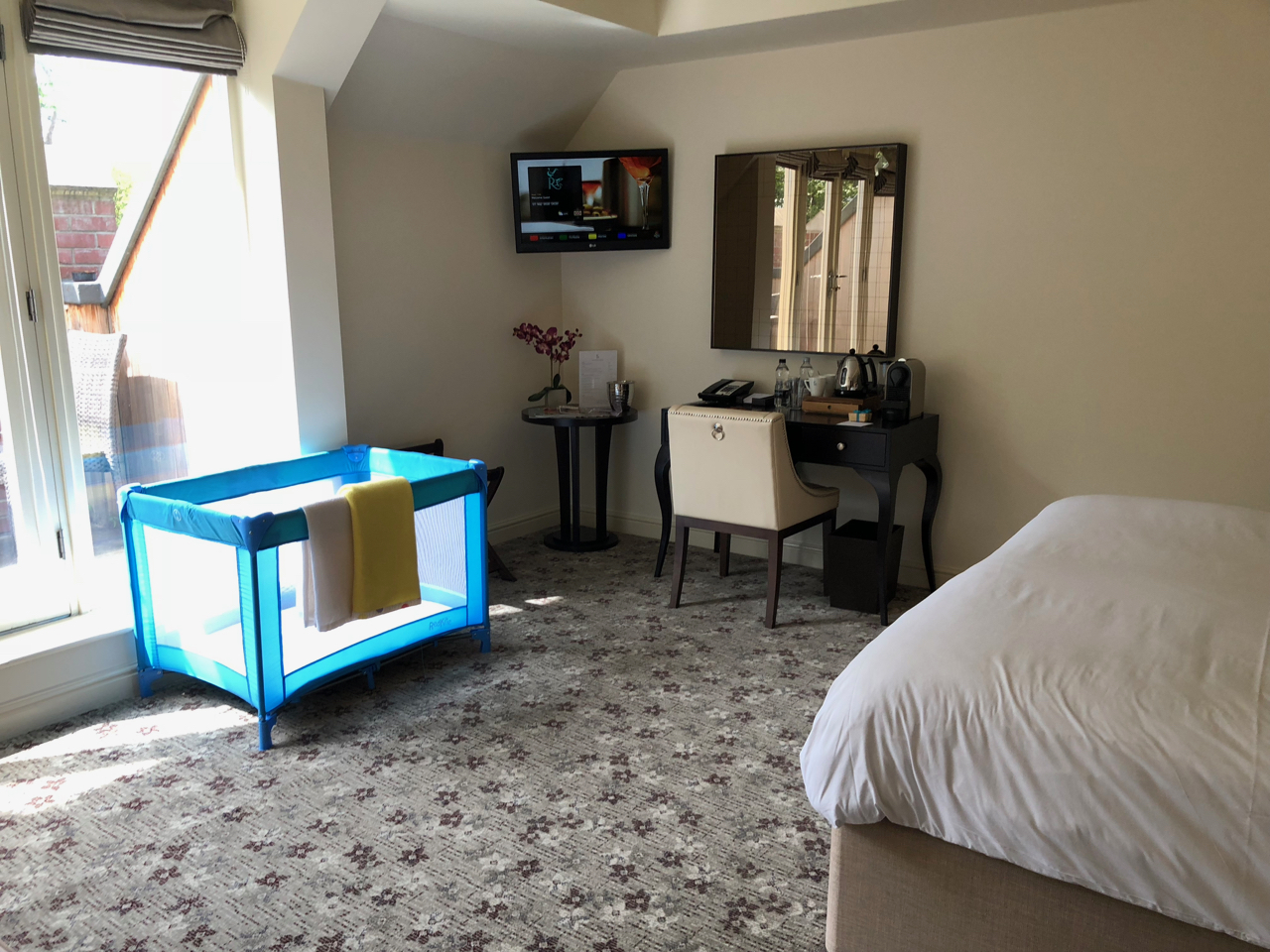 Raithwaite Estate is located just inland from Sandsend and is made up of a collection of buildings both modern and traditional that house two restaurants, plenty of accommodation and a spa to relax in. It'd been on the periphery of my consciousness for a few years now, so it was with some intrigue we approached down the driveway that separates it from the bustle of the public highway. We were due to stay in 'The Keep', which is the first building one arrives at on entering the estate. Featuring dog friendly rooms alongside a variety of other options including larger rooms and suites, it's a distinctive building styled with crennalations across its top and a central atrium that feels welcoming and airy. Our room was on the first floor and a generous size, complete with travel cot already set up for us and a balcony to enjoy along with all the tea and coffee making facilities one would expect, though I was a little surprised not to find a mini-bar. A personalised welcome card and some chocolates were a nice touch and after getting all the equipment Baby Fork requires unpacked, we didn't linger long, instead setting out to explore and check out the spa.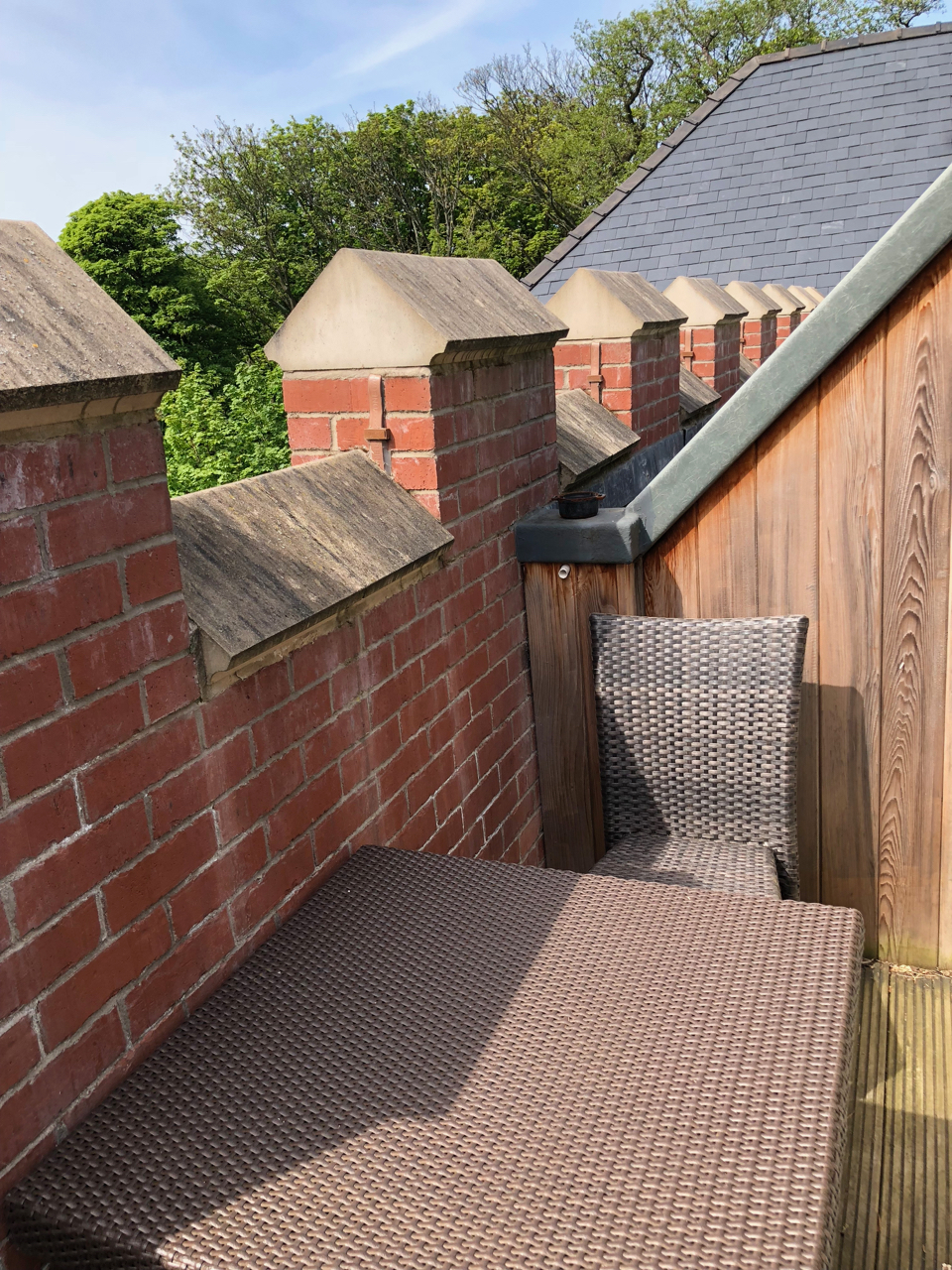 The main building that houses the spa was only a couple of minutes' walk through the attractive grounds from The Keep. Also in this building is Poachers Bar, which provided a useful space to retreat to with Baby Fork when tag-teaming baby care for spa access.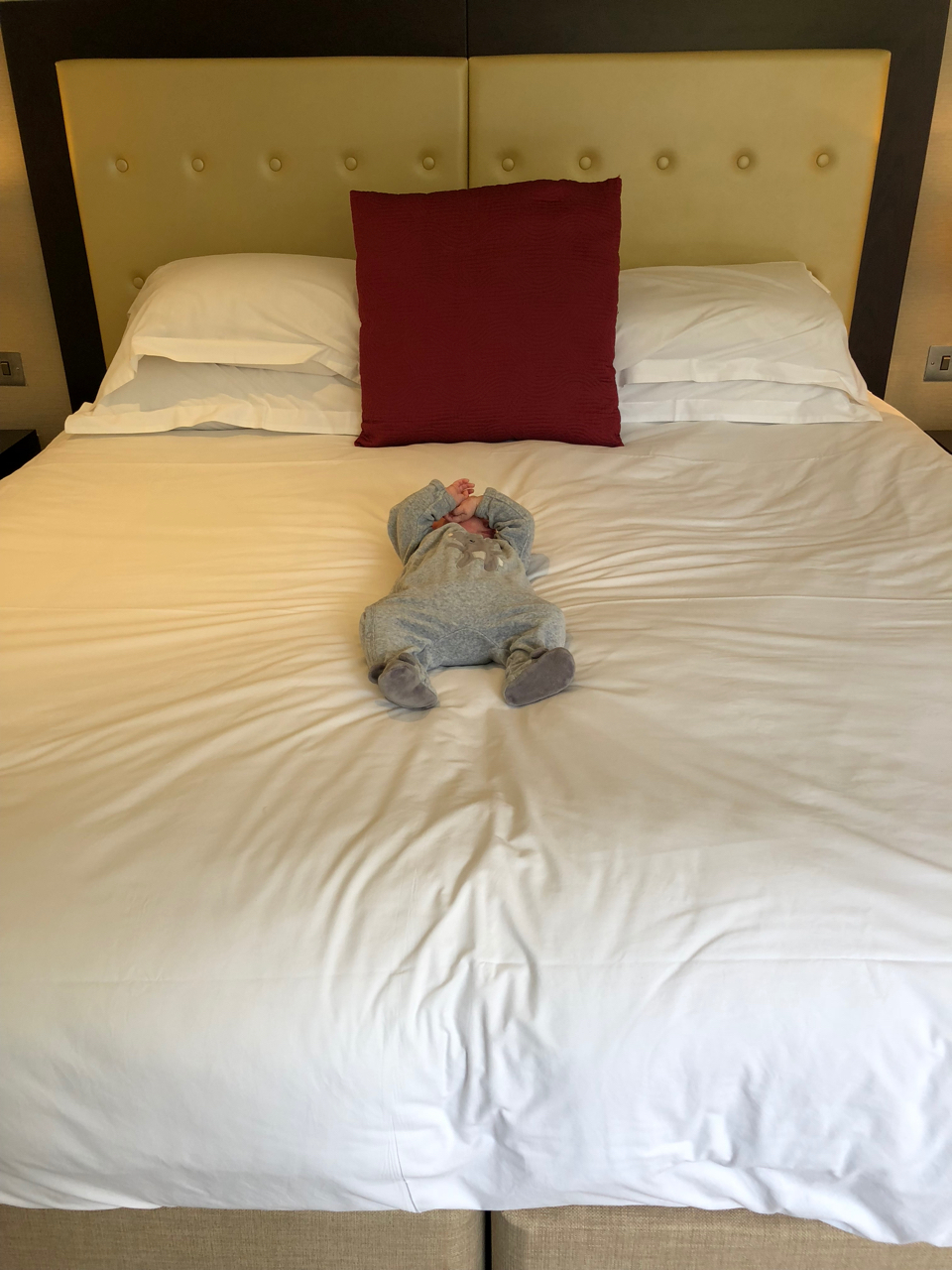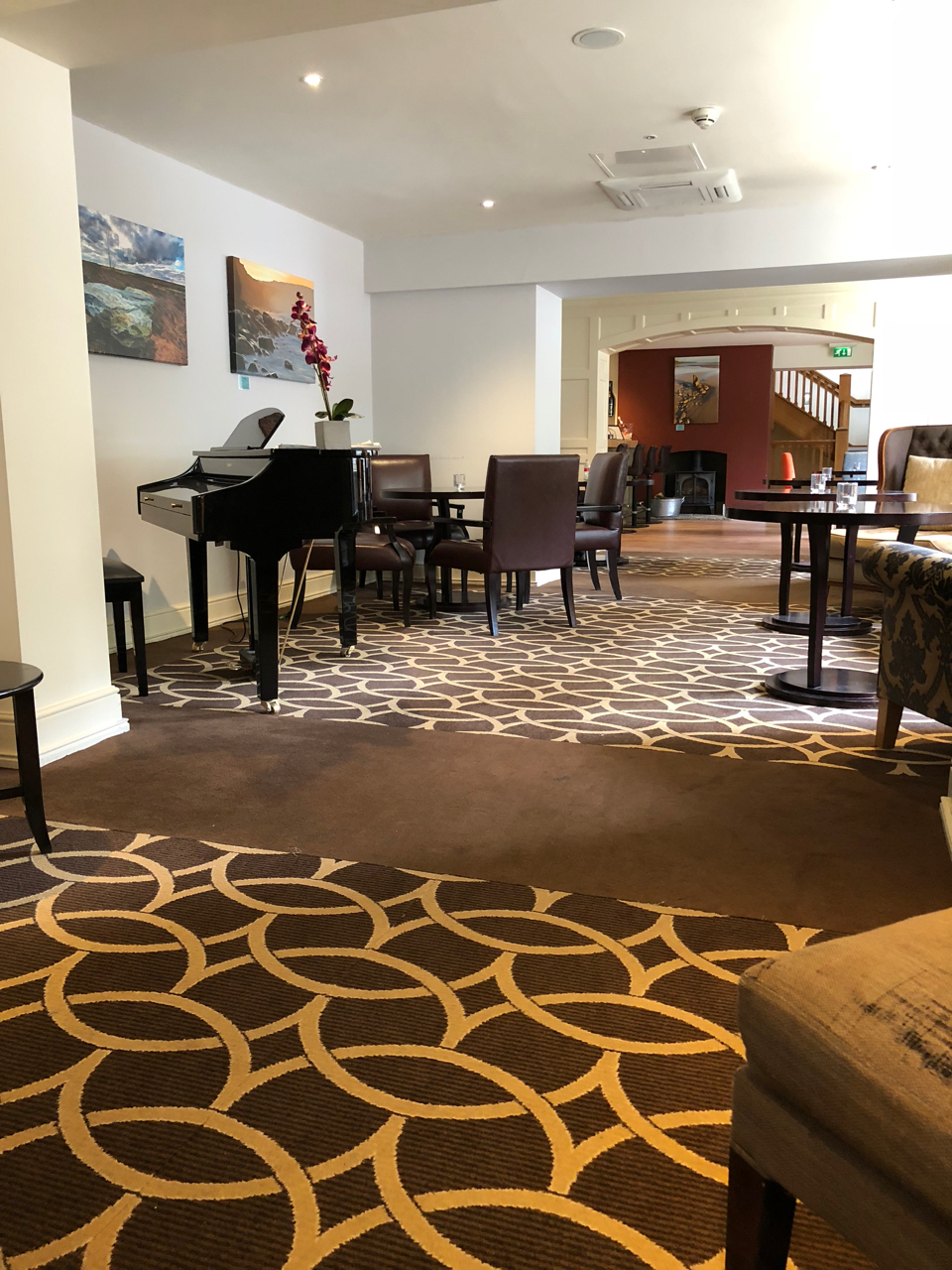 The spa itself was immaculately clean, being kept efficiently clear of the puddles and damp patches that one might expect at less attentive venues. The swimming pool features a cascade of water in one corner under which to relax and there're also a sauna, a jacuzzi and a steam room in which to shut out the stresses of the outside world. All of this is surrounded by the landscaped gardens which are visible though, thankfully tinted, large glass areas. There are, of course, luxuriantly soft robes and towels for use and a pleasingly gadgety machine to shake water from your swimming costume before heading back to your room.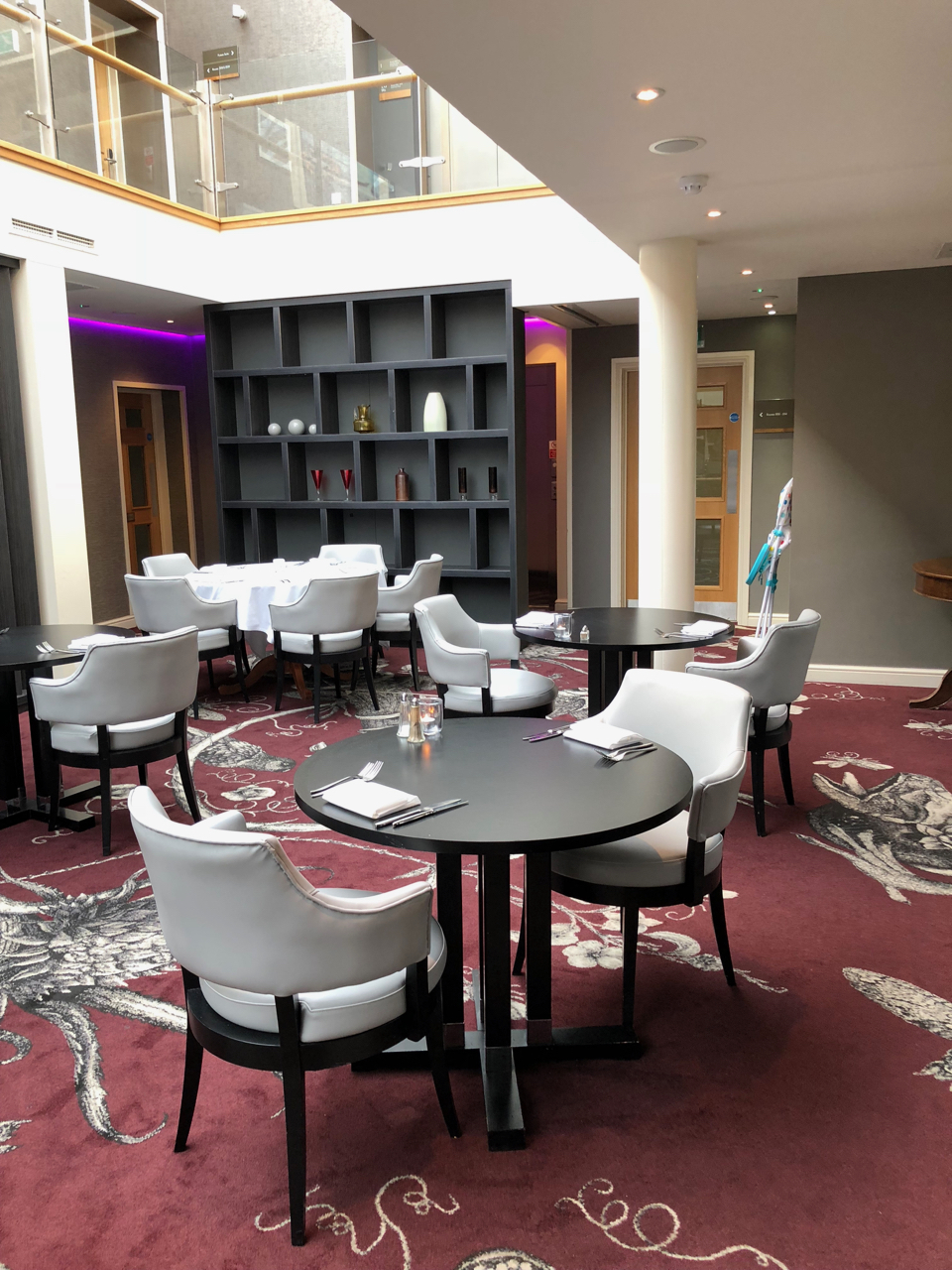 For dinner, I'd booked us into The Hunters Lounge rather than The Brasserie, which features a menu combining elements of French and Yorkshire cooking. The Hunters Lounge, also based in The Keep, looked like a slightly less formal option likely to suit our continuing acclimatisation to parenthood. After a relaxing drink in the bar to blunt the memories of the afternoon nappy changes, we made our way to our table as the restaurant started to fill, and we began our dissection of the menu.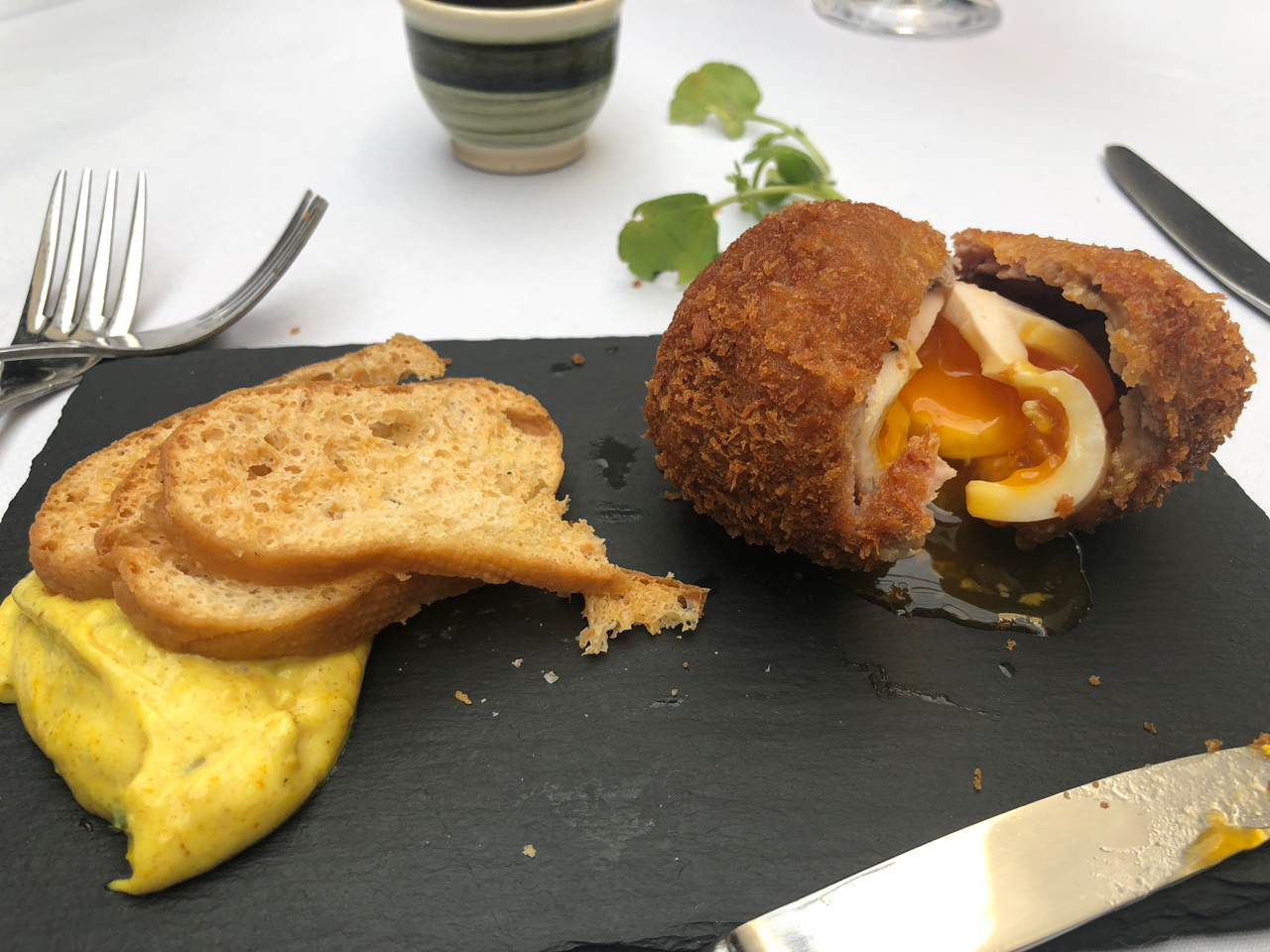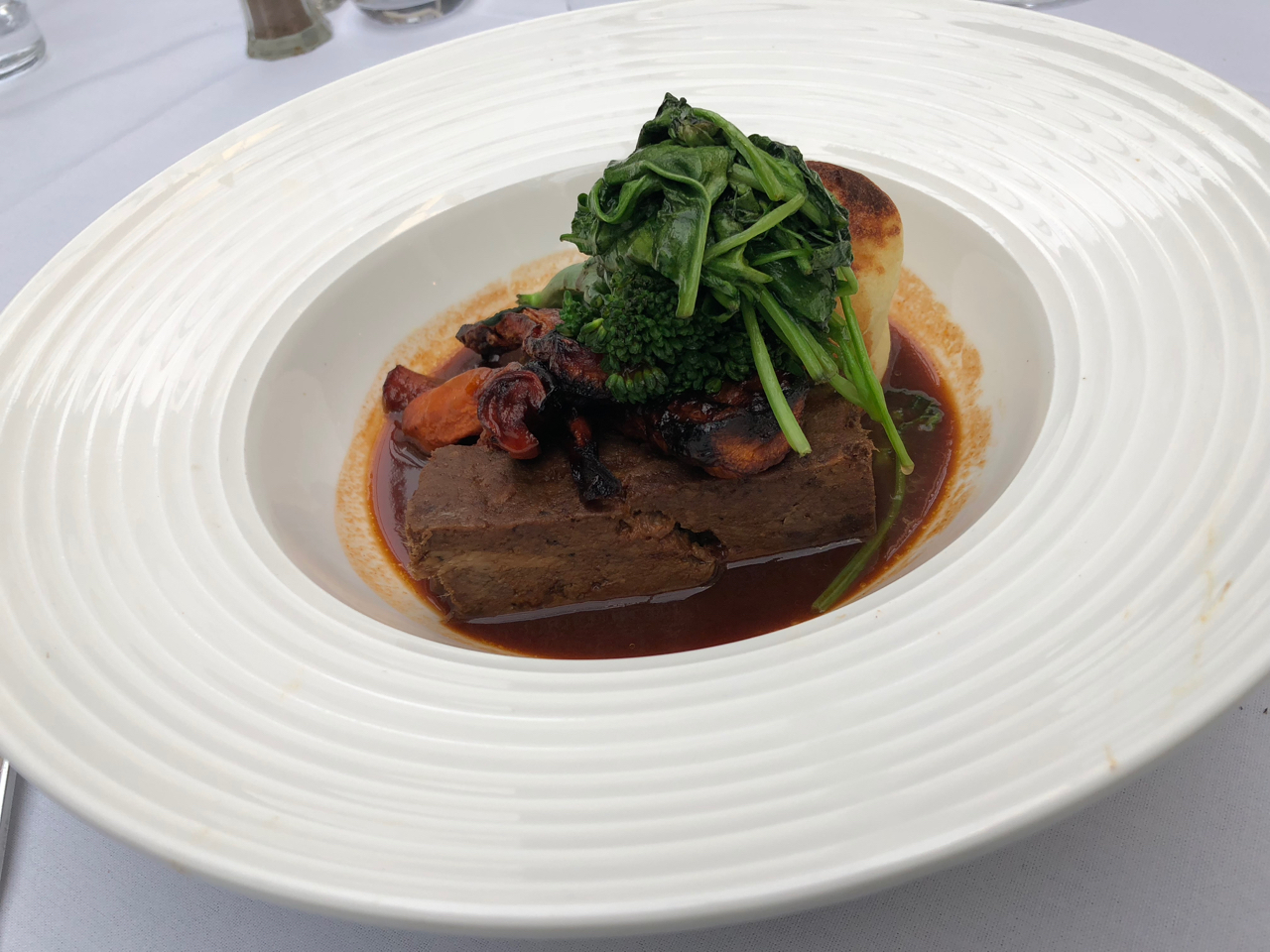 Our starter decision landed on Scotch egg with coronation mayo and ciabatta soldiers and cauliflower and courgette pakoras with yoghurt dressing. The Scotch egg was served in an over sized egg cup and easier to handle directly on its slate. I'm not sure that bashing in its head as per the presentation's suggestion would have been an elegant way to proceed, but the yolk remained soft and the meat was well seasoned with a crunchy crumb exterior to account for all the right textures. The pakora could have had a bit more spice run through them to cut across the minted yoghurt, but were well judged in quantity as we looked forward to main courses.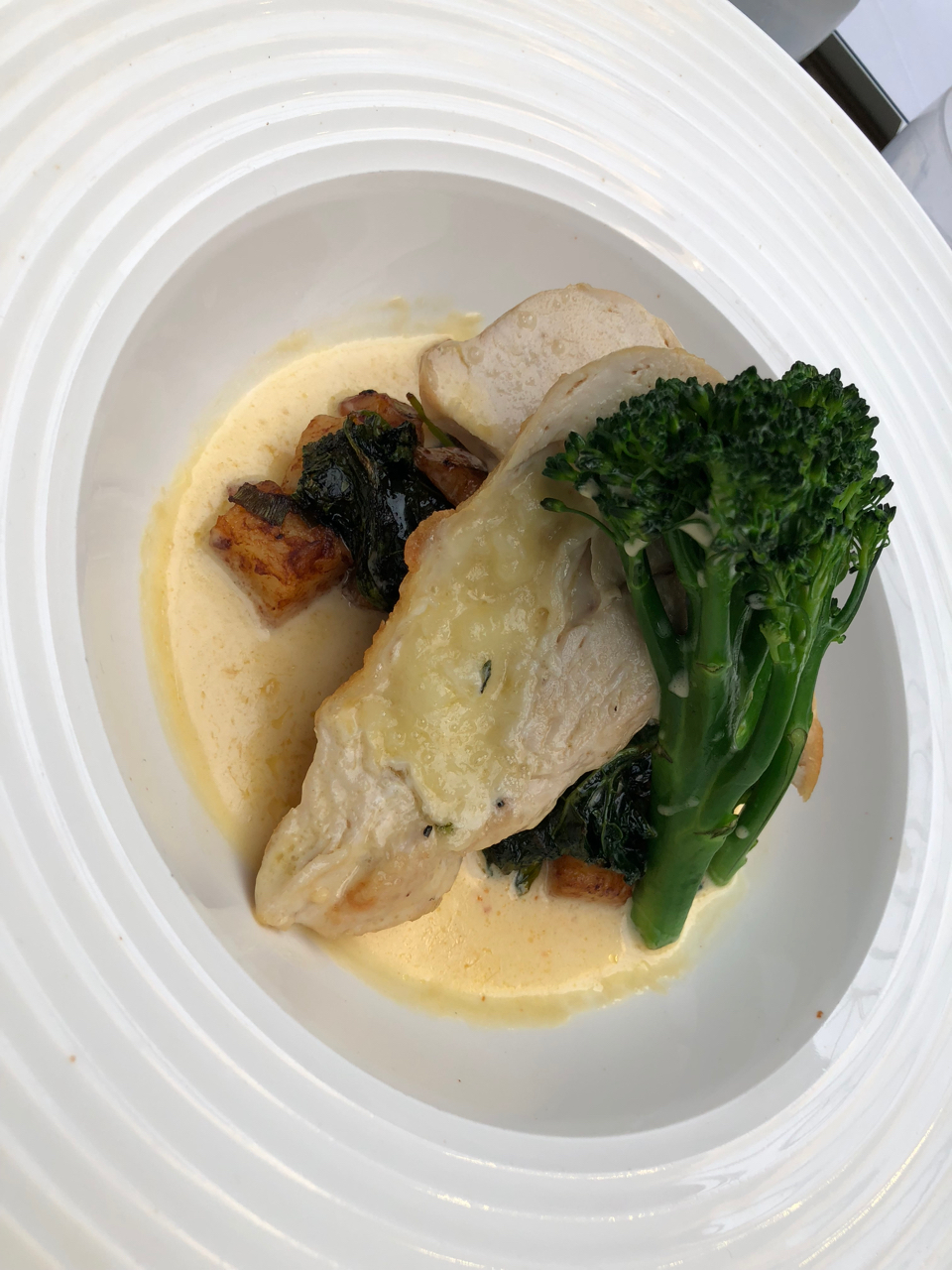 Mains featured chicken breast stuffed with brie and basil and feather blade ale braised beef. Both came with a variety of vegetables, variously roasted, steamed and creamed to complement the main elements of the plate, which were helped along by white wine cream sauce for the chicken and an ale jus for the beef.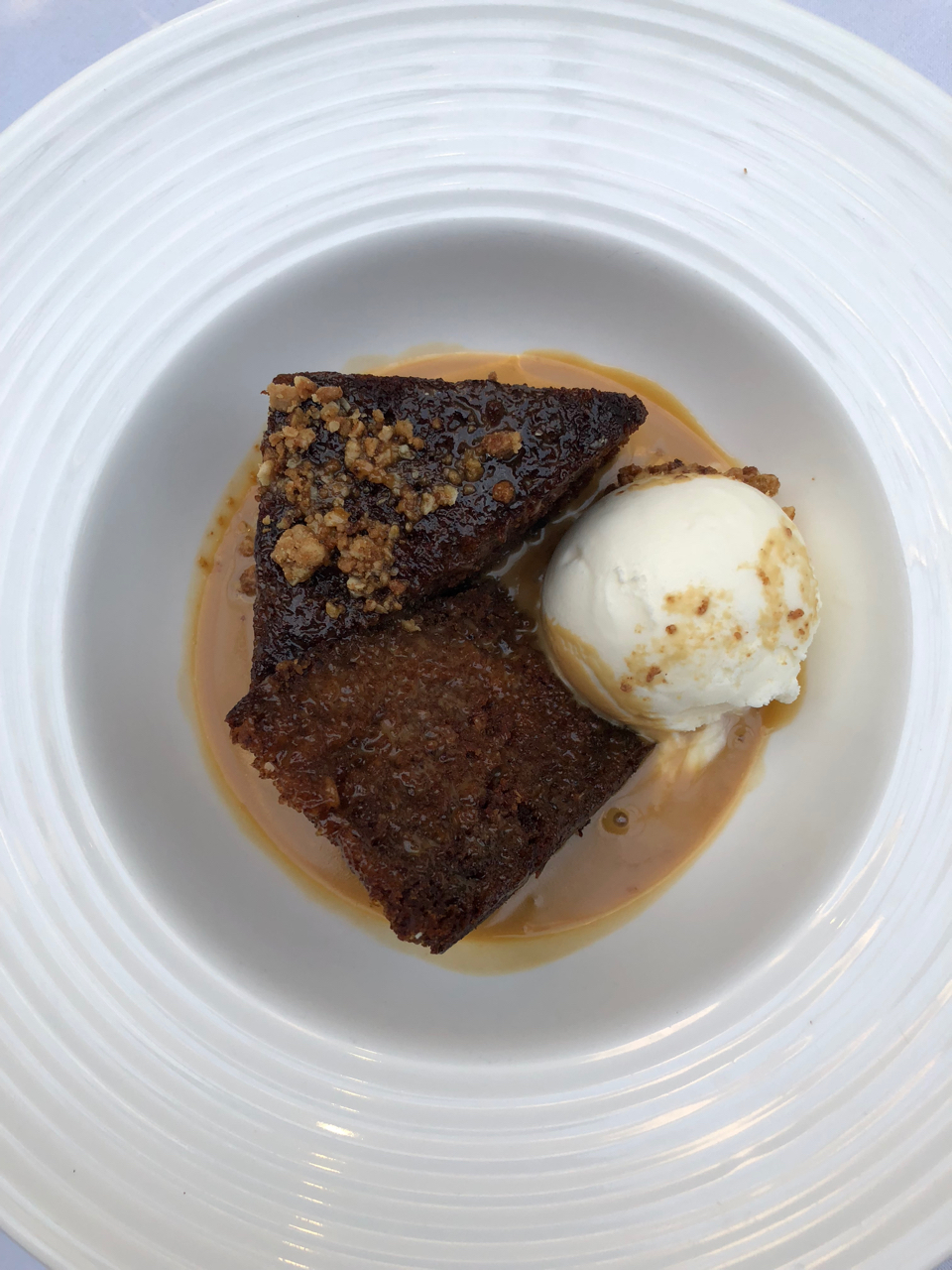 We took guilty pleasure through the meal at the presence of another baby that was more disruptive than ours, so were happy to hang on for dessert and share a rich sticky toffee pudding with ice cream before retiring to the room to get Baby Fork to sleep.
Suitably refreshed the following morning after a relatively uninterrupted night's sleep in the comfortable bed, we made our way back downstairs for breakfast. There's a particular joy to a hotel breakfast, a situation that somehow empowers one to order as much fried food as you could want, so that's exactly what I did while. My Yorkshire Breakfast was reflected across the table by a slightly more modest Eggs Benedict, both plates being a good stepping off point for the rest of the day. As well as the main plates, there was an impressive selection of fruit and cold self service offerings. Breakfast here offers a strong possibility of needing to skip lunch!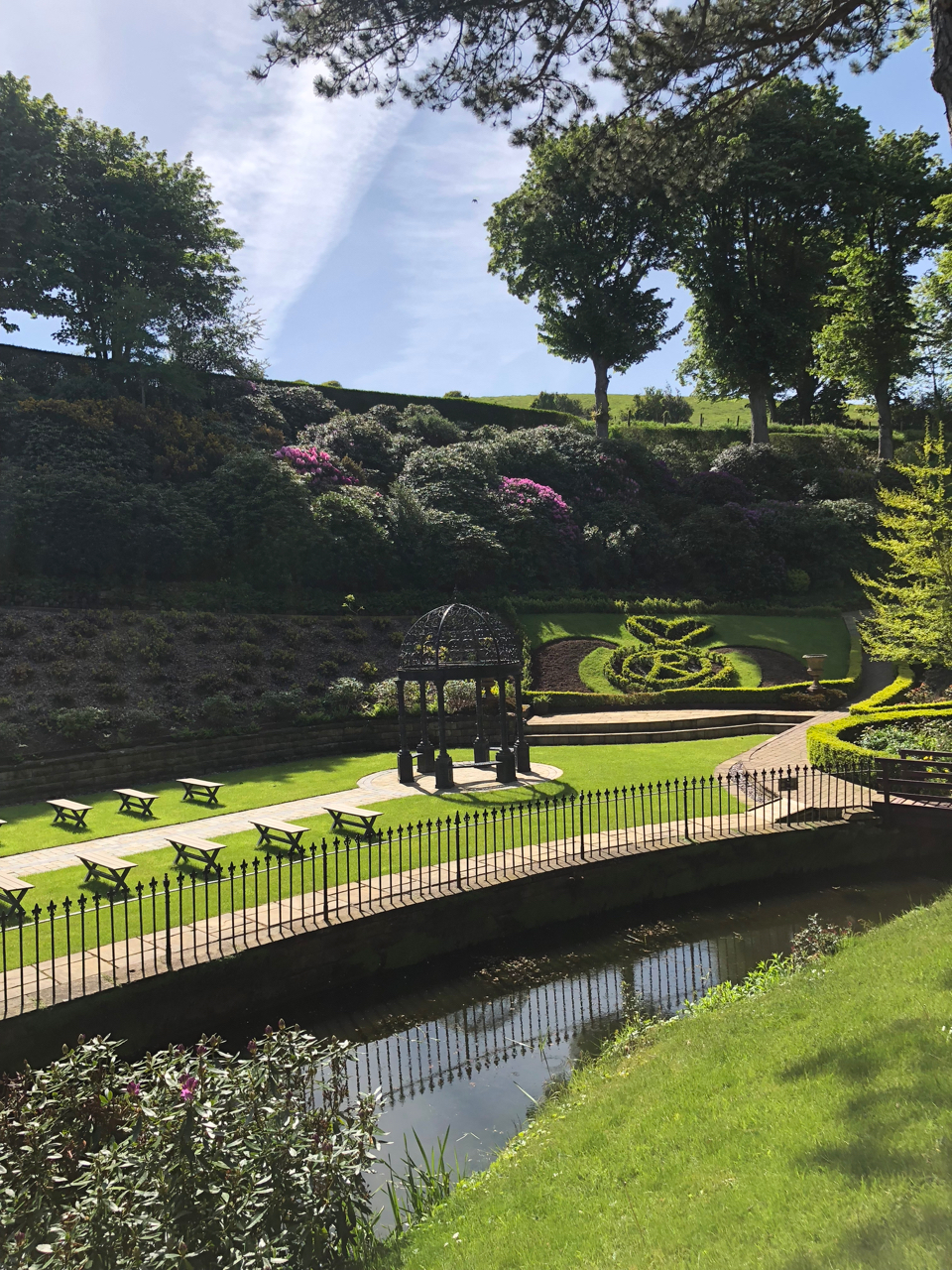 I have family in the area, so before we left, we took advantage of the Poachers Bar being open to the public to catch up for a coffee and have a stroll around the grounds, which are a pleasing compromise between spectacular and restful. All three of us enjoyed our visit to Raithwaite. It was a relaxing place to escape to with a good range of food and drink options and a flawless spa to visit. We even bumped into some friends from York who were arriving to take advantage of the spa as we left!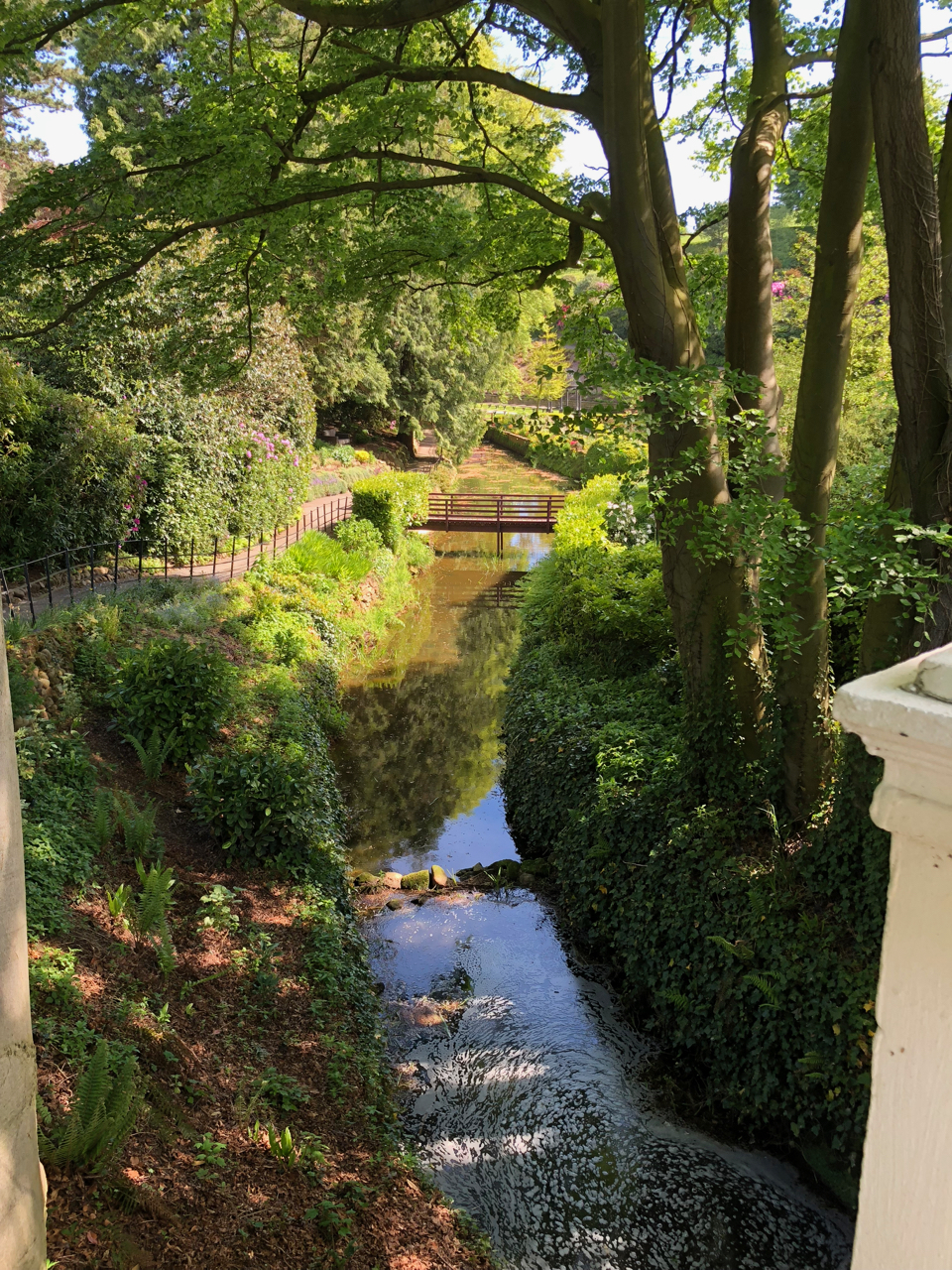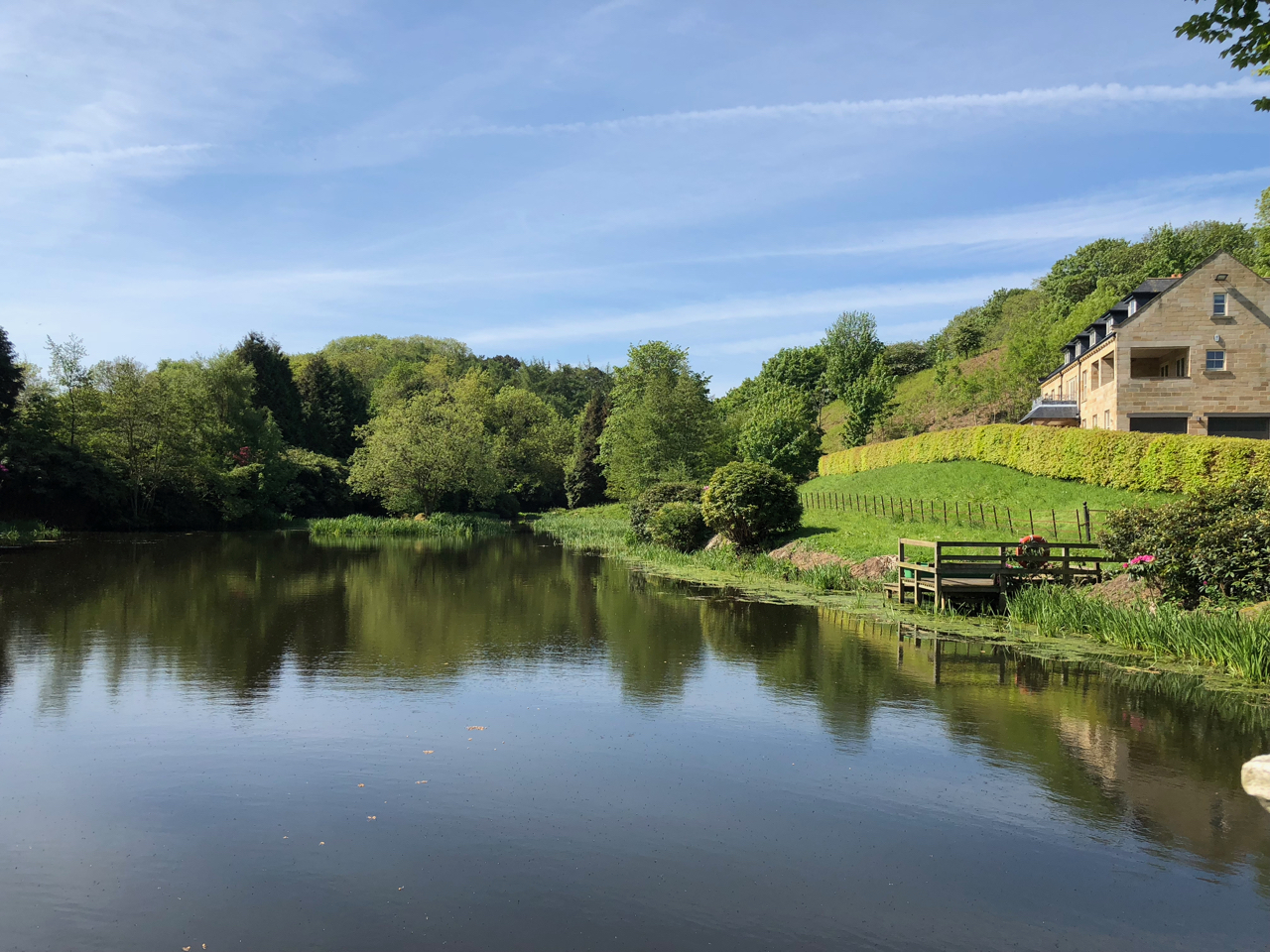 Disclaimer: Our stay was complimentary, opinions are impartial. Check the Raithwaite website to confirm prices for particular dates.