Bootham is a fine street from which to find the centre of York. A series of spectacular buildings and hotels are dotted along the road that features the handsome St Peter's School, which famously counts Guy Fawkes as an alumnus. The striking hotels along the thoroughfare don't, in general, do a good job of shouting about their combined restaurant offering but one has shunned this trend over the last few years. Adam Jackson has been working hard over the last few years to build up the already impressive reputation of his fine dining restaurant The Park on Bootham, based in Marmaduke's Hotel just off Bootham.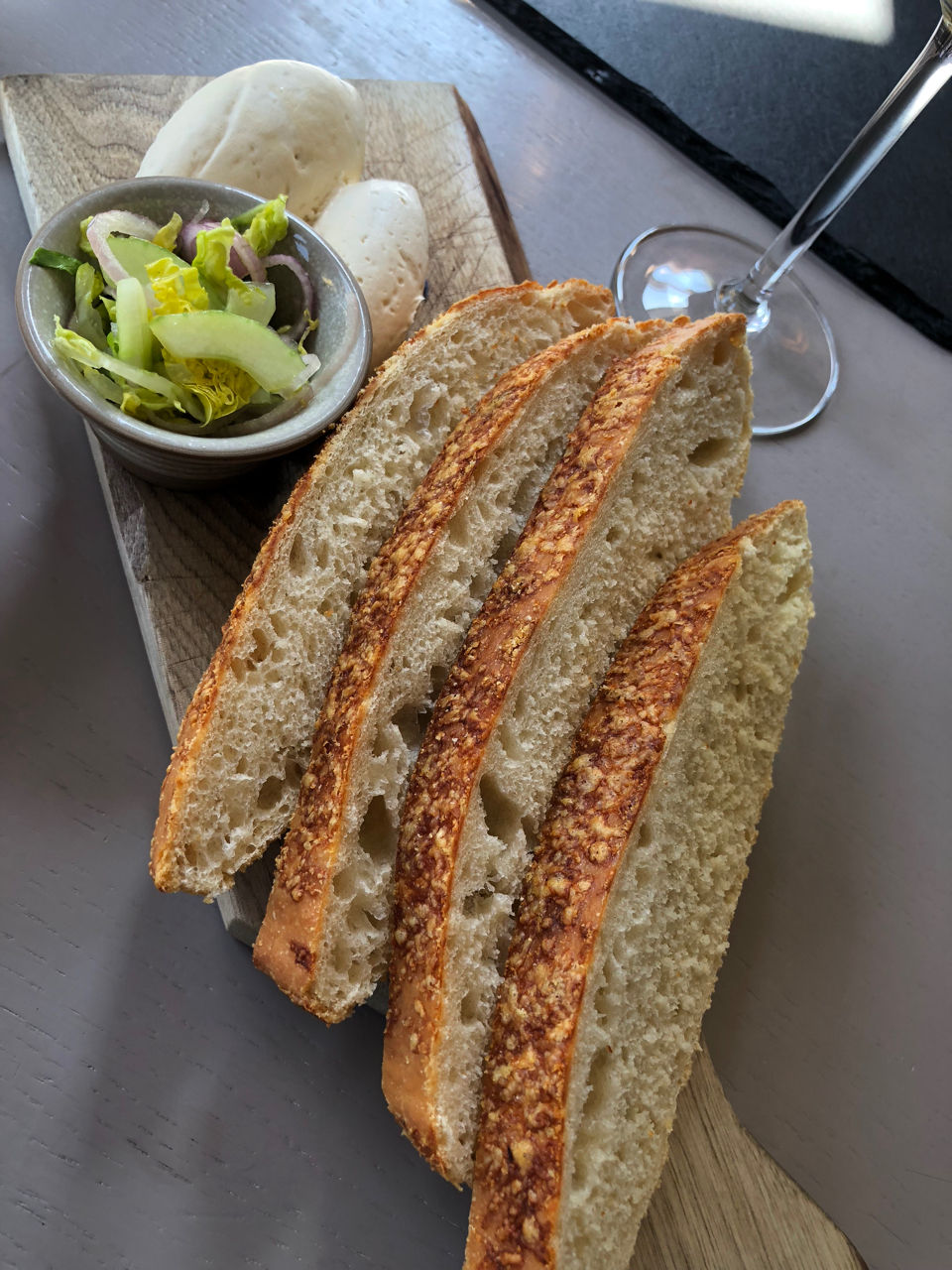 I last visited The Park on Bootham a couple of years ago and was impressed with the attention to detail, flavour combinations and superb service, so thought it was long overdue a return trip, especially since the Park is now offering a Saturday lunch time service that offered the chance to introduce Baby Fork to fine dining with minimal potential for disrupting other people eating.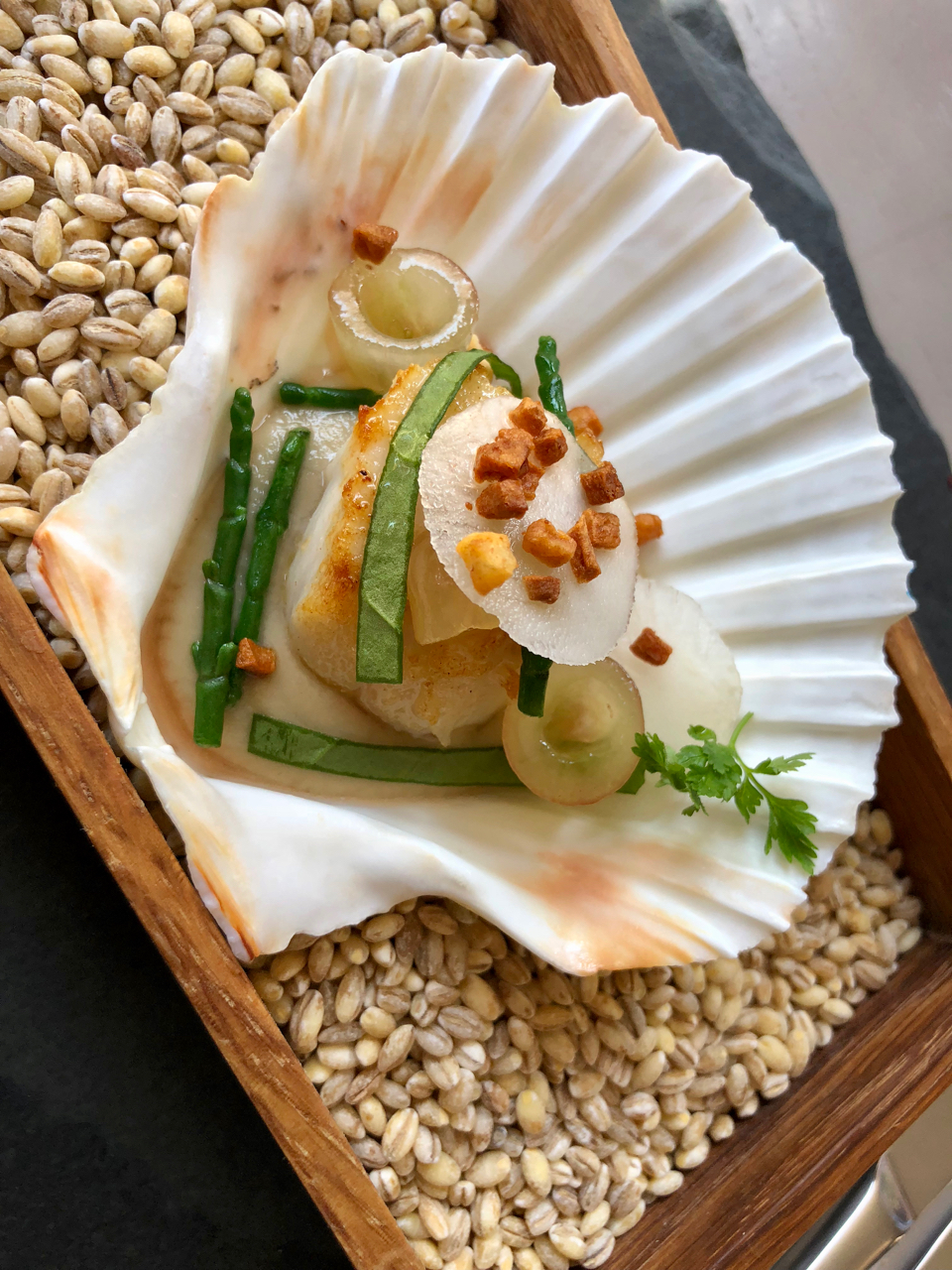 Marmaduke's is a striking building that doesn't collapse under the weight of its own grandeur. The entrance, tucked away just off the main drag of Bootham, leads into a comforting bar space with friendly service from the suitably unobtrusive and skilful front of house team. We discussed the potential for a pre-lunch drink, but deferred to the baby's continuing sleep and opted to skip on to the food, a shame as the garden is a secluded and calm space that would have suited the sunny day perfectly.
The Park on Bootham has two spaces in which to dine. This lunch was served in the smaller of the two rooms, which are both welcoming and offer the right combination of privacy and conviviality in which to enjoy the occasion, in this case a three course menu for lunch. It goes without saying that no fine dining establishment would be caught with its trousers down by not offering bread and snacks before the documented courses began, and so we enjoyed some spectacular fresh bread with whipped marmite butter along with a miniature 'Yorkshire Salad' that dressed shallot and greens to much greater impact than I've ever enjoyed from a salad before. The bread was just as fresh and beautifully textured as my high expectations reached for, and the marmite butter was good enough to eat with a spoon.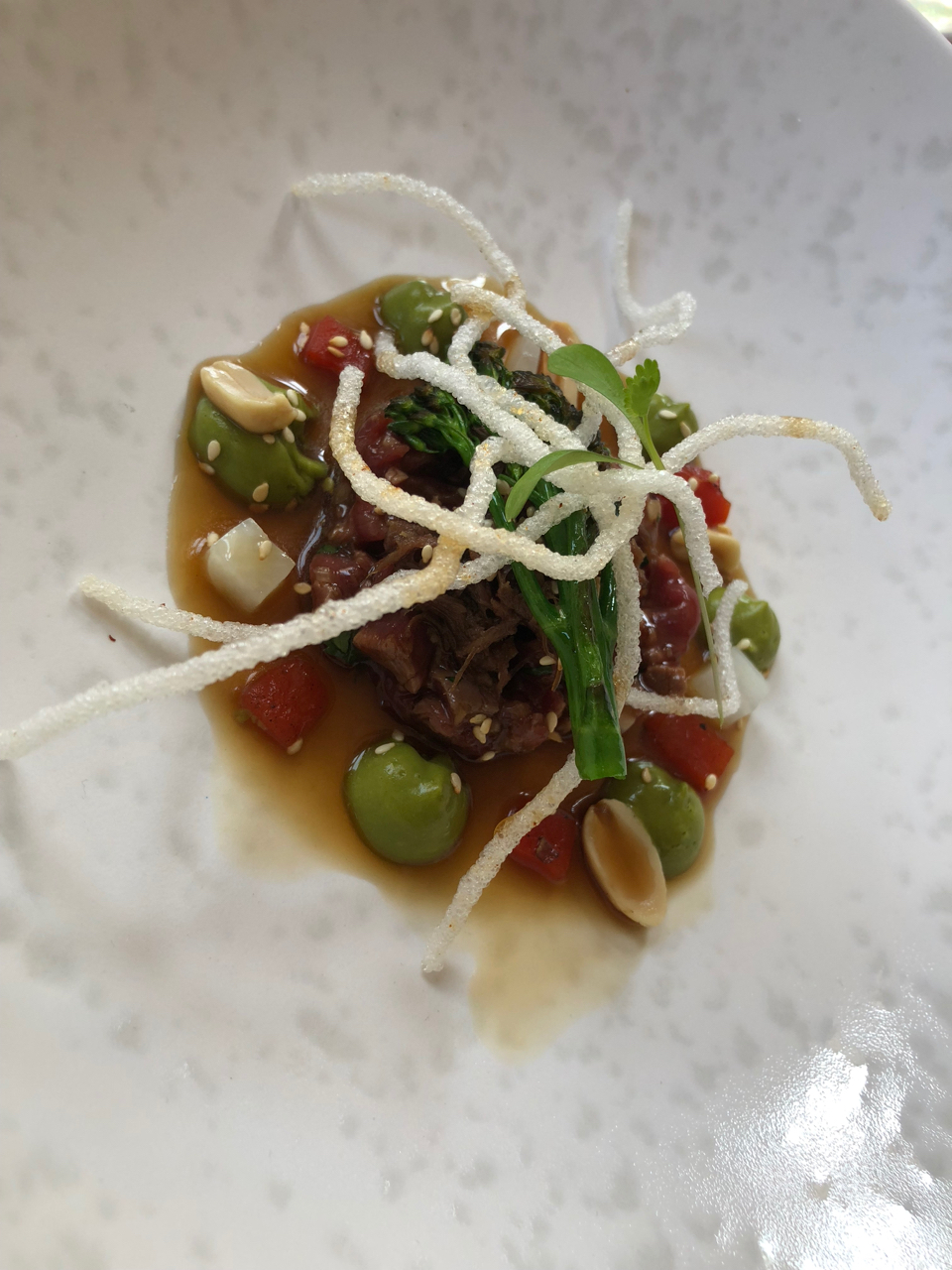 The next snack before we got stuck into the main courses was a scallop accented with Jerusalem artichoke, pickled grapes and samphire with a crispy crumb that gave texture to the complementary flavours. It'd be hard to put that many of my favourite things on a plate and trigger any complaints, so of course there weren't any as we enjoyed this superlative way to start a meal.
The first of the courses described on the menu was a meat dish, described with characteristic restraint as "Beef, Sesame, Broccoli, Peanuts". I can see pickier diners preferring a more detailed break down, but I'm happy to take whatever comes from a chef as well regarded as Adam. What did arrive was a delicate portion of beef that anchored the course to the centre of the plate. Around this were identically sized red and white flourishes that sat under a garnish of sesame seeds, peanuts and crispy noodles. When finished with a light consommé, everything was left in healthy dialogue to make a superbly refined plate, taking full advantage of each element without leaving any flavour or texture overshadowed.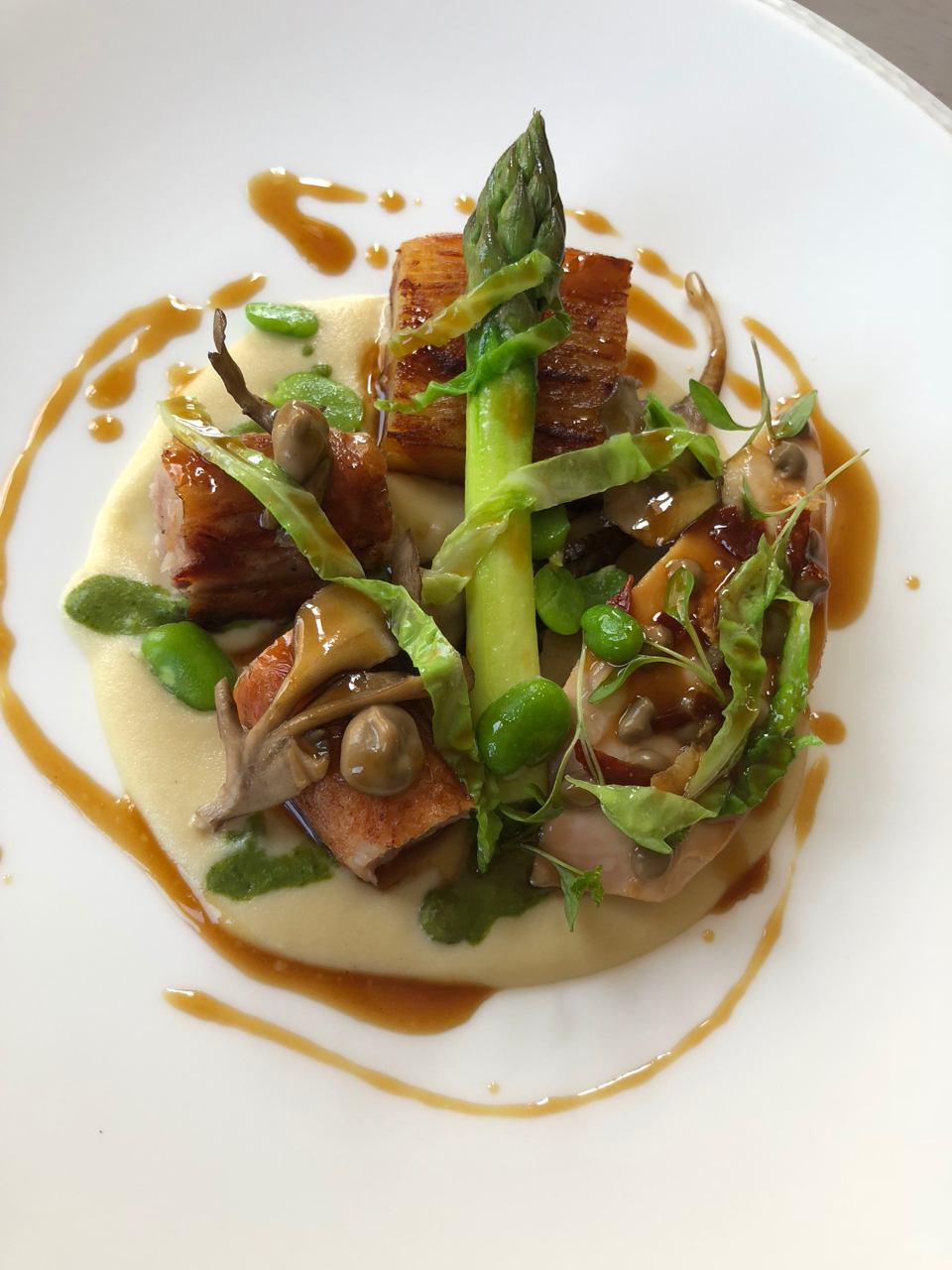 The second of the three courses called itself "Poussin, White Onion, Ham, Hen of the Woods' and, again, pulled off the trick of bringing together a selection of strong flavours without letting a single one dominate. The slices of dauphinoise potato were a delicate highlight, the paper thin slices of potato layered with ham in quantities perfect to work with the sweet onion flavours, poussin and asparagus.
We'd opted to skip the cheese course, fearing noise from Baby Fork, so the experience finished with "Pineapple, Rum, Vanilla" elements which had been worked into a complex sandwich of crisp sweet shards separating sweet flavours and topped with a delicate quenelle. As with each of the previous courses, the theme here remained 'balance', with no element shouting louder than it should.
Each of these main dishes was paired with a superb wine that did everything asked of it in bringing more out of the food. In particular the 2013 South African Pinot Noir served with the beef teased out further complexity, further underlining the sense of cohesion in the menu. A San Franciscan Chardonnay triggered memories of a trip to California a couple of years ago while also providing ample support to the poussin.
The Park on Bootham remains one of the best fining dining restaurants in York. Its position in a hotel leaves it at risk of being overlooked, but everything we enjoyed for this lunch surpassed expectation, including Baby Fork and her continuing sleep. The three course menu is £35 with another £22 needed to grab the paired wines mentioned here. That's a very fair price for food like this, and one that's extremely likely to tempt you back for the seven course tasting menu.