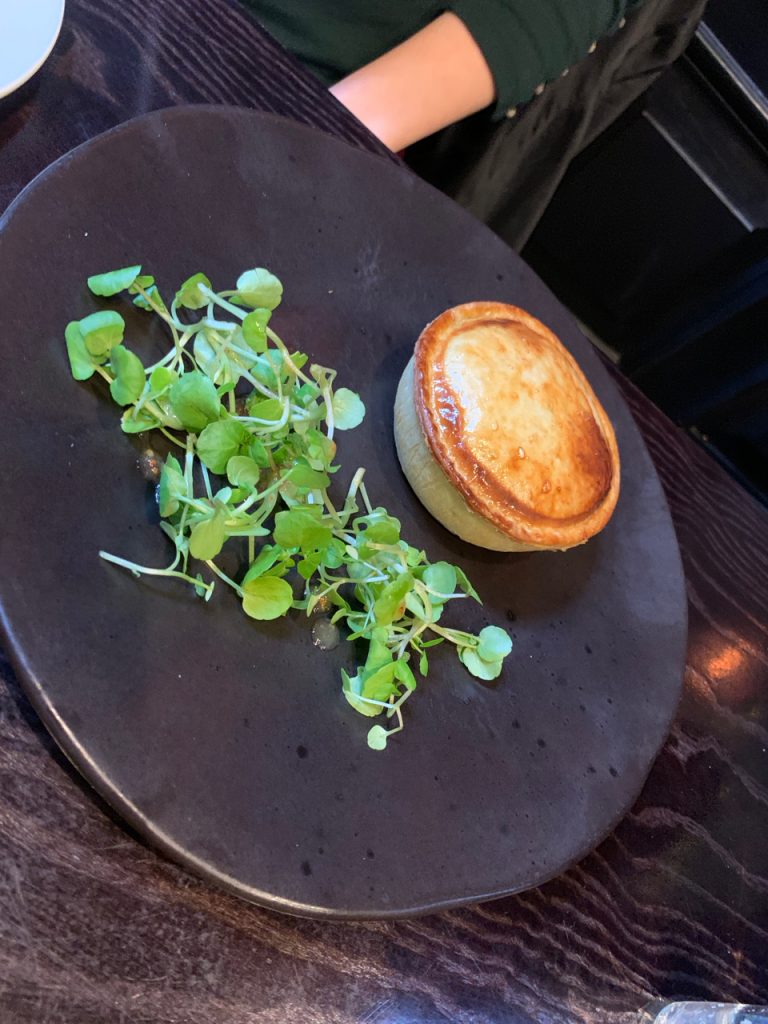 Lunchtime is precious in the world of office work. It's an opportunity to stamp your authority on a small element of the days you spend earning a living in return for a precious slice of that remuneration. While you may or may not be lucky enough to have a subsidised work canteen (and "lucky" is very much subjective in this context given the variable quality of these institutions) it's often beneficial to get some distance from the desk and eat out, potentially under a euphemistic "working lunch". The Whippet is the latest restaurant in town to recognise the possibilities of this market and offer an appropriately priced menu of Whippet Inn Pies that can be enjoyed in a suitably brief timeframe.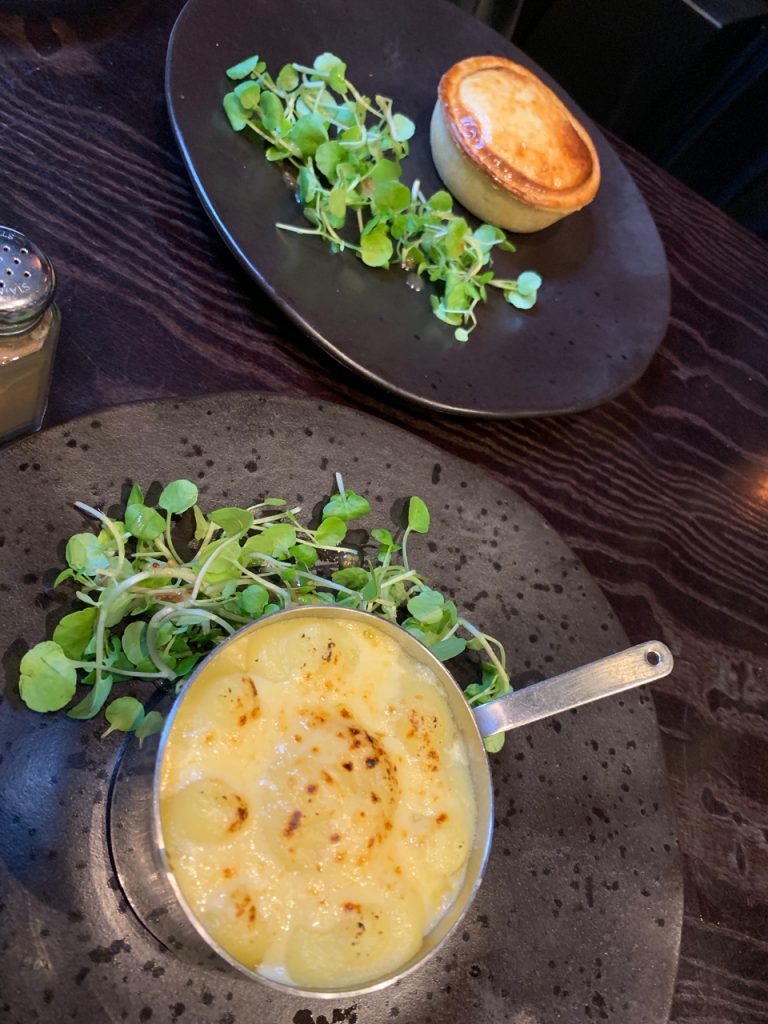 The Whippet are now offering a pie menu for lunch that can be pre-ordered for maximum efficiency and offers a satisfyingly hearty lunch for under a tenner. The pies on offer here are proudly described as "proper pies, none of this tin with a pastry lid!" and are indeed fully encased in pastry with the, justifiable, exception of the fish pie. There are five fillings on offer, including a vegetarian pie alongside that fish offering, and seven sides to go at before a couple of dessert options to finish the menu. Pricing is certainly keen with pies all weighing in under £6 and sides only £2.50; decide you'd like a dessert too and it'll only need another £2.25.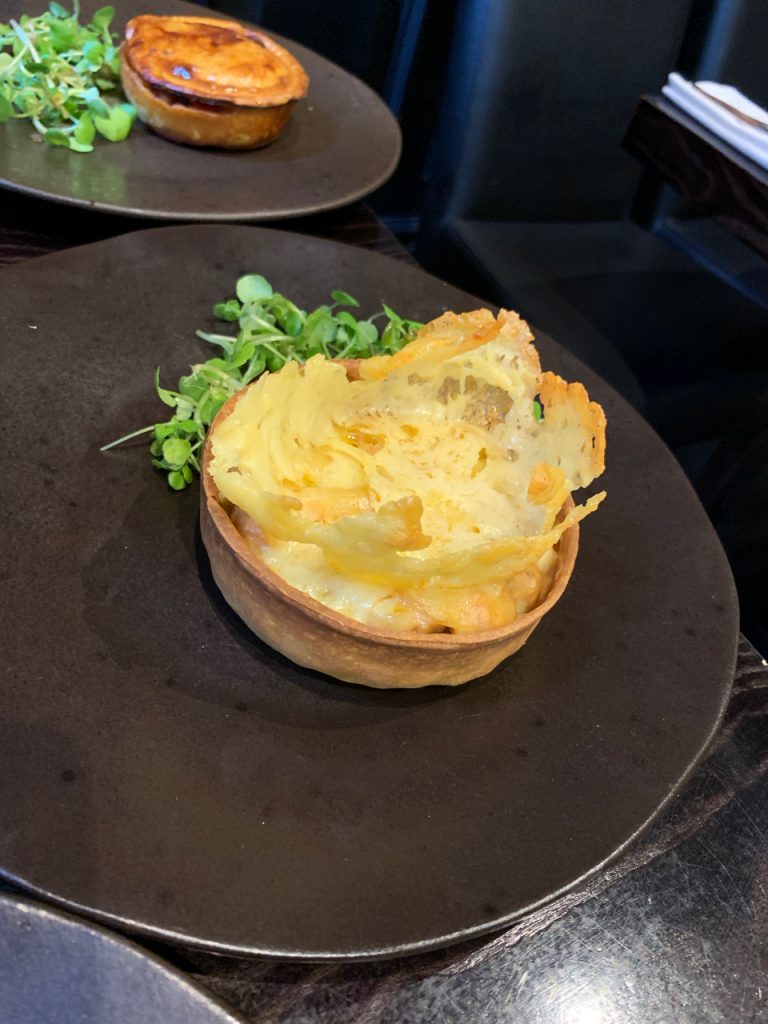 I was just about able to stretch my appetite to try all of the Whippet Inn Pies on offer, enjoying them all without finding a clear winner. On balance my favourite was probably the most traditional filling of braised beef that came further alive with a touch of blue cheese. The smoked fish pie showed pleasant restraint and didn't allow strong smoky flavours to dominate, while the balance of chorizo and chicken was happy to play amongst itself with peppers. Mac and cheese filled pie disappointed a little, needing a stronger flavour to allow the slow cooked brisket to make a proper showing, but cheese, beef and pastry can only ever be the slightest disappointment when on the same plate. I've tried vegan options at the Whippet before so it was thankfully predictable to find the vegetarian pie just as satisfying as the meat-based options with subtle satay sauce bringing the best out of cauliflower, chickpea and aubergine.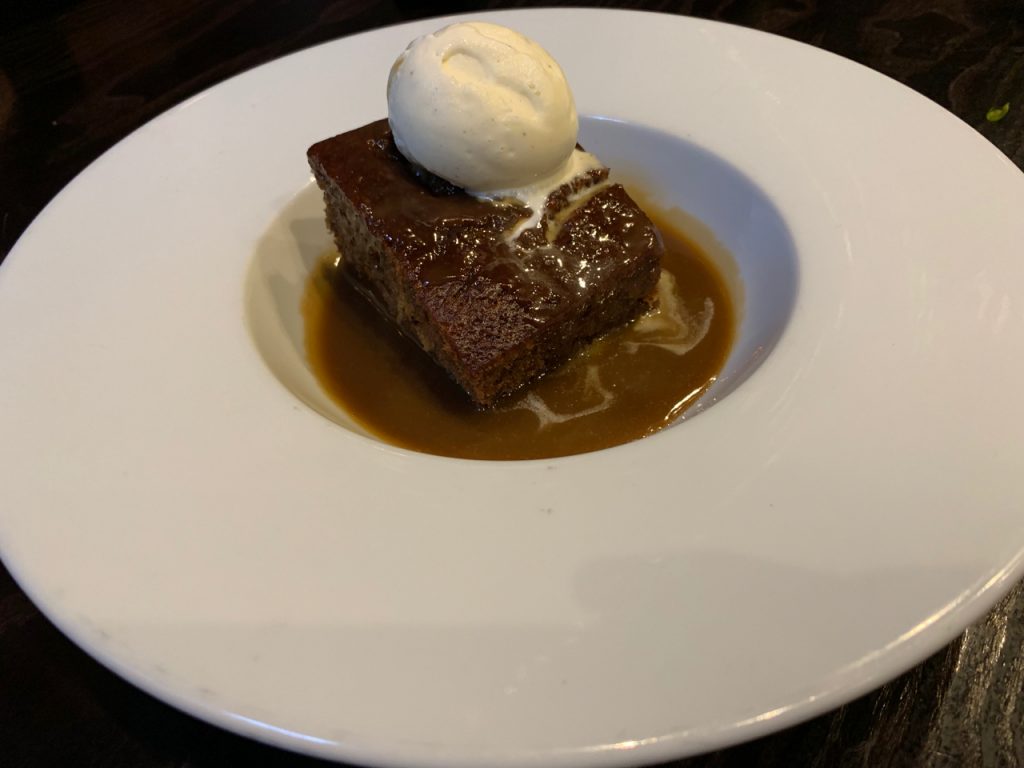 After trying the full range of pies, I felt it still my duty to check out at least one of the desserts, so worked happily through a few mouthfuls of sticky toffee pudding. The toffee sauce this came with was a felt like a suitable indulgence with which to finish the meal and the sticky toffee pudding that it drenched was happily light enough to not send one to sleep upon returning to the desk. Some years ago I had a desk very close to The Whippet and would regularly lose depressing amounts of money on very average sandwiches. Had the option existed to indulge myself like this for only a few more pounds, I'd have definitely done so.
Disclaimer: No charge was made for this meal. Opinions are impartial