Can the Best of British defeat the endless onslaught from Germany? I tried the Jaguar XF to find out…
Now that Jaguar has finished the important business of separating its current model line up from memories of the X & S Types, rounding out the saloon models with the F-Pace and F-Type, it's moved its focus to the business of continuous improvement and keeping the line up fresh, which means there's a new XF in the brochures.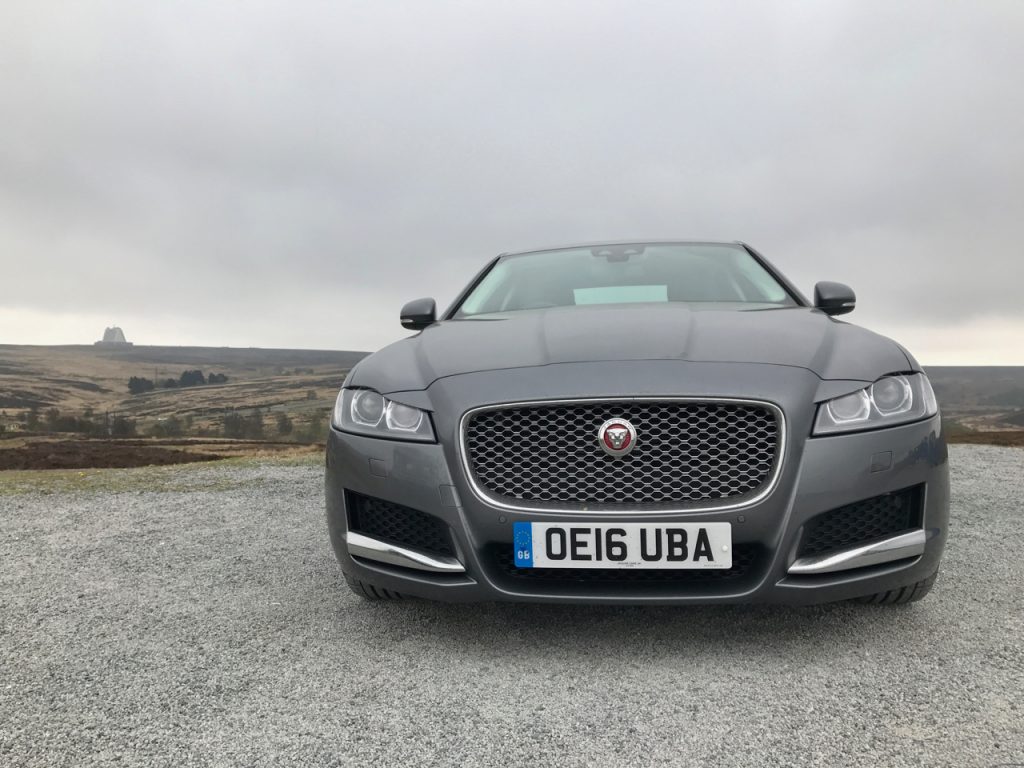 Aggressive frontal styling sets it apart nicely from the previous generation, the grill standing proudly upright. When viewed from anything other than head on there're rather too many similarities in the XE and XF styling, which is great for brand identity but less so for model differentiation. Even after driving the XF for a week, it wasn't always possible to identify this generation of XF from the previous, or even the smaller XE.
The UK-built Ingenium 2.0-litre turbodiesel engine fitted to this top 'Portfolio' spec car knocks out a modest 180hp, but backs that up with 430Nm of torque, but that doesn't sound like enough motivation for a car pushing 1,600kg. Once up and running though, that chunky torque figure allows for brisk enough performance when the gearbox can been coerced out of the highest gear that it can maintain. One benefit of sticking in the high ratios is fuel economy, a motorway run returning an impressive 56mpg despite diversions and hold ups. Over a week this dropped to a more realistically attainable 45.3mpg.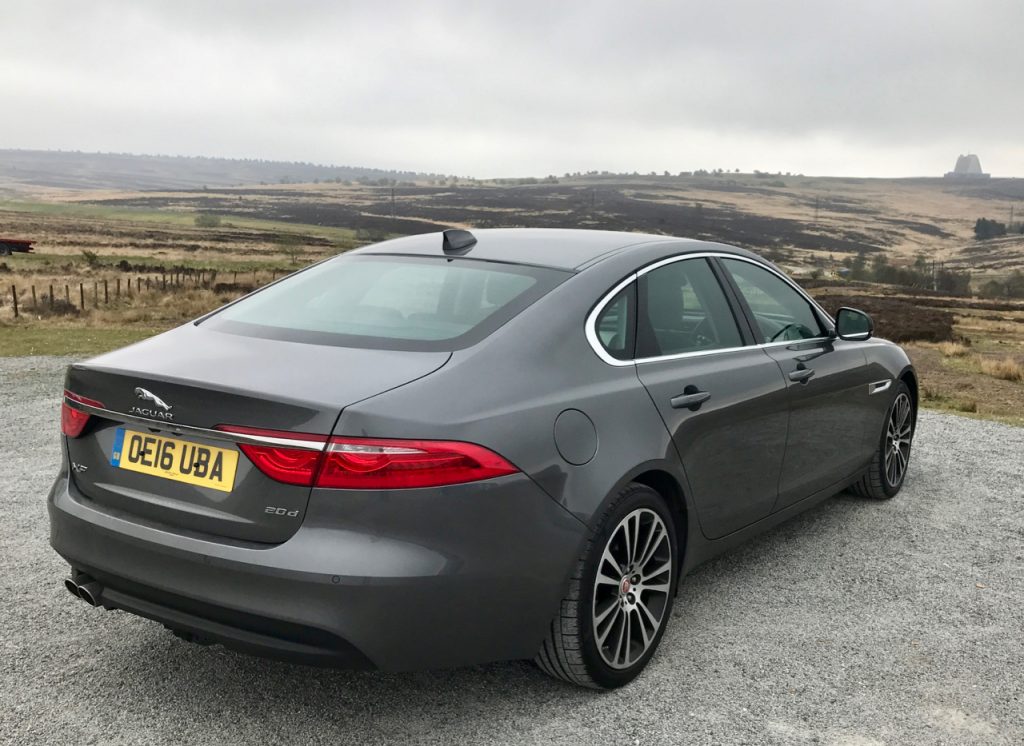 With the opportunity to drive a little more enthusiastically in the Yorkshire Moors than would be wise in a town centre, the sporting nature that's a key pillar of the brand could be explored. Setting the transmission to Sport and the adaptive chassis controls to Dynamic allows the driver to take full control of shifting duties, confirmed by the rev counter shimmying to the centre of the instrument binnacle. Everything looks the part but, after a few miles, all those reports of good body control and sporting intentions had to be questioned. The ride wasn't perfect when presented with broken, under-funded Northern town centre roads, but motorways were as deftly dispatched as you'd expect, so it was a bit of a shock to find back road undulations breaking the car's composure. The XF might have held its line perfectly well, but the car didn't inspire confidence.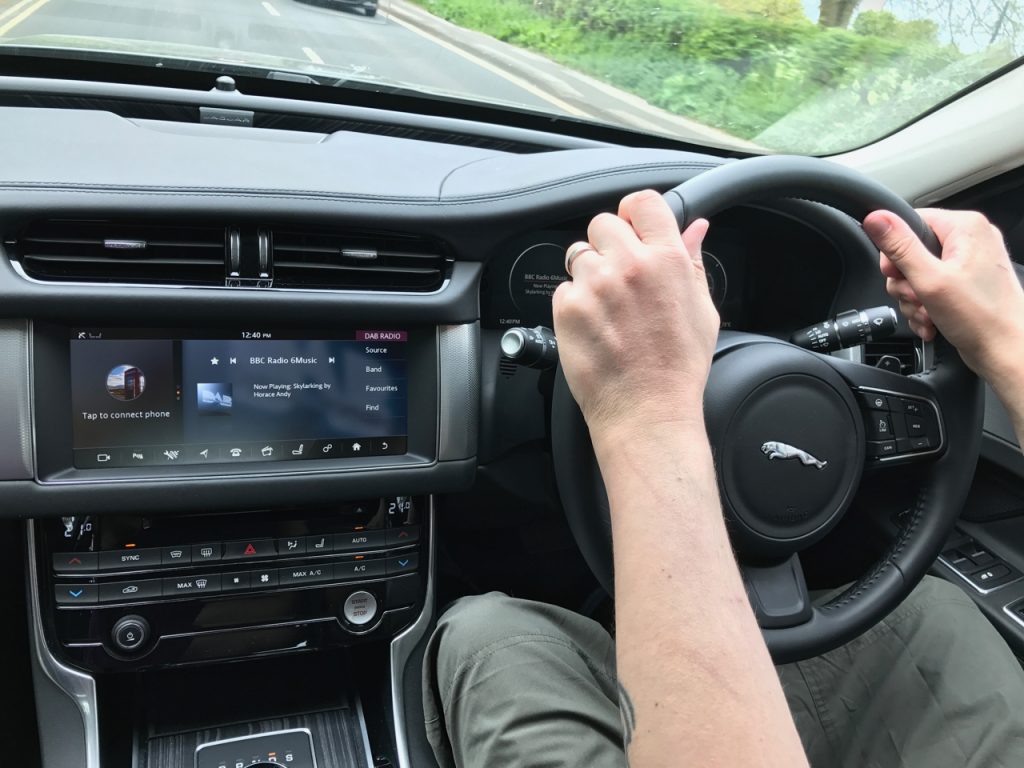 Sure enough, something was amiss. The Dynamic mode had somehow been compromised so that the dampers remained in soft-and-comfortable standard mode, while everything else had tightened and sharpened itself as intended. Suddenly everything fell into place and the superbly upholstered Jaguar began to make progress at significant pace, easily giving life to the cliche of larger sports saloons shrinking around the driver and becoming easy to place on the road.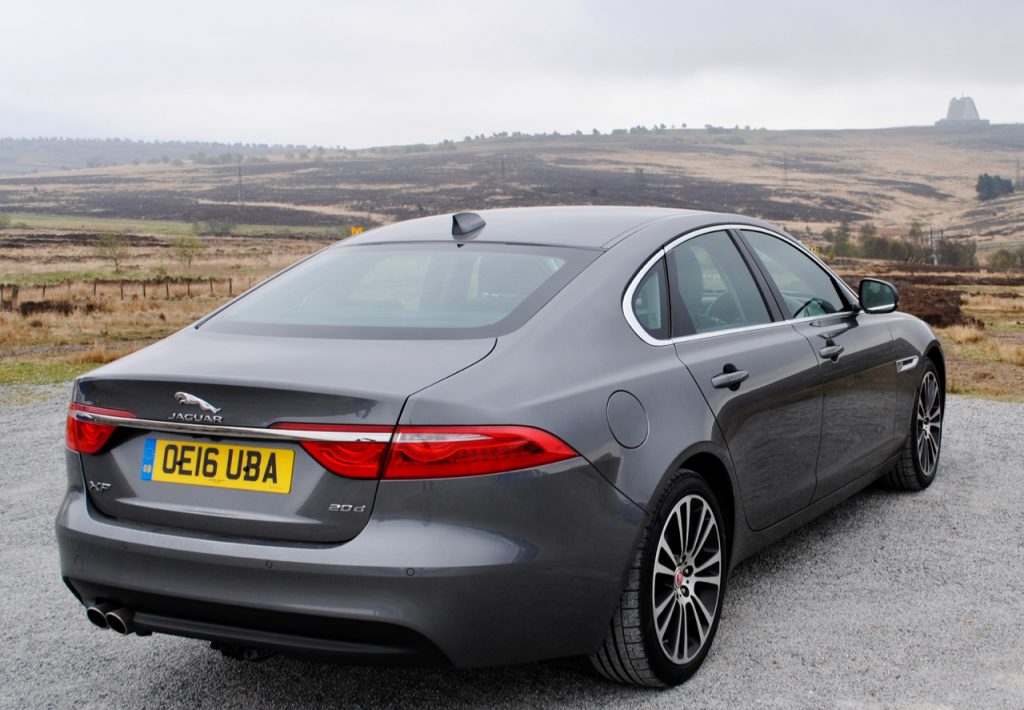 As far as the interior goes, there's something of a sense that Jaguar is still trying too hard to shake off the burr walnut image with lots of stark black surfaces and leather, contrasted on this car by grey wood insets. The contrivance of those vents that reveal themselves highlights the swathe of slightly tacky silver plastic that dominates the passenger's side of the dashboard, while the roller that covers the drinks holders will remain easy to keep out of sight and ignore the multitude of tiny scratches it absorbs.
There's an abundance of things to press and a large touchscreen that acts as a portal to many, many more toys, some of which might be used more than once (be honest, how much use will anybody get from a G meter in this car?) but the system feels lethargic and dated. The optional InControl Touch Pro system comes with a Meridian audio system that deploys drum n' bass to such effect as to rattle the change in my pocket and, while largely effective and easy to navigate, would justify the £1,225 price a little better with snappier responses to inputs.
This isn't a car without faults. Expectations of ride and handling balance from a Jaguar are high, and the XF failed to meet the (perhaps unrealistic) demands; things were too choppy around town (not helped by the 19" wheels fitted to this car) and compromised too much in general to retain the luxury feel. The car only comes into its own when pushing on beyond what could be considered acceptable, or boring one's way down a motorway.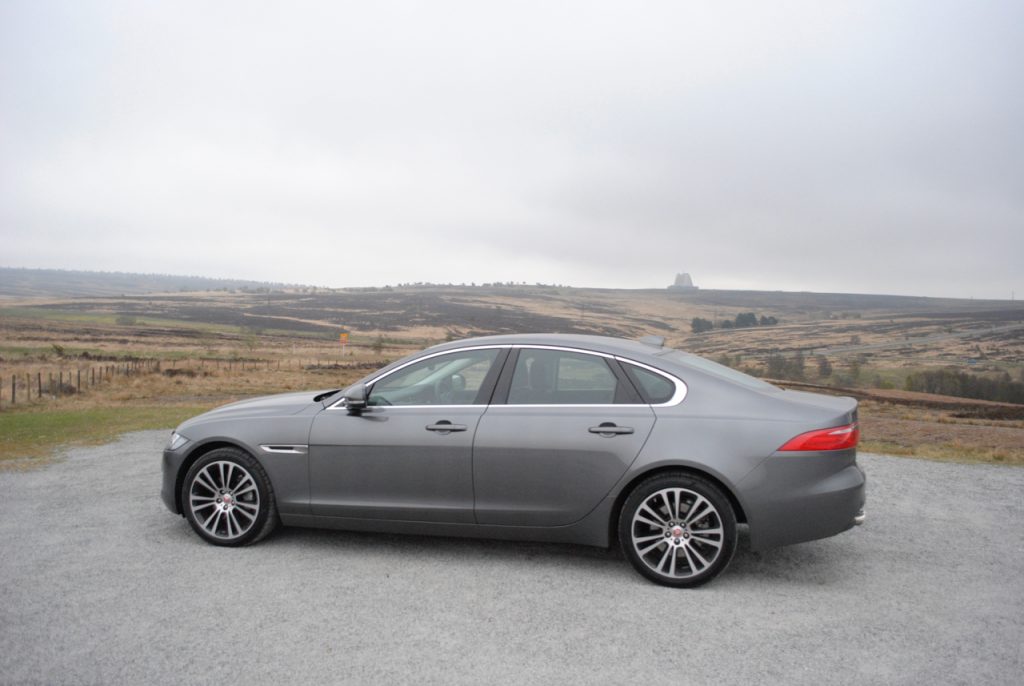 It's not even that spacious. Despite being of decidedly average height, headroom was a little tight; repeatedly a bottle of water was bopped against the headliner while maintaining hydration, leading to the inevitable spills. Spillages were also an ever-present fear thanks to the irritatingly small cup holders. It's easy to dismiss stuff like this as niggles, but this kind of thing is the detail that makes living day to day that much easier, and the kind of detail that should be well resolved on a £38k car.
The XF might be a comfortable and adaptable car to live with that can be pushed into a decent turn of speed when the fancy takes you, but the cabin isn't flawless, and it's not as polished as its German rivals. Jaguar represents brand values that stand apart from those offerings though, and those values can, to an extent, make up for some flaws.
Model Tested: Jaguar XF Portfolio 2.0 180PS Diesel
Price: £37,510
Engine: 2.0-litre turbo diesel
Top speed: 136 mph
0-62 mph: 7.5 seconds
Power: 180 PS (178 bhp)
Torque: 430 Nm (317 ft lb)
Monthly PCP*: £551
Official fuel economy: 65.7 mpg
Road Test economy: N/A
CO2 Emissions: 114 g/km
Car Tax: £140 (£160 in Year 1)
Insurance group: 29E