It's hard to think of a car that represents its sector as well as the Mazda MX5. Its winning combination of usability, fun, reliability, price and looks has made it the defining affordable budget sports convertible over the 30 years that it's been with us. Those 30 years are now being marked by a special Mazda MX5 30th Anniversary edition that I was recently invited to test drive alongside all of its preceding models. Since it's also been an irritating gap in my motoring repertoire over the last couple of decades, I was quick to accept.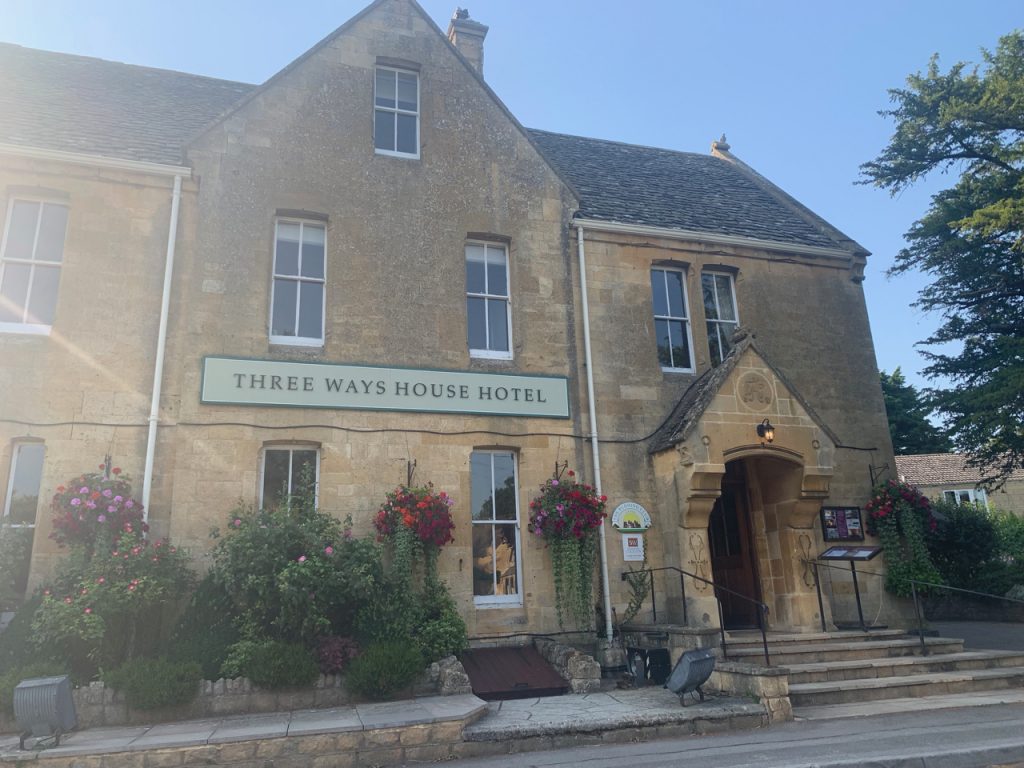 That being the case, I made tracks on a swelteringly hot Tuesday afternoon on a journey beset with many niggling delays to find my way to the Three Ways House Hotel. The room I was upgraded to didn't feature much in the way of unnecessary luxury, but it was perfectly clean and comfortable, affording me a better night's sleep than Baby Fork allowed Mrs Fork that night. The dinner menu didn't grab my imagination, so I went exploring and found the Kings Arms, who served up some delicious pork ribs for me.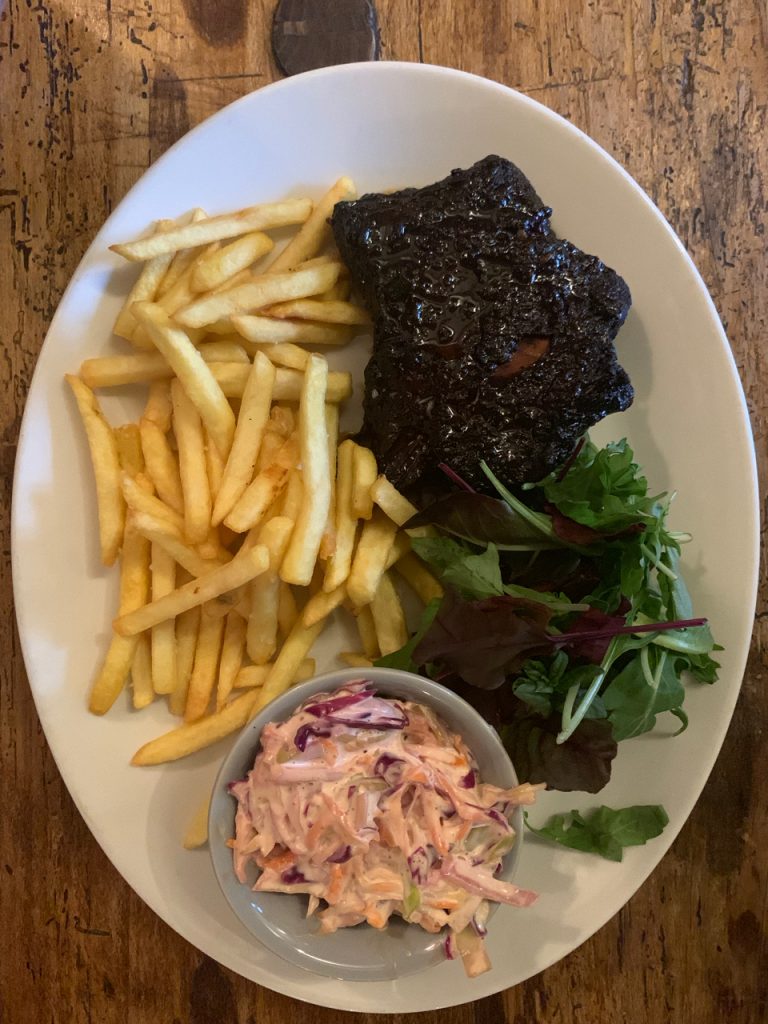 The event was to be hosted at a motoring themed bar and restaurant called Caffeine & Machine on the edge of the Cotswolds. This represented something of a mixed blessing given its location. Its situation on the edge of the Cotswolds was an opportunity to check out a part of the country that's so far stayed beyond my reach, but the penalty for this was it necessitating an overnight trip given the distance from York.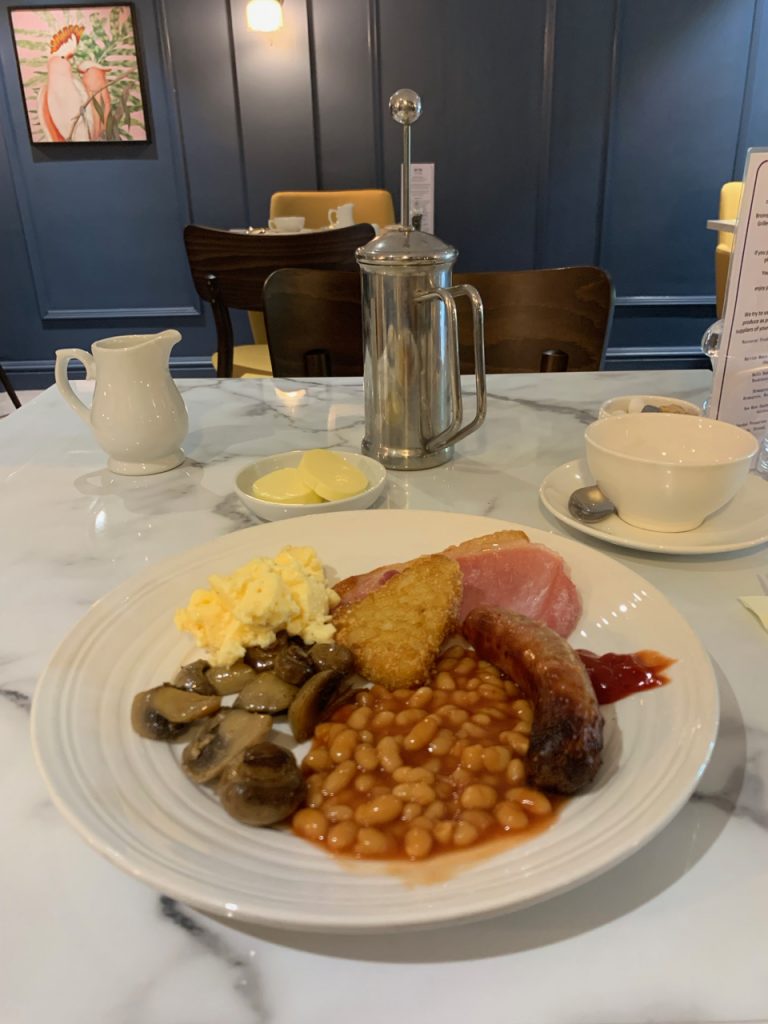 I made an early start the next day to fit in all the driving I needed to, arriving bright and early at C&M after a perfectly nice hot buffet breakfast at the hotel. Mazda had done a fantastic job of bringing a sense of occasion to the event, quite appropriately for such a significant milestone as a 30th birthday. The premises were positively festooned with Mazda MX5 examples of every vintage, all of which were immaculately presented.
The Mazda MX5 is such a familiar sight these days that it's hard to imagine the impact it must have had when it burst onto the scene 30 years ago. It feels a little ironic that a car deriving so much of its identity and design cues from classic British sports cars now has been around long enough to have developed its own mythology and history.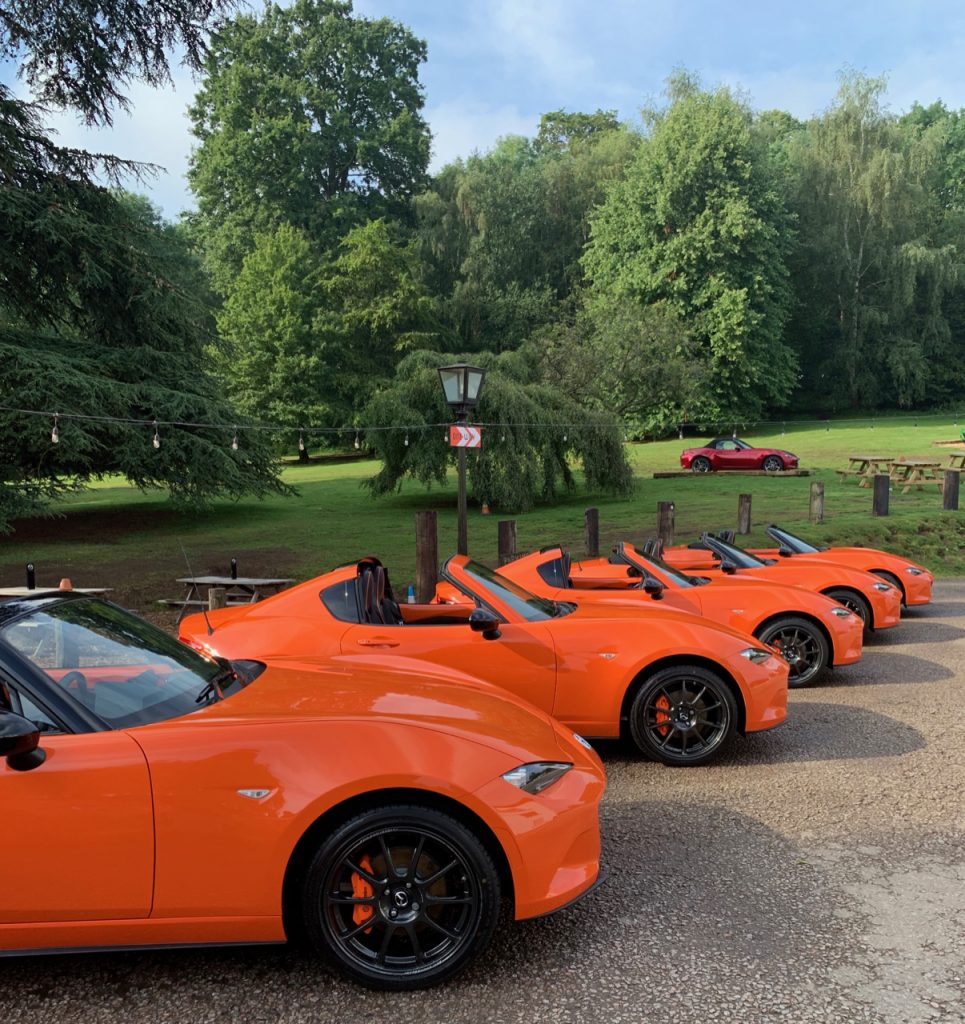 I started with the current Mazda MX5 which is well embedded as the default choice in the affordable sports car market. This 30th anniversary edition is presented boldly in a Racing Orange and features a subtle, by comparison, numbered badge on one of the flanks to remind you that you're in one of only 3000 manufactured.
The view from the driving seat is dominated by the bonnet whose wings frame your view and give the impression that you're driving a nose-heavy car, when in fact the footprint remains very similar to the more dainty appearing first edition. The driving experience is encouraging and playful without becoming aggressive or goading; one senses the MX-5's real skill lies in understanding and matching the driver's moods. While it's happy to remain docile and relatively unobtrusive in everyday use, it's even happier when encouraging the driver to take the long way and get stuck in. Not that it provokes you into inappropriate risks; when pushing as hard as is advisable on the public road, I was surprised at the small amount of momentum needed to convince me of my talents. Hustling the bright orange 30th Anniversary Edition MX-5 around the Cotswold roads will remain a fond memory for some time, but it did make me wonder how it would compare to its 30 year old progenitor. So I went and hopped in one to see.
The Mk1 still looks fresh. Pop up headlamps might be off trend these days, and indeed were ditched for the second generation (for reasons of weight distribution if memory serves), but it otherwise looks timeless. When I hit the road I'm more surprised than I should be at how a 30 year old car feels, well, 30 years old. I hadn't quite appreciated the degree to which I've been softened by progress, but this brings it into sharp relief. It's certainly still a fun car to drive and I took great satisfaction in blatting my way around in it, but I'd forgotten the way that non-powered steering shields you from subtleties of input by virtue of the effort involved. In addition, the relative lack of side support in the seats puts the responsibility for staying upright onto my arms. This 1995 car is powered by a 130bhp 1.8 litre engine that's more than sufficient for the task, though the lack of a sixth gear is jarring and a limitation.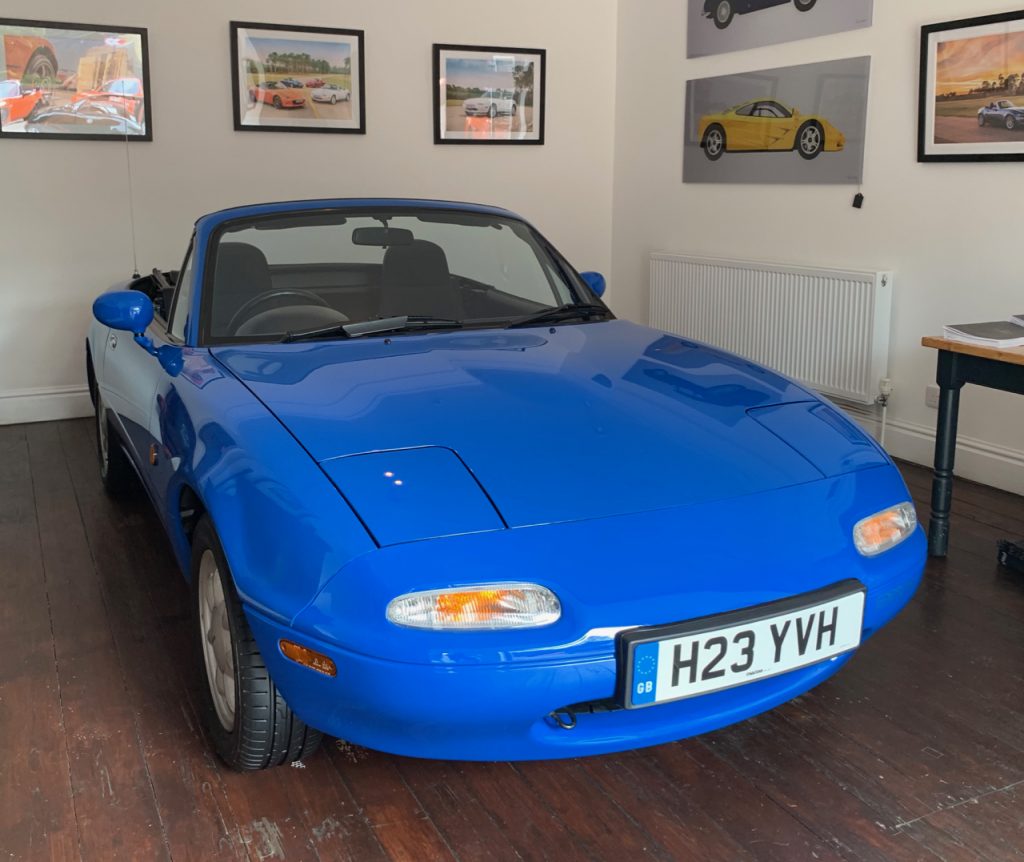 Next I move forward to 1999 to take a spin in a MK2 10th Anniversary Edition. With super shiny, polished aluminium wheels and Innocent Mica Blue paint, there's bags of presence emanating from this car, which feels like it represents the epitome of the MX-5 experience. This was the first Mazda MX5 to enter the UK with a six speed gear box and the additional ratio, and when coupled with power steering and a few other more minor civilities, really makes a difference. The confluence of little things to arrive with this car broaden its character to a significant degree. They give one the option to mooch gently around with little effort or soundtrack yourself with a satisfyingly belligerent exhaust note while the chassis shouts similarly positively about your driving prowess. That said, one little thing it's missing is a rest for my left foot…as I say, it's the little things.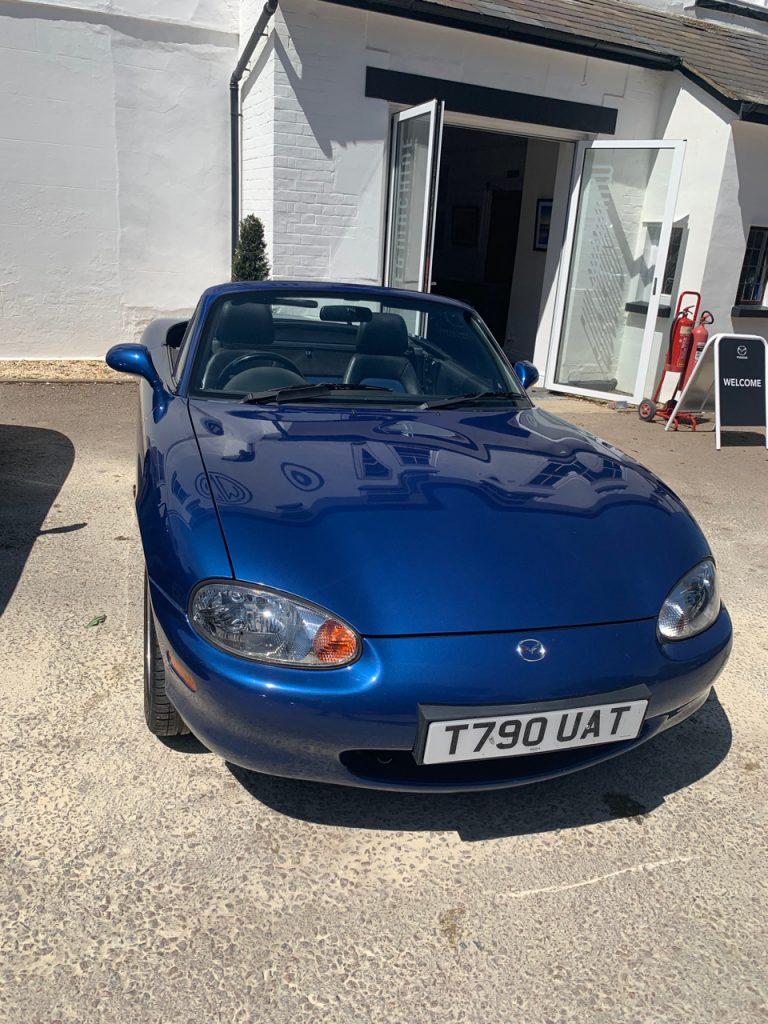 This just leaves the MK3 to sample and there's a reason why I've left it until last. It represents the low point of my enthusiasm for the car. It's neither the most recent, original or or most storied version and its guileless smile has never provoked any particular curiosity in me. In fact, it's the thing that led me to fear that the spirit of this iconic model had been lost based the views of others. The 25th Anniversary Edition example of the MK3 that I drove lacks the fine styling details that give the models either side their presence. But ignoring any preconceptions, it's a handsome enough design, if one is prepared to forgive a touch of bloating, and the interior is a comfortable space from which to conduct business. The driving experience feels just a shade more muted than the MK2 and MK4, neatly highlighting the trick Mazda has pulled off with the MK4, which makes it a lively and accessible drive with plenty of spirit that remains accessible and civilised. It's hardly a disaster, but I'm left feeling like I've driven a shrunken GT that doesn't quite fulfil that role while also failing to provoke the same smiles as its progenitors.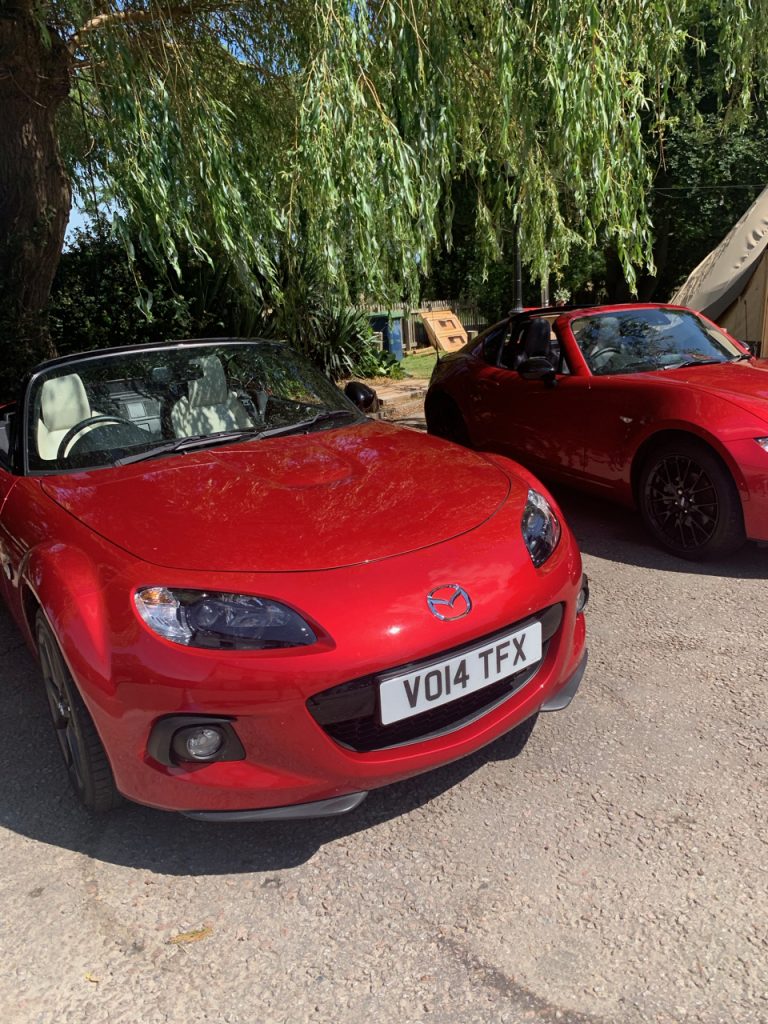 So where does the MX-5 sit as it sets out on its journey toward a (presumably inevitable) 40th Anniversary Edition? Three decades is a long period over which to maintain a reputation and protect it in the face of ever evolving legislative requirements and customer expectations, but it's a challenge that Mazda has met with great enthusiasm. The MK3 might not have inspired me in the same way as the current model or MK2, but it'd be unfair to overplay that criticism on the basis of relative weakness. The MK1 is a deservedly iconic starting point that, while something of a period piece these days, represents an important moment in the acceptance of Japanese manufacturers amongst enthusiasts worldwide.
We're lucky that the current model has a well-rounded skill set and a real sense of the roots of the model. It's tremendous fun to drive and packs in all the mod cons you would hope for to make it a sensible day to day option within the compromises of the genre. But it's the MK2 that really caught my attention. Driving the same roads as the other models on the same day, this offers something more. Everything feels like it has another 5% to offer with bags of character to encourage you to take an extra wrong turn (many apologies to whoever was waiting for the car after me). What's most encouraging is that this is an experience identifiable in the current model.
All that was left was for me to hop back into a my own car and try to overwhelm myself with the air conditioning. I'm not going to claim that driving a succession of MX-5s around the Cotswolds is a hardship, but people are still commenting on the tan a few weeks later thanks to the brutal heat of the day. The drive back gave me time to happily reflect on the day and start to think about setting up an alert on Autotrader. I've always liked the look of the the MK2 in orange…