You might forgive an establishment such as the Dean Court a little bit of complacency. When you're situated in a spectacular building right next to one of the biggest tourist attractions in York you can probably take some custom for granted but, to their credit, this absolutely doesn't seem to be the case here. I've eaten in the bistro at the Dean Court quite a few times over the years. My mother is Coeliac and several good experiences with knowledgeable servers inspired confidence for return visits, additionally a couple of good friend won a couple of nights' stay there a few years ago and raved about the restaurant. Despite these good reports I've not got round to trying it out myself so the invitation to attend a chef's table event was gratefully received. I grabbed the Puboholic on the way and we situated ourselves in the smart bar of the Dean Court without undue delay.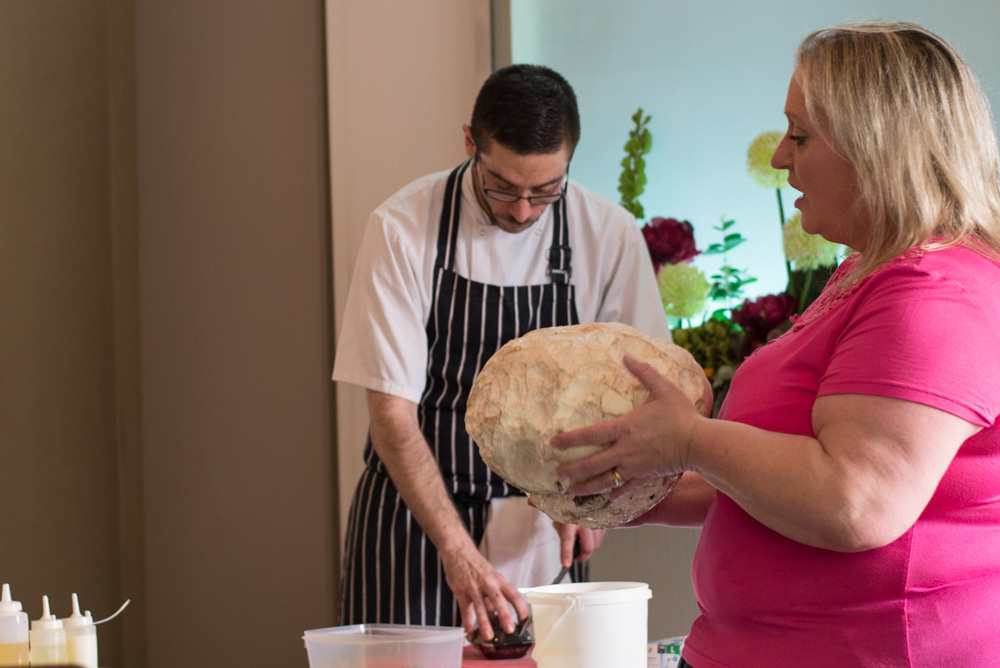 Over fizz and samples of a Spanish beer brewed with seawater we met up with the ever lovely Nutmegs, seven and introduced ourselves to Yorkshire Pudd while our appetites built up nicely. It appears change is afoot at the Dean Court with a new general manager having taken the reigns not too long ago and Benji Thornton taking over as head chef in the restaurant after already serving a fair stint in the kitchen. We didn't linger long over the delicious canapés, including ham hock and cones of goat cheese, before it was time to move through to the dining room and take stock of the menu.
A temporary cooking station had been set up between two tables that afforded all the attendees a good view of Benji prepping and cooking our food, the first course of which was pan-fried wood pigeon breast with beetroot and foraged mushrooms. It should be noted that the mushroom here is not necessarily as one would expect. The giant puffball mushroom we'd been shown earlier by our professional forager was, quite simply, monstrous. We'd never seen anything like it so alongside the 'chicken of the forest mushroom' we were eager to get tasting. Sadly there were no prizes for guessing what the latter mushroom tasted of; eerily like chicken to the point of confusion! The mushrooms drew out the earthy flavours of the pigeon alongside delightful beetroot. After being smoked with hay, I expected the beetroot to be a touch more unusually flavoured, but still a well-balanced dish that didn't betray any nervousness on Benji's behalf!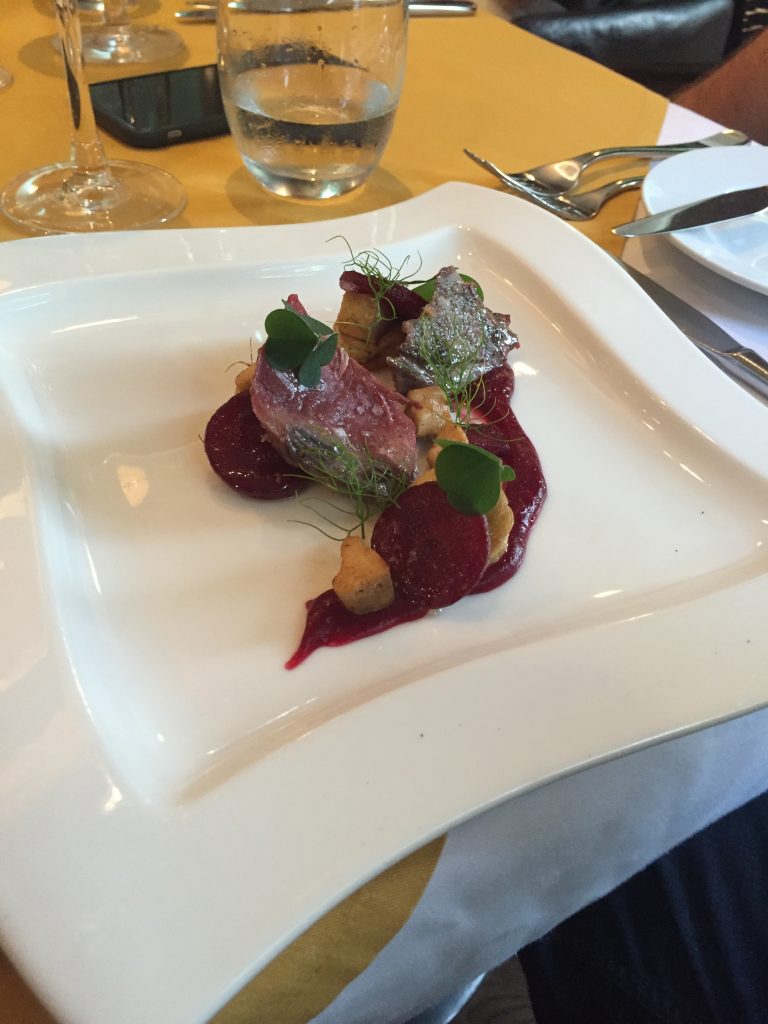 Having hit his stride now, Benji wasted no time in getting on with the main course of Gressingham duck breast, Yorkshire rhubarb, confit radish, toasted seeds and pickled blackberries. There were quite a few elements needing to come together, but the dish wasn't too crowded. Benji again got the meat spot on and the sharp rhubarb cut nicely across the rich meat. A couple of us agreed that the only thing missing from the selection was a carbohydrate to mop up the sauce, quickly rectified with a requested basket of bread.
The final course was a dark chocolate torte with white chocolate mousse, salted caramel and sous vide strawberries. Thankfully it wasn't too rich or too heavy after being a couple of courses to the good. It may be now so unfashionable as to be a major faux pas to serve unsalted caramel, but with good reason, this was a well-balanced end to a well-constructed menu.
Along with all this, we had a couple of drinks matched with our food: a very distinguished 2012 Crozes-Hermitage lifted the wood pigeon and a rosé prosecco made an interesting pairing with rhubarb and duck. A tawny port rounded things off well.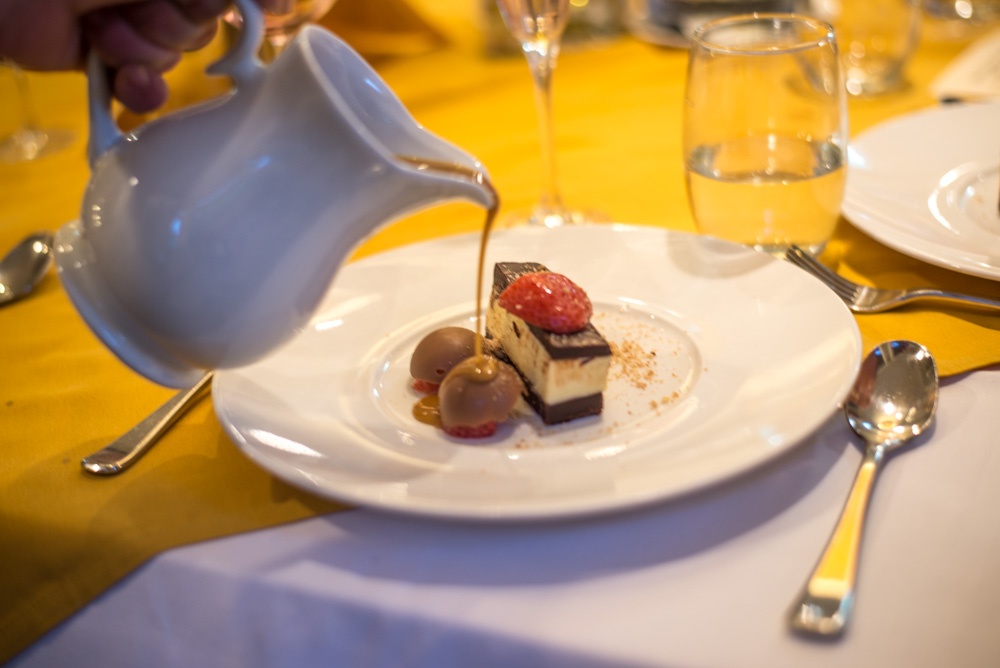 Before we left, we had a chat with Benji and congratulated him on the smooth running of the evening. Good food is an achievement in itself, but to turn it out from an unfamiliar environment using portable equipment exposes chefs to errors they wouldn't usually make, so it's a credit to Benji that he not only made things run to plan but also kept up a narrative and fielded questions throughout. He's featured in the Relish North East recipe book so I insisted he embrace his evening's celebrity and sign my copy before I left! The regular menu features some tempting looking dishes so I've little doubt a return visit will be on the cards at some point.
Disclaimer: we were invited to enjoy this complimentary evening with no editorial requests made