North Yorkshire Moors Railway is deservedly iconic in this region, winding its way from Pickering toward Grosmont and even heading as far as Whitby on some services. It can trace its history as far as the early 19th Century and has since then served a variety of roles throughout a varied life that has seen it find a comfortable position as one of the region's headline attractions. The regular services through the beautiful moorland are special experiences in their own right but with such a strong basis, the organisers have been having fun with slightly less traditional offerings, such as the NYMR Light Spectacular, which I was lucky enough to experience recently.
Starting from Pickering at twilight, the NYMR Light Spectacular experience dresses a steam train inside and out with thousands of lights, equips all of those on board with light up wrist bands and throws in a soundtrack running right from the 60's to the present day. Pickering station is 1930's themed and a charming time capsule, which would have been sadly lost had it been demolished to build a car park in the 70's as was proposed at the time! When we arrived, the waiting room and cafe were up and running so we quickly furnished ourselves with refreshments while gasping at the sight of the steam locomotive waiting for us, wreathed in countless lights.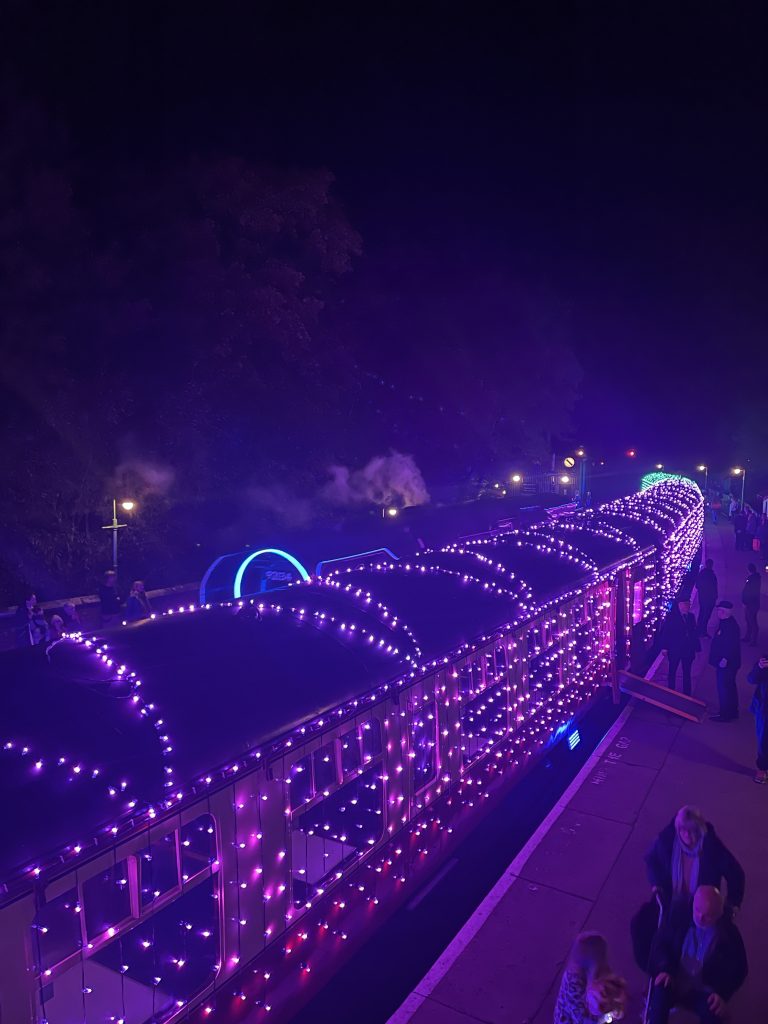 As you make your way inside to your seat, the number of lights remains just as remarkable and striking with the whole train seemingly threaded through with, and consumed externally under, huge numbers of twinkling lights of all colours. By this point the train was humming with anticipation and excited families, who were all donning their light up wristbands as the music got underway and we started to pull out of Pickering station to begin our hour long round trip to Levisham. At this point the music, introduced in classic radio DJ style, kicked off in earnest and ramped up the volume while also revealing that our wristbands could sync themselves with the music as well as divide us into groups to spark audience participation. With the mobile party in full swing, I registered that actually one of the most attractive elements of the light show was the way that the lights threw the scenery we passed into relief; the coloured lights and resulting shadows really bringing the passing countryside to life in unexpected and unique ways.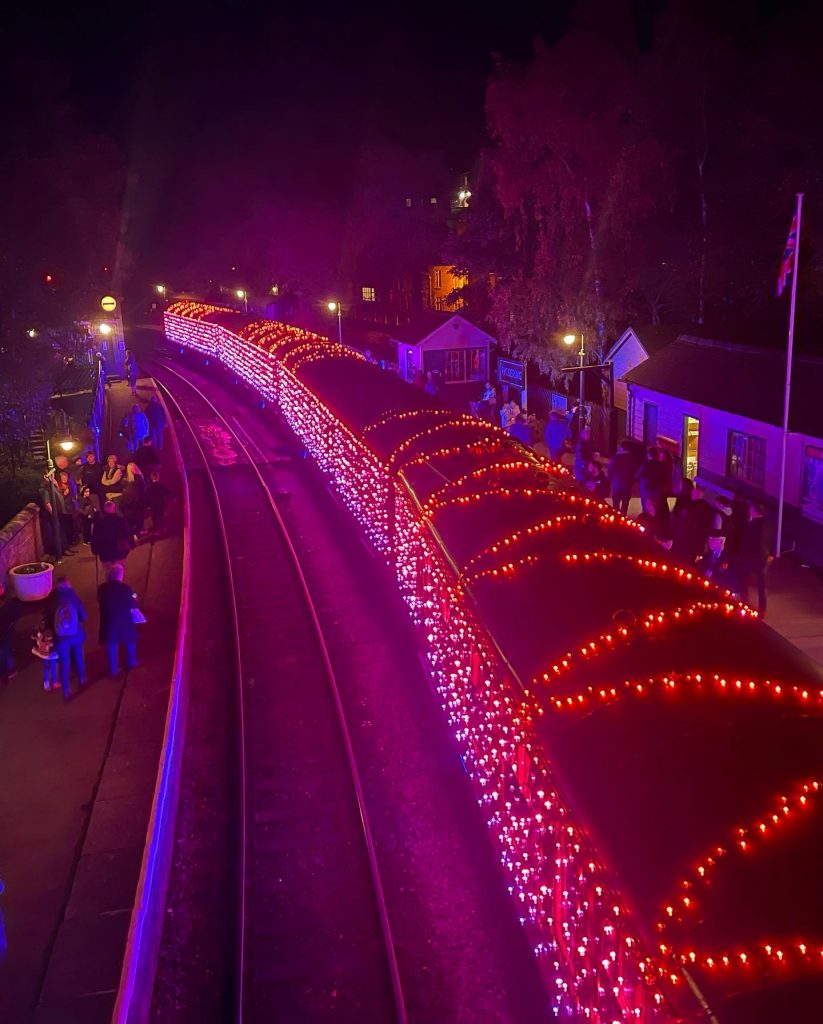 Regardless of your taste in music, and mine certainly runs to the niche, it was hard not to get swept up in the atmosphere as we gently chugged to Levisham and back…my stoic resistance to dancing may even have been breached for the first time in a decade or so. Alighting at Pickering gave us the chance to really take in the train from the outside, with darkness having descended since our original departure to make sure we could really appreciate the effort that was involved in fitting 17,000 lights to a steam train. While we had a great time riding the train, it must have brought a smile to the faces of everyone we passed!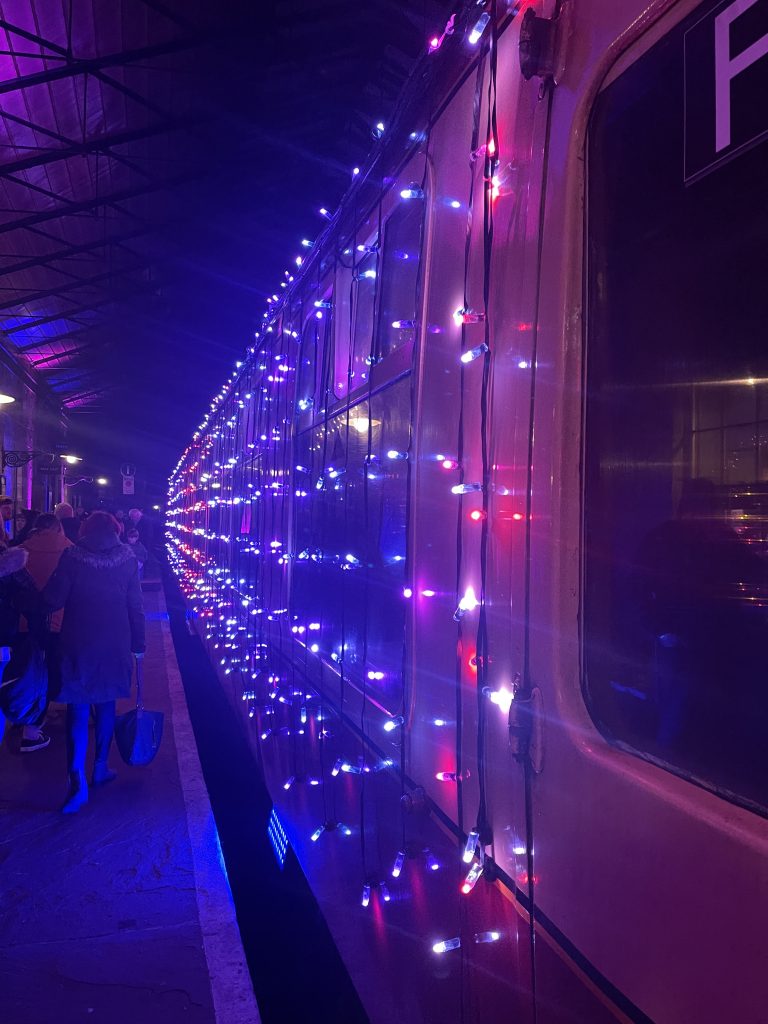 The North Yorkshire Moors Railway is deservedly a landmark attraction for the region and it's so much fun seeing it given a light hearted makeover for a limited event like this. The NYMR Light Spectacular really is a unique way to experience both the railway itself and the countryside through which it runs, I really can't think of a comparable experience.
(Disclaimer – press event)