The history of Il Paradiso del Cibo in York neatly reflects the growth of the city's food scene, from modest beginnings through bursts of ambition to become something of an institution before settling comfortably into a rhythm as one of the mainstays of the burgeoning Walmgate food scene. Now affectionately referred to as Paolo's in deference to the proprietor, it's been a few years since I paid a visit but one of my fondest memories of my early explorations of food in York is the presence of an unadvertised set menu at Paolo's that I dragged along a good few friends and colleagues to. These days we would call that a tasting menu, and that's exactly what I was recently invited to, so I approached the new Il Paradiso del Cibo Tasting Menu with great anticipation.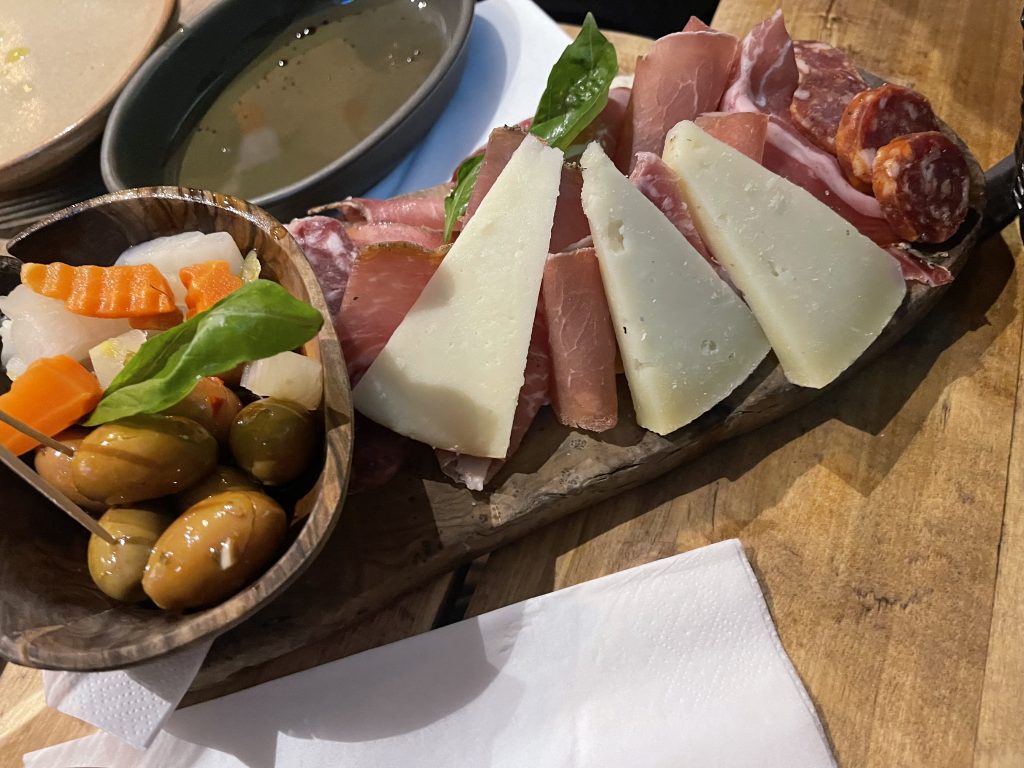 Paolo's has been subject to a few tasteful upgrades over the last few years and the frontage is now dominated by a broad expanse of bi-fold which offers plenty of, currently rather desirable, ventilation. The character of the place remains intact though with the large oil painting of the proprietor still staring down at you and the ever-present football on television still featuring prominently in the Paolo's experience. The chairs are packed in so navigating amongst the efficient and determined can spice up the experience but we were quickly situated at a window table with glasses of a Campari based aperitivo in hand ready for our first courses to arrive. The Il Paradiso del Cibo Tasting Menu experience starts with a selection of meats and cheeses along with olives, lightly pickled vegetables and light shards of a crisp bread that was to feature throughout the meal. The inclusion of olive oil and balsamic in which to dip this bread was noteworthy inasmuch as this seems unfashionable these days, but no less enjoyable for its increasing scarcity.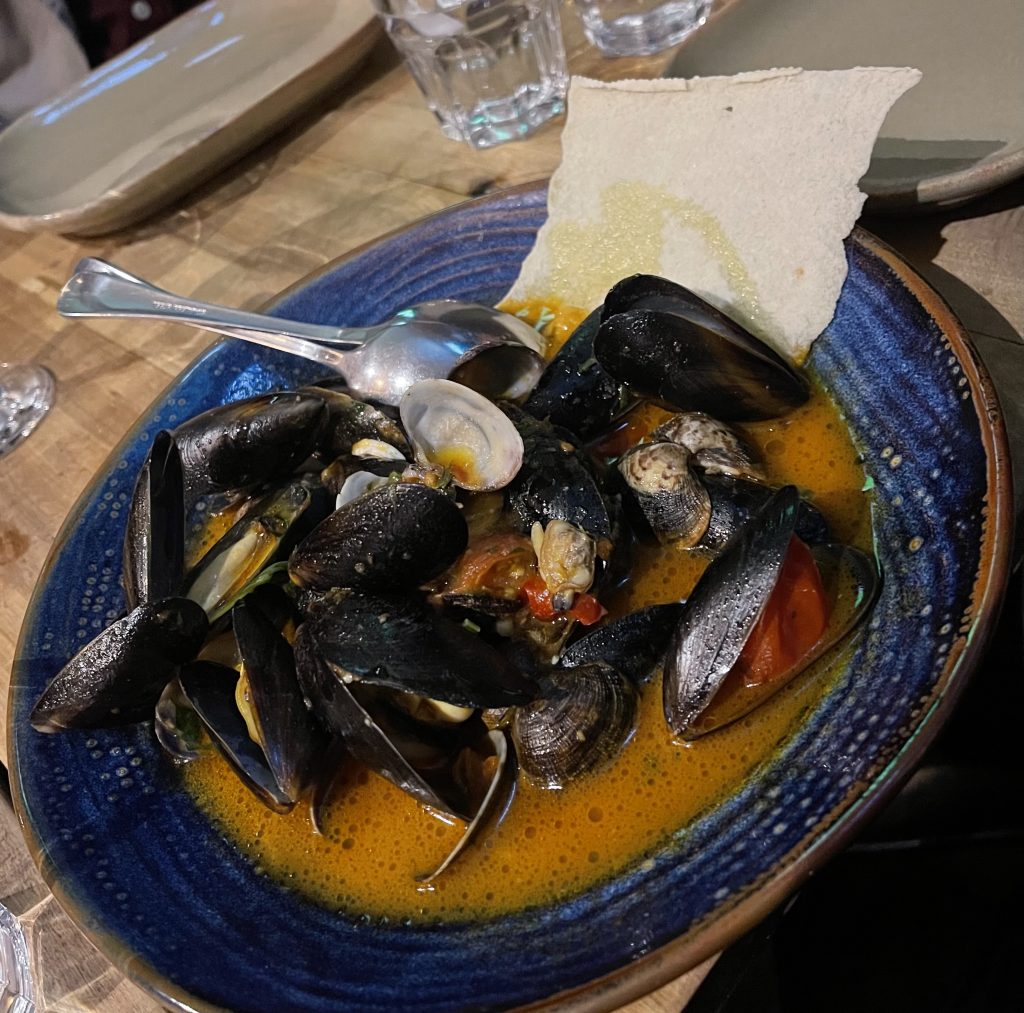 With snacking and chatting progressing apace we soon got down to the seafood elements of the meal with mussels and clams preceding king prawns, both presented with more shards of that bread which seemed able to retain its structure while also absorbing big hits of flavour. The mussels and clams were cooked in a tomato sauce with a healthy kick of garlic and a delicate edge of white wine that let them show off their best without ever threatening to overwhelm, before a small armada of king prawns then took over. These had been cooked with plenty of rosemary and sun-dried tomato as well as another hint of that Vernaccia white wine. It was a predictably messy job to extricate the prawn meat from the shells but an entirely worthwhile endeavour that rewarded yielding, perfectly cooked meat. The subsequent pasta course also leant heavily toward its seafood precursors too, filling a squid ink pasta parcel with grouper, prawns and mussels then surrounding it with a lobster sauce with a jaunty prawn sitting atop it.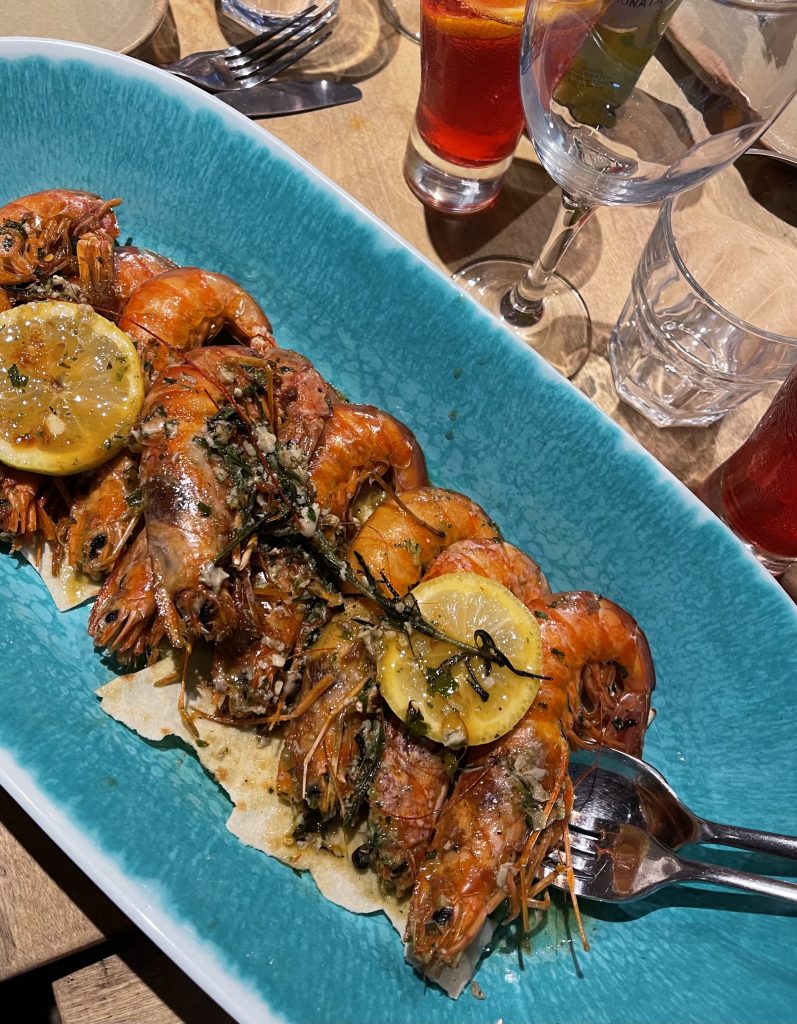 By this point we were well embedded in the evening having happily enjoyed the plentiful wine that helped us chuckle at the pasta shape in the next dish being mischievously compared to maggots. Irrespective of comparison, the pasta shape did all that was needed of it, letting the accompanying lamb ragu cling to it while retaining just the right touch of al dente resistance. The second meat dish was pork belly served with braised broad beans, which we were told would aid our digestion, as well as pancetta with another slice of that crisp, thin bread soaking everything up. The care that had been lavished on the meat was readily evident as was the care in its raising, with a diet of milk, acorn and sweet corn forming the basis of its nutrition.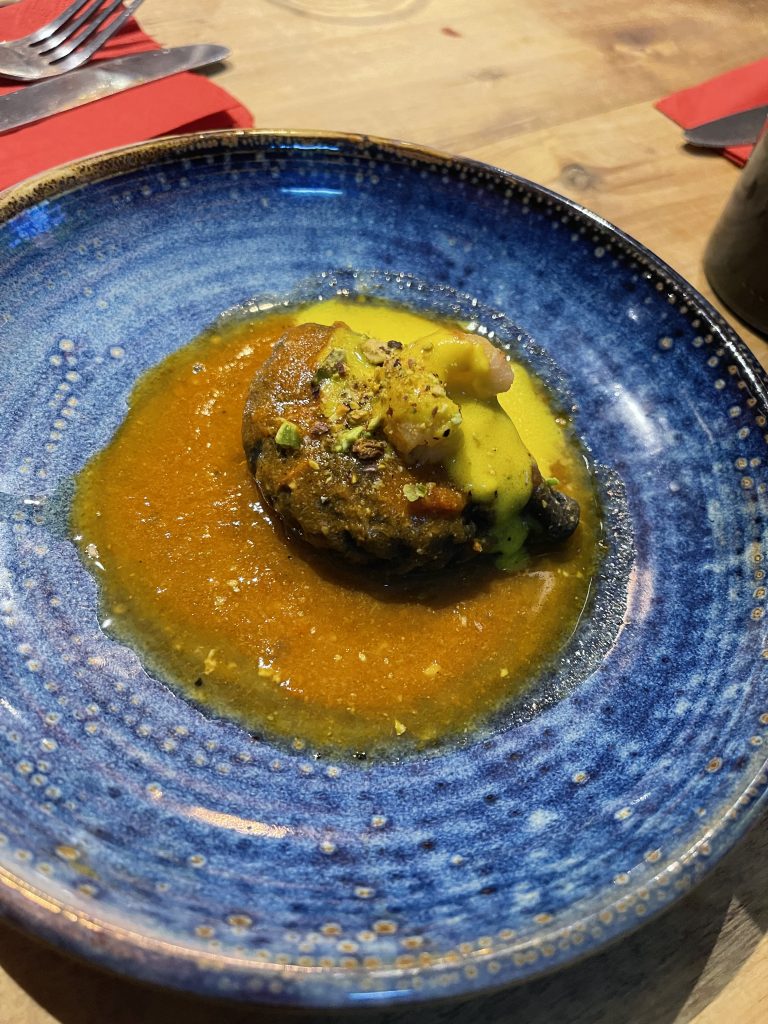 Unfortunately we weren't able to enjoy the final couple of dishes but the evidence presented suggests they'd have continued the theme of quality produce presented with care and affection, not to mention a dash of limoncello as is traditional at the end of a El Paradiso meal! Over a decade or more ago the off-menu tasting menu was a rare treat but as both York and Paolo's have matured and grown, their reputations both have taken the next step in formalising and refining their offerings. At £70/head including wine the Il Paradiso del Cibo Tasting Menu represents a great value way to spend a whole evening being inundated with great food in an environment constructed solely for conviviality. I can't wait to see what the dining scene in York and Il Paradiso looks like in another decade or so and how this offering reflects it.
(Disclaimer – PR meal at no charge.)