The Feversham Arms is just around the corner from the main bustle of Helmsley Market Square, though close enough for a quick stroll around the block to take in the sites to only take a few minutes. This well established local landmark describes itself as a luxury hideaway rather than boutique hotel or country house hotel, a fair assessment that reflects the location and comforts worked into the fabric of the premises which include restaurant, bar and spa facilities along with comfortable rooms. An establishment such as this needs its restaurant to be an attraction in its own right that is also flexible enough to service customers for whom it's not the focus of the visit. To this end, they've recently installed local legend Adam Jackson to work his magic as Head Chef.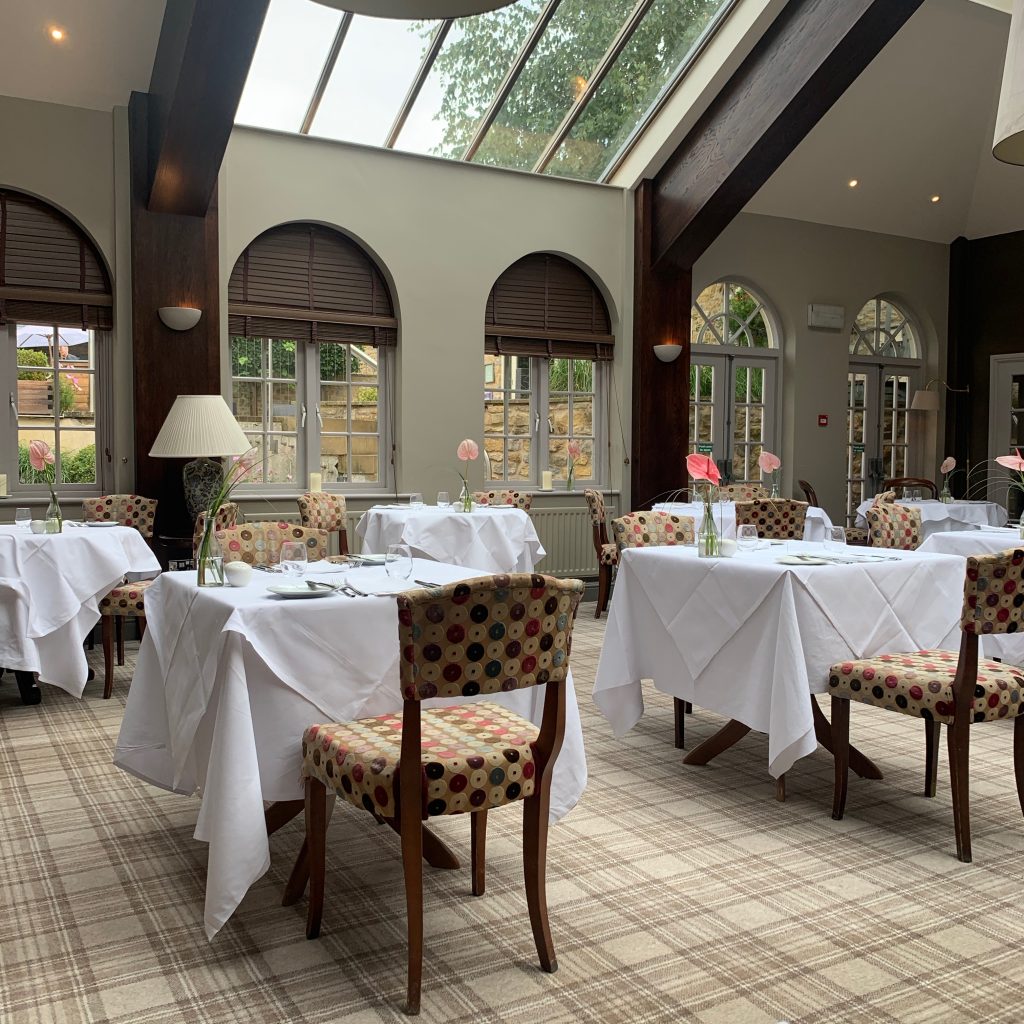 Adam is well known across the the Yorkshire hospitality scene, and further afield, thanks to his most recent restaurant on Bootham in York, The Park, which racked up plenty of positivity throughout its life before his move to Helmsley. Prior to that Adam was also pivotal in earning The Black Swan at Oldstead its Michelin Star and setting the scene for that establishment's illustrious future. I've been lucky enough to enjoy food from Adam on a number of occasions which generally involved multi-course intricacies of indulgence but never home comforts, something I was able to add to my list of experiences courtesy of A Feversham Sunday Lunch.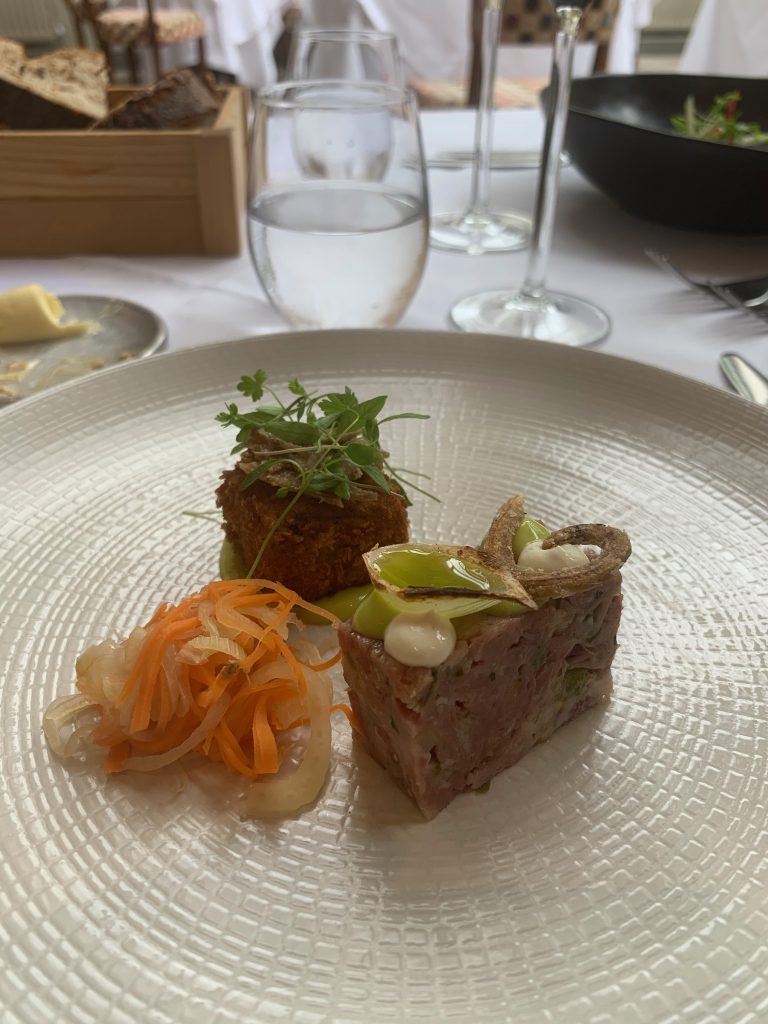 Sunday Lunch deserves to stand as the high point of that day's half of the weekend. Some insist that this is a meal that must be enjoyed at home, preferably with someone else cooking, or that it should be no more formal than a pub. I'm happy to enjoy anything on its own merits though so made my way up to Helmsley with the expectation of a thoroughly good feeding. The only hitch with my arrival was my car grounding out slightly on the steep ramp into the car park that also brushed the front chin spoiler, not the end of the world in a slightly soiled 14 year old Golf GTI, but you might want to consider leaving the Ferrari at street level. Once that was dealt with, we made our way to the bright, airy and appropriately distanced dining room to settle in.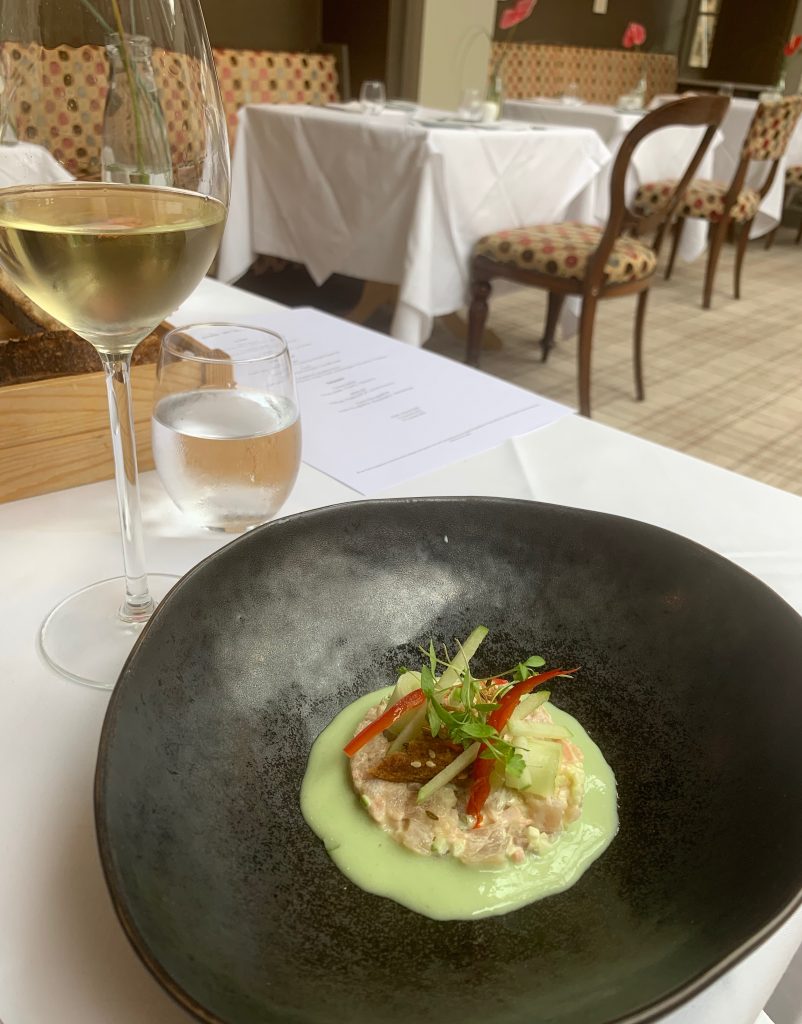 The Feversham Arms Sunday lunch menu was reassuringly focussed, with a trio each of starters, mains and desserts to form the inventory of decisions. We plumped for Ham Hock and Mackerel to start followed by Beef and Cod, resisting the temptation to double down on the traditional roast beef. Starters are a contentious issue for some when attached to a Sunday lunch, straying into the regional debate about when Yorkshire puddings should be served, but being a restaurant meal we ran with the concept and enjoyed our first dishes. These were of the high standard you'd expect from a chef and establishment with this reputation, both doing a great job of whetting our appetites for main courses. A pressing of ham hock with pig's cheek croquette was brought to life by delicately balanced pickles and accents of lovage while mackerel tartare had just the right amount of heat from some wasabi and a refreshing amount of cucumber. With those formalities completed, it was onto main courses.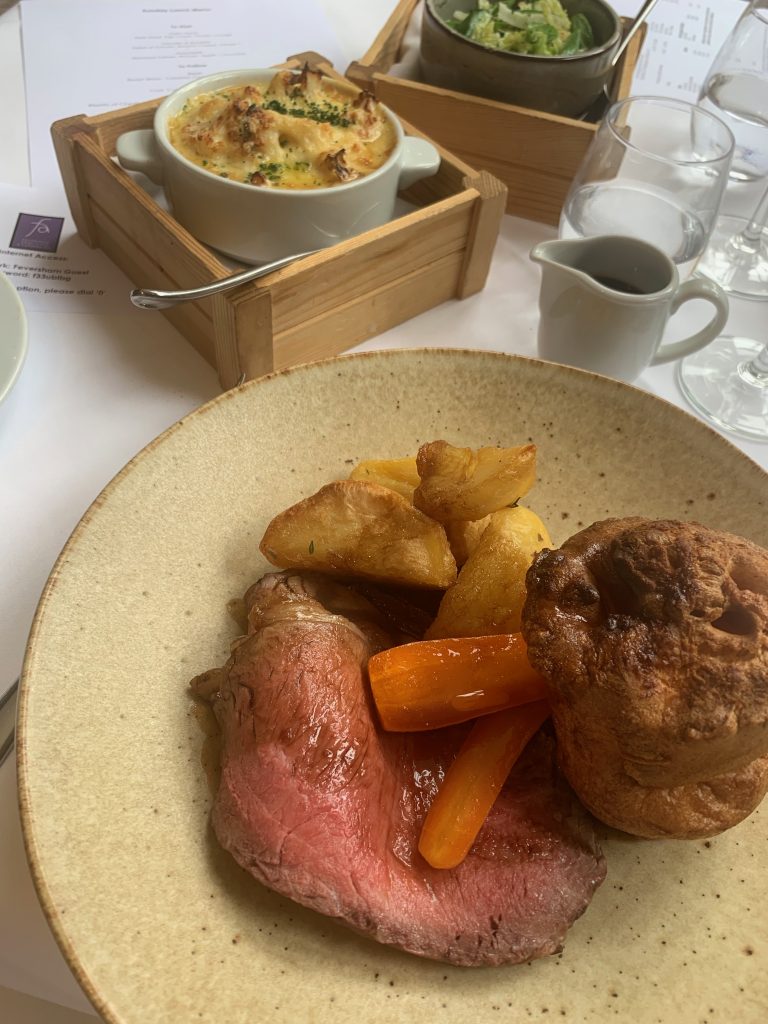 Little in life is as disappointing as overcooked roast beef but thankfully no such rug pulls came about here as blushing slices of beef drew the eye along with carrot, Yorkshire pud and roast potatoes. To augment this, we also received piping hot cauliflower cheese and some fresh greens to liberally splash gravy across. Everything was all a touch less fine dining than I'm used to from Adam, with no evidence of tweezering onto the plate, but none the worse for it. This was a Sunday Roast elevated to a the highest standard with every element delicious and complementary to one another, cauliflower cheese being particularly compelling. I'd have probably put a couple more roasties on the plate if I'd been serving, but frankly I'd probably be saying that regardless of how many I was presented with and there was certainly no argument to be made with the portions. Cod with curried mussels and cauliflower was equally convincing, though could be a bit far from "meat and veg" for some Sunday Roast preferences if you hold stubbornly traditional views. With my scant regard for tradition I very much enjoyed this dish though, which was deceptively filling thanks to a hefty portion of cod and plentiful cauliflower all wrapped up by a delicately spiced coconut sauce with some powerful micro herbs and crunchy shards to give plenty of variety.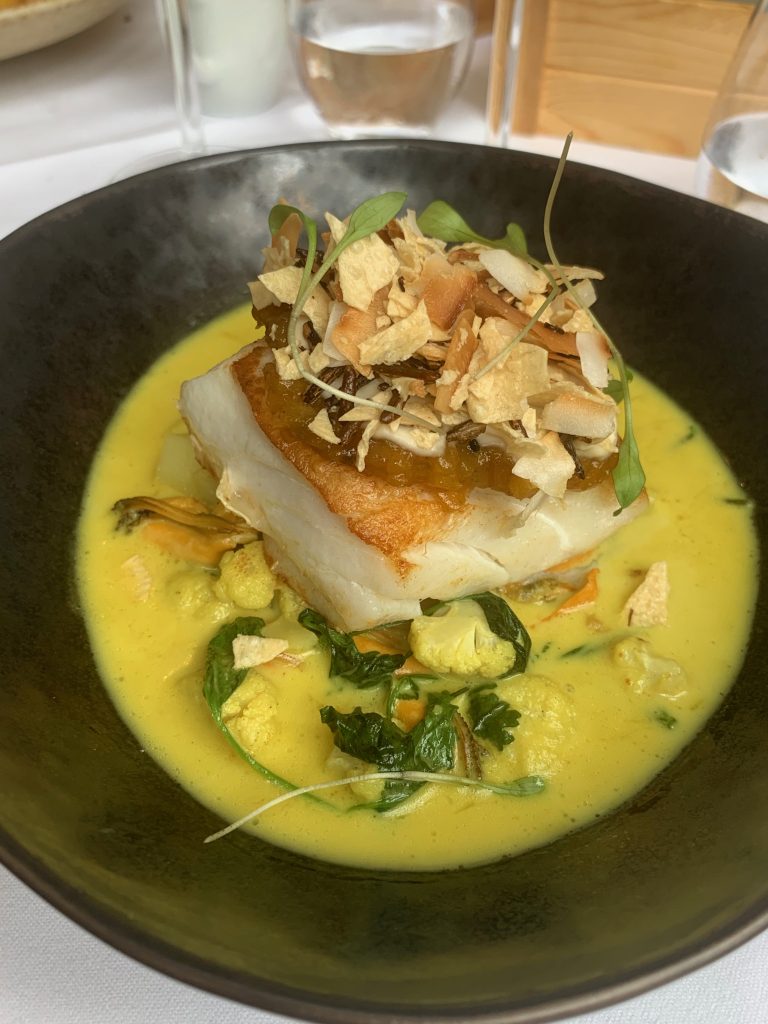 With main courses in the book, we managed to muster just enough appetite to share a chocolate mousse that wore a thin disc of cherry jelly and an immaculate quenelle of cherry ice cream. We wasted no time in deconstructing this to finish the meal, with it continuing the theme of well balanced dishes that showed enough restraint as to be appropriate for a traditional meal. With food having all hit the mark, I'd have been quite happy loitering in the Feversham with the Sunday papers for a good couple of hours, an indulgence that tops off a Sunday lunch beautifully, but was sadly denied to us by the need to retrieve our daughter. I've been lucky enough to enjoy some superb Sunday roasts this year and this one more than stood toe to toe with the best, also representing very fair value at £25 for two courses. Adam Jackson is an asset to any kitchen and I'll look forward to seeing the Feversham gain momentum under his leadership.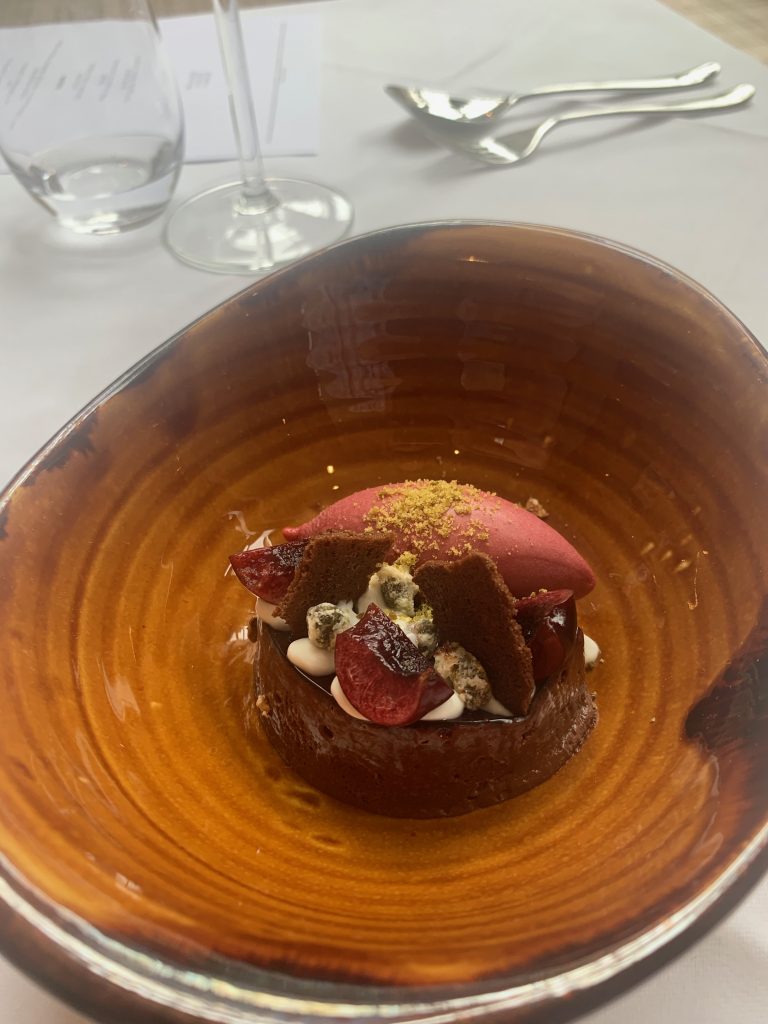 Disclaimer: No charge was made for this meal, opinions are impartial.