A BEER from York has been named the best of its kind in the country in a prestigious industry awards competition.
Brew York's Empress Tonkoko, aged in a Buffalo Trace bourbon barrel, has been named best wood-aged beer in the UK in the World Beer Awards 2019.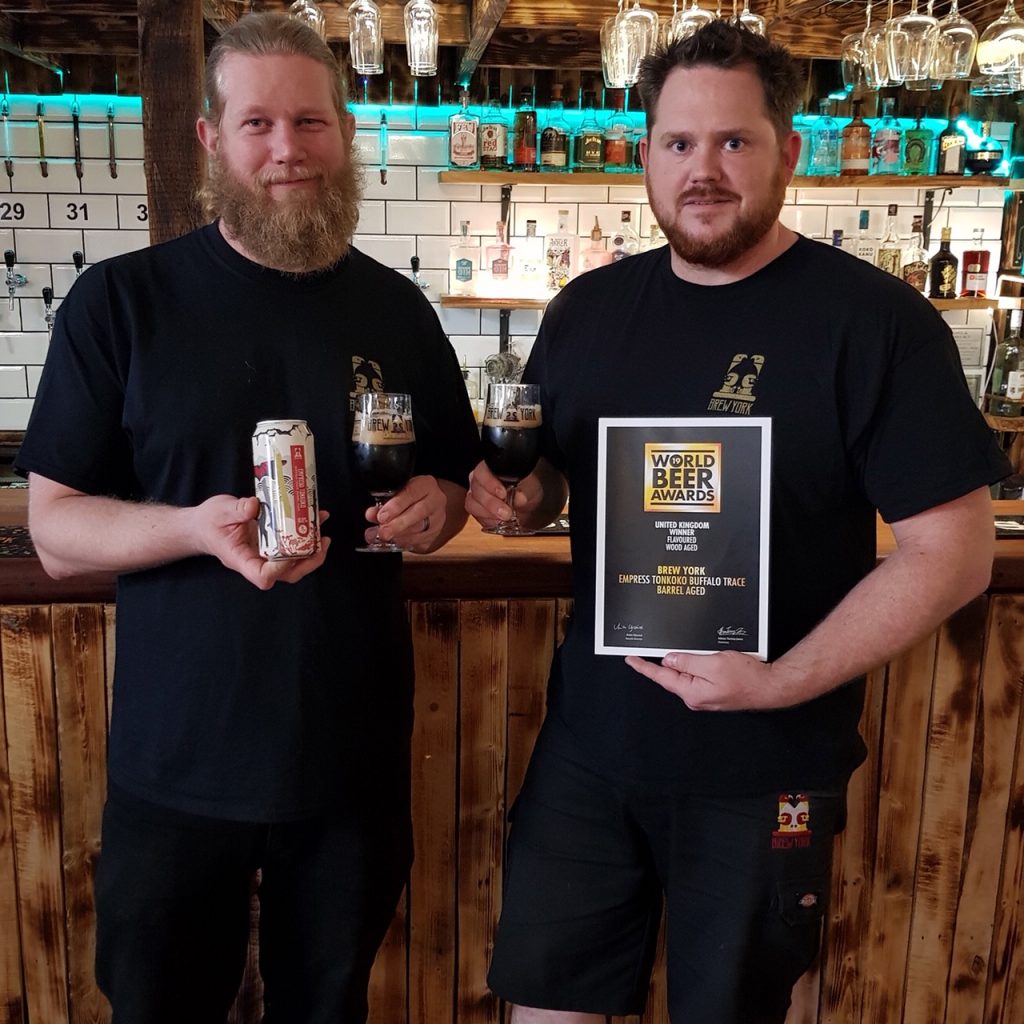 Brew York also won awards for the two other beers it entered into the competition, with its Goose Willis receiving a gold award in the UK wild/sour beer category, and Imperial Tonkoko receiving a silver award in the UK flavoured stout/porter category.
Lee Grabham, co-owner of Brew York in Walmgate, said: "We're delighted, having entered three beers into the awards, to have received three awards. To win the wood-aged category, which is particularly prestigious, was hugely gratifying."
The original Tonkoko stout was one of Brew York's first beers, and the team have since produced a number of innovative new versions. At a public brew day in January 2018 they produced Empress Tonkoko, an imperial milk stout, and then placed batches in three different types of bourbon barrel, from the Jack Daniel's, Wild Turkey and Buffalo Trace distilleries. All were then made available in January 2019 and it is the last of those that has been named the UK's best wood-aged beer.
Mr Grabham said: "The original Tonkoko packs a whole lot of flavour into a 4.3% ABV beer, so we felt it would also work as a bigger beer. We did a version at 7.5%, then this even bigger version at 10.6%, and it has been incredibly popular. We produced four-can packs with each of the bourbon versions and the unaged version, so people could compare them, and the feedback was that the Buffalo Trace was most popular."
Wooden barrels had been almost completely replaced by metal and plastic casks in British brewing, but have been enjoying a resurgence in recent years. Mr Grabham said: "American breweries have been doing great barrel-aged beers, and some of the highest-regarded beers in the world now are aged in wood. This is just one way the beer market is becoming more diverse."
Local beer drinkers will be able to try the Empress Tonkoko at Brew York's Kegfest event on the Bank Holiday weekend, from August 23 to 26. One keg will be on the bar there, with a second going to Leeds International Beer Festival in September. The York event will also include beers from some of the innovative breweries in the UK and beyond, including Amundsen from Norway, Anspach & Hobday from Bermondsey, Pomona Island from Manchester, Hardywood from Virginia, Docks Beers from Grimsby, and OverWorks, BrewDog's innovative fermentation arm. Entry for the festival is £3 a day, which includes free tasting sessions with brewers from each brewery as well as food and beer pairing sessions run by Brew York.