It's not often these days that I feel like a restaurant has slipped through my fingers. I'm confident I have York well nailed and reasonably sure I've got my eye effectively on the surrounding area. That being the case, I was a bit surprised to get a series of suggestions to go check out Bridge Cottage Bistro when I popped out a request for lunch suggestions on social media.
I was looking for somewhere to go for lunch on my 40th that would serve good food without having to commit to a lengthy tasting menu and would also be easily accessible near Whitby, allowing us to drop off Baby Fork with her grandmother. That might sound like quite an ask but, remarkably, Bridge Cottage Bistro hit all those criteria while showing off a heavily seafood themed menu with plenty to excite.
I may have had to endure childhood in Milton Keynes, but places like Sandsend also featured throughout my childhood thanks to my grandparents' residence being pretty local to it. It only took a couple of minutes of ferreting to establish the exact location of the restaurant, and we also found a lovely pub with a good looking menu. We didn't eat there, but The Hart Inn had whole lobster with fries on the menu for £20…hard to argue with.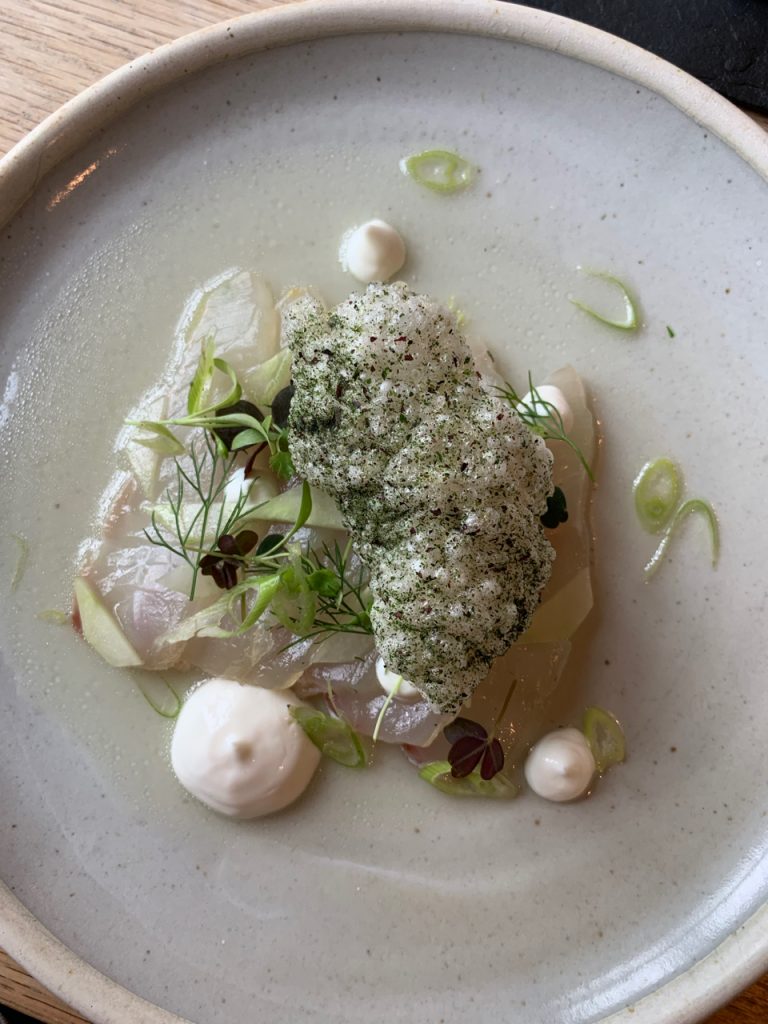 Bridge Cottage Bistro turned out to be exactly what I hoped for in terms of ambience: relaxed and informal without sacrificing a sense of occasion. The menu is displayed on a pair of chalkboards at one end of the room, making it easy to update on a frequent basis to account for the best product available that day.
Given the proximity to the coast, we decided to stick with seafood throughout, starting with cured halibut and grilled sardines. We enjoyed a few mouthfuls of bread dipped in oil to occupy our hands while we waited, but quickly found ourselves swapping plates halfway through our starters, as is our habit. First up were sardines. These deliciously oily little scoundrels were a world apart from the compressed, tinned version we're most familiar with. Deep in flavour and presented simply with slivers of tomato, basil and a perfectly judged anchovy ketchup, they were absolutely beyond reproach.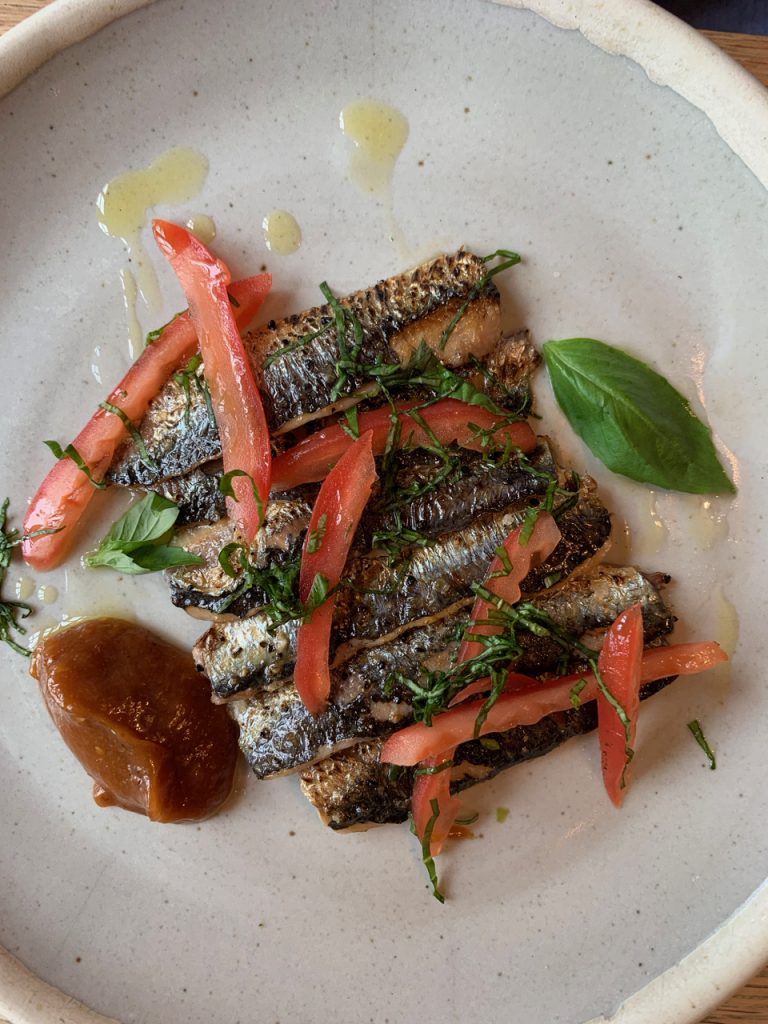 Our other starter was halibut cured with rosemary, fennel and lime and served with yoghurt, cucumber and a ginger dressing. The combination of curing, flavour and texture balanced carefully the tightrope of those elements it needed to walk. With a flourish of puffed fish skin, this was a beautifully realised dish.
We couldn't resist lobster, so we paired that with roast skate wing for mains. After a civilised interval, both dishes made their way over and were as beautifully presented as our starters suggested they would be. With chips, garlic butter and salad, this was a pretty conventional presentation of the dish but none the worse for that. Garlic leaves and mayonnaise rounded things out beautifully.
It's surprising how much meat comes on a skate wing. With clams and seasonal greens adding flavour to the potatoes that rounded out the plate, this was unlikely to leave you wanting more. Sliding the meat from the bone took neither skill nor effort to be rewarded with an abundance of flavour. The texture of the meat was reminiscent of the best examples of slow cooked pork, loads of texture but not at the expense of moisture. It's hard to find flaw with this one.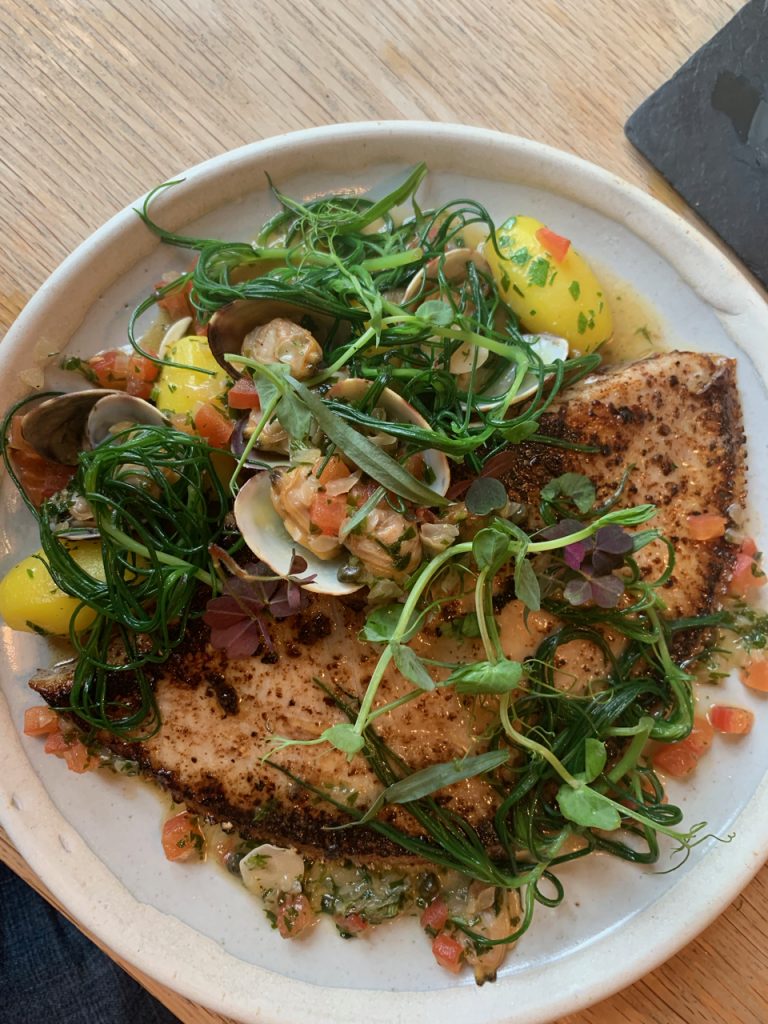 Mrs Fork can't resist a rice pudding, so convinced me I'd fit in a few mouthfuls, a task I just about managed to live up to and certainly didn't live to regret.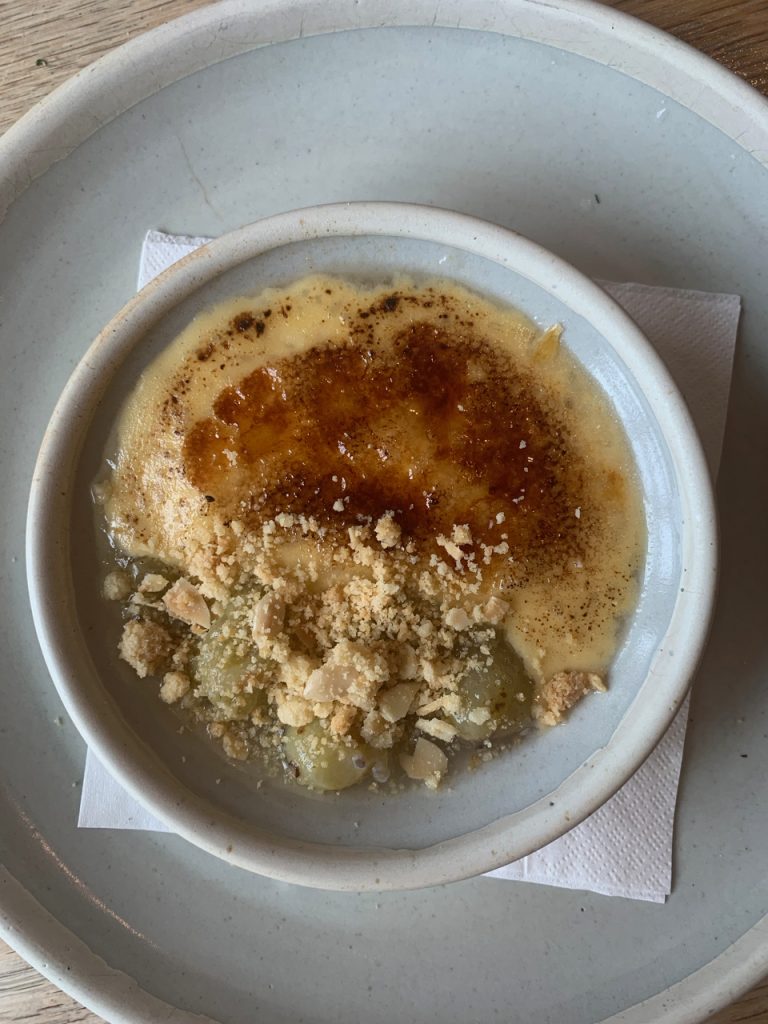 Bridge Cottage Bistro occupies perfectly the middle ground between premium "occasion" dining and the best of casual dining experiences that focus only on ingredients and flavour without worrying about dazzling service. Sharing a range of quality seafood, beautifully prepared and presented was a perfect birthday lunch and an experience I can't recommend enough.