I don't tend to lurk around Swinegate much, save for an annual stroll around the Festival of Angels to take a look at the ice sculptures. Slap bang in the centre of York and packed full of independent businesses, it's certainly an attractive area, but for some reason none of the food offerings have particularly piqued my interest. There're plenty of cocktail bars in which to admire your perfectly coiffured hair and designer shirts and where you can get a pretty competent burger, but as that kind of thing doesn't float my boat, I tend to skirt the area. At the invitation of a friend last night, I went to check out Lucia Wine Bar. A cocktail bar and restaurant with a large outdoor seating area that's suitable for use in all weathers, thanks to the invasion of patio heaters and large canopies that provide shelter and warmth. (I won't comment on the environmental credentials of this setup here.) Not knowing much about the place, I asked social media for thoughts and didn't receive anything positive in return so my expectations were in check, especially as it was a race day in York – an event that turns the town centre into catnip for drunks in cheap suits and women in ludicruous shoes.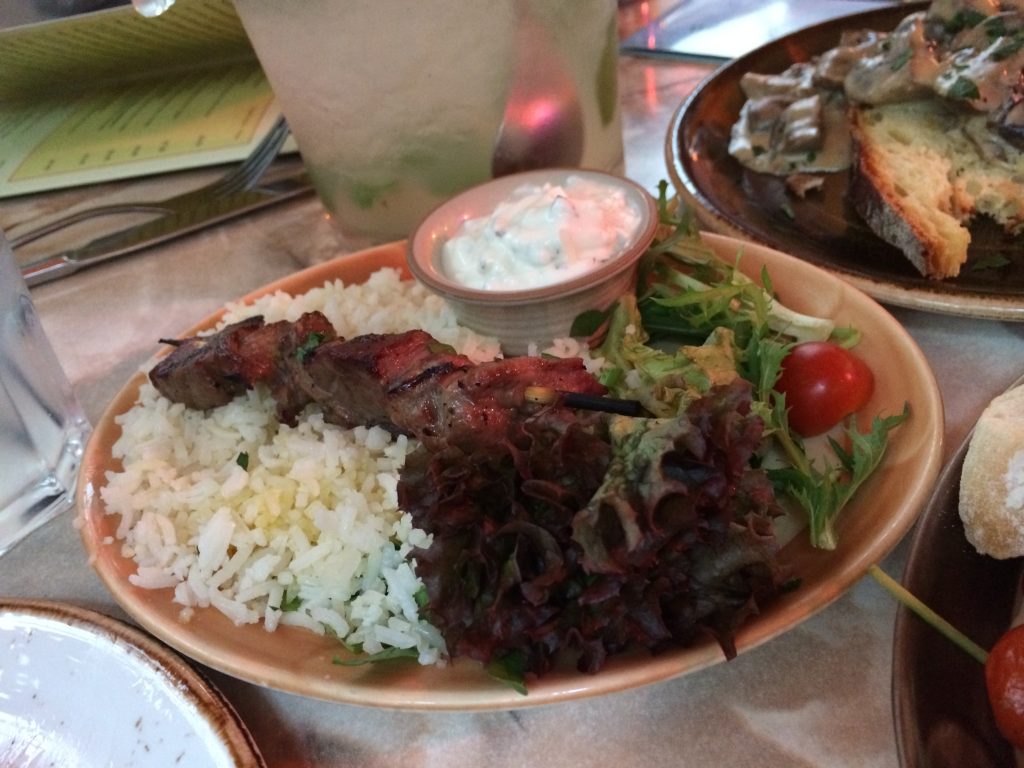 Getting a table at Lucia Wine Bar was no problem thanks to that outdoor area and we settled in with menus and a beer while we waited for our companion. Amongst the bottled beer selection, it was nice to see Quilmes and Cusquena amongst the usual suspects, though I think it's generally good practice to ensure the staff can pronounce everything on the menu.
Opting for a selection of the smaller plates rather than something from the grill gave an opportunity to try a wider selection of what was on offer. My companions shared a jug of Mojitos while I had an acceptable glass of Malbec. I'm reliably informed that the Mojitos were refreshing and nice if a little watery. Knowing my partner's intolerance for alcohol, I think it's safe to say they must have been on the weak side.
Food service was prompt and everything appeared hot and fresh. The arancini-style fried mozzarella risotto balls with tomato sauce were cheesy and crispy in all the right proportions and the cherry tomatoes glazed with mozzarella were decent enough and generous if a little unexciting. The garlic mushrooms were nicely rich and creamy without being overwhelmingly garlicky, accompanying crostini perfectly well.
Slightly less successful were the lamb skewer with basmati rice, smoked salmon with pickled asparagus and chorizo with red onion and chickpeas. I guess I should have paid more attention to the menu's singular listing of 'Lamb Kebab' but that single kebab with four little cubes of meat felt a touch stingy while the meat itself was slightly tough and the rice very bland. The smoked salmon was acceptable and generously given but the pickled asparagus so sharply flavoured as to provoke comical expressions as it was eaten. The chorizo itself was a little underwhelming, certainly acceptable but reminiscent of presliced supermarket meat. A scattering of chickpeas was very welcome to cut through the sharpness of the meat and gave a nice texture contrast.
So with the dishes split 50/50 between pretty good and pretty acceptable, it's tough to suggest a visit. The staff were attentive, friendly and not overbearing (pronunciation issues aside) and it's a lovely place to sit in a secluded part of the centre. It actually started raining heavily part way through our meal and we barely noticed. On balance my expectations proved to be largely correct, decent enough food in a bar environment that's perhaps more suitable for less demanding parties.