When I started this blog my intention was to give a bit of publicity to local businesses and share the fruits of dedicated research into where to eat out in York. My latest subject presents a bit of a problem though, as further publicity will serve only to make it even more of a pain to get a table there. If I also point out that it's very cheap, that's potentially even more self-defeating as it could end up more expensive when I return. Still though, I have a duty to share of course so… go to Oshibi. You really won't regret it.
The many and varied places to eat on Fossgate and Walmgate are well documented but only a few yards away you can find another gem tucked in Franklins yard. Oshibi inhabits a small space with only a handful of tables in front of an open kitchen from which it serves fantastic Korean food.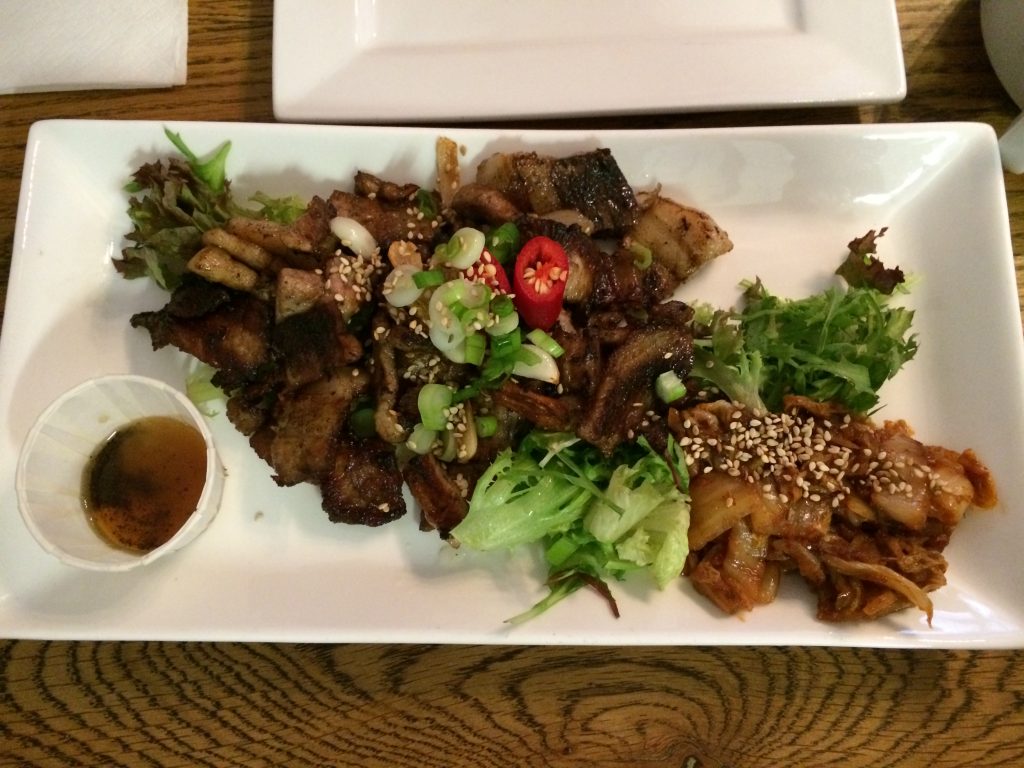 I've tried a couple of times to get a table without a reservation and always ended up standing slightly awkwardly amongst the diners who probably didn't want me examining their dishes and surreptitiously enjoying the smells. It only took a few months for my brilliant organisational skills to get round to booking a table so it was more than a little excitement we arrived on Friday.
The small dining room is brightly lit and informal, even though there're only a few tables they mercifully aren't invasively close to one another. Menus were deposited on the table in very short order and followed up, slightly too quickly for my decision making, by a request for a drink order. We ordered a bottle of the only red wine on the menu while we worked our way through the menu.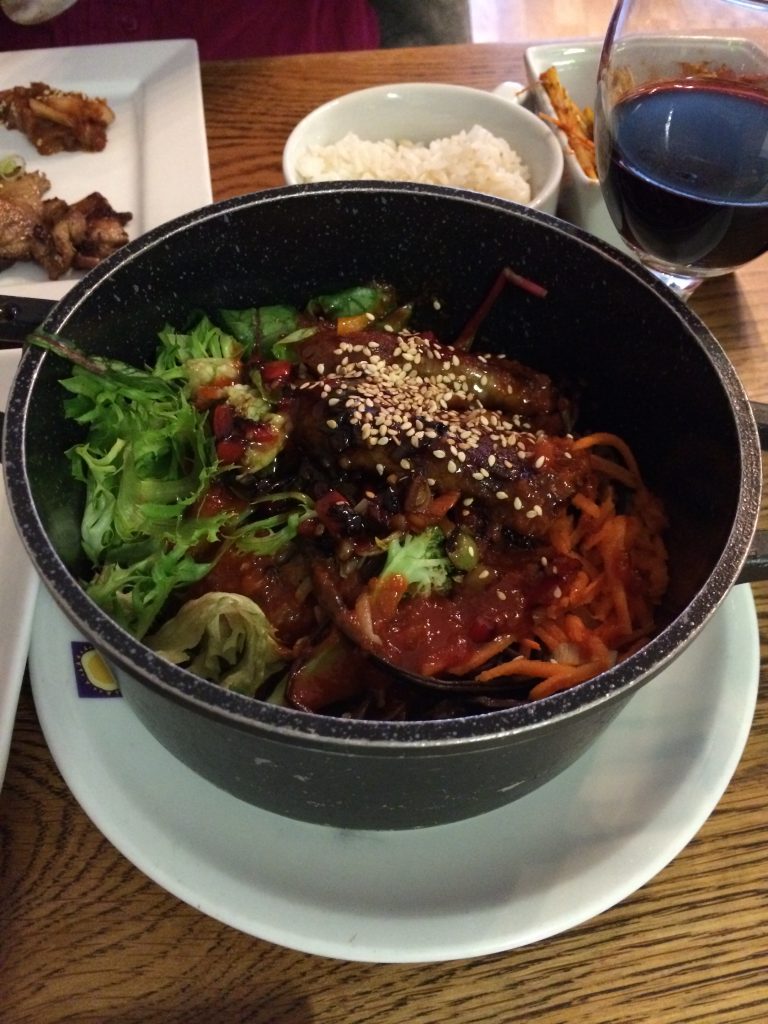 In the absence of starters we went for the grilled pork belly with kimchi and rice and a salmon hotpot bibimbap accompanied by marinated leeks in sesame oil and chilli. The food arrived promptly, in spite of the waiter's preemptive apology that as things were cooked to order there may be a delay, with a minimum of fuss and looked set to live up to expectations.
The crispy pork was brought into sharp relief by the kimchi and punched a kick of heat with each mouthful while the leeks, trimmed into neat batons, had a good crunch. Although the pork was excellent, the bibimbap (Such a pleasing word) was the star of the show for me. A layer of rice topped with vegetables and beautifully flavoured salmon fillets. Mixing these constituents together gave a wonderful variety of flavour combinations that varied with each bite while remaining underpinned by the warming sauce.
I was a little concerned by the presence of only a single red wine on the menu but, while not utterly spectacular, it was a perfectly competent accompaniment. Cold beer will perhaps be a better choice to take the edge off of the spice when I return.
It's pretty rare to find the bill to be a highlight of a meal, but when the numbers written on it are this small, it's nothing other than a nice surprise. Thirty five quid (plus tip) for a good meal and a bottle of wine? Seriously? Fantastic. I can't recommend eating here enough, while wracking my brain for criticisms all I can think of is that the lighting was perhaps a little bright.
The future looks very bright for Oshibi as they look to expand upstairs and will shortly be neighboured by Ambiente, who are opening a new branch in the former MOR music shop. With the Rogues Atelier upholsterers and art studio as neighbours, there's a real buzz going on here. The lucky thing is that the expansion for Oshibi removes any doubt I had about telling you how good it is. Go. It's superb.