Life isn't all about fine dining. Evenings spent admiring smears, purees, foams and artful presentations are great, but not the answer to every craving, nor is it particularly financially sustainable. A (admittedly minor) problem created by the rise of high-end dining is the spreading endeavours to imitate it by less garlanded establishments. This is all well and good, but has somewhat marginalised the serving of unpretentious decent pub grub. So, a trip to The Waggon and Horses felt like a strangely illicit treat.
Just outside the bar walls, the Waggon and Horses is a short walk from the town centre, offers B&B rooms and has been the recipient of glowing Tripadvisor reports that centre on the superb hospitality; reports that I fully endorse from my experiences of the place. Also beloved of CAMRA, the beer selection is superb.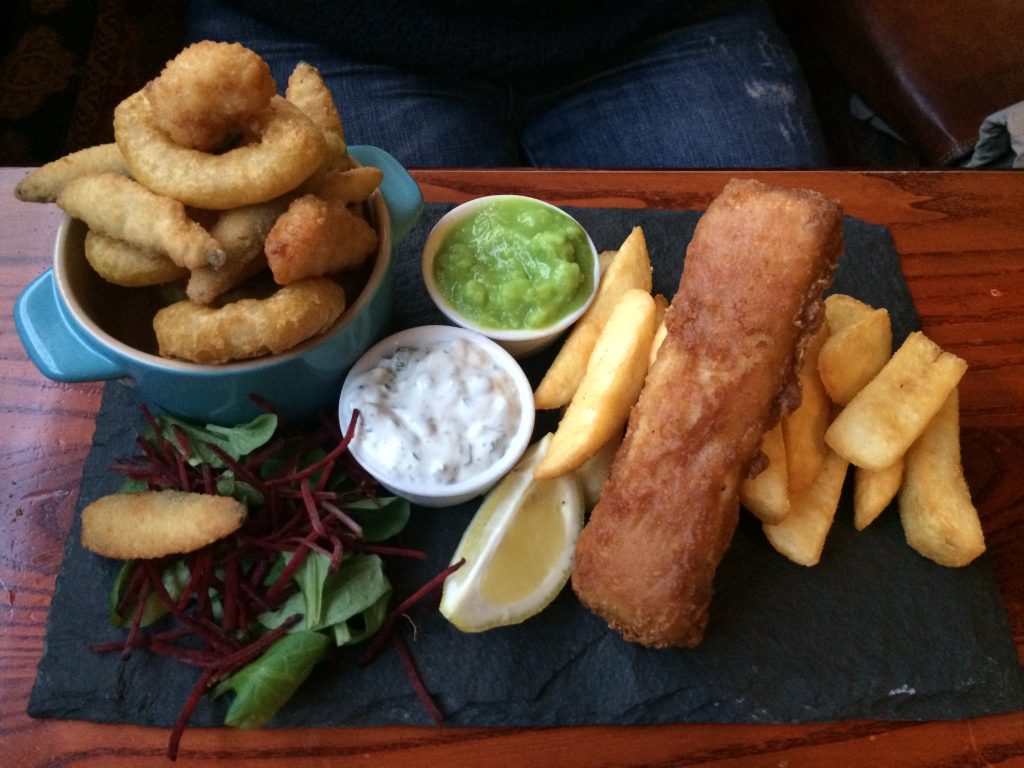 A thankfully brief menu (doesn't it concern you when you get a menu with pages of options, all requiring different ingredients?) offers pub staples of burgers, pies, sausages and so on at decent prices. Plumping for bangers and mash and a seafood platter with a couple of pints got change from £20 and initiated a short wait for food to appear.
There shouldn't really be much to say about bangers and mash if it's done right, so I'm not going to go on about it. Nicely creamy mash and generous quantities of sausage came with a startlingly large amount of peas and some very good onion relish. Spot on.
The fish platter was equally generous. Chips accompanied deep fried squid rings, scampi, and whitebait with mushy peas and tartare sauce accompanied by a slightly token salad (fair enough, it didn't get touched anyway). A large home made fish finger was constructed from meaty white fish and provided ample ballast alongside all that batter, and it was a lot of batter. It would have been nice to see a bit of smoked fish to balance that and provide some lightness and balance it. The chips were a touch dry too and prone to falling off the slate – plates have a lip for a reason!
It's good to know you can still get a cheap, honest meal in a nice pub that doesn't involve a microwave or rely on huge chains buying power. The Waggon is a friendly and refreshing pace to be that deserves your custom, I'll certainly be back… it'd be a stupid oversight to not try Sunday lunch after all.