York's curry houses have taken a bit of a battering in recent years as a variety of them have been subject to significant fines for food hygiene breaches. Thankfully we seem to be in something of a renaissance these days though as Coconut Lagoon seems to be making a traditionally tricky site work, Akbars remains consistent and offers those amusingly large naans and Viva Goa is receiving good word of mouth coverage. Bishopthorpe Road has excelled at becoming something of a destination in itself in York over the last 18 months or so with its main shopping run hosting Rice Style, Trinacria and Lal Quilla amongst others to interest those of us with a food obsession. If you head just a little further out of town though you'll come across another curry house that's been quietly going about its business and building a reputation, Village Spice.
Village Spice is a thoroughly uncomplicated place. Strictly bring your own bottles and no unnecessary frills in the décor or service. It's certainly not scruffy, but I guess you could construe that lack of effort as a negative. However, a clue to where the focus is can be found in the way the menu is structured. Generic dishes are relegated to the back page while the vast majority of dishes show a variety that suggests this is where attention is lavished.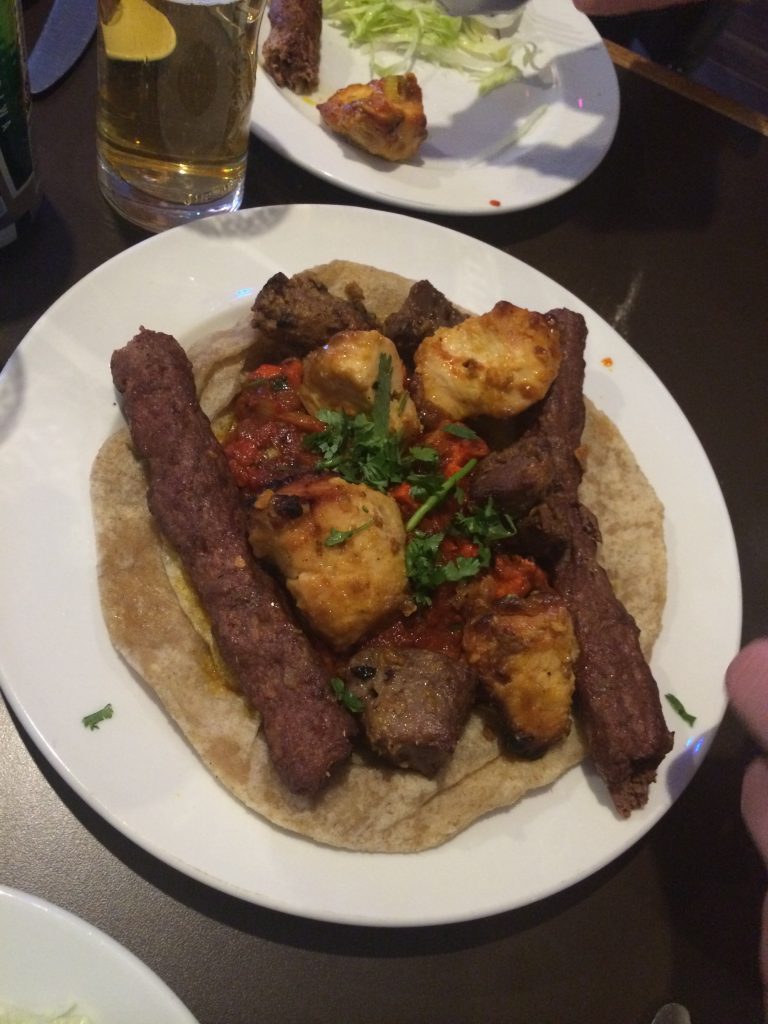 Suitably equipped with Polish beer from the adjacent store (and some rather curious looking 'Chicken Salami' that I'm yet to sample) we were seated quickly and realised happily that the race crowd from the day's Ebor meeting hadn't invaded. Starters, rice, chapatti, naan and three curries were requested and we engaged in furious debate about something or other very important indeed.
Taking the easy option to start with, we circumvented a decision with the Village Spice Special Mix for four. Consisting of chicken tikka, lamb tikka, seekh kebab and chicken chaat served on a light bread we thought we might have made a mistake and overestimated our appetites. Well-seasoned meat that was colourful without being suspiciously luminous and a well-judged heat boded well for the mains, if we would be able to stretch out stomachs around them.
Lamb saag was superb, as with the starters, nicely spiced without replacing flavour with sensation and generously filled with tender, slow-cooked meat. A sweet and mild chicken dish was soaked up the soft, fresh naan superbly and three dishes between four turned out to be perfect after that extravagant starter. The descriptions of heat levels on the menu were pleasingly close to my own interpretations, not challenging anyone too much.
We accompanied these with a single naan, a single portion of mushroom rice and a couple of chapattis between four of us in an effort to not leave huge amounts uneaten (you can't unorder stuff after all) and were pleasingly accurate with our prediction, heading off very full but not at undue risk of a Mr Creosote style catastrophe. I can't say quite why it's so cheap, perhaps that simple focus on food rather than surroundings, but for all that it came to £45 for four of us (obviously not including anything to drink).
Well prepared, simple food at superb prices that I can't recommend enough. If only every local curry was this focussed on what matters.