In an effort to retain a semblance of neutrality, I need to start this piece with an admission. The Fulford Arms is my (geographic) local and mere yards from where I currently work. I like the pizzas, I like the landlord, I like the beer, I even like the dog. So I really can't win, either I cough up some puff piece about a pub I like or I wind up a friend by finding things to unnecessarily criticise in his pub. Still, I'll give it a go. Go easy on me.
The Fulford has been through a few iterations in recent years. An intersecting wall was removed during a refurbishment a few years ago as it slipped into a new role as a music venue and real ale stronghold before the baton was passed to current licensee Chris Sherrington toward the beginning of the year. Since then, further investment has been made in the form of another extensive refurbishment while Chris, Ellie and Moriarty (the resident evil genius chihuahua ) and their kitties have settled into their new home.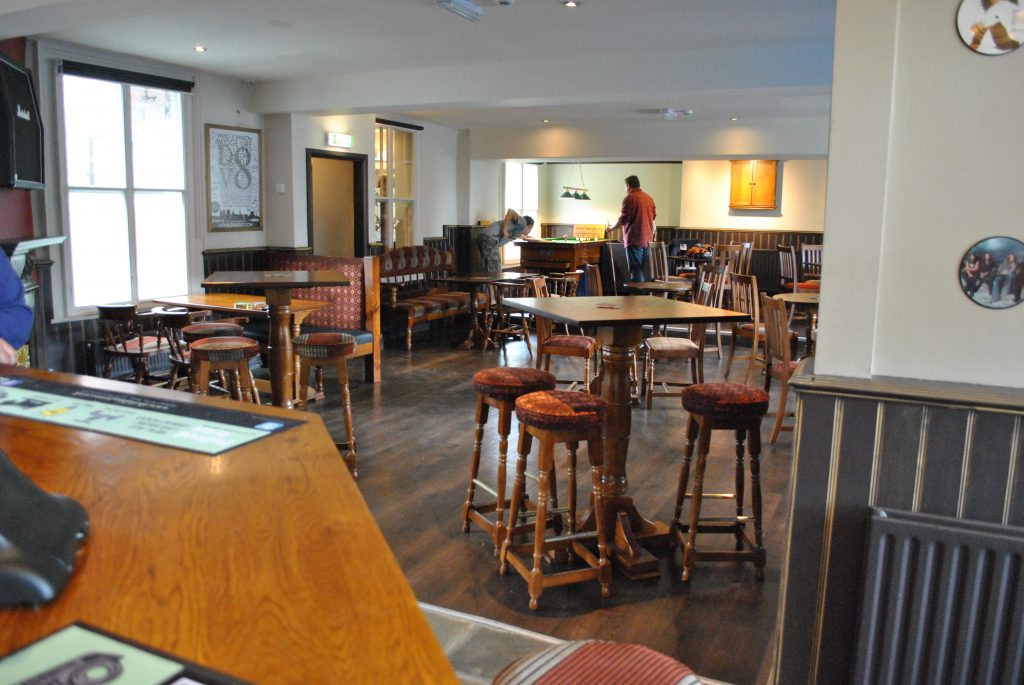 That latest refurb has taken the key step of moving the bar away from the longer front wall of the pub to reinstate a large window to provide a much airier feel to the space. A stage has been placed at one end for live performances and the bar relocated to the opposing wall with the stated aim being to provide a space to meet all the pubs aims: live music, good food, good beer and a friendly place that anyone can go for a meal or drink. If you want to consider how tricky it is to balance the requirements for those uses, just consider how many music venues will feel friendly and comfortable in the middle of the day AND knock up a good pizza AND put on a ticketed event in the evening.
I have to say that live music really isn't on my list in a local pub. I'm only an occasional concert goer these days and prefer to go see something specific, but the stage isn't overly intrusive and its use as a focus for the two bar billiards tables outside of gigs softens what could have been an overbearing presence. I suppose I can be grown up enough to admit pubs need to serve a range of customers, not just me. Just.
Resident Italian, Holly, provides the food, a smiling blue-haired presence who seems able to produce some of York's best pizzas. A wider menu is available since that refurb, but I need to tear myself away from the pizza and try it. I'm not a football fan but I'm reliably informed that the blue hair is in honour of ACF Fiorentina. Quickly Googling their strip does indeed confirm the hair is indeed the same shade. The pizzas are some of the best in York, stacking up well against the Hop in particular. Absolutely perfect for soaking up a couple of pints.
Those bar billiards tables I mentioned give yet another dimension to the place. Fielding a team in York's burgeoning bar billiards league, the Fulford sports two tables (the only pub I've seen with this setup) and a noteworthy addition for any fans of slightly obscure cuesports. Both tables attract a crowd of seasoned players and newcomers curious about something that looks like pool but has the pockets in the middle of the table and skittles to avoid next to them. You can read more on the UK's northernmost bar billiards league at www.yorkbarbilliards.com
So how can I get away with being nice about it, retaining neutrality and not putting any noses unnecessarily out of joint? Of course there're things that I don't find perfect. I'm not really a fan of the (thankfully not too explicit) 80's theme, even if that has afforded me the opportunity to pilot a Sinclair C5, and could happily forego the live music. What I do think the Fulford does well is provide balance. If that variety provides a characterful pub that's a viable ongoing economic concern, then I'm all for it and the balance is undoubtedly on the side of positivity.
If you asked me to choose between a less successful, quieter pub made in my own image or somewhere with character and a couple of revenue streams to keep it ticking over, I know which I'd choose and which would be better for the community. I know I said I was going to try and avoid bias, but actually I don't think I need to, the strongest endorsement comes from my repeated patronage after all. This isn't the perfect pub for everyone, not least for me, but the reasons I like it are clear for all to see. No wonder I keep going, and that it seems busier by the week.