The hospitality world is not one that stays still and it feels like we're entering (another) period of upheaval with the closure in York of several well regarded restaurants over the last few weeks. One of those, whose absence will be keenly felt, is The Rattle Owl which Clarrie O' Callaghan had established on Micklegate despite impediments such as the discovery of Roman remains in the basement which held the project up for some time. While this closure was a shock, former Head Chef at The Rattle Owl, Tom Heywood, had already made the decision to branch out on his own and make the journey up to Helmsley which is developing quite a nice cluster of exciting places to eat, with Bantam just a few doors down and Myse bringing people to nearby Hovingham. Joining him is Laurissa, also previously of The Rattle Owl, to run front of house while Tom keeps his head down in the kitchen to run service. The focus here at Pignut Helmsley is sustainability and innovation with a zero waste ethos and imaginative dishes to reflect that both of those intentions.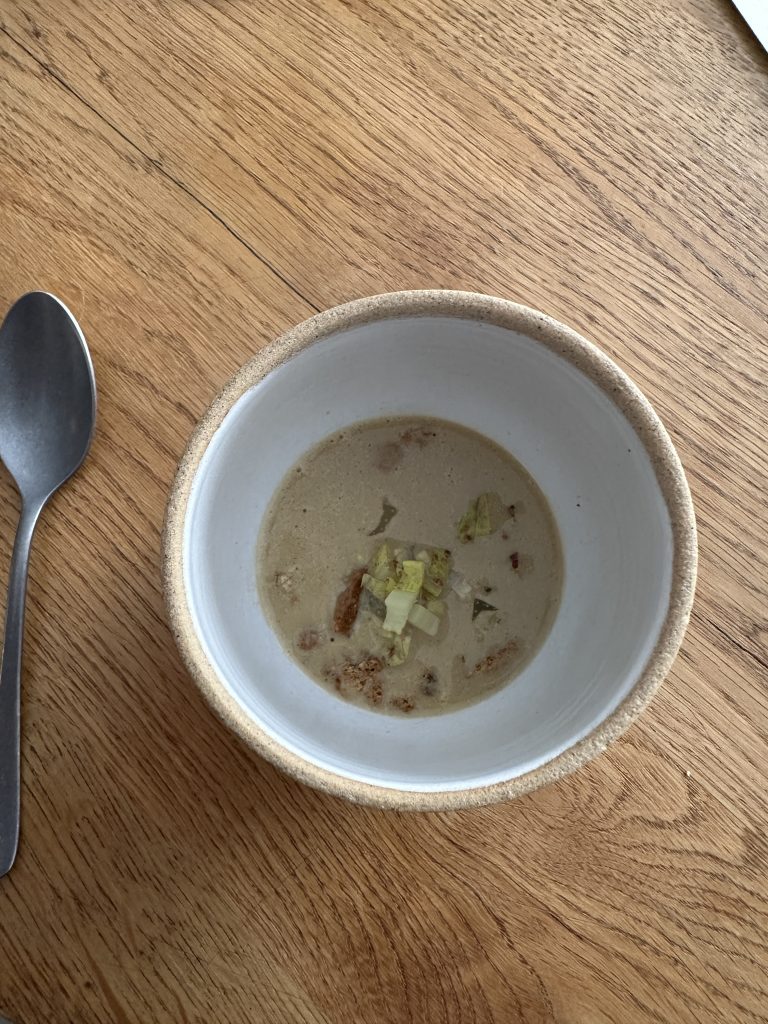 Pignut is an unassuming building just off the market square in Helmsley that's simply decorated without feeling sparse and had a welcoming buzz on the Friday lunchtime of our visit. There're a couple of menu options and we were to sample the four course menu which weighs in at £45 and has several options to upgrade, each of which makes sense and doesn't feel like added pressure to spend. The first course is the intriguingly titled "Wastage" which was actually served in three parts, intended to underscore the potential of off-cuts that would otherwise go to waste. Chefs finding creative ways to push their margins up by getting more out of their produce is by no means a new concept but putting that front and centre in such an explicit way is rather bold, as well as fully justified by the execution here. A boldly herbed and refreshing drink leads us into a second plate featuring pickled trim from Brill amongst a richly vegetal liquid for a quite remarkable contrast. The last part of the trio featured potato and crab in a dish reminiscent of a bisque that felt far more luxurious than you'd imagine "Wastage" could ever be.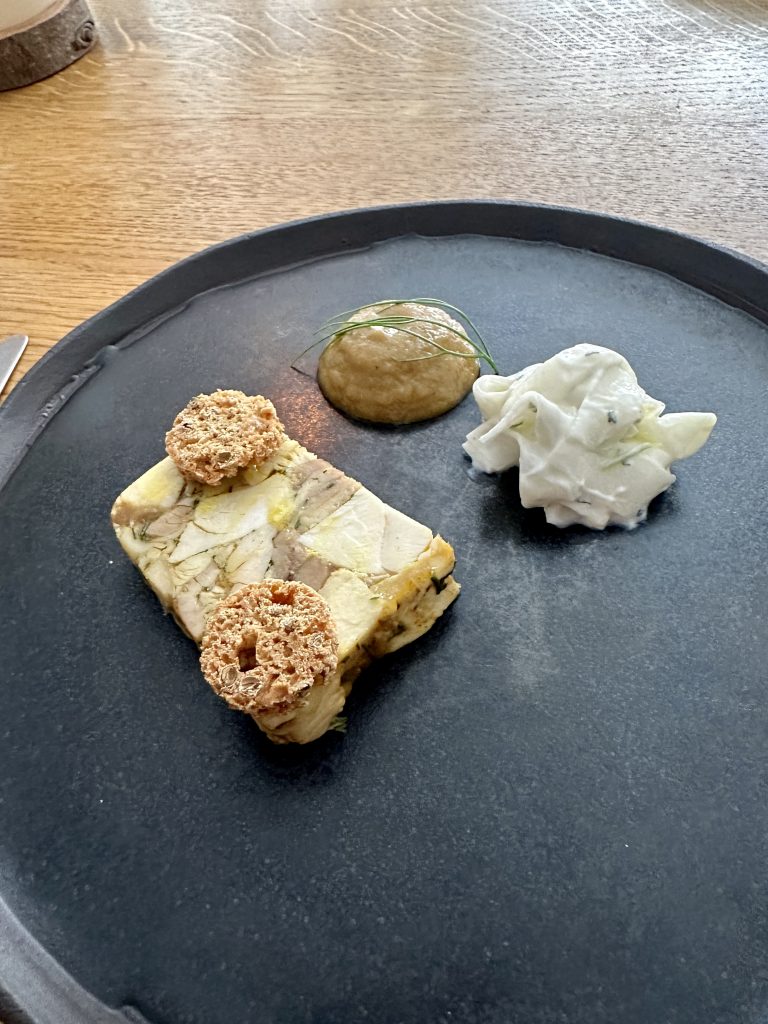 The first course to follow that bold prelude had a lot to live up to but Herb Fed chicken is always a good starting point for a dish and made for an exceptionally well executed terrine with subtle spicing to tease out the best of the chicken rather than obliterate its flavour. Equally well judged spicing in the accompanying sauce and ribbons of kohlrabi formed it into a confidently executed version of a, usually, rather safe dish. The bread course was up next with salted butter and a crab custard that pushed me into eating more of the soda bread than I had intended given I was also due a nine course tasting menu later in the day. The meat course next centred around beef cheek from Castle Howard and also used crispy kale and an earthy espuma to bring out the best of the meat.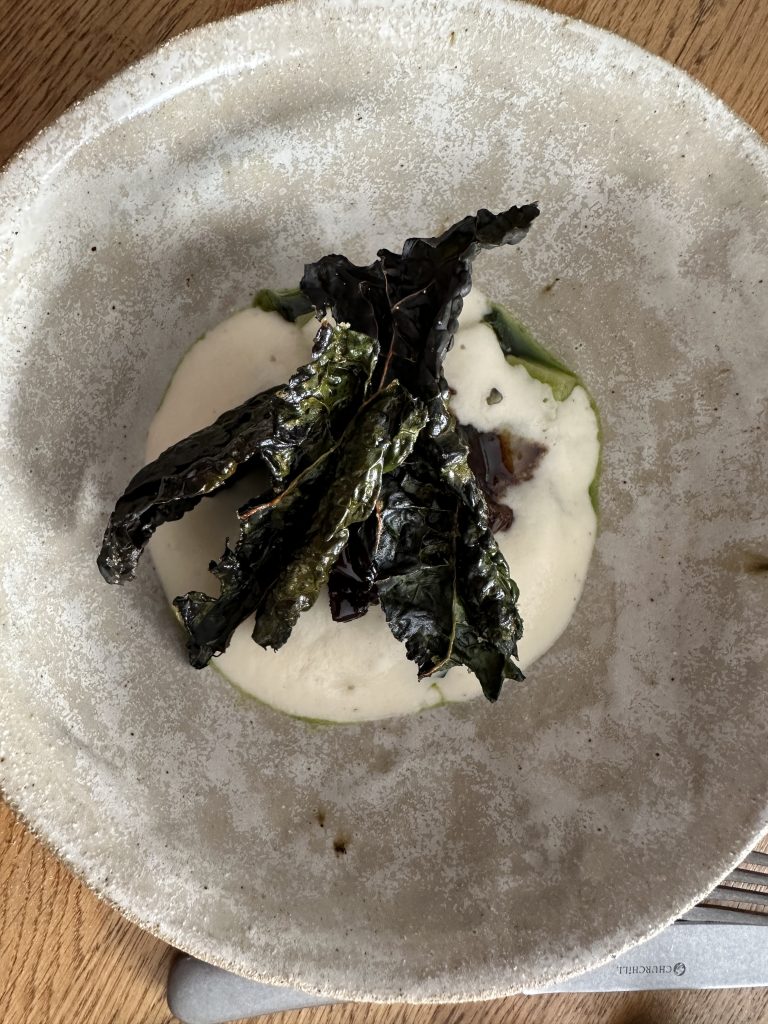 Dessert was a showcase for beautiful sweet strawberries with a fig leaf pavlova, another original combination but another one that worked perfectly and made for a memorable end to a memorable meal. It's clear that the commitment to sustainability here is more than just window dressing and the innovative approach to executing responsibly sourced produce is the perfect foil for this approach. The "Wastage" course is one of the most intriguing things I've seen on a menu in some time and would be enough to tempt me back by itself, though the rest of the meal represented great value for £45 regardless. Tom and Laurissa earned a great reputation at The Rattle Owl and I have every confidence that they'll make a great success of this venture in Helmsley regardless of the difficult climate.