(ad – invite) Lunches early in the week can be a bit of a tricky one for a restaurant to fill. This in particular presents a conundrum for kitchens in hotel restaurants that are beholden to be staffed anyway for the benefit of their residents. How then to maximise return on that staffing? It's a question that I've seen many potential answers submitted for and, truth be told, there's no easy answer or universal solution. It all depends on your location, potential audience and ability to flex to a price point based on your resources and fixed assets. The latest neat solution I've seen to this old chestnut is The Feversham Arms offering of a chef demonstration followed by lunch with a glass of wine for just £45.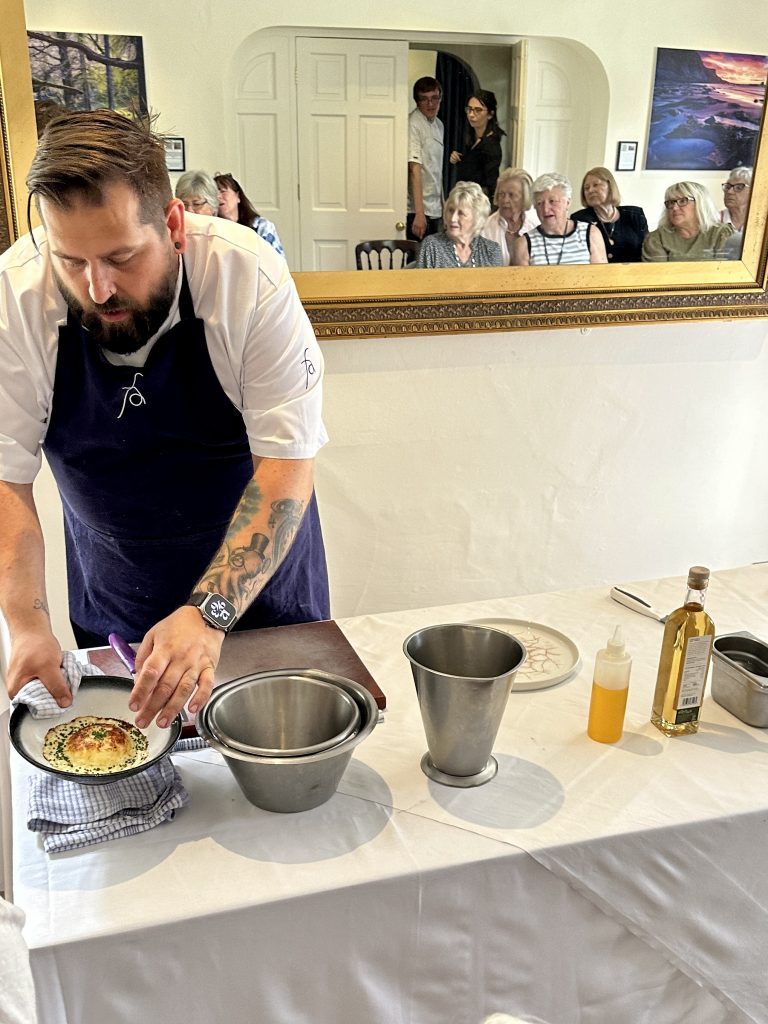 I went along to the first one with a fair idea of what to expect from Head Chef Jon Appleby who I've known for a while and who demonstrates at York Food Festival regularly. The event started at 11am with hot drinks and biscuits for the surprisingly large attendance given it was the first running. With caffeine and shortbread on board my friend and I joined the group in a private room all set up for Jon to get stuck in. Running this in a carpeted room with a portable induction hob on a tressle table was always going to inject a bit of slapstick into proceedings but Jon is clearly an adaptable fellow and tailored his set up throughout to make sure everyone got a decent view as well as the opportunity to ask as many questions as they want. First up was a twice baked cheese soufflé before moving onto a main of chicken supreme with Hollandaise, greens, poached egg and potato Lyonnaise, which prompted an excursion to the kitchen proper for the chicken as a temporary oven would have been a step too far. Over an hour and a bit Jon walked us through each step, which would be featured on recipe cards to take away, before sending us into the dining room to check the results having already seen his workings.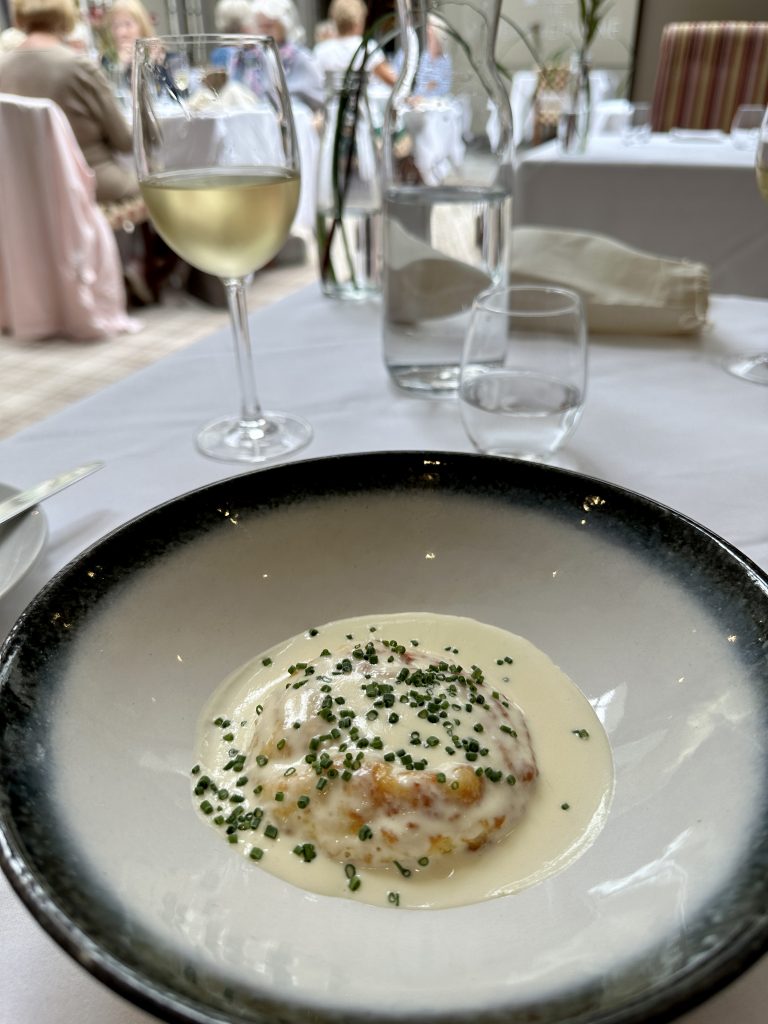 The dining room at The Feversham is an airy space that looks out onto the swimming pool and spa buildings and a very pleasant place to enjoy a midweek lunch. The theme of the demo and the dishes it presented was of dinner party dishes that could be prepped in advance for minimum stress, which suits a souffle down to the ground… There's a good reason that menus proudly proclaim their soufflés to be twice baked and it's not entirely for your benefit as much speed of service. Having seen how much cheese went into this example, I wasn't in the least bit surprised how indulgent and delicious it was and the good scattering of chives would have made the @ratemychives grade any day of the week. The chicken supreme was similarly rich, with the neatly trimmed chicken and presented on blanched greens with a perfectly poached egg just waiting to be burst, and Hollandaise to underline the indulgence. All the elements of this rich dish fulfilled their purpose with aplomb and the red onion in the Lyonnaise potato cut through the heavier elements for a touch of relief.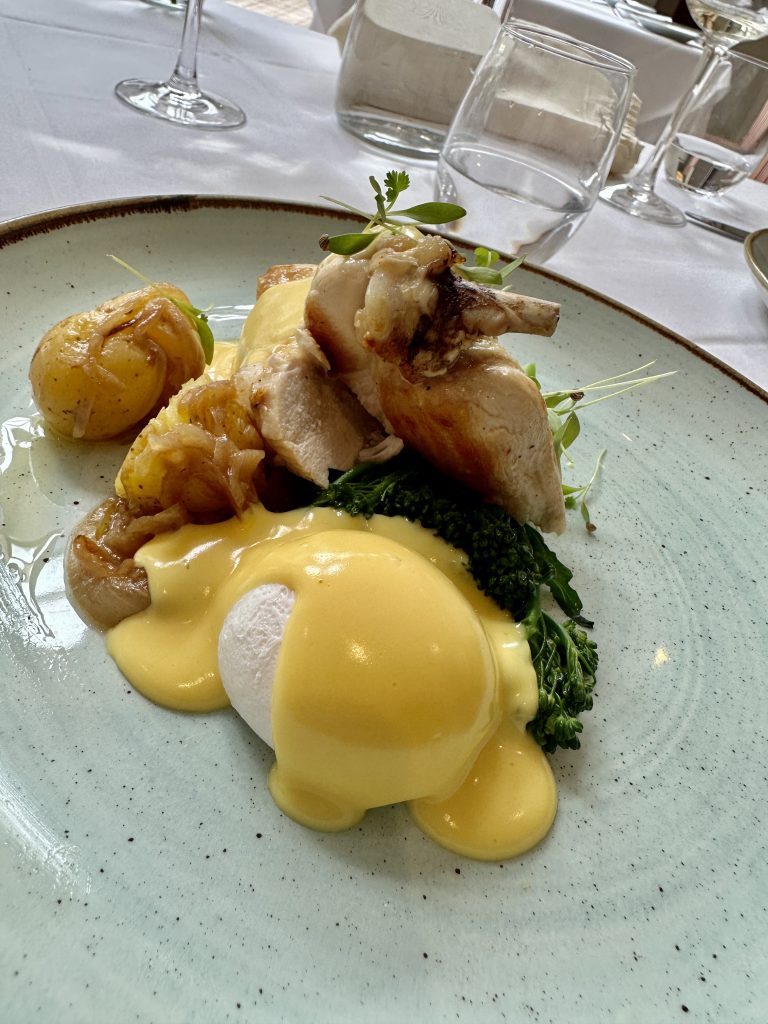 With a glass of wine thrown in, two courses for £45 in such a nice dining room would be fair value but chucking in entertainment from a chef such as Jon just sweetens the deal. I wasn't sure what to expect when I turned up for this one and it was a surprise to see it so well attended from a standing start, so I fully expect future editions to be similarly successful.