(ad – pr visit) We don't do badly for decent steak in York. There're a good few places that I trust to do justice to a nice piece of beef such as The Whippet, Corner Grill House and The Chopping Block but now we have a new option in the form of The Pearly Cow York which is just a short walk from Bootham Bar and can be found in Guesthouse Hotels' York outpost, No 1. This landmark building has been a hotel and restaurant in York for many years and was pretty underwhelming until Guesthouse took it over and turned it into one of the most impressive and stylish places to stay in York. Their new restaurant The Pearly Cow holds its own as a superbly stylish place to dine that complements the hotel nicely.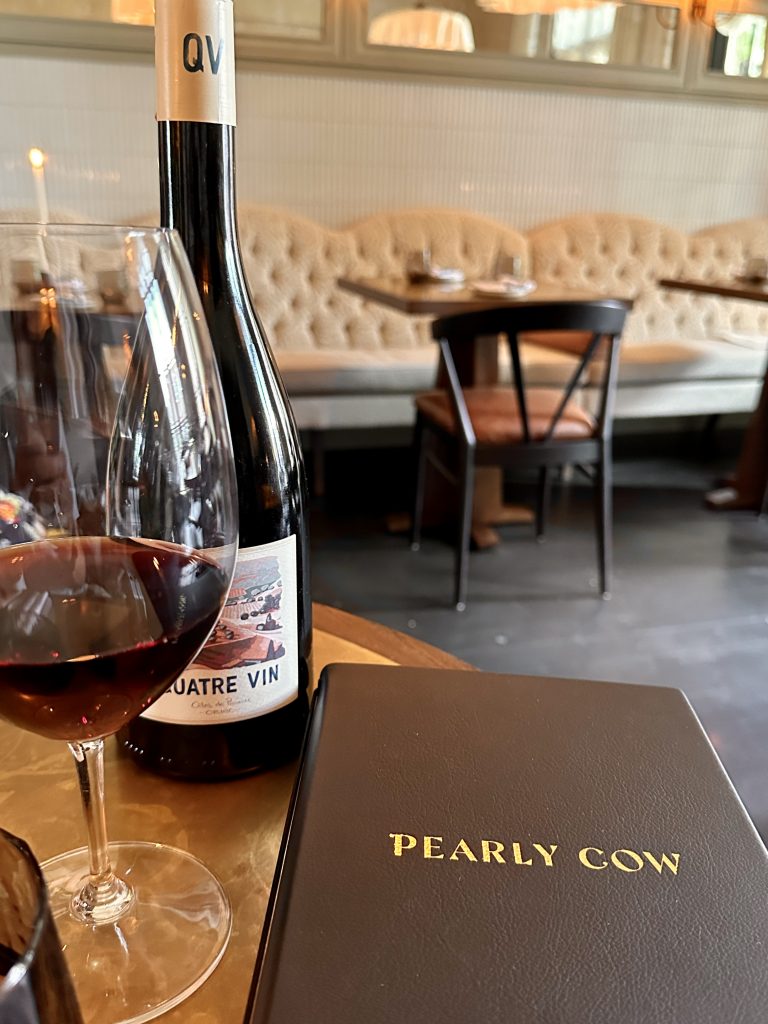 Events are a key part of the offering at The Pearly Cow and once a month they host a steak & jazz night on a Sunday, with a jazz band soundtracking your evening which only costs £85 for 2 steaks, 2 sides, 2 sauces and a bottle of wine – great value in the context of the rising cost of eating out (well everything truth be told). We quickly settled into our seat while the staff made their best efforts to cool the room from the extremely hot day. By nature, the choices needed to order at this type of meal are limited so it was a short conversation to order a fillet and a sirloin to be paired with chicory and blue cheese salad and beef fat layered chips. We chose peppercorn and Béarnaise sauces and a bottle of red wine to prop up those main selections and quickly settled into the familiar sound of the Karl Mullen Jazz Trio, whose frequent appearances at The Phoenix Inn I'm very familiar with.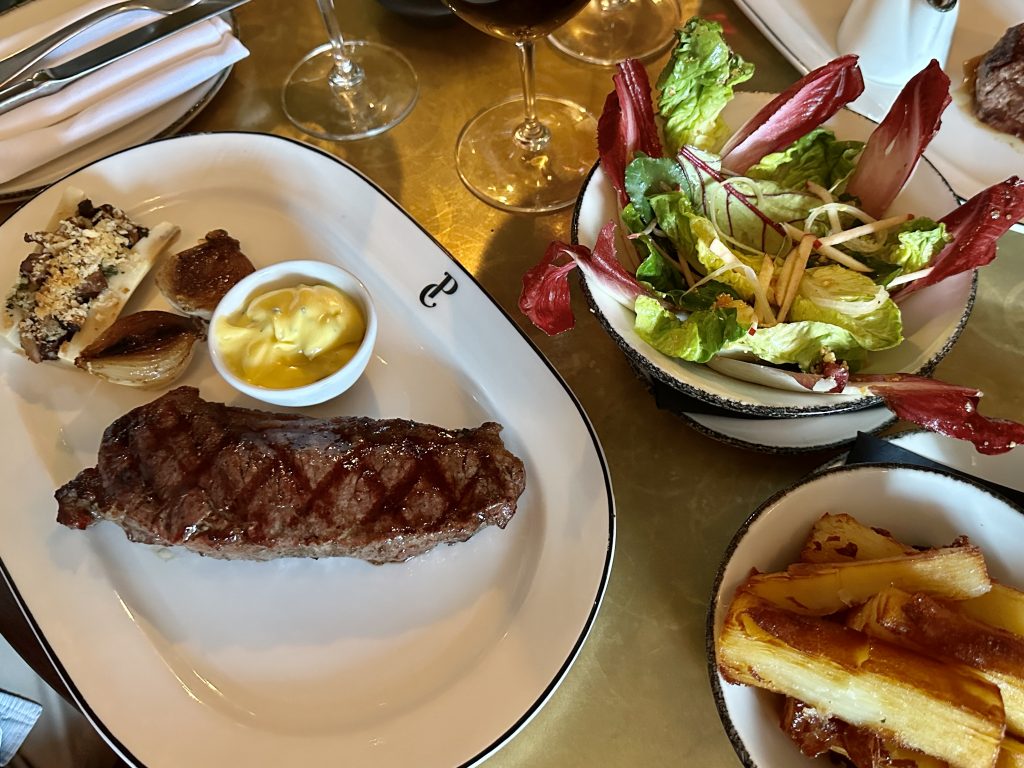 A steak is something that a number of restaurants struggle to get right for some reason, it feeling more than a risk to order than it should. Surely if I can cook one at home to a decent standard, seasoning well and resting properly then it shouldn't be too much to ask a professional chef to achieve the same thing? Thankfully full justice had been done to the cuts of meat that arrived at the table, both of which felt like exactly the indulgence they should do with glazed onion and bone marrow on the plates along with our chosen sauces. The cooking of the steaks was beyond reproach and shrieked of the confident application of heat, generous seasoning and judicious resting to deliver all the taste and texture the livestock involved were capable of producing. Coincidentally two well regarded local street food traders were attending the event, both of whom expressed similar feelings when I saw them afterwards and both agreeing that the peppercorn sauce in particular was beautifully executed. The steaks were accompanied by two halves of a beautifully caramelised roscoff onion and bone marrow which both elevated the dish further, as did the sides. The chicory and blue cheese salad combined the bitter and salty notes of those elements to good effect but the beef fat "chips" were the real superstar and unmissable if you're visiting. Pressed layers of thin potato cooked in beef fat results in a deep, rich flavour and appealing textural variety that was only further brought to life by the sharp hint of mustard in the accompanying "Dijonnaise".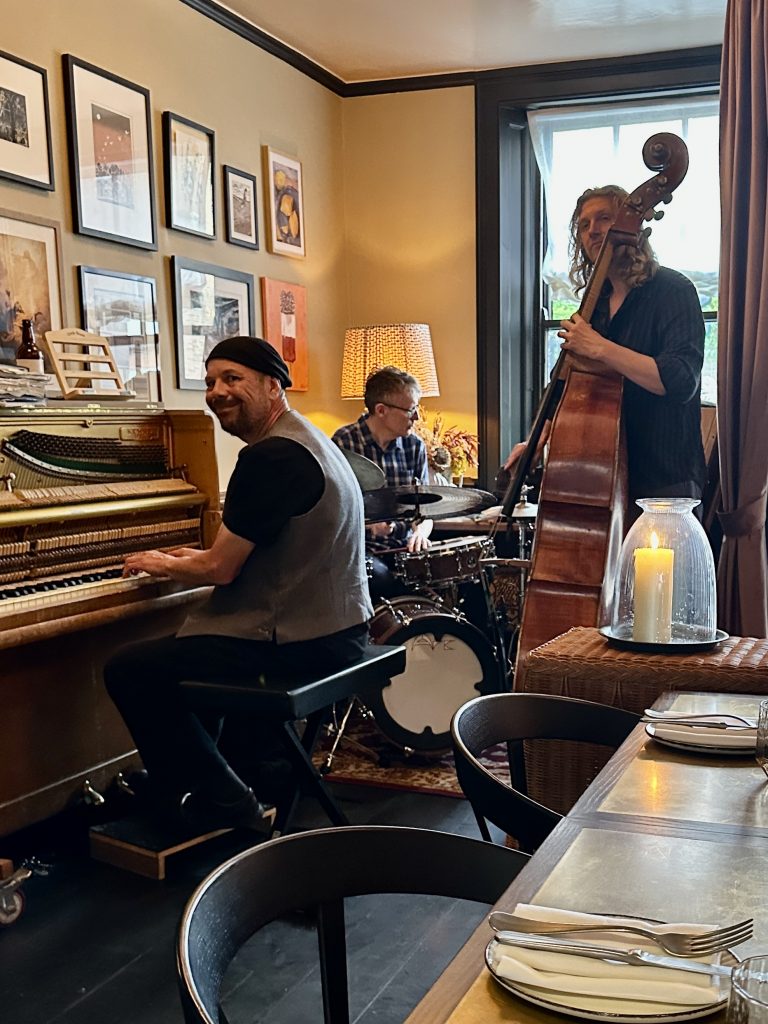 This really was an exceptionally well executed meal given more character by the enjoyable, but never overwhelming, music from the Karl Mullen Jazz Trio. A well cooked, quality cut of beef has always felt like a singular indulgence but with prices escalating constantly it now needs to feel even more of an event. Pearly Cow York really pulls that off serving up top-notch steaks in a great atmosphere with well judged side dishes.