This is a big one. Over the years it was open in York, Le Cochon Aveugle was pushed onwards by Josh Overington to be deserving of the highest reputation, with each passing year its lack of a Michelin star looking rather more inexplicable. Regardless of the standard and reputation though a natural limit to the number of covers existed thanks to the building's size and layout so it should be no great suprise that Josh and wife Vicky took the bold decision to shut both Cochon and sister wine bar Cave du Cochon. Instead they've gone all in on a new venture which has taken them to Hovingham where they've opened Myse (pronounced 'meez', Anglo-Saxon for "eating at the table"), a restaurant with rooms which has been designed from day one to meet their vision rather than being a space adapted as such.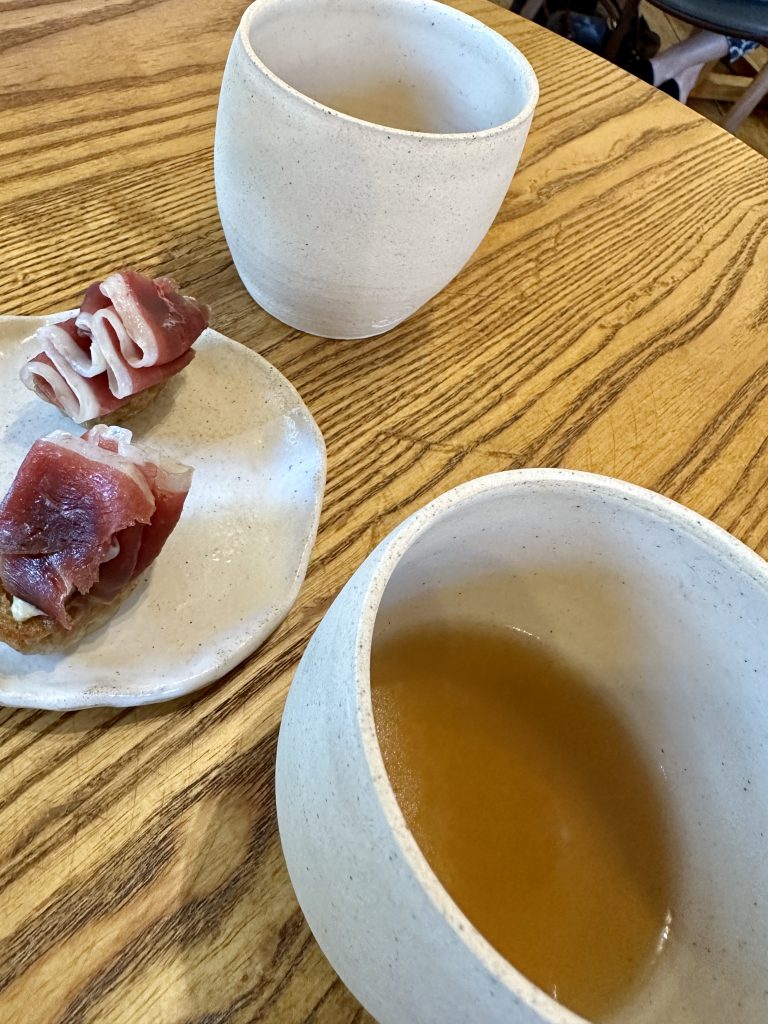 Hovingham is a delightfully pretty Yorkshire village, fairly typical of the area, which incidentally hosts a superb produce market should you find yourself in the area. The building that Myse occupies had previously been a restaurant and a pub, neither of which were really familiar to me but the scale of the refurbishment that the guys have subjected the place to is entirely clear nonetheless. Walking into a flawlessly clean bar area that exuded calm, we quickly were settling into anticipation of the experience over a glass of fizz and a first bite. Summerfield cheese turned into a delicate leaf-shaped cracker which had been dotted with black walnut puree and strikingly presented with pine cones starting things off nicely, while the presence of a press to crack one's way into walnuts was as functional as it was novel. Interest even more piqued than on arrival, we were ushered through to the dining area, with great views of the open kitchen and the chefs calmly working through their tasks, and were presented with a menu.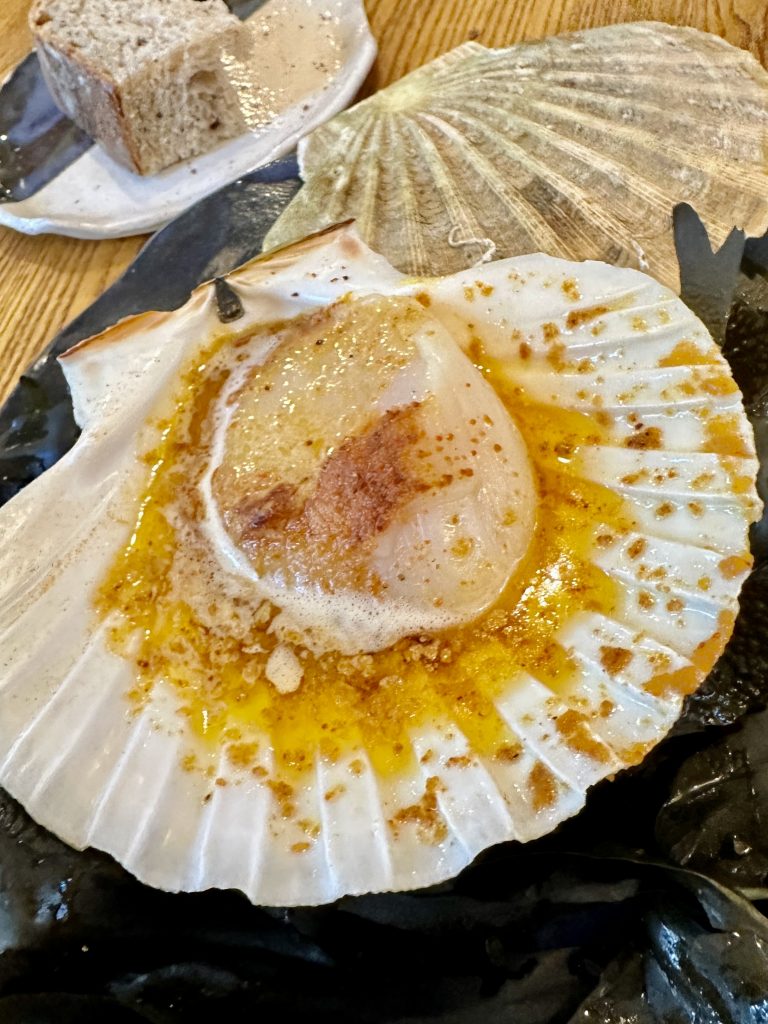 After being impressed by the "Wastage" starter at Pignut earlier that day, we started with another multi-part dish, this time based around duck. An accent of duck ham topped a diminutive crumpet which had been laden with duck liver, served along with this was a duck broth that delivered a remarkable contrast of deep flavour while never feeling heavy. The next snack took the form of an oyster, apparently simply served with a topping of fresh peas but the kiss of smoke given to the peas from their time on a charcoal grill was refreshing and original. To finish the snacks, we enjoyed a golf ball sized snack of braised ox cheek encased in Yorkshire pudding batter and deep fried, with fermented cucumber to puncture the richness.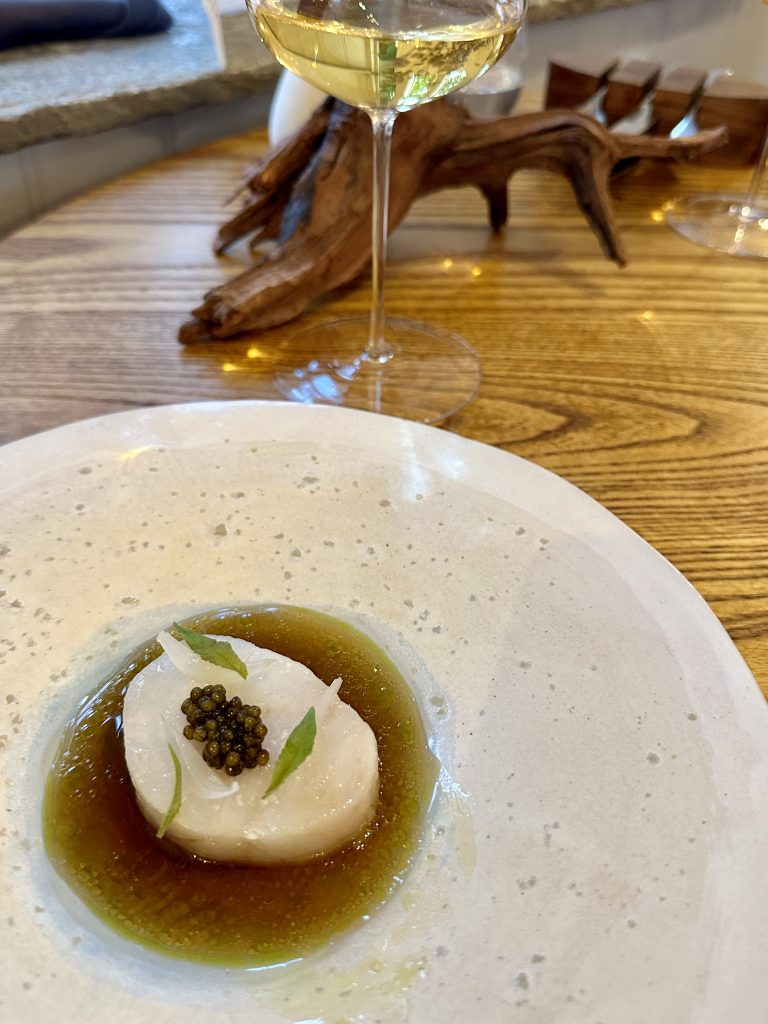 A bread course came next and while top quality bread and salted butter is a given at a place like this, the other accompaniment for this course raised the bar. Chicken dripping heavily augmented with fresh herbs provoked rather spirited attempts to ensure it was totally fairly distributed, reflecting how desperately good it was. I make a point of minimising bread consumption at a meal like this, especially after a four course lunch, but nothing was getting between me and my fair share. Comically large scallops are something of a Josh Overington signature and this evening's were no let down, presented at the table having been cooked in their shells with sea urchin butter these tender, sweet monsters realised their full potential.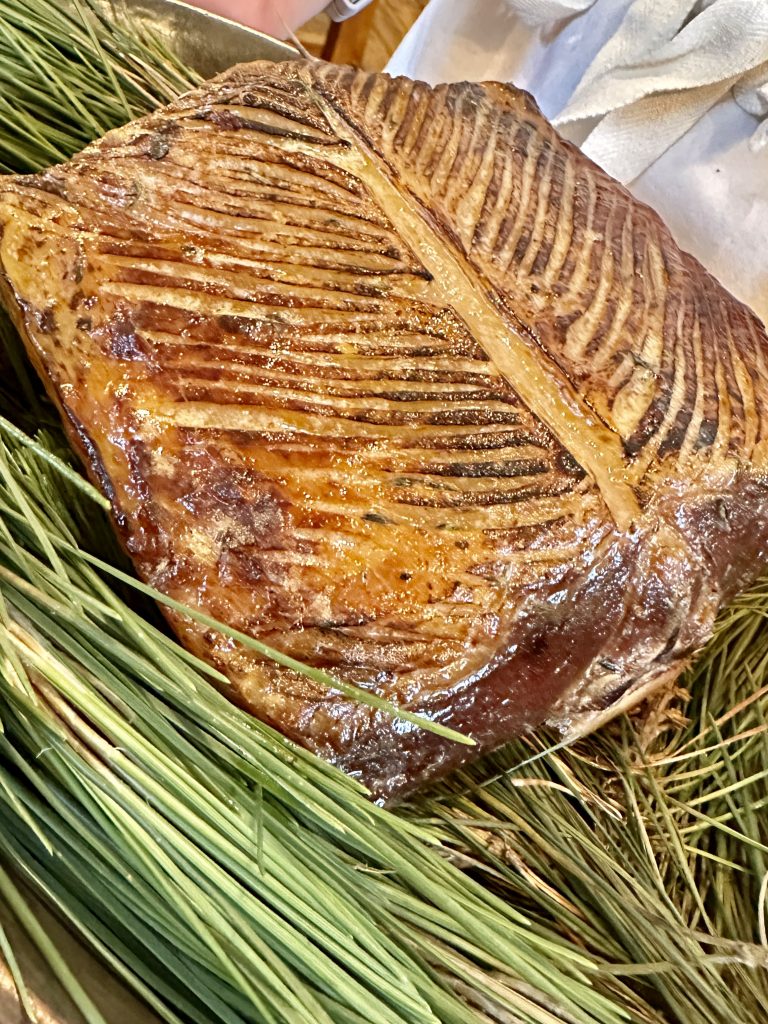 There were a number of neat flourishes amongst the service throughout, with the appearance of the full lamb at the table before it was carved for us being a welcome chance to check out the full joint of meat. Transparent signposting of what each of the paired wines was intended to be enjoyed with was a practical thought, along with many of the chefs coming to our table to explain the courses. After that teasing gaze of the meat, we went into a dish of broad bean porridge with girroles, fresh cheese and whey. Enjoyable in isolation if perhaps a slight dip from the quite exceptional form so far. Things moved on quickly to another exceptional dish, this time pollock poached in beef fat sitting in an onion broth with punctuations of lemon verbena and caviar. This gave us a chance to have a slightly geeky conversation with Josh about the history of fish and chips in the UK, with the beef fat giving the fish a meaty note to reflect a chippy tea. The result was a playful and sophisticated dish that'll stay with me for a long time, made even more memorable by the matched wine that smoothly transitioned from sherry notes to a refreshing white as it went with the food.
Closing out the savoury was a meat course of lamb saddle with pearl barley and tetragonia leaves. The lamb was as peerlessly prepared as it looked when passing the table for inspection earlier, with the fat deeply flavoured and softened perfectly while pearl barley leant an earthy quality to the plate. This was an illustration of brilliantly competent cookery that did no more or less than that required to showcase the produce on the plate.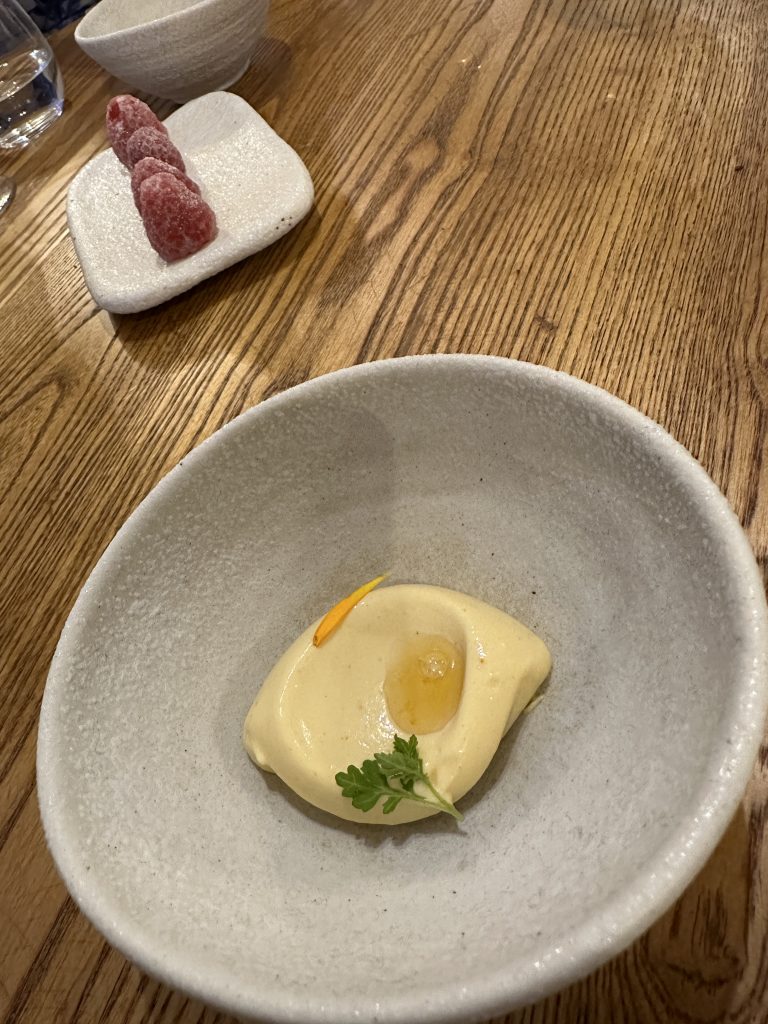 Sweets came first in the form of citrus marigold ice cream with candied raspberries for a refreshing bit of sugar before a final flourish of "Day old bread and preserves". Soaked in custard and fried to a sugar glazed crunch, this brought proceedings to an effective close before we were lucky enough to get a tour of the rest of the building to appreciate just how much thought and effort had gone into the details of the rooms as well as the restaurant and bar. Josh was quite justifiably proud of the place.
Le Cochon Aveugle was superb and the match of most 1 Michelin Star places I've eaten at, but the move to the country has given the Overingtons the chance to start with a blank canvas and set out their stall properly. The location may prove to be a barrier to some people making the journey but those that do will be rewarded with exemplary cooking executing original, but not unnecessarily eccentric, dishes in a stunningly realised environment that's an active participant in proceedings.