As we become more keenly aware of the need to reduce our meat consumption and are hit more and more by rising costs, inflation and so on, the treat of a good steak has become more and more of an indulgence. This places even more pressure on a restuarant serving steaks to get it exactly right, every single time. For many years I've habitually avoided ordering steaks from non-specialist restaurants given the possibility of disappointment is magnified by those extra pressures. While The Pearly Cow has recently set out its stall and offers reliably top-tier steaks, my usual go-to for consistency and quality has been The Whippet for some years. Things always move on though and now The Whippet Inn has further upped the ante by taking the dry-ageing of their steaks in-house to give them much greater control over their meat.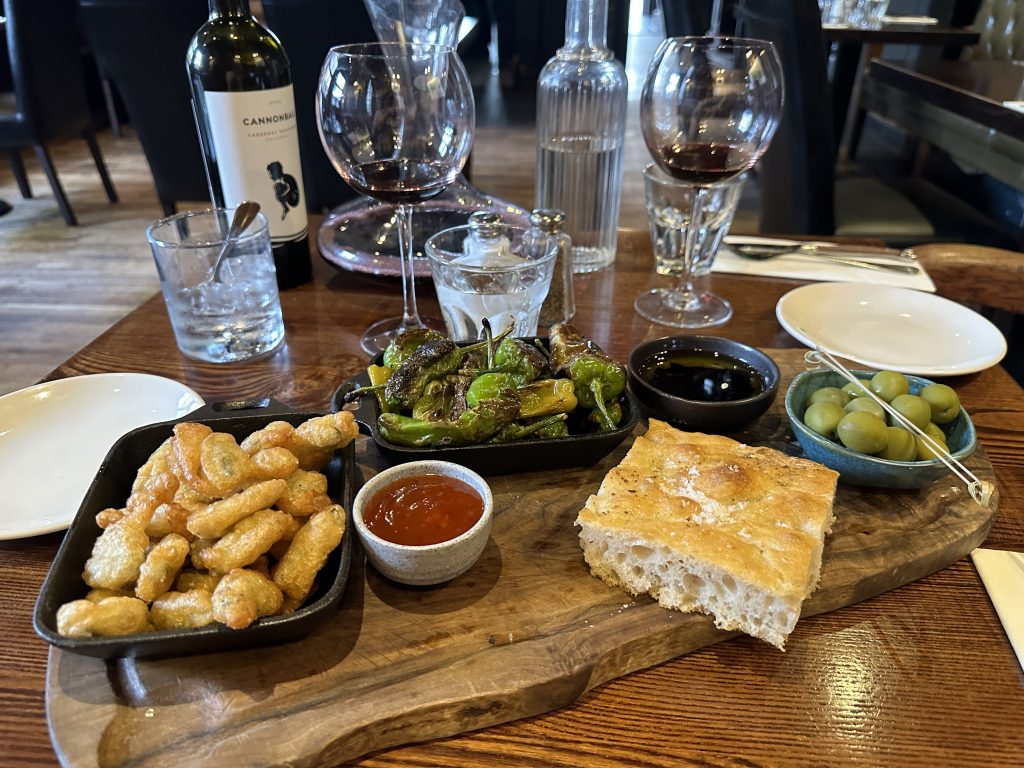 Dry aging is not the kind of thing that most of us would try at home. The process very precisely controls the temperature and humidity at which cuts of beef are held for long periods and can dramatically alter the character of the meat, which in this case comes from ex-dairy cows. We went along to sample 80 day dry aged ex-dairy sirloin, complemented by a Californian Cabernet Sauvignon and a range of snacks.
The Whippet Inn has had a spruce up in recent times, making space for more tables by removing the previously rather under-utilised bar area as well as adding those feature dry-aging cabinets which are as striking as they are functional. The ability to populate these with a range of cuts means that there's always going to be something different to try, making each meal distinctive with plenty of reason to return. We were seated into the comfortable dining room and our wine was decanted as a range of snacks arrived with an attractive wood platter adorned with olives, padron peppers, focaccia and fried pickles which were a treat to dredge through sweet chilli sauce. Delicious as all this was thought, it was really the precursor to the main event. Our 80 day dry-aged sirloin steaks were served simply, sliced and unfussily left on the plate alone, bar some seasonings, with beef fat hash browns and sauces on the side. Perfectly cooked and generously portioned, the steaks thoroughly delivered on the sense of occasion they were intended to impart and justified the effort that's clearly gone into developing the dry-aging process at The Whippet Inn.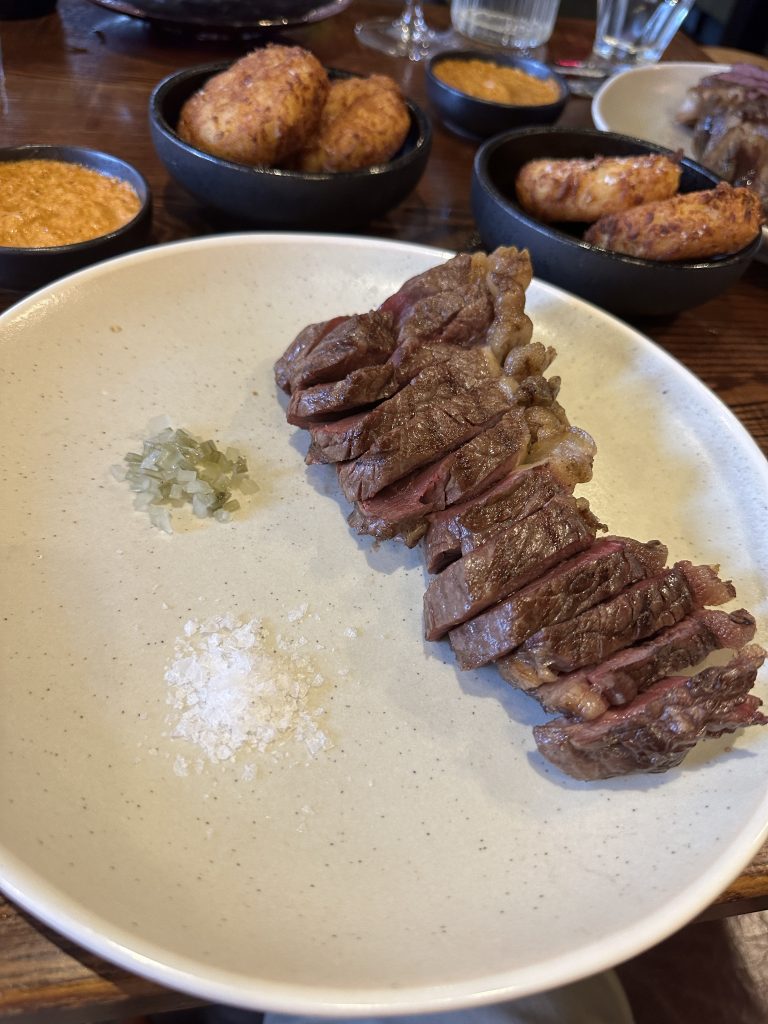 These were quite unlike any steak I've tried before with a deep and funky note that included a touch of blue cheese pungency and hints of mushroomy fermentation. To say something is rich in umami has become thoroughly overused, but this steak earns the accolade easily and then some. A well cooked steak from animals treated well is satisfying enough in itself but this was an entirely different experience that lives up to the billing superbly. The beef fat hash browns were equally indulgent and filled out the plate well, but in truth nothing was going to overshadow the steak which was also a beautiful partner for the wine selected for us.
It goes without saying that this is an experience that demands a lot of the establishment delivering it and, as such, it's priced accordingly. That said, in a world where I saw two rolls of kitchen roll for a fiver in my local shop the other day, £40 per steak for cooking and produce like this doesn't sound that bad. I'd also point you toward The Whippet Inn's lunch deal which is amongst the more striking in York as well as being great value. The team here have been at the forefront of the beef scene in York since opening and this experience just underlines their commitment to continuous improvement. It's clear that each of these cuts of meat will be unique, distinctive and an event in itself, making them a valuable new front in the York food scene.