(ad – pr) Back in lockdown, much as I hate to think about that period, I was sent a variety of meals to try at home from businesses hurriedly trying to reinvent themselves under the most dire of circumstances. Amongst these was Kennedy's who sent me a Sunday roast that turned out to be a highlight of that bleak period and led me to reflect on how I think about Kennedy's York. My primary association with this business had been with work events that nobody particularly wanted to be on but obligated everyone to get slightly drunk with one another. I remember in particular an HR director being forced to sing "I'm a little teapot…." which is perhaps illustrative of the level the endeavour. This is rather unfair though as Kennedy's has been an independent business in the centre of York for more than twenty years, offering up late night weekend fun as well as food throughout the week.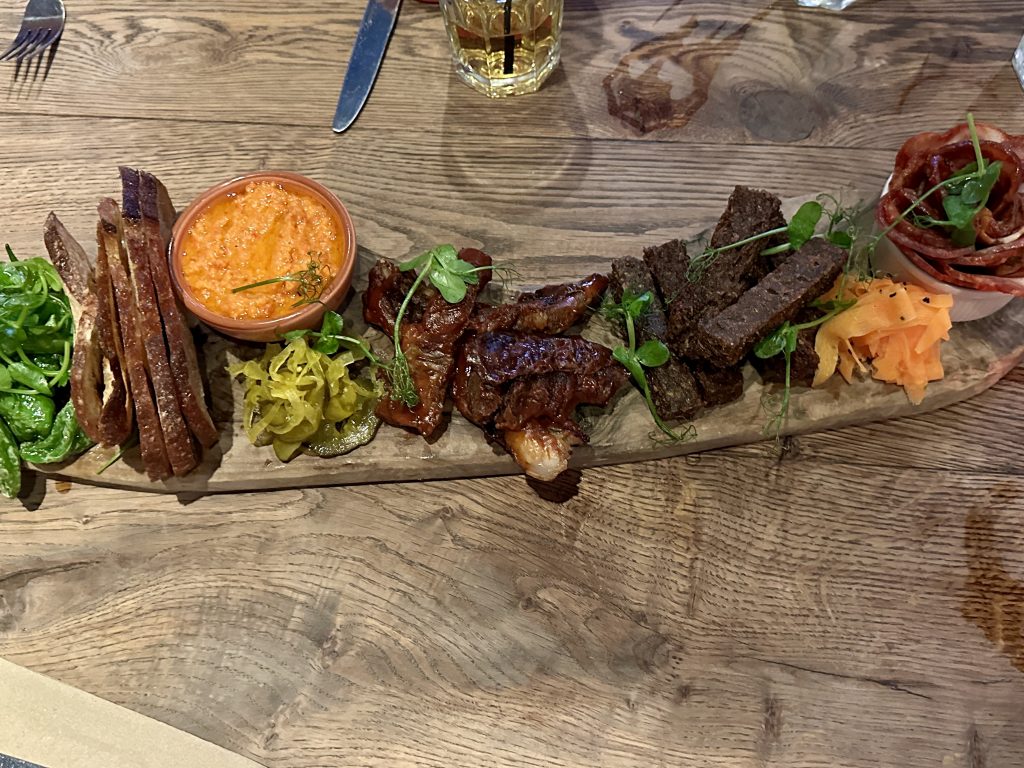 Head chef Peter recently got in touch to ask me down and try out their menu, which on inspection had a broad range of intriguing dishes sounding very much worthy of inspection. We gathered up some friends and made our way over on a Tuesday evening to check things out and test drive a few of them. It's a welcoming and funky space that wasn't too busy for our visit, with the lovely outdoor area that's perfectly suited to people-watching left unoccupied. The menu features a broad range of small plates, sharing dishes and main plates as well as a variety of burgers but thankfully with four of us plus child in tow so we had plenty of stomachs to fill and check out the breadth of the menu.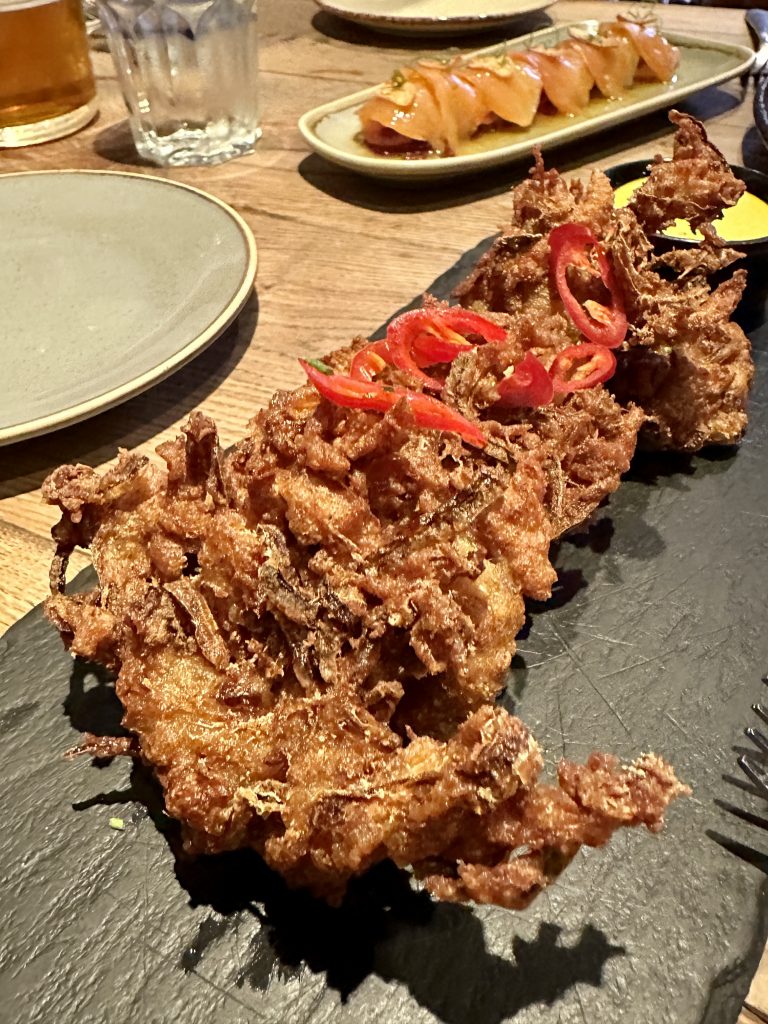 Chef Peter was obviously keen to make sure that we sampled as many dishes as possible so we ended up with a hearty amount of starters including the shredded chicken bhajis I'd been keen to try along side a sharing platter, chicken and chorizo skewers and some cured fish. These would have all functioned perfectly as bar snacks to pick at with a few friends as well as a precursor to mains, the onion and shredded chicken bhajis were everything I'd hoped for with a satisfying crunch and curry mayo on the side to top out the headline ingredients. The board threw together bitter padron peppers, a dish of salami, pickles and a few small and perfectly tender ribs to get our fingers dirty over. Prawn and chorizo skewers benefitted from a good squeeze of lime to season the flavours into happy harmony and the pressed purple potatoes with beef dripping substituted for chips to soak it all up perfectly.
On to mains and lamb tacos, rump steak and spatchcock chicken all gracing the table. I particularly enjoyed the steak, served with more of those beef dripping chips and chimichurri with rounds of yellow courgette to lighten the medium cooked steak. Lamb tacos had plenty of cucumber and mint yoghurt to temper the rich lamb while the spatchcocked chicken was well cooked, with tender meat and a nice crisp to the skin and skinny fries to enjoy with it.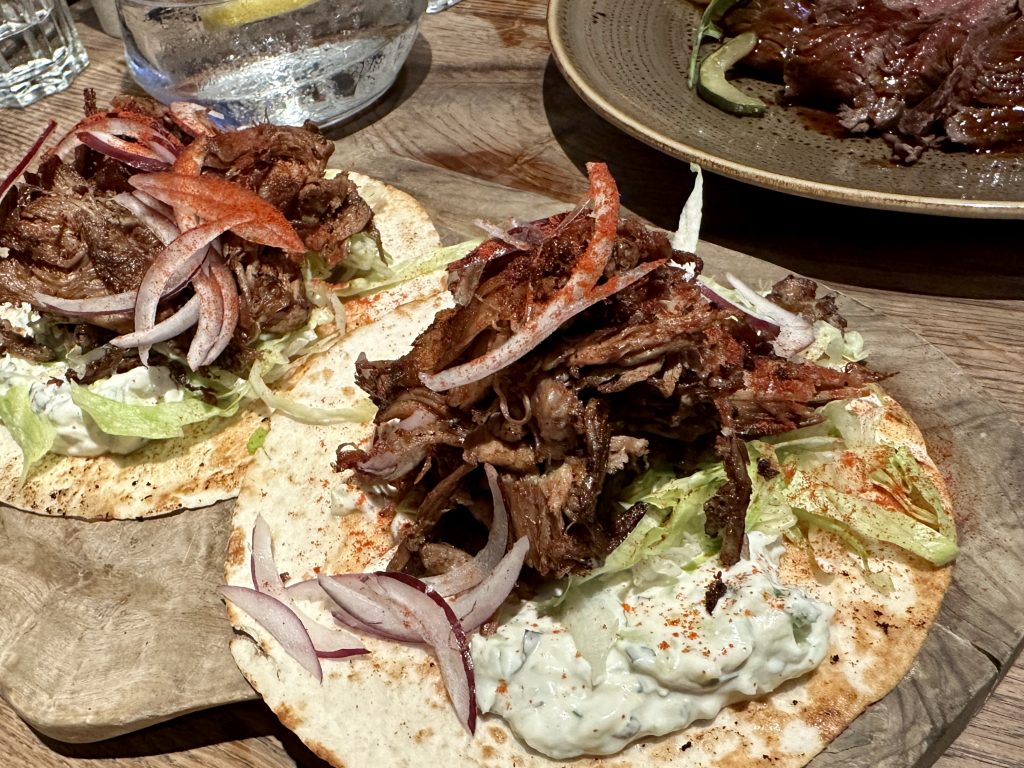 I was impressed by both the breadth of the menu at Kennedy's York and the way it was executed; it made for a much more civilised experience than my previous encounters with this place. Everything was delivered quickly and professionally and it made for a great value experience, all the more so bearing in mind periodic offers such as 2 steaks and a bottle of wine for £29.95 on Wednesdays. It's worth noting that our early evening midweek visit felt perfectly child friendly too. Kennedy's York is deservedly a mainstay of the York hospitality scene and the food here showed a willingness to evolve while still offering plenty of choice and great value.