One thing I didn't expect to be doing too much of throughout lockdown was trying new places to eat, but the way this year has panned out has been far from expected to say the least. With the most restrictive part of the lockdown hopefully in the past, we can start to dare to make some plans, even if we can't attach specific dates to them right now. One place that's been bumped up my priority list as relaxations continue is Kennedy's, who were good enough to recently send me a sample of their delivery Kennedy's Sunday lunch offering.
Kennedy's has sat on the periphery of my focus on York food for a number of years with tempting menus that I periodically resolve to try out. However the memory of plastering on a semblance of a smile to endure work nights out there has given it an unwelcome association of which it's undeserving. Kennedy's has been a staple of York's evening economy for as long as I can remember that dovetails nicely with a brunch and daytime offering broad enough to attract anyone who values the convivial atmosphere.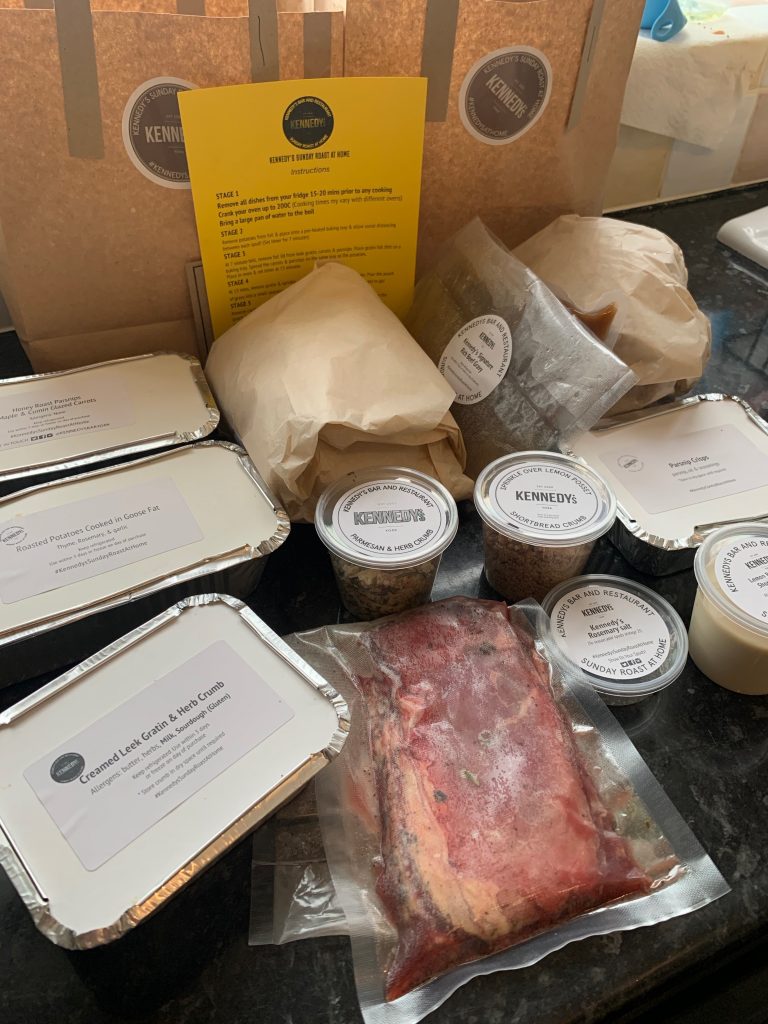 All of that is slightly secondary to a meal enjoyed in your own home but that doesn't make it any less of an opportunity to shine for a restaurant doing its thing in the current climate. Kennedy's Sunday lunch lends itself well to a delivery service, being a meal that one can relax into in comfortable surroundings without the strictures of public norms of behaviour.
The meal is delivered in the now familiar selection of cardboard pots, foil containers and vacuum sealed plastic (surely someone is working on a more environmentally acceptable solution to this stuff) along with concise instructions that bring it to the table without forcing you to engage in anything too taxing.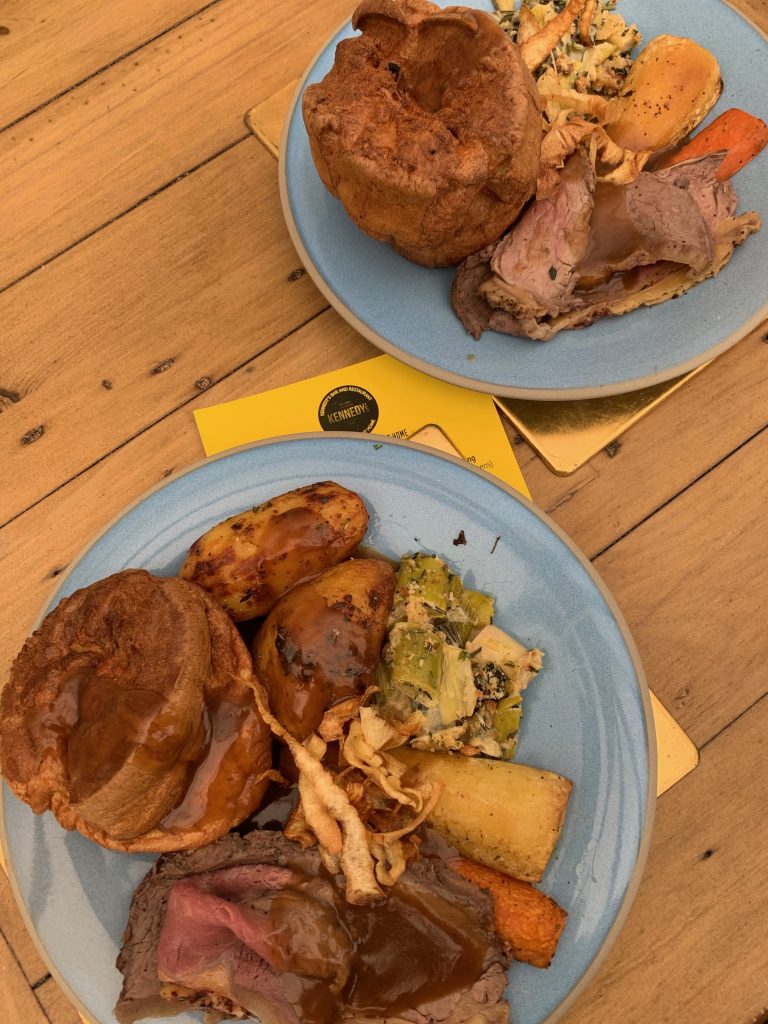 All your favourite elements are present and correct when you come to plating up, with a comically proportioned Yorkshire pudding drawing the eye from the headlining beef that I'd warmed through in a pan of boiling water, not letting it cook further than it had been delivered, and a range of sides. Roast potatoes could have done with a few more minutes at a higher temperature to crisp a bit more when I reheated them but the taste was spot on and that hardly distracted from the quality and refinement on offer. Honey roast parsnips and maple and cumin glazed carrots were plentiful and delicious and a final side of creamed leek gratin raised the bar by adding a nice crunch to proceedings. All of this would be something of a moot point without a cracking gravy to underpin things, something provided in abundance thankfully. Everything is finished off with a crunch of parsnip crisps to fancy things up effectively, a few of which were a nice snack to absent mindedly munch on while I got everything together.
Dessert was a lemon posset that only needed topping with a crumble to be ready to eat. Another tremendously executed dish that marked a thoroughly enjoyable way to finish a meal.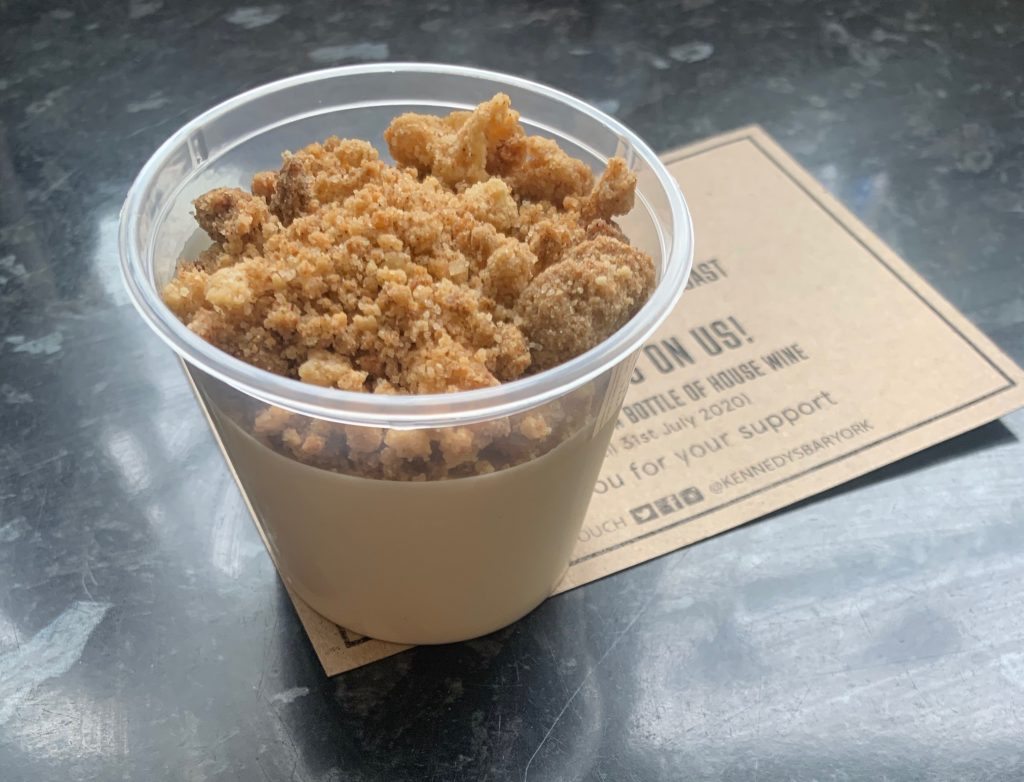 This was a well thought through and well executed Sunday roast that did more than I expected of it, differentiating this Sunday effectively from the surrounding days that at this stage were blurring into one another. As we re-emerge into a changing world we have a responsibility to support the businesses that we love but this meal was a reminder for me to not put off any longer reappraising existing businesses I've not engaged with for too long already.
Disclaimer: No charge was made for this meal, opinions are impartial.