Shortly before restaurants were told to shut, this household came to a, shortsighted in retrospect, decision to skip one last meal at Skosh as a last hurrah. The nature of producing this site makes repeat visits to places I love logistically tricky, but Skosh is certainly worthy of repeat custom, so as lockdown tightened its grip on the nation's activities, that theoretical lunch at Skosh became emblematic to me of what we'd so suddenly been deprived of. With that having stuck in my mind, I was probably even more grateful than most to receive the news of their new bokkusu from Skosh offering to enjoy in the home.
Skosh has earned a place at the top table of hospitality in York thanks to its ever changing selection of sharing plates that are as immaculately presented as they are memorably delicious. To label the food as "fusion" would be insultingly reductionist but there's little denying the multitude of influences evident amongst the food on offer. Their entrant to the at home market takes the Japanese word for "box" for its title "bokkusu". The box itself featuring a selection of small plates to make up a meal at home to share amongst two for £50 along with the option to add in any number of extras to make the occasion extra special.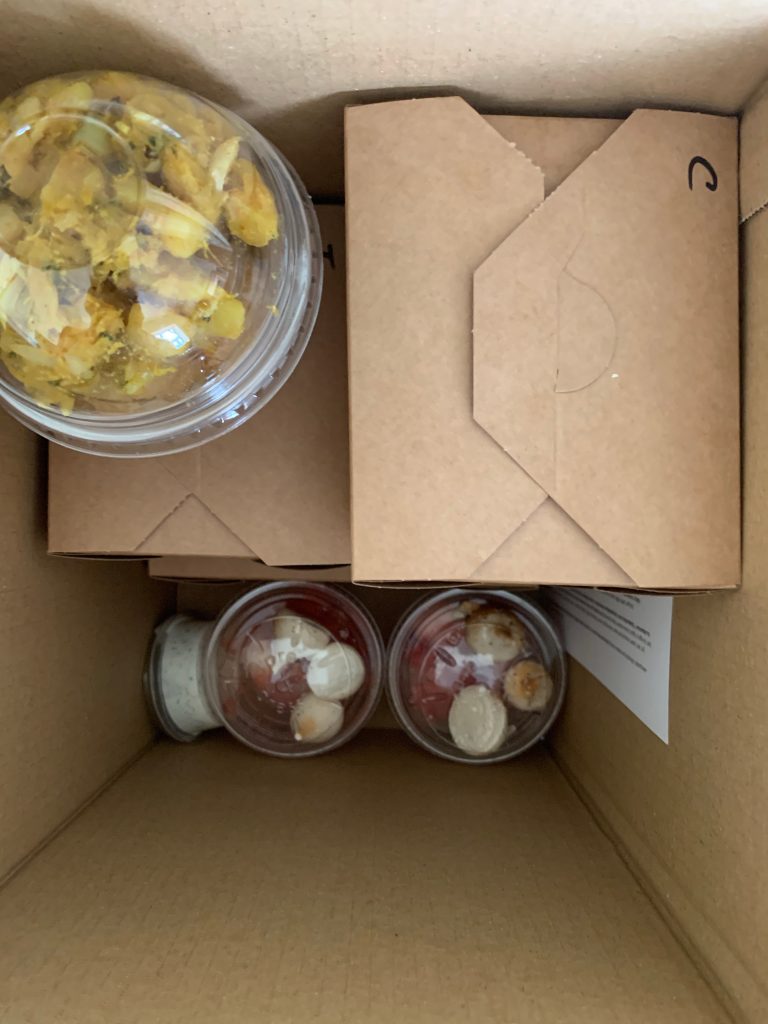 Collection is by pre-arranged slot and as contactless as our expectations have come to expect over the last few months, my order being ready and waiting at the door after I caught up with a couple of fellow lovers of the York food scene who were eagerly awaiting their slots. The meal reflects the Skosh restaurant experience in being made up of a series of small plates to share, neatly including a cheese course as well as a sweet on which to finish.
With only one dish to worry about heating, it was a simple task to get everything plated up, not requiring any particular skill. There're a couple of things that I've ordered on every trip to Skosh, their house sourdough with butter and "gunpowder spice" being one of them and included here. Sadly the "hens egg" doesn't make the journey to the home environment; I'm guessing its intricate layering and unique ceramic serving vessel making it impractical for transit.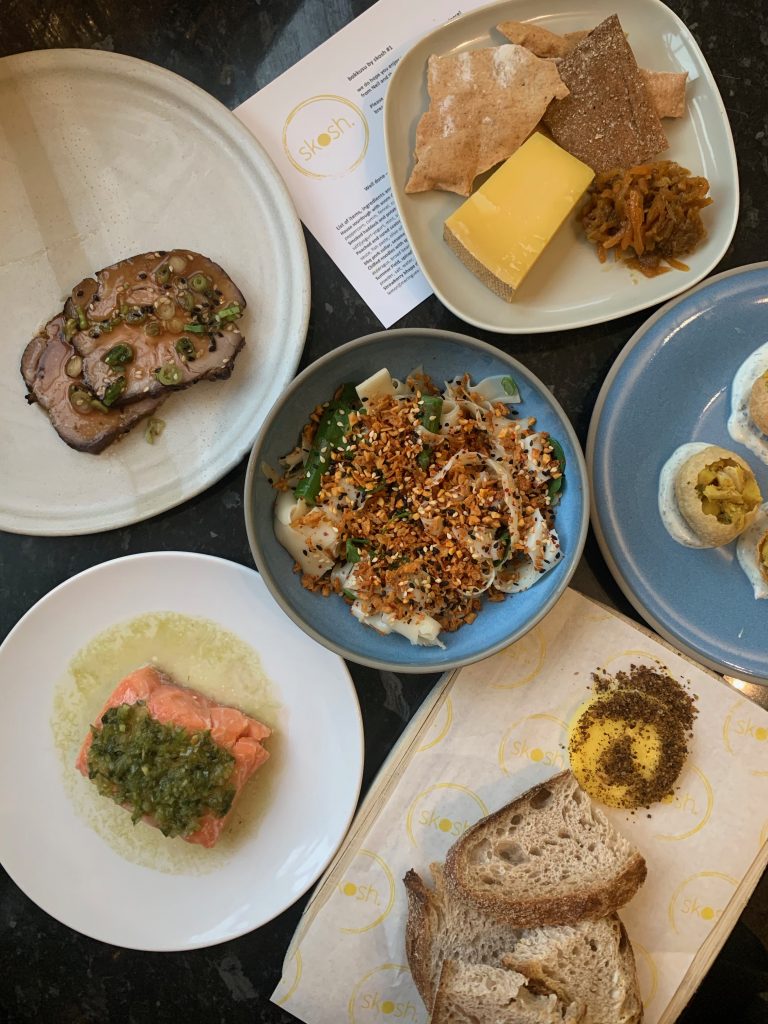 The first mouthfuls to draw our eye were puris: crispy spheres that we had to stuff with smoked haddock & potato before dressing with yoghurt. One of the crucial things with these "at home" experiences is the sense that it's easily recognisable as coming from the associated restaurant, something in abundance from these first bites and continued by the bbq pork collar we tackled next to make sure it was dealt with before losing its heat. With each bite of this, we really started to have the sense of a "meal with Skosh", the sesame and hoisin with which it had been dressed giving flair and depth.
A plate of poached, cured sea trout with a wild garlic dressing took care of the fish element confidently, being so delicately poached that it took a notable sleight of hand to extract it from its packet without flaking apart. It's a tricky thing to pick a (relative) winner from a set of dishes like this but perhaps my favourite was the delicately dressed portion of chilled noodles with a decent crunch of peanut and typically well balanced citrus punching yuzu dressing.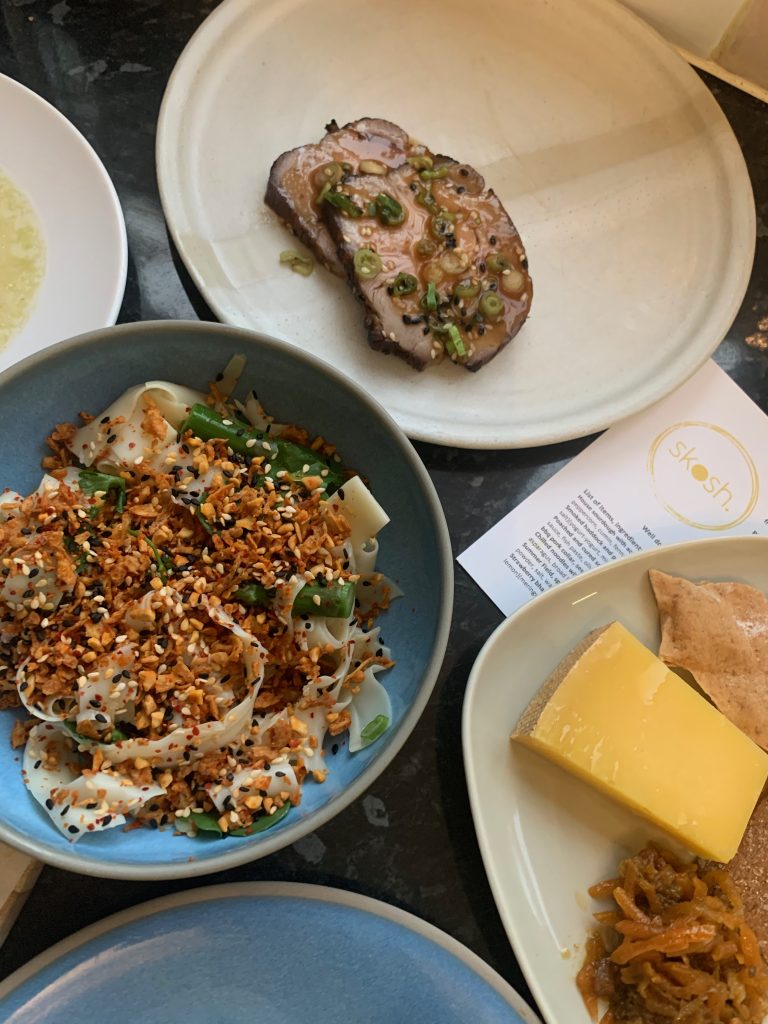 Summer Field cheese from Botton Creamery is always a winner and it's hardly a surprise to see top quality, well esteemed local produce on a Skosh menu. All it needed to really shout its undoubted quality was a carrot pickle and some crackers, predictably present and correct to make up a cheese course. The sweet element that finished off the meal was a portion of strawberry bhapa doi with cardomom meringues that were another characteristically well balanced dish.
Of all the "at home" meals I've enjoyed throughout the lockdown, bokkusu from Skosh is certainly one of the most well resolved and feels closest to the experience of eating in the restaurant it comes from. I'm not in the least surprised that the food was fantastic and that Neil and the team have clearly taken extreme care to transplant the Skosh experience to the home setting. The only thing I missed was that signature egg to start, but this experience just makes me all the more resolved to get back and try one as soon as I can.