(ad – pr) A traditional Afternoon Tea can be a tricky thing to differentiate. So many of them are a series of over-sweet cakes paired with finger sandwiches betraying how long it's been since they were cut, followed by an underwhelming brace of scones. That being the case, it's not a natural way for me to fill an afternoon, especially given my tendency toward savoury food, so I only accept invitations to sample them when I have a degree of confidence in their quality. Having recently been impressed with the new menu in The Refectory though when I received an invite to try Afternoon tea in The Garden Room, I was comfortable enough accepting it on the basis of a well balanced menu with some intriguing details.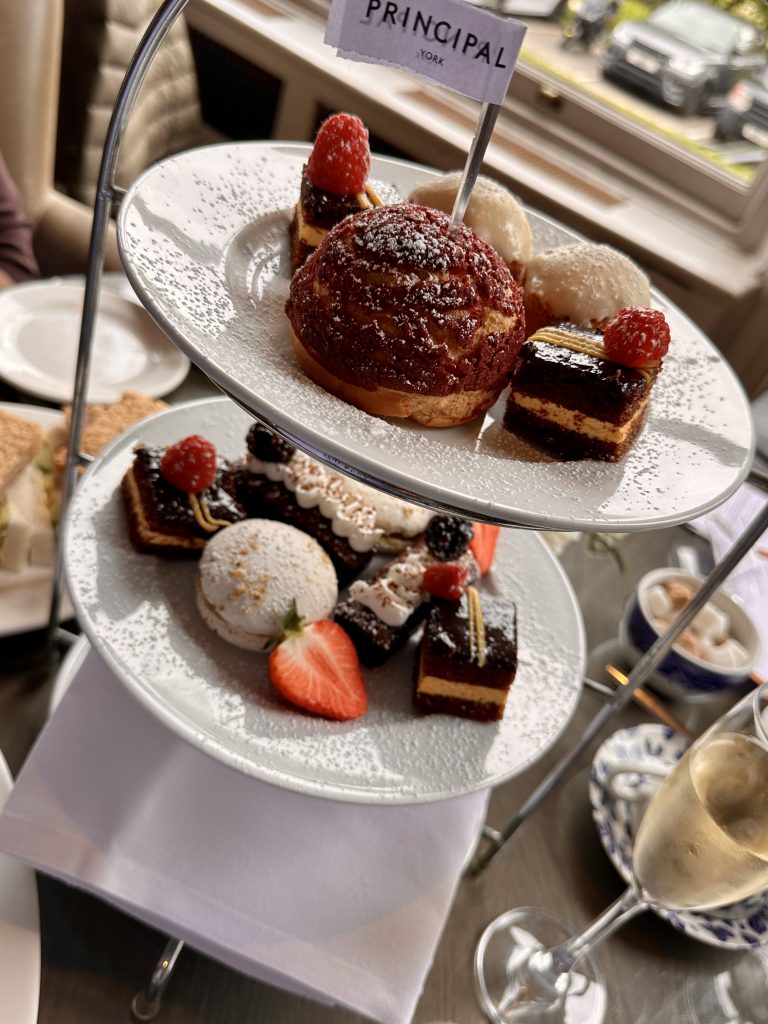 The Principal hotel has a long history and is a striking building with which to be confronted as you exit York Train Station and, after a refurbishment completed a few years back, has just as memorable an interior. Afternoon Tea in The Garden Room is served in a calm space overlooking (predictably enough) the hotel gardens. It's worth mentioning too that right now that garden is home to Thor's Tipi and Frango Eduardo who serve up top notch Peri-Peri chicken. Our rather more dainty meal arrived impressively quickly and we were furnished with glasses of champagne to enjoy with the Afternoon Tea, which was just as visually striking as the hotel when it arrived at the table and presented a rather intimidating quantity.
We started with a dainty Wensleydale and caramelised onion tart before dipping into the other savoury elements, well aware that a good number of the cakes may well be making the journey home with us. Ham and mustard, egg mayo, cucumber and cream cheese, and smoked salmon with chive creme fraiche formed a quad of tasty finger sandwiches before we really started to turn over the beautifully presented sweet elements of the tea. A large purple crusted choux bun dominated the top tier of the presentation and was flanked by a brace of mint-chocolate brownies as well as a pair of caramel glazed white chocolate choux buns. Descending a level took you to more of those mint-brownies as well as chocolate sponge topped with orange and some pretty macarons. We made a good dent in these, particularly enjoying the light choux pastries and well balanced mint notes in the brownie. The large purple choux was as indulgent as it looked and added a touch of event to the afternoon.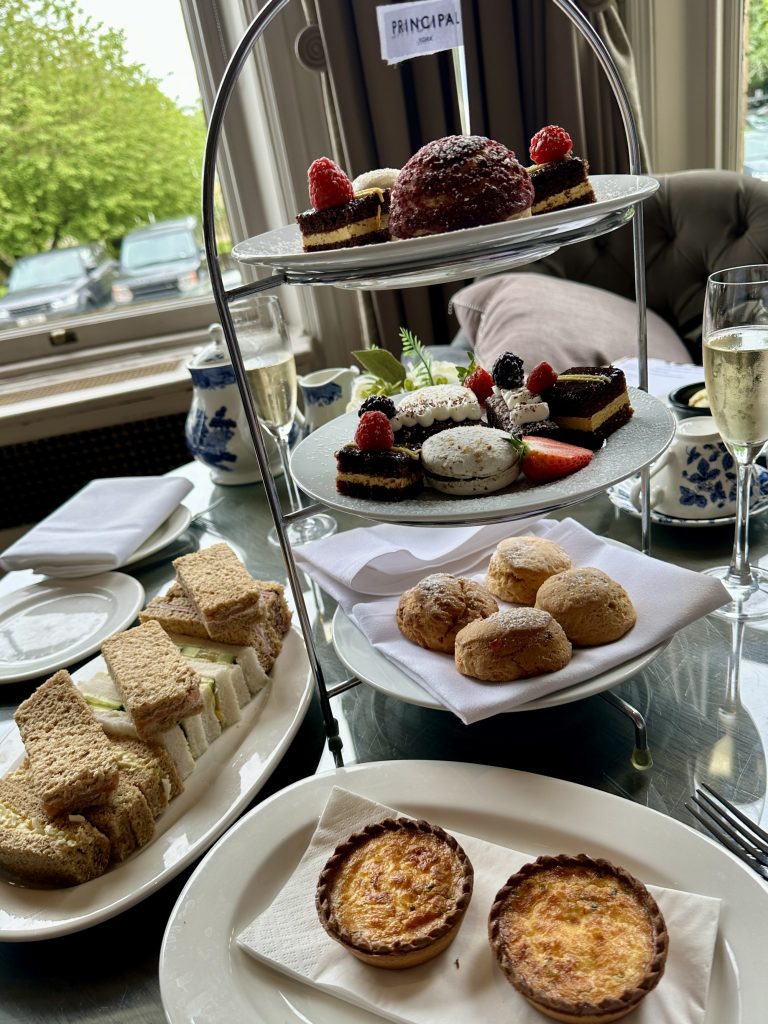 By this point there was little prospect of getting through scones too so they, along with a few cakes, came home with us to become the evening's snacks. White chocolate and cranberry added a handy point of difference to the scones, putting the chef's stamp on these without needing to shout too loud. Afternoon Tea in The Garden Room really felt like an event, with an unhurried atmosphere and great views in a beautiful building contributing to the enjoyment of the food. All of the sweet and savoury elements were well executed and unique enough to give the whole thing a good dose of personality without any unnecessary contrivance. With champagne and Yorkshire Tea thrown into the mix it made for a very enjoyable Friday afternoon!