The Principal Hotel right next to York train station is one of the most striking buildings in York and a grand sight for visitors to arrive to. In years gone by it had been somewhat neglected to the point that I resented when its meeting rooms were booked by a previous employer! That's long in the past though since a full restoration was undertaken in 2015 which successfully took this building back to the grandeur it deserves. As one of the most iconic hotels in York, it clearly needs a dining offering to match its standing, which is where The Refectory York comes in.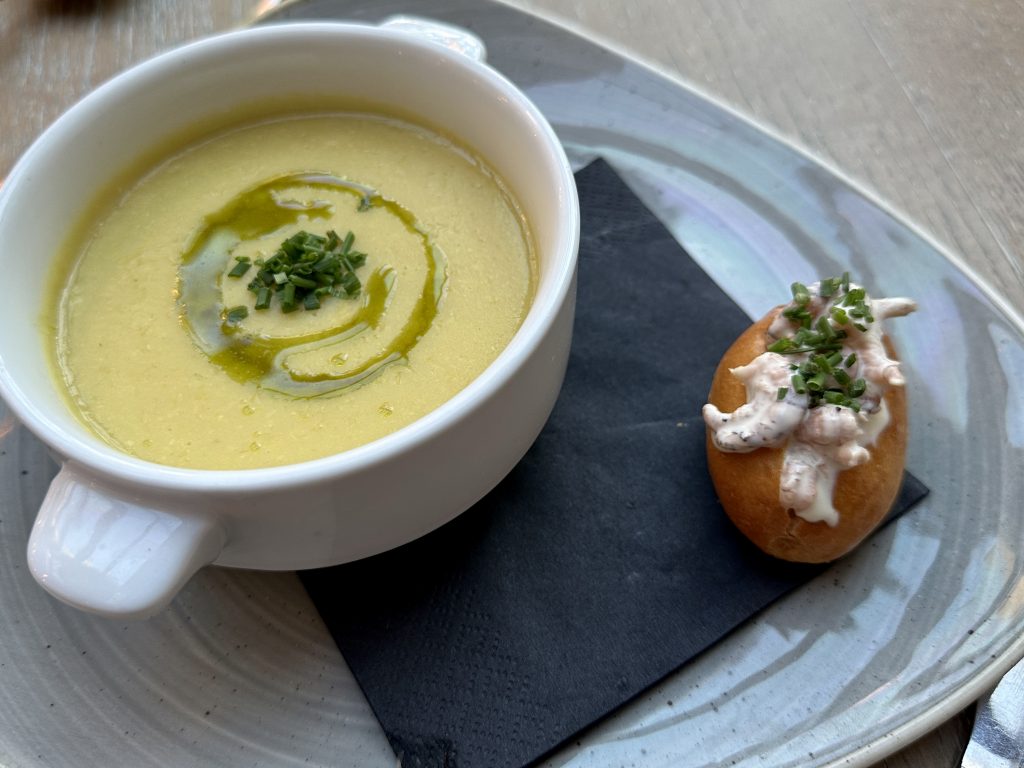 The Refectory is a restaurant housed in a glass structure sympathetically attached to the side of the Principal Hotel which looks toward the train station and has a relaxed, airy feel. Thankfully in my experience it has always been a comfortable and temperate place to sit despite those expanses of glass and it was starting to fill up nicely as my friend and I arrived for dinner. In my previous visits to the Refectory I've found the food passable if a touch underwhelming given the surroundings so I was keen to see on this visit if the leadership of new head chef Aaron Craig had pushed the standard up to deliver the sense of occasion I hoped for here.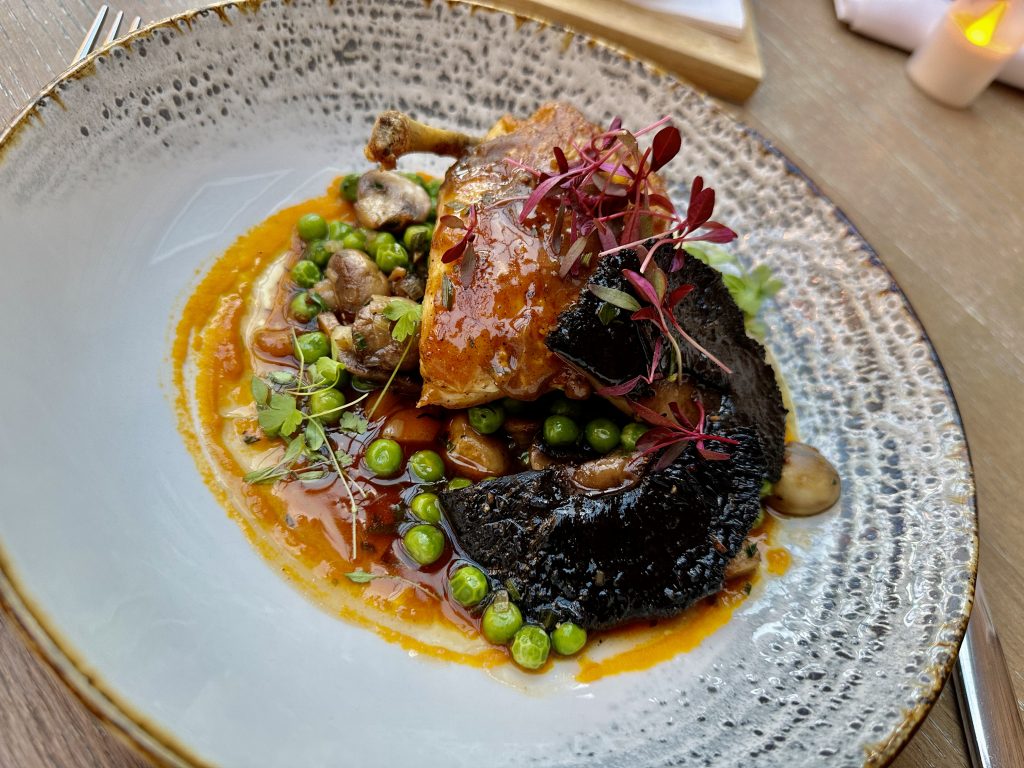 The menu at The Refectory York certainly promises a lot with plenty of compellingly described dishes featuring great product. My friend and I picked up on sweetcorn veloute and pig cheek starters before mains featuring chicken and lamb. The starters were with us in short order and I was straight into the smooth sweetcorn veloute which was paired with savoury relief from brown shrimp, themselves balanced against a sweet miniature brioche. The subtle sweetness of the sweetcorn made this a refreshing and unusual starter to whet the appetite, while the BBQ pork cheek on the other side of the table was a rather bolder proposition. Brown onion and kale threw even more savoury notes at this bold and richly sauced dish. Pig cheek isn't seen nearly enough and was given full voice here, a satisfying start to any meal.
We were quickly onto mains, having our glasses refilled for the occasion, and again impressed with the presentation of the dishes. The corn-fed chicken came in a rich black garlic infused jus with a decent whack of tarragon as well as peas and mushrooms with a micro herb garnish to top it off. All the elements were cooked well and came together for another memorable dish with the sauce lifting the tender chicken nicely as well as tying it to the accompaniments. The lamb dish threw a good deal at the plate with a brace of pieces of roasted lamb loin being joined by a pea and broad bean tart while a mini shepherds pie joined it at the table. Again, the cooking showed a lightness of touch that did the meat justice. The light pastry case and fresh filling gave nice relief from the pleasingly rich nature of the dish, but I wondered if another element to bind the contents would help as well as a slightly thinner shell for a more memorable snap as one bit into it. The shepherds pie was also well executed, with well judged seasoning and a cheesy indulgence to the topping.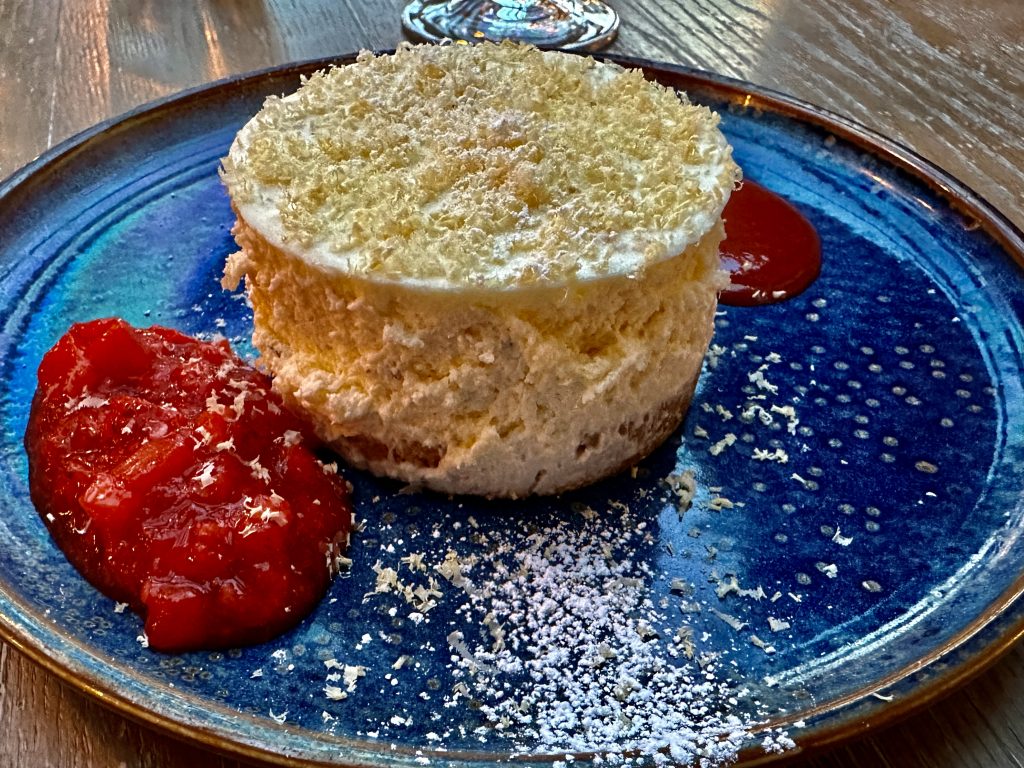 This had been a hearty meal but our server still managed to persuade us into a pudding of tonka bean and fennel cheesecake to share, which was all our appetites could stand by this point. I can seldom resist something flavoured with tonka and this did nothing to curb that tendency, with plenty of the intriguingly savoury tinge it brings. The last visit I had to The Refectory York (which I should note wasn't featured on here) was ok but didn't wow me; the team have certainly upped their game though with new dishes that showcase quality produce with a few new spins. I'd wager there's more to come from this impressive new team!
(Disclaimer – PR meal)