Social media has changed the way in which we interact with our favourite celebrities, brands and businesses over the last decade or so. We now expect to be able to share our thoughts with all those subjects in the public domain, for better or worse, while some businesses scramble for the most striking appearance to tempt customers into becoming active participants in their marketing by featuring on their social media. This is all well and good but can be a distraction from what the business is really there to deliver. In the hospitality world, this can lead to underwhelming food eaten against an overwhelming neon back drop garnished with improbable amounts of fake foliage. One restaurant with a reputation for being "insta-worthy" but not forgetting to provide food to match is Fleur Leeds from acclaimed chef Bobby Geetha.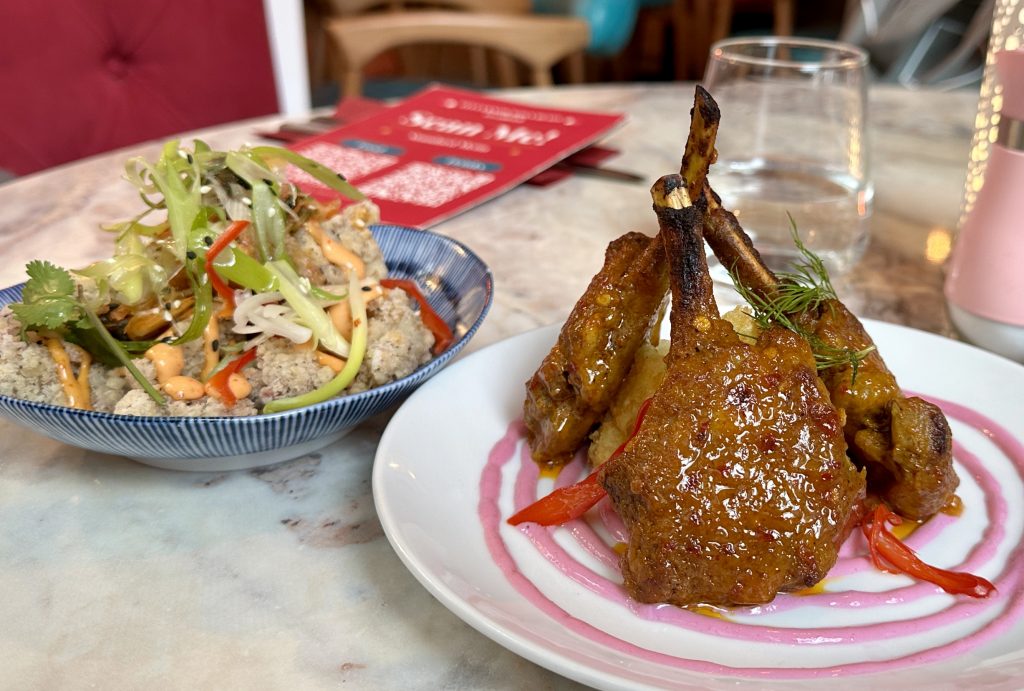 Fleur Leeds is based in The Light so just a short walk from the train station and easy to find for me and Ellen from Leeds Food Tours, who joined me to offer another expert opinion. The Light opened in 2001 and is home to a wide range of retail, hospitality and experiential businesses and entering into Fleur feels like you're very much in a space with its own character. Clearly a huge amount of effort has gone into making this feel like an escape from real life, and with plants, butterflies, neon and bold decor in abundance, it certainly makes sure that there're plenty of spots to grab the perfect selfie or snap of your dinner.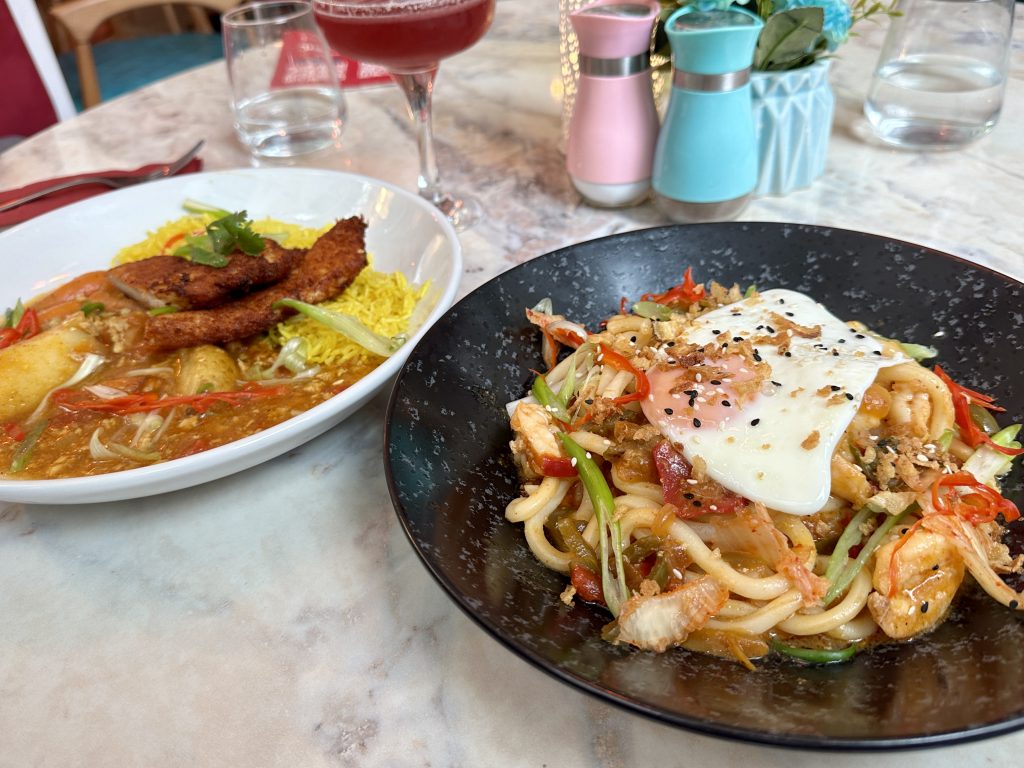 The menu is presented via a QR code on your smart device complete with pics so it's easy to get a feel for portion sizes and what's on the plate. We plumped for spiced lamb chops and calamari to kick things off at our table which looked into the interior of The Light, perfect for people watching! There's a playfulness to the food here; Bobby is clearly unwilling to be hemmed in by convention, and the purple swirl on top of which my lamb chops sat was an amusing embellishment. All the presentation in the world is for nothing though if the food doesn't taste the part and this is not lost amongst the glitz. Perfectly tender chops and a well seasoned base of crushed potato made a hearty and balanced start that mixed in a hint of spice from a light mango marinade. Calamari was cooked to the point of retaining a pleasant resistance when biting into it without a hint of unwanted chewiness, and it was lifted by a good punch of kimchi.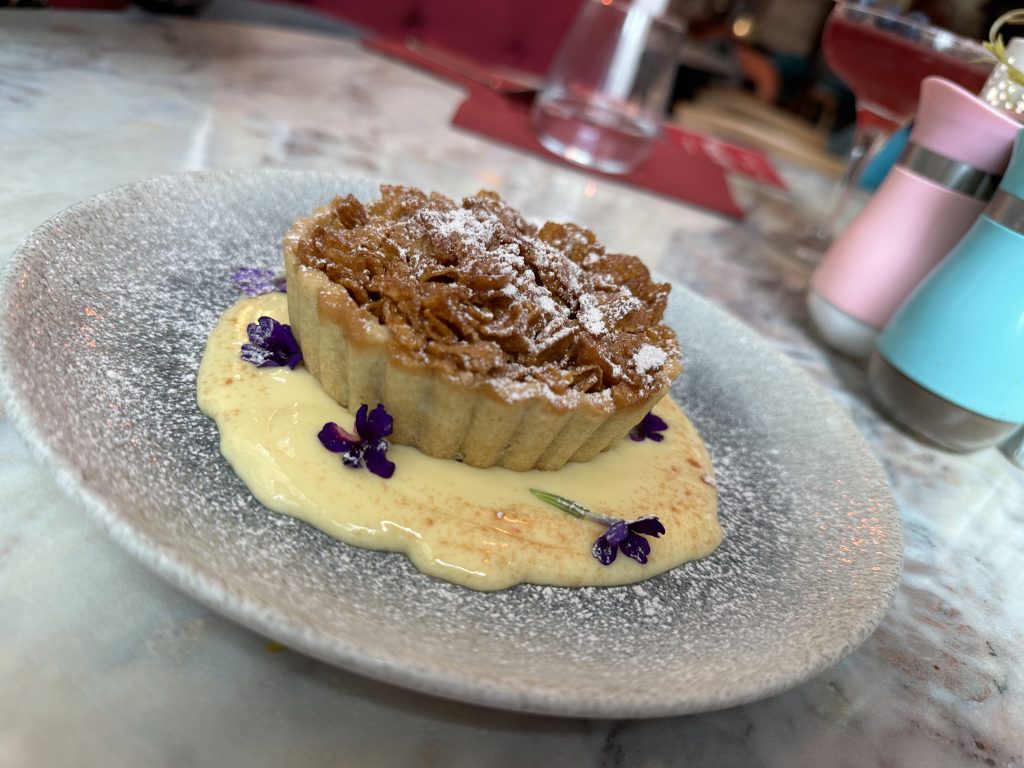 My main of king prawn udon noodles used more of that kimchi which mixed through the thick noodles for a nice kick which was in good proportion with the garlic and pepper elements and generous amount of prawns. I'm a big believer that a fried egg on top of most dishes is an improvement, none more so than here. The Katsu that arrived at the other side of the table used harissa to lift the chicken and seasoned the rice with turmeric for another twist that's perhaps likely to irritate a few purists but which we enjoyed. The sauce had just the hint of heat you would want or expect from a katsu and this was another vividly presented and generously portioned dish.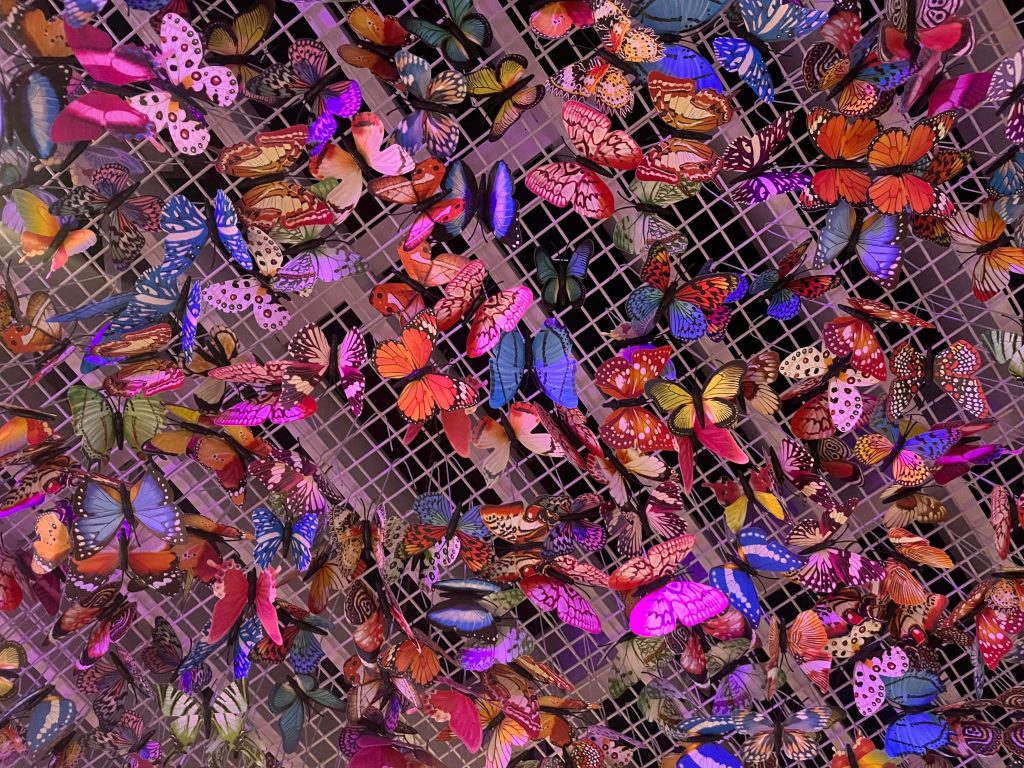 By this point we were pretty stuffed but strong encouragement to try a dessert resulted in a cornflake tart with custard which was spotted with purple edible flowers. The crispy, delicate tart case was rammed with treacly cornflakes and the warm custard made an indulgent and memorable end to the meal.
I knew that Bobby Geetha was a serious chef who was unlikely to let appearance get in the way of taste, and with an appearance on Great British Menu to his name you know he's got proper pedigree. I did still have a nagging worry that Fleur Leeds would tip a bit too much to the insta' hungry crowds but that was totally unfounded and each element of the meal was well resolved and had flavour to match the presentation.
Disclaimer – PR meal at no cost.