While York has certainly taken a hit from the economic problems that Covid has inflicted on the country, it is not in the parlous state that some internet commentators would have you believe. Of course we're not unscathed and there're a few notably empty units, but a recent trip to Peterborough really reinforced in my mind that things could be much worse, with apologies to residents of Peterborough, which does still feature a good amount to entertain and eat. Coney Street has been a particular focus of this online whinging, with some people apparently convinced that it represents the pending doom of the high street even though there're well documented plans from local property firms that will eradicate those fears. In the shorter term though, new investment in the street is certainly welcome and has arrived in the form of Rosa's Thai York that has spruced up the former Joe's Kitchen unit very nicely indeed.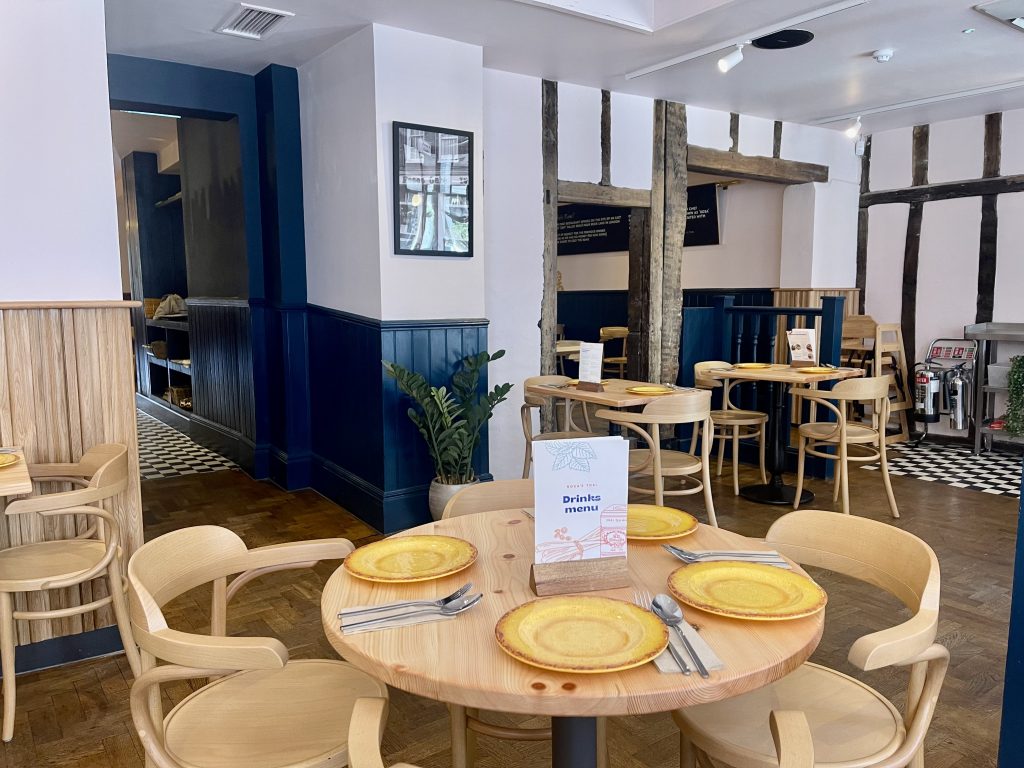 Rosa's Thai is a small chain of Thai restaurants that laid its roots in London's East End in 2008, ostensibly retaining the Rosa's name from the previous occupant as a nod to the site's heritage, though more truthfully one suspects that the cost of rebranding might have informed that priority too. The following few years saw the Rosa's team, led by Chef Saiphin, take the opportunity to open a few more sites around London and they've since ridden that momentum to around two dozen sites, the latest of which is Rosa's Thai York. The Coney Street site that it now occupies has been vacant for some time but has been sympathetically turned into a light and welcoming casual dining space that isn't afraid to make a feature of the wooden beamed walls which give this building its identity.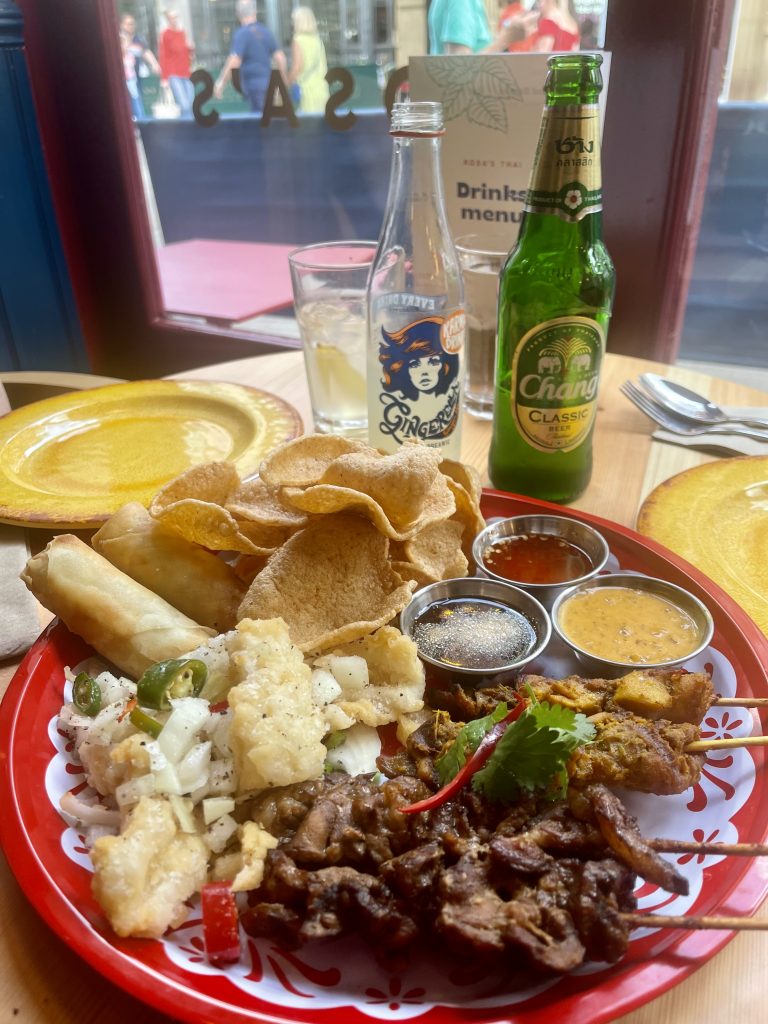 The menu at Rosa's Thai York features plenty of Thai staples centred around curries, noodles and salads and doesn't stray far from tradition, and there's no arguing about value with main dishes hardly breaching £15 when augmented with a portion of rice. Dining on a Tuesday lunch time, things were relatively quiet, but with the steady stream of delivery riders collecting their payloads and an increasing number of lunch guests throughout our visit, one got the impression that it won't take long for Rosa's to gain a foothold. With a table by the window and a cold Thai beer for company, we'd have been happy killing time people-watching, but service was brisk without being pressured and soon enough the table was groaning under the weight of the dishes we'd ordered.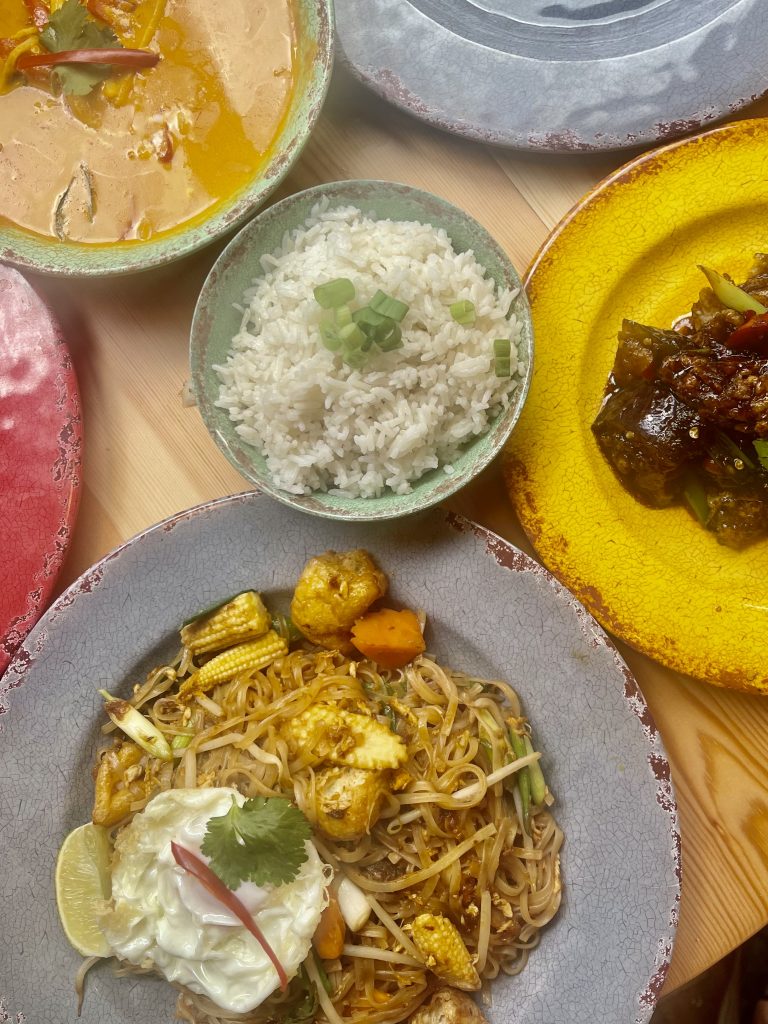 First up was a starter platter comprised of prawn crackers, spring rolls, calamari, pork and chicken skewers and a few dipping sauces. At £15 this would have made a pleasant lunch for one to graze on but the quantities were well judged to give a couple of diners a decent exploration of the starters. Everything hit the spot and particularly noteworthy were the crisp, well-seasoned prawn crackers and dipping sauces with an unusual depth flavour. A touch more marinade on the skewers would have further elevated things but this opening salvo was warmly received.
As our mains accumulated on the table, the extent of our over-ordering really became apparent with Pad-Thai, marinated aubergine, red curry and a side of rice, all looking increasingly like they would, in part at least, be accompanying us home. Pad Thai can easily degenerate into an over-sweetened and generic dish but, topped here with a fried egg, this example had a neat savoury note and enough breadth of flavour to make it a comfort worth repeat order. Marinated aubergine lived up to their 3 chilli billing with a bold stab of heat that required overwhelming with cold beer to counter my low tolerance for spice, but it still delivered nuance with sweet basil, soy and yellow bean all apparent. Our final main of red curry did everything I hoped it would with an undercurrent of fish sauce underpinning a well developed dish with plenty of chilli and tender chicken thigh.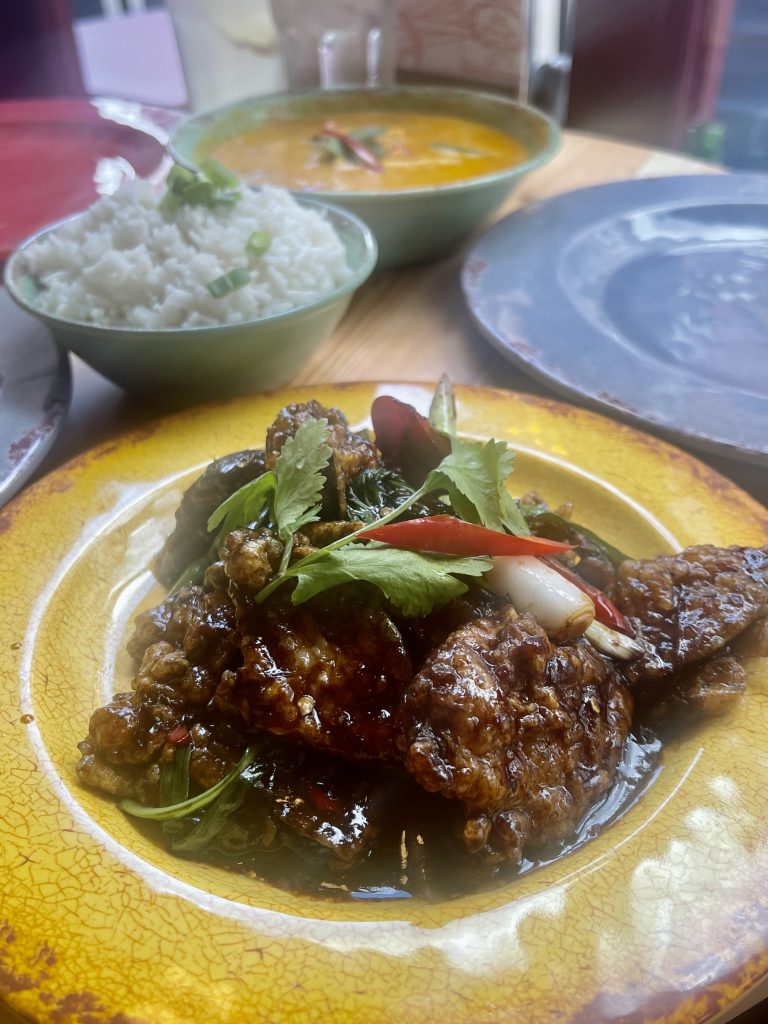 There's a lot of competition for Thai food in the York casual dining market that can make it tricky for a new entrant to distinguish itself, but with a strong sense of value underpinning quality dishes, Rosa's Thai has done just that. This site on Coney St has been looking rather sorry for itself since the closure of Joe's Kitchen so the tasteful going over that Rosa's Thai has given it really feels like it represents more green shoots of growth, improving the visual appeal from St Helen's square and adding a new dining experience to the city.
(disclaimer – pr visit)