It's starting to feel a little bit like some venues have become a touch more interchangeable while we're stuck with outdoor dining. Open sided white marquees are ubiquitous across pub gardens throughout the land now, while tipi style constructions have been springing up at more up-market destinations offering us respite from the worst impact of the British weather. As practical and pragmatic as these constructions are, a few I've been in have failed to reflect the character of their more permanent premises. With a bit of hard work, imagination and creativity though these temporary homes can become something rather more special, as I found out when I recently made the trip to Bolton Abbey to try The Devonshire Arms Champagne and Seafood Terrace.
I've been lucky enough to eat and rest at The Dev' before and was confident that it would justify the drive to the Dales so we earmarked a day to make the most of its delights, also planning a stroll up to the Abbey and nearby stepping stones. Evidently when we arrived I still had my blinkers on, needing a bit of a pointer to the Devonshire Arms Champagne and Seafood Terrace that was just the other side of the building from my parking spot. The structure in which you dine here feels very far from those traps of anonymity some less imaginative venues have fallen into, the surrounding view, the terrace and the hotel itself all complementing one another to produce a striking and memorable place to dine.
The menu hits all the notes you'd expect of a seafood restaurant with a broad selection of dishes that strayed notably from the sample menu on the website, indicating the dishes reflecting the availability of different seafoods and evolving to accommodate. Unsurprisingly Laurent-Perrier Champagne is also available by the glass, something we were more than happy to indulge ourselves in while getting into the detail of our choices. We started on some whitebait with garlic aioli that came to life under a good squeeze of fresh lemon before moving onto a more substantial crab rarebit served on brioche. Alternating mouthfuls of whitebait and crab meat with sips of champagne proved as enjoyable an occupation as you'd imagine, the crispy whitebait pairing particularly well with the fizz. Crab rarebit can be a bit of a tightrope but the delicate meat wasn't overwhelmed by the well judged cheese sauce and the sweet brioche underpinned the lot admirably. Mackerel pate was also served on slices of brioche and delightfully executed, really letting the meat make itself heard along with some pickles to provide sharp relief. We also took down a large bowl of crayfish tails and rounded off the selection with a baby potato salad dressed with miso mayonnaise and a subtle dash of oyster powder. To finish off we shared a selection of cheese, that had come from the superbly consistent Courtyard Dairy and represented their high standards very well along with some chutney and fruit breads. We also grabbed some seashell chocolates to nibble on with coffee.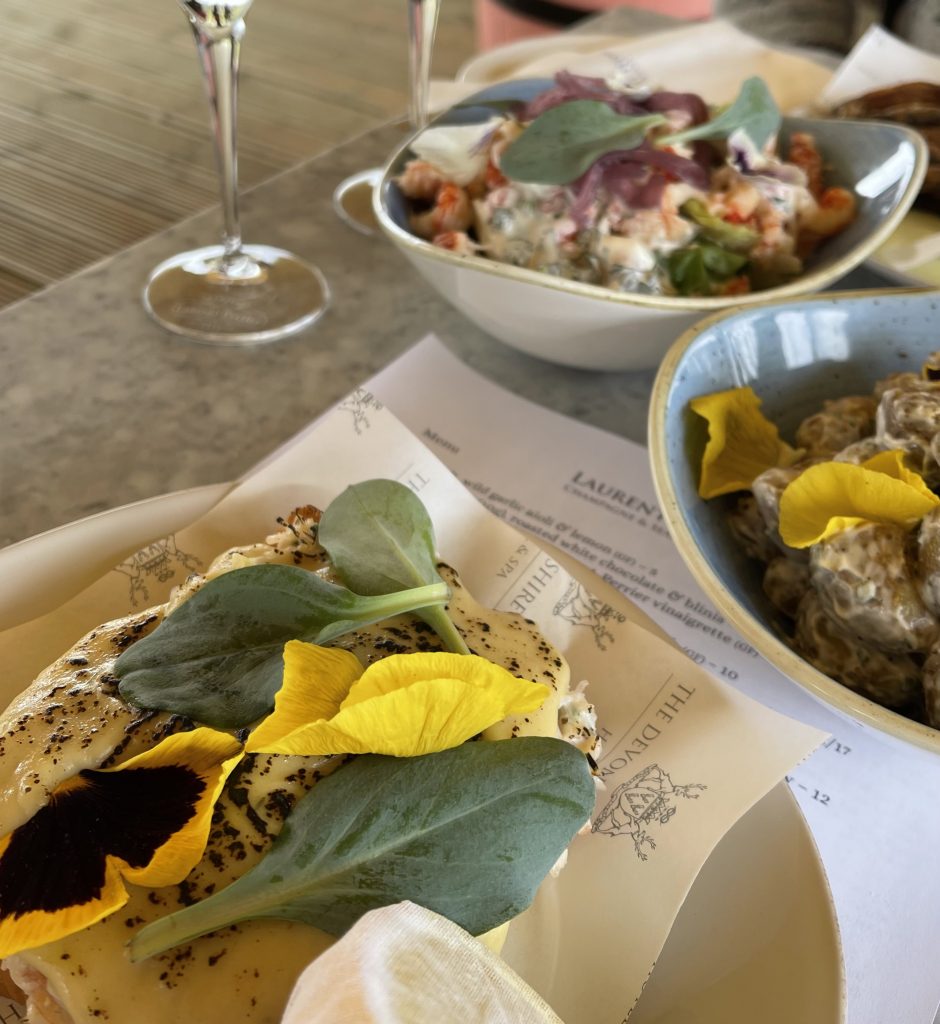 In the midst of challenging times, The Devonshire has done a fantastic job of maintaining its sense of prestige and occasion, with the Devonshire Arms Champagne and Seafood Terrace instantly marking itself out as a desirable destination. We thoroughly enjoyed the food, which was given the best possible platform by the environment and represented greater value than I expected with hearty portions a little at odds with the fine dining backdrop, though none the worse for that generosity! Hopefully next summer we'll have the option to eat inside, but options to enjoy the Yorkshire outdoors in surroundings such as this will always be appreciated.
Disclaimer: PR visit supplied for purposes of review.