For the sake of our collective mental health it's important we keep finding positives in the midst of this mess, no matter how small, so in the run up to Halloween I took some minor comfort in the idea that I wouldn't have to deal with a bunch of trick or treaters this year. The trick or treating combined with the vague minor threat of antisocial behaviour plants this celebration firmly in the "hide in the conservatory" category of celebrations. Its reduced footprint this year was nicely brought into further relief by an invitation to The Ivy to enjoy some spooky cocktails over a lunch, what better time to revisit The Ivy York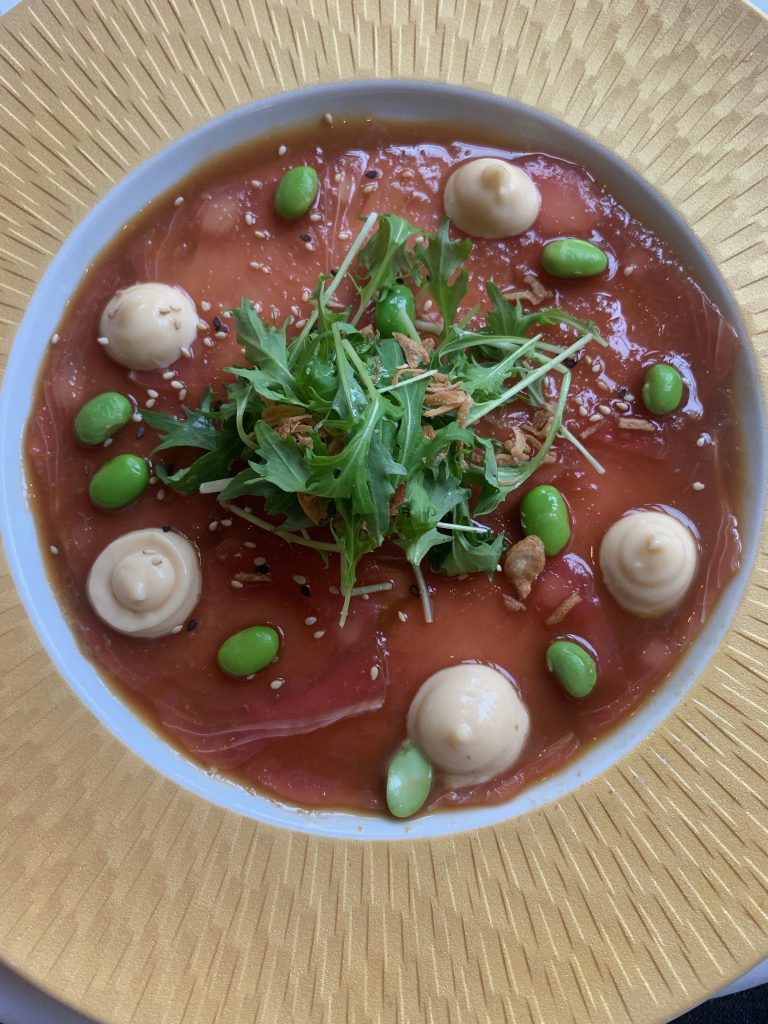 I've heard people be a touch sniffy about The Ivy York, accusing it of trading on a reputation earned nowhere near the city and casting aspersions due to being part of a wider group, but I've always felt it hits its part of the market accurately and satisfyingly. Key to that appeal is the sense of occasion that it manages to impart when you visit, the quality of the fittings and service elevating things on all the visits I've enjoyed. Right now it's also hit with a smattering of the, now typical, perspex screens while that attention to detail extends to branded bottles of sanitiser on each table. Your coats are no longer spirited away for the duration of the meal for obvious reasons but rest assured the dining experience is intact.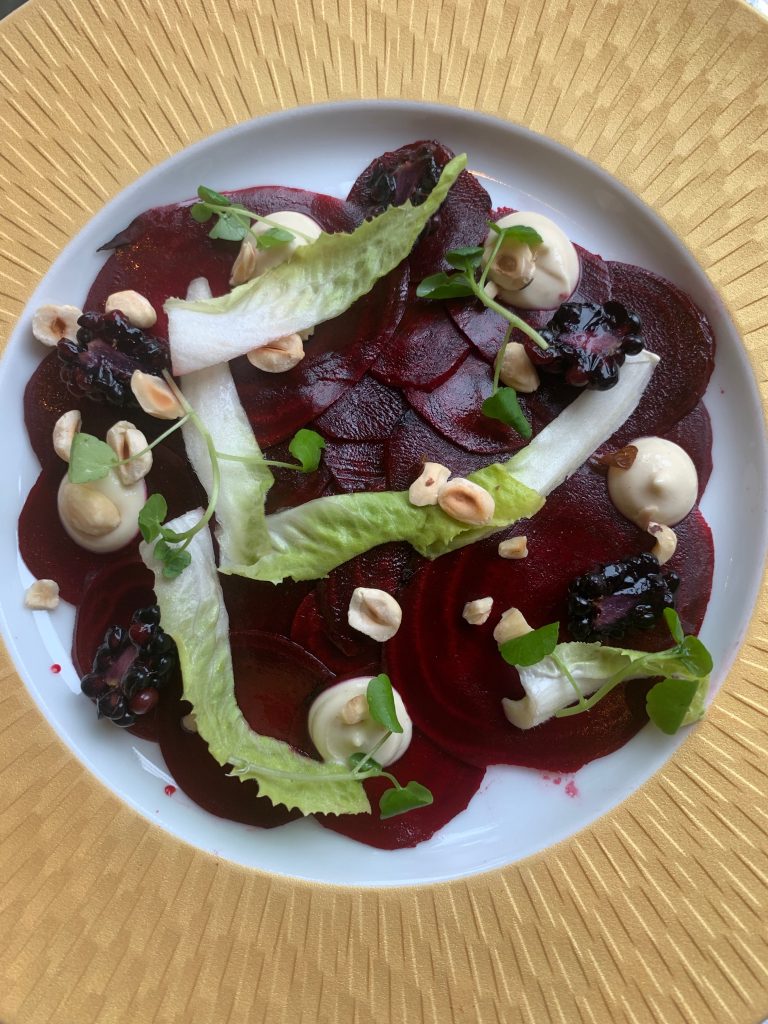 Being Halloween we were duty bound to try appropriately themed drinks, served from an appropriately spooky skull decanter that arrived at the table belching smoke from its spout before our server got busy pouring. Cocktails aren't generally a priority for me but right now I'll give anything a punt and these made a fun and theatrical backdrop while choosing dishes. I mean right now what is Friday lunch for if not drinking smoking cocktails served from a glass skull?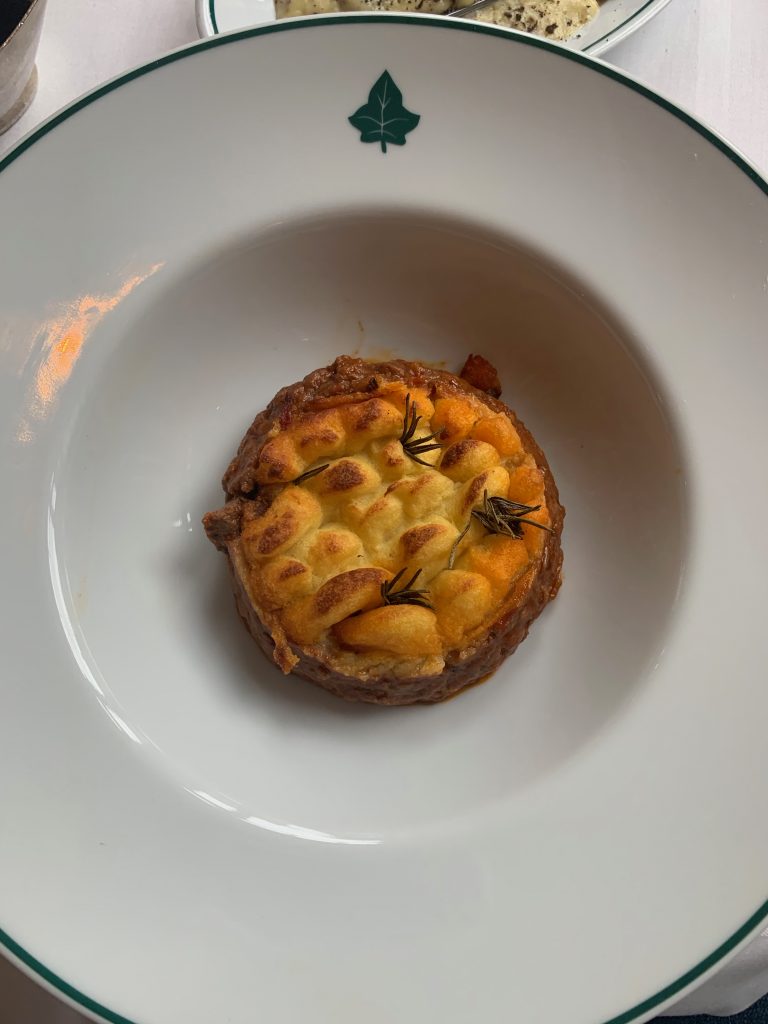 To start we'd coincidentally gone for what I would guess are the two flattest starters on the menu, carpaccios of beetroot and tuna respectively that were both presented as compellingly as you'd expect. The beetroot relied on a red wine dressing and horseradish to bring out the best of the main ingredient along with blackberries and hazelnuts for texture. With beetroot being occasionally underrated, this was a dish to let it shine, the thin slices being left with plenty of bite still. The tuna was one of the most memorable starters of 2020 (admittedly a smaller field than usual) which prompted some minor needling over equitable sharing thanks to the generous punch of citrusy ponzu dressing and tangy miso mayonnaise. A good carpaccio is a great pleasure, and this was a great carpaccio that delivered more than I hoped as it moved us forward toward the next course.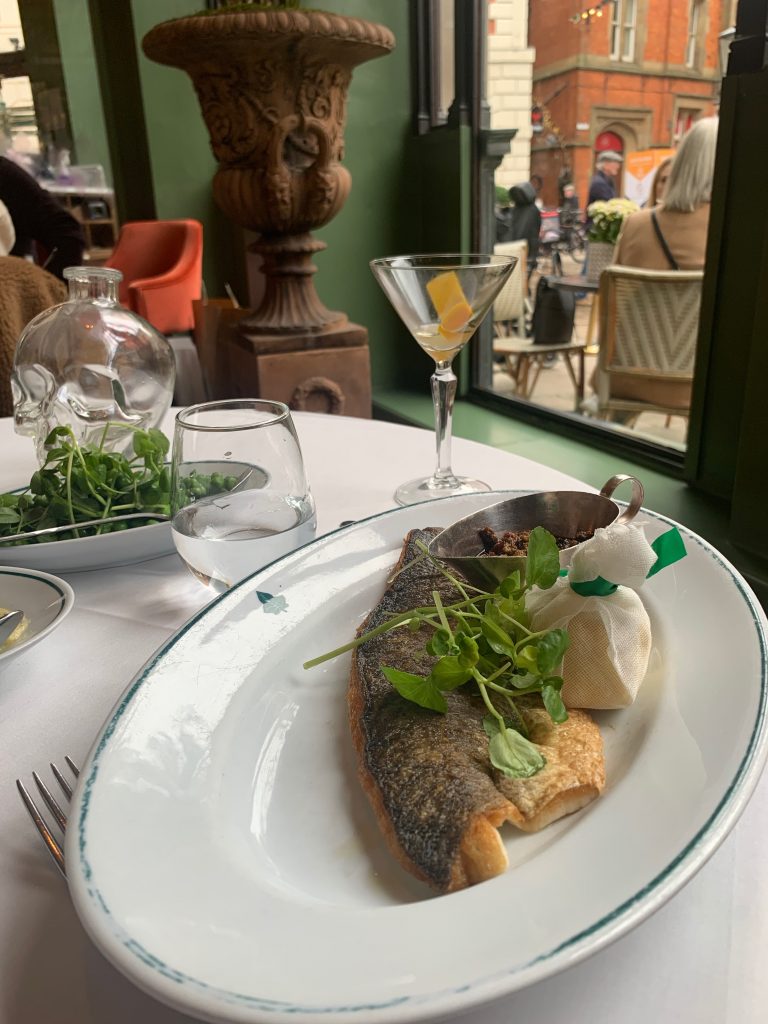 Never on any of my visits to The Ivy have I quite got around to ordering the signature Shepherds Pie, so thought I'd take this opportunity to right that wrong while settling on a grilled sea bass fillet to satisfy the other side of the table. Served as a cylinder daubed with piped mash to create a topping, it was easy to see how this has become emblematic of The Ivy thanks to a handily balanced mix of comfort and refinement. A simple fillet of fish doesn't leave much space to hide when cooking and indeed there was nothing for the accompanying pesto to attempt to hide. With some indulgent truffle mashed potato on the side and green veg to flesh it out this all added up to a meal with a real sense of occasion. Another Ivy staple that's never quite made it as far as my plate is the Chocolate Bombe so I made a point of taking this opportunity to tick that off too, enjoying the slightly silly bit of theatre it arrived with as our server melted the chocolate sphere at its centre with a hot caramel sauce to turn the whole thing into a densely sweet puddle incorporating chocolate, vanilla ice cream and honey comb.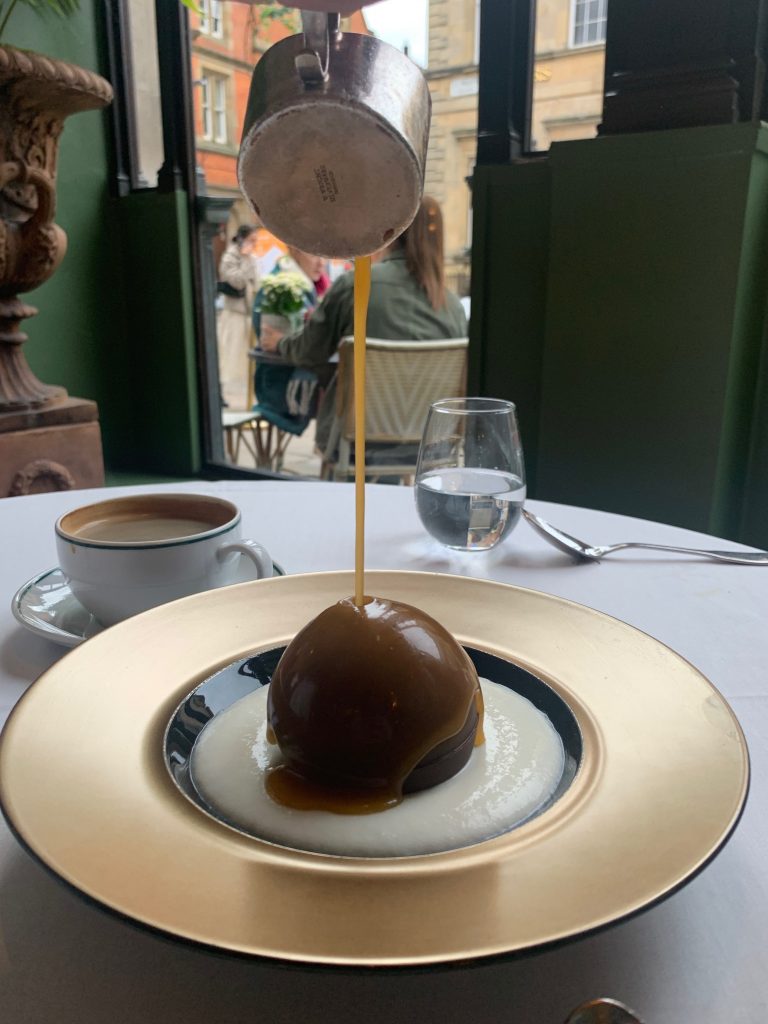 We all need a splash of escapism more than usual at the moment and, despite the trying circumstances, The Ivy York still delivers a sense of occasion above and beyond most restaurants, particularly at this price point, with tremendous attention to detail cosying up to good service and well executed food. As we blink our way back into the relative freedom of Tier 2 restrictions The Ivy remains a welcome winter distraction from this crisis that seems finally to be showing signs of receding.
Disclaimer: PR meal for which no charge was made or demands requested.