So here we are, pubs and restaurants are shut again along with "non-essential" retail (subject to a few creative interpretations of 'essential' from what I've seen) and we're hostages in our own homes again, albeit to a lesser extent than our last run through of this. When things ease again at the beginning of December, if things continue along the present predicted trajectory, your favourite businesses will need support more than ever having lost much of the Christmas market. Given that we have a tentative date to go back to do exactly that, I thought I'd continue posting about the final couple of meals I sneaked in between lockdowns including this one at The Deramore Arms Heslington.
In the dim and distant past (12 days ago) we had a streak of rubbish weather that needed distraction from and I thought a nice pub lunch might do the trick, so took advantage of an invitation to The Deramore Arms Heslington to reacquaint myself with area's finest. I've been an occasional visitor to the Deramore for many years, enjoying the mix of clientele that its proximity to the university blesses it with along with the well kept beer and decent pub grub. It's been a little while since I've ventured in that direction but little has changed externally; the pub still attractively fronting on to a quiet street and with a spacious garden present and correct which has been treated to a temporary covering for distanced winter conviviality.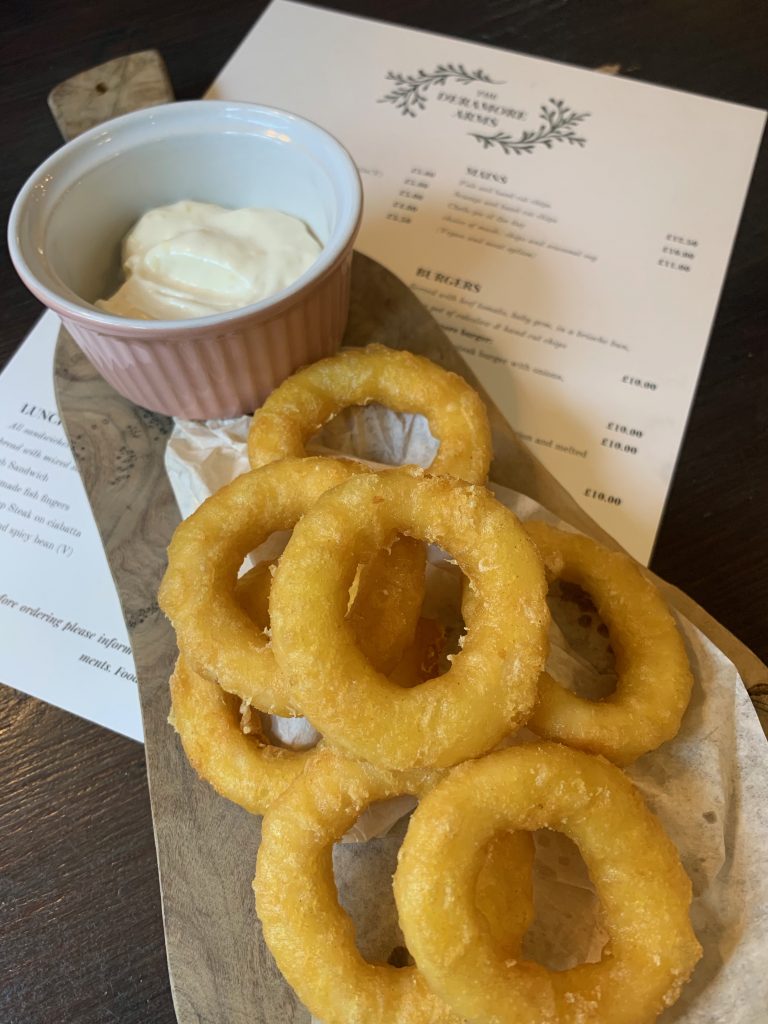 A good pub needs to fulfil a few roles comfortably, a tricky balancing act to satisfy casual drinkers, students, diners, families and socialising all in one space at varying times depending on the surrounding clientele. Food has obviously become an increasingly key pillar of that balance and, for most pubs, needs to reflect that compromise with an offering broad enough to appeal while hitting all the right crowd pleasers likely taken for granted by many pub goers.
Given that (at the time of eating) we were only allowed to dine out with members of the same household, we had no worries on sharing etiquette, minefield such as that is right now, and got stuck straight into a generous portion of calamari to start. Served with a decent tang of lemon through the batter and a lemon mayo, they didn't last long thanks to a delicate touch in the frier preventing them ending up as the dreaded rubbery calamari rings.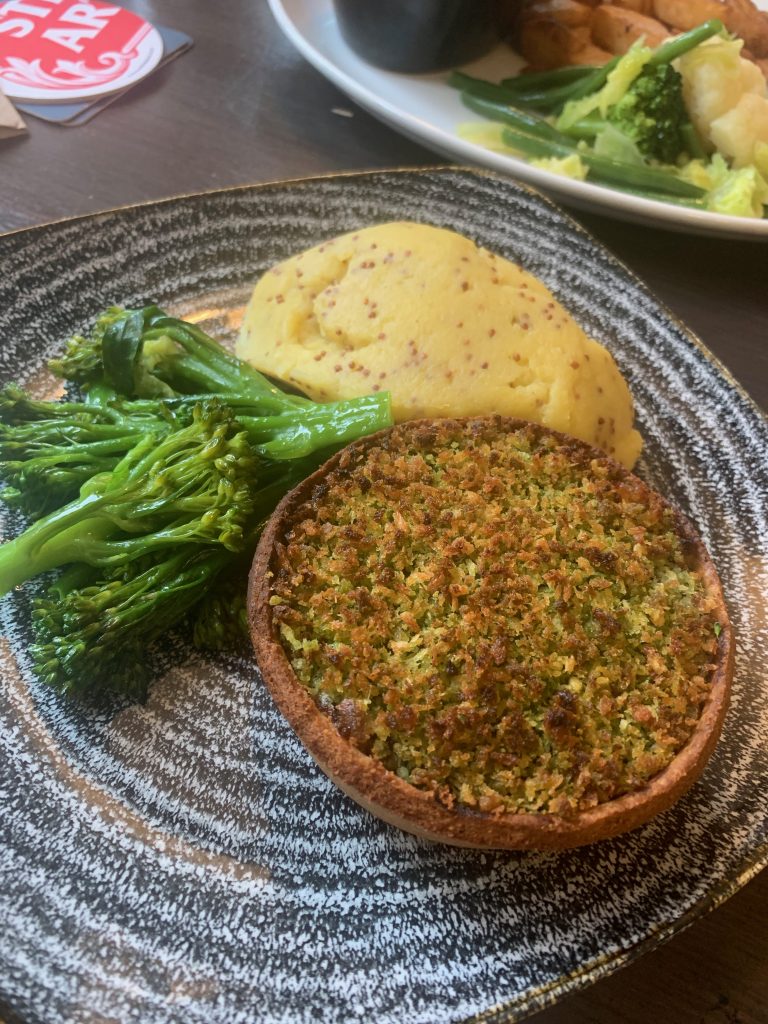 For mains we went with one typical "pub classic" type dish and one vegetarian option from the day's specials and before long were graced with a baked beetroot and leek gratin and the pork and apple pie of the day. The gratin was one of the most pleasingly hearty vegetarian dishes I've come across in recent times, really selling the beetroot which was not overwhelmed by the nicely judged tarragon sauce. Mash blessed with a generous mustard tang completed that picture while the other side of the table got stuck into pie and chips. This was a pie of the puff pastry lid style but I'll leave the arguments about the definition of a pie for another day on the basis that flavour is the priority, something delivered here in a comfortable quantity. Along with an unctuous gravy, proper chips and a few greens this was everything you expect of, and hope for from, a pub meal.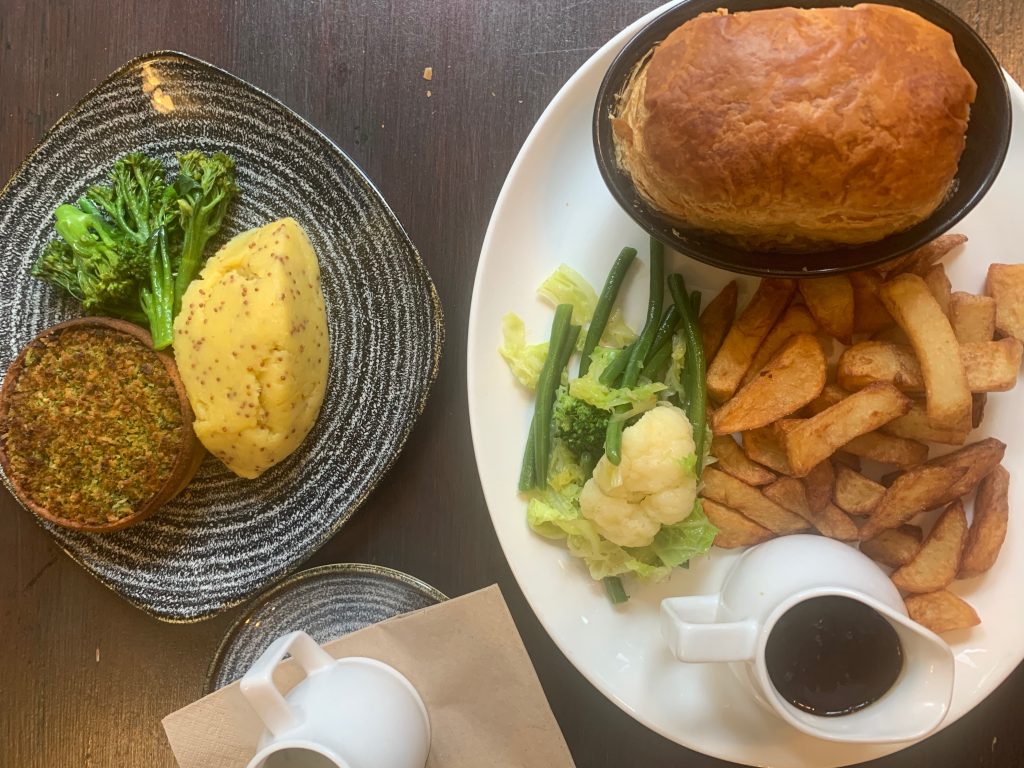 With no time for dessert, we were back on the road in short order after a coffee but it was a real pleasure to reacquaint myself with The Deramore Arms Heslington. There's plenty of scope for pubs in the centre of densely populated cities to adopt themes, styles and affectations, but in a location such as this the emphasis should be on accessibility, quality and the willingness to welcome as many diverse groups as possible. As with all hospitality venues, it's more challenging than usual to offer that welcome at the moment (well, totally impossible right as I type and they're all closed), but The Deramore still felt like a convivial place to relax. The food hit all the right pub grub notes as well as offering well resolved dishes for a more luxurious feeling meal should that take your mood. It's great to see The Deramore continue to be a real asset to Heslington.
Disclaimer: No charge was made for this visit. Opinions are impartial.