I've something of a history with The Star at Harome. Just over a decade ago when I was realising just how much I enjoy dining out, I decided that for my 30th Birthday I would see just how restaurant dining could be and booked into the Michelin-starred Star Inn at Harome. That meal remains a very fond memory and a bit of a landmark in my dining experience, signposting the events of the following decade. The subsequent, tantalising, view of The Star Inn the City's construction that I followed from the window by my office desk only added to my sense of affection for what has now become a triumvirate of restaurants that also includes The Star Inn the Harbour.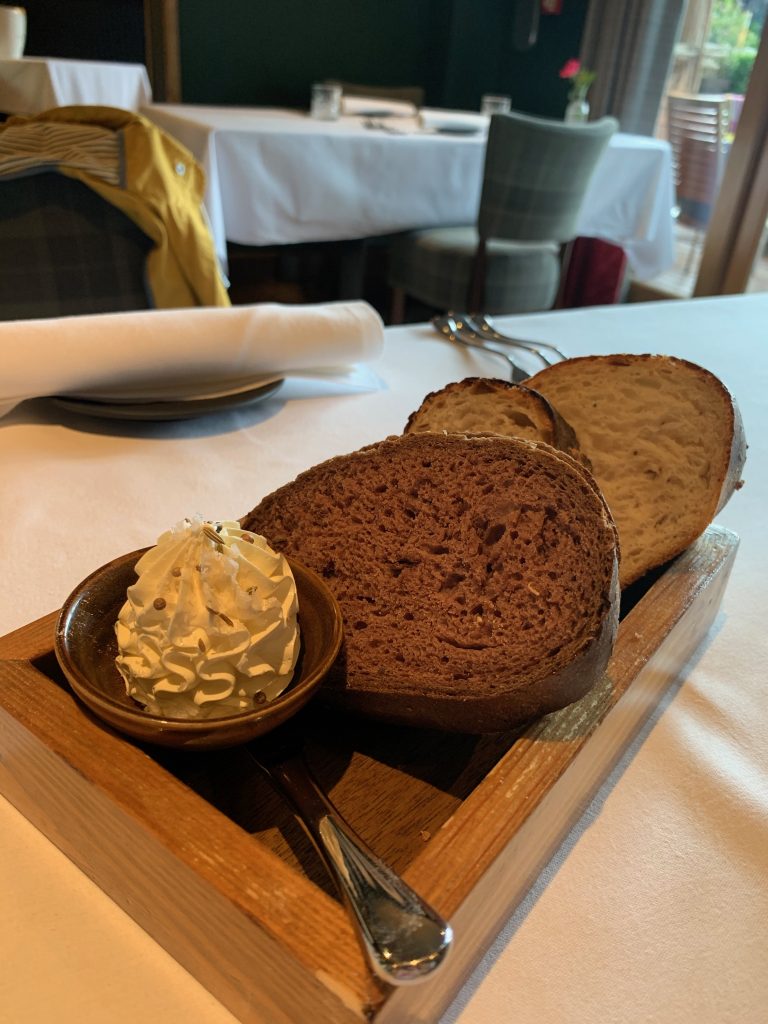 That intervening decade has led me back to The Star at Harome on a few occasions, illustrating the flexibility of its offering. That flexibility is key to the Star's broad appeal; it's always been welcoming to those just wanting to slope in for a surreptitious pint as well as those wanting to bust the budget on an indulgent tasting menu, while not forgetting the imperative to feed locals for an accessible amount of money, though it should perhaps be noted that drinks service is restricted at the mo for obvious reasons. When the opportunity to relax into an extended lunch without the cute but distracting Baby Fork in attendance came up, it took a matter of seconds before we were winding our way to Harome.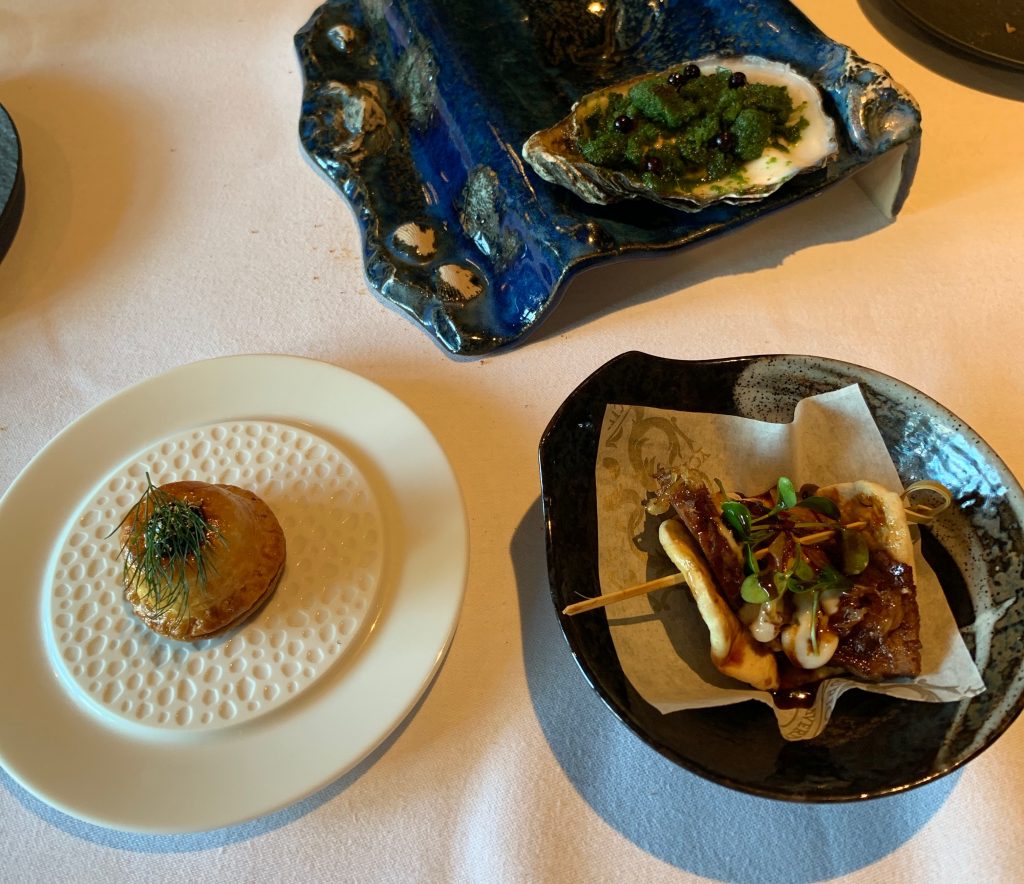 Harome is a picturesque village just a couple of miles down the road from Helmsley that is lucky enough to not only be home to The Star Inn but also The Pheasant, which I was lucky enough to be invited along to only a few weeks ago, and it's also possible to book packages that include meals across both of these superb restaurants through The Pheasant's website. The Star is a strikingly quaint thatched building which seems to exude a welcoming atmosphere as you arrive and guided to a table, the masks and sanitisers failing to puncture the welcome. We opted for the a la carte menu rather than tasting menu, augmenting with a few extra treats to reinforce the sense of occasion a day without a nappy brings at the moment.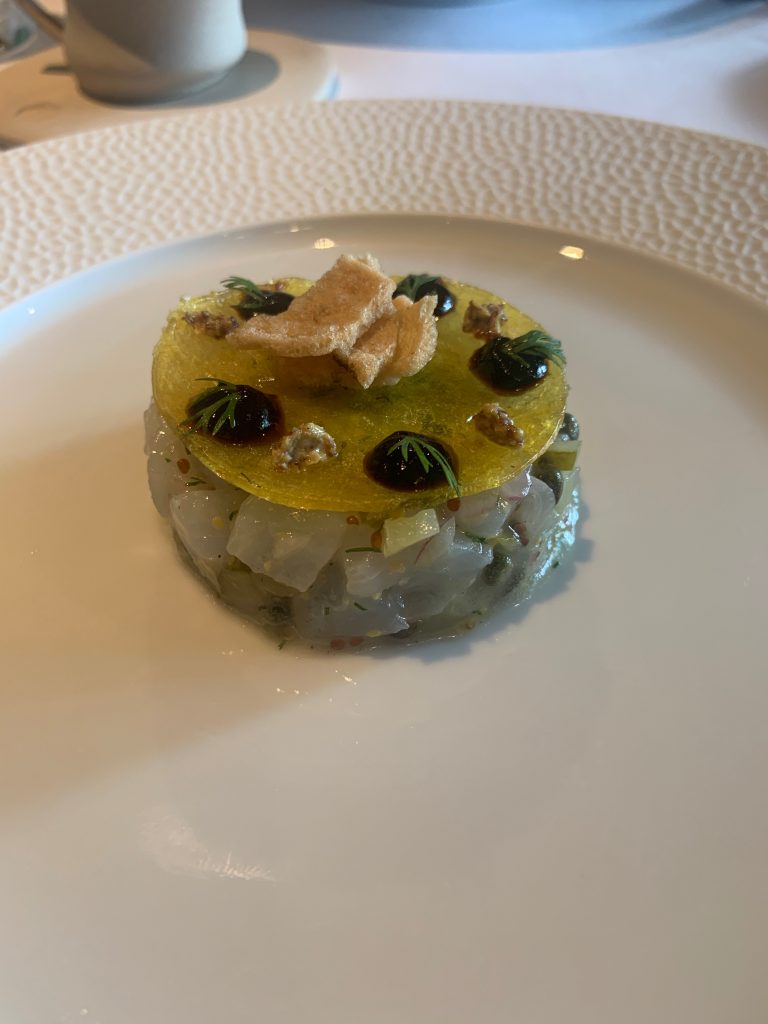 We kicked off with a few snacks, including Lindisfarne oysters with a sorrel and elderflower dressing, mini game kebabs and mini potato & onion pie with black garlic ketchup. Oysters don't feature toward the top of too many of my to-do lists but when they're as fresh and well accented as these I'll happily live with them. The pie was artfully constructed and packed powerful overtones of black garlic and the cute mini game kebab brought aioli and fermented cabbage into the mix for a well developed mouthful to finish on before we began on starters, for which we'd chosen octopus and halibut.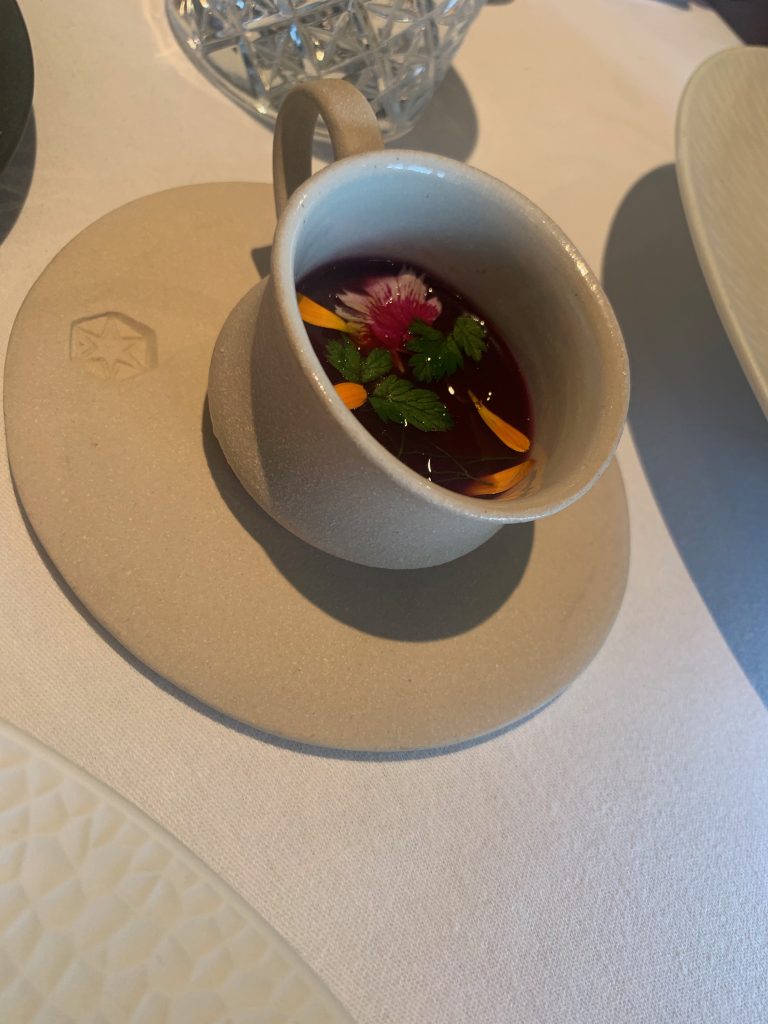 Octopus was slow braised and coal roasted before being served with a "Goose Fat White Bean Whip", black cabbage and studs of bold chorizo. Well cooked octopus is a joy, as was this dish which was a luxuriant start to the meal proper with the fatty "whip" balancing with the chorizo heat perfectly and the octopus given plenty of space to breath. Halibut tartare was inevitable as soon as I realised there was something raw on the day's specials menu and didn't disappoint with a heady combination of black garlic, pommery mustard and cured egg yolk drawing every ounce of potential out of the fish. This came accompanied by a shot of red cabbage gazpacho delicately balanced with herbs and happily refreshing. Next up was a mid course of scallop with a deeply nuanced dashi that kept up the meal's momentum beautifully.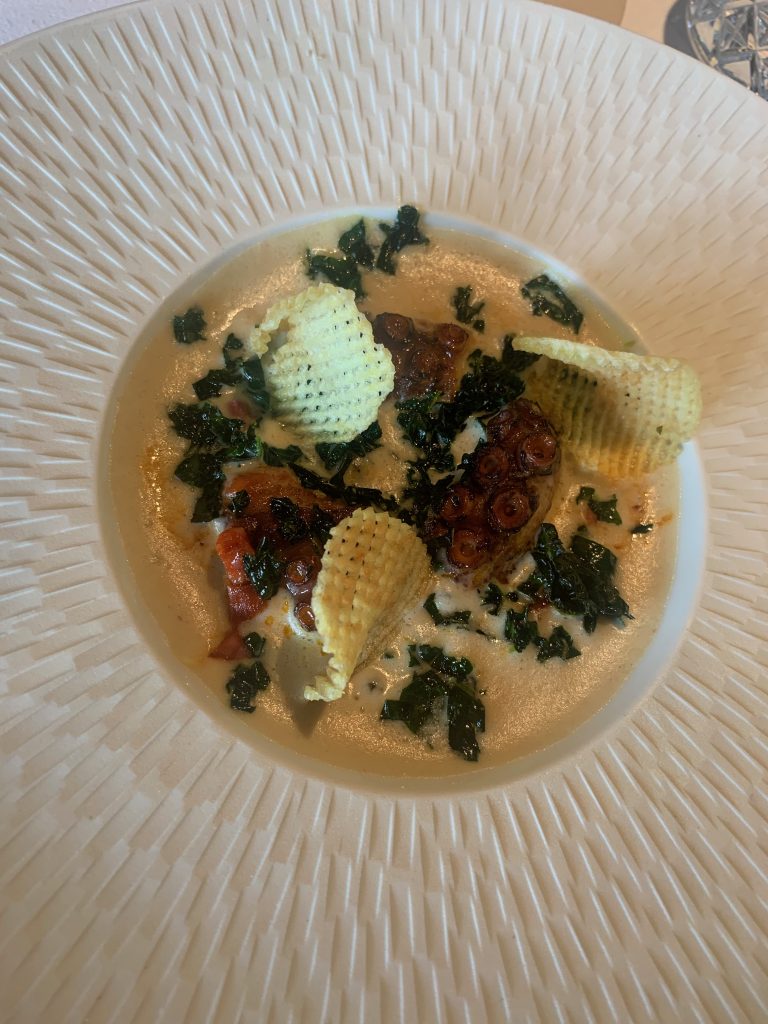 For mains we went with locally shot Fallow Deer and Rievaulx Partridge, zeroing in on the sense of locality central to the Star's offering. The partridge came with smoked beets and quince as well as spiced fruit and nuts for a delicately balanced plate of food featuring this relatively rare meat. The Deer pushed things up another notch too with perfectly cooked loin joined by parsnip and an elderberry topped "Pluck Tart", which will ensure that this dish remains in my memory for a long time. While the meat had been treated with the utmost care and was beyond reproach, the tart paired a deeply flavoured earthy, gamey filling with huge flavour that never threatened the balance of the element, particularly being reigned in by the elderberries. The key question of this was the constituent of the tart's filling, which perhaps is best left mysterious for those particularly squeamish, suffice to say it was "offal-y good".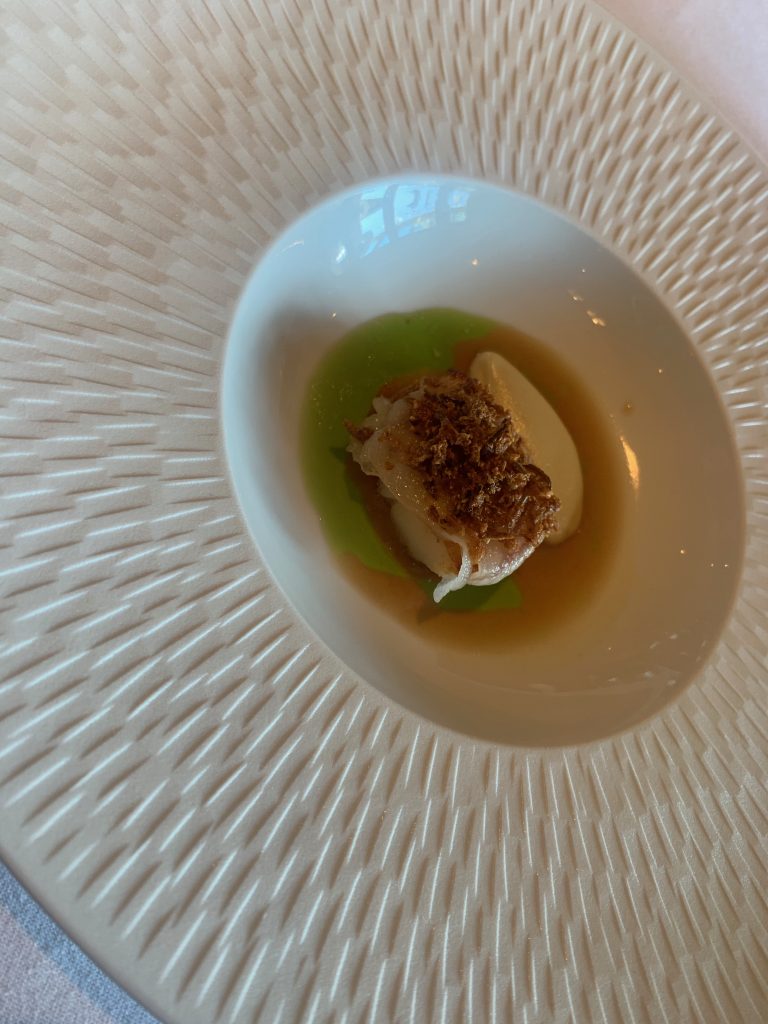 I lack much in the way of a sweet tooth so the presence of a savoury finale is the proverbial red rag for me, this time in the form of a Baron Bigod and caramelised onion quiche that called in truffle, marjoram and chive for heavy duty backup to the brie style main flavour. This was a predictably show stopping end to the meal which pulled off the impressive contradiction of being a refreshing, light cheese course.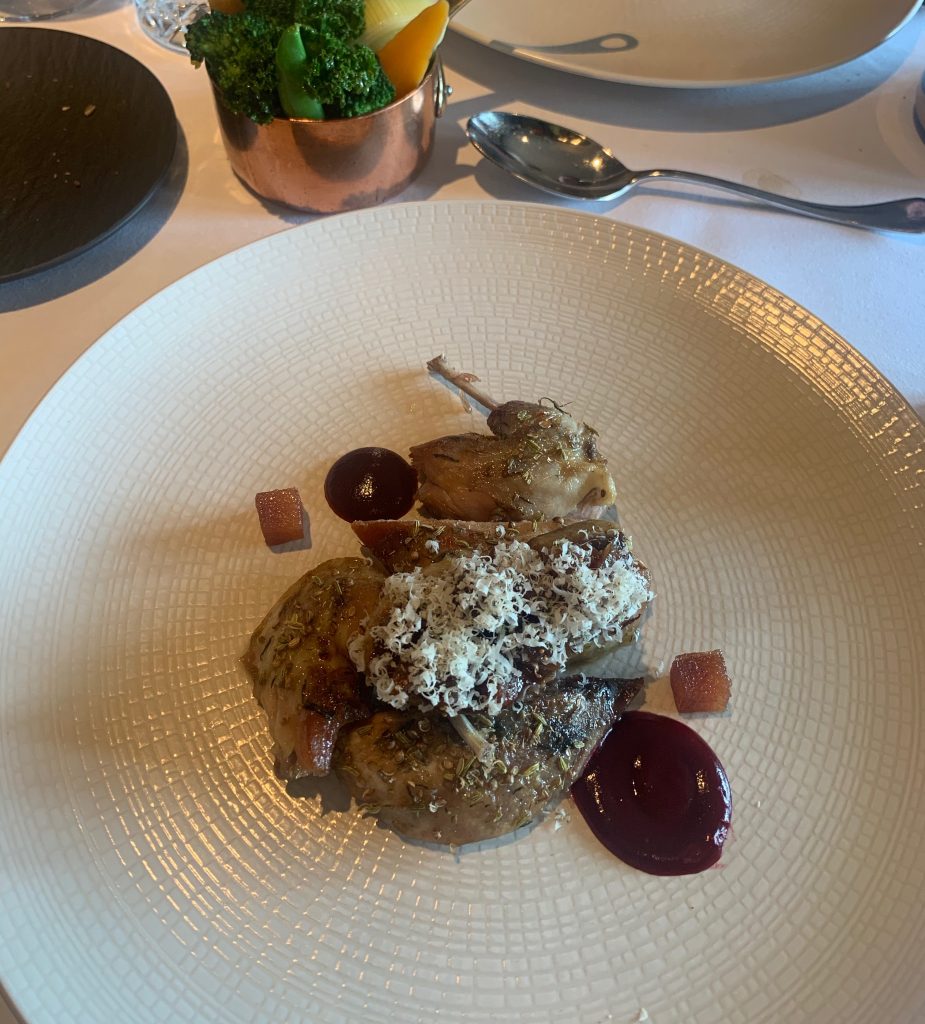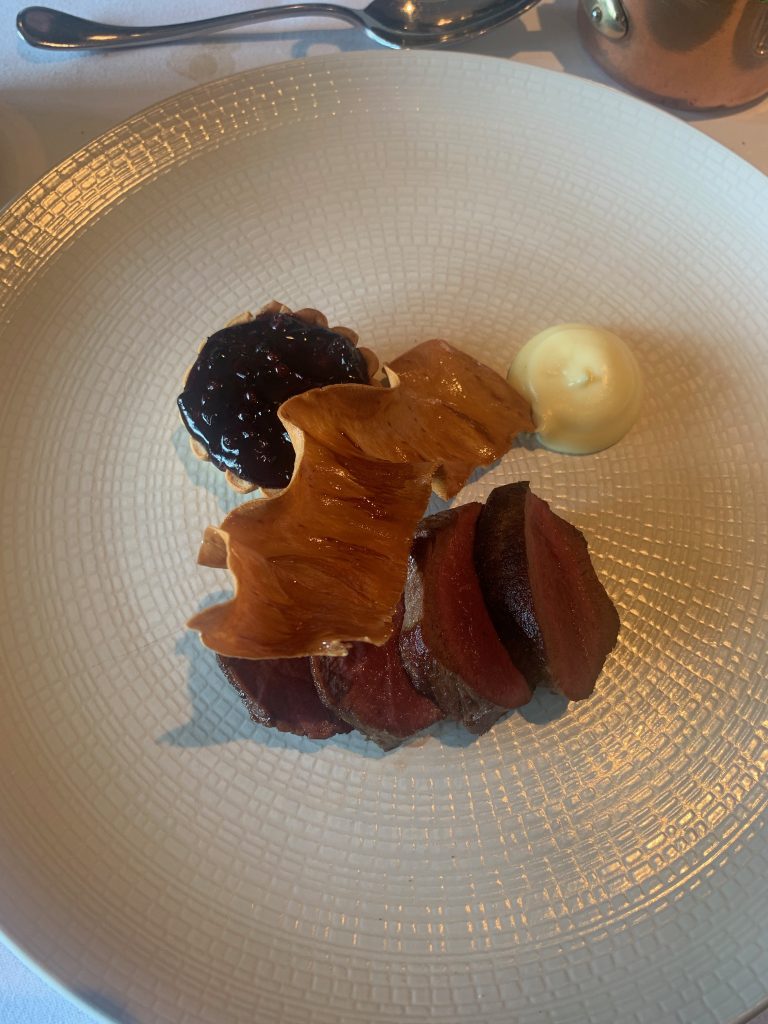 I think by now it should be pretty clear that I'm a fan of The Star. It's been a feature of the food scene around here for a long time and continues to be one of the finest in the region based on the evidence of this meal. That's only half of the trick though, this meal gave the kitchen ample opportunity to show off but what's most striking is how the sense of occasion is derived. I've had plenty of meals in starched restaurants in which you feel that the clientele wouldn't be too bothered if the standard dropped off a bit as long as the staff continue suitable deference. Here though the surroundings are relaxed enough to facilitate a convincing role as a village pub while giving staff the platform to deliver the sense of occasion that a meal such as this deserves. The Star has had a starring role in my love of food and Yorkshire over the last decade or so and I don't doubt will continue to play a key role, both for me, its locals and those that make it a destination.