Being the home of Betty's largest branch in York, St Helen's Square is inevitably associated with afternoon tea. Aside from this, in recent years the area has become something of a hotspot for restaurants as Jamie's Italian, Carluccio's and the Ivy have set up shop. The Ivy is now bringing both of these worlds together by offering The Ivy afternoon tea alongside its various other menus.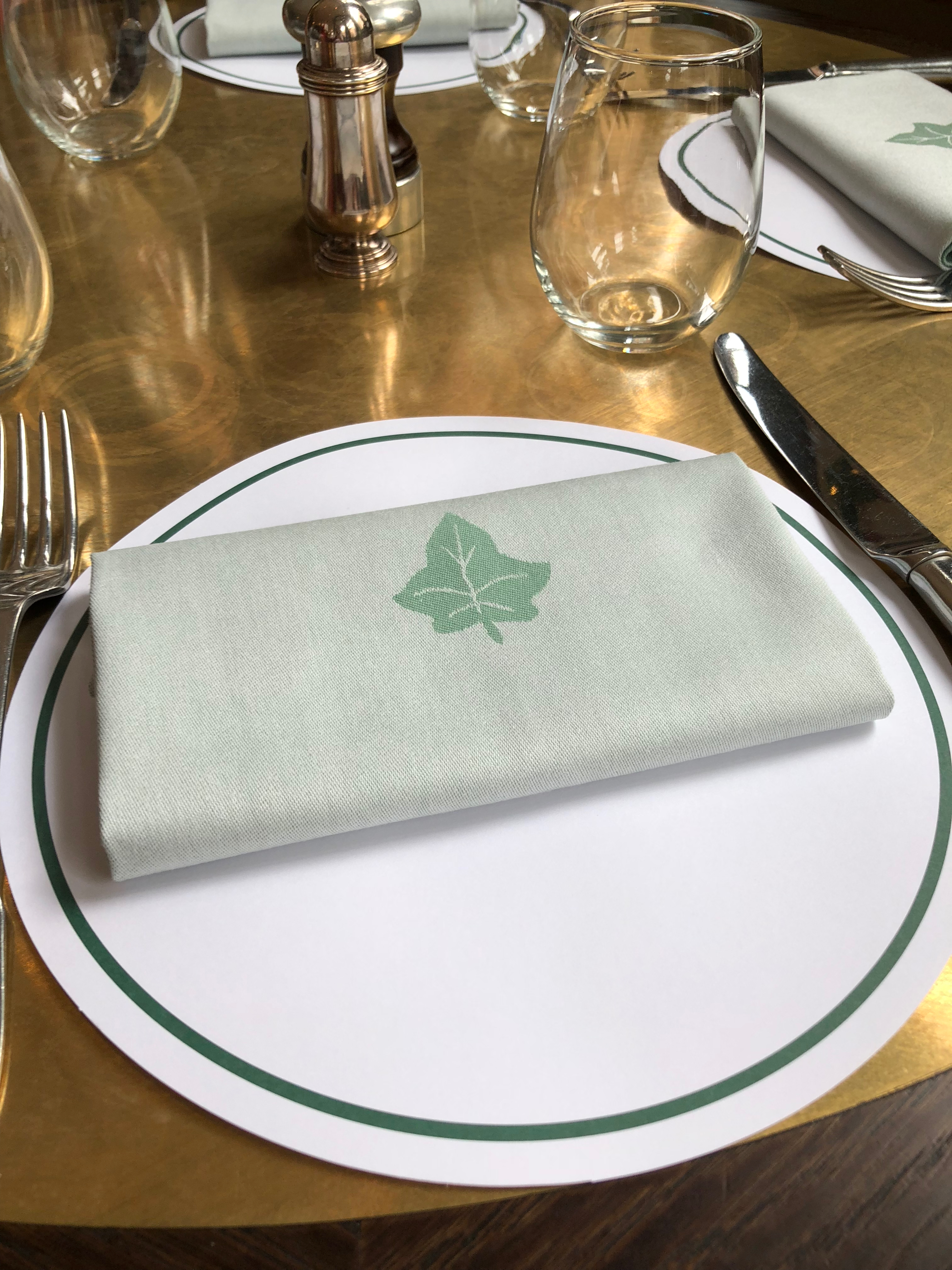 Arriving at The Ivy is always a pleasure. It must be a significant liability on the wages bill, but it's always nice to be welcomed by a small army of staff who direct you to your table, confirm your reservation and spirit your coats away. The Ivy has been consistently busy since it opened and I've been impressed with the dinner and brunch offerings when I've visited. The full menu is still rather busy to get to grips with but there's relatively little decision making involved in afternoon tea so placing our orders was just a brief conversation.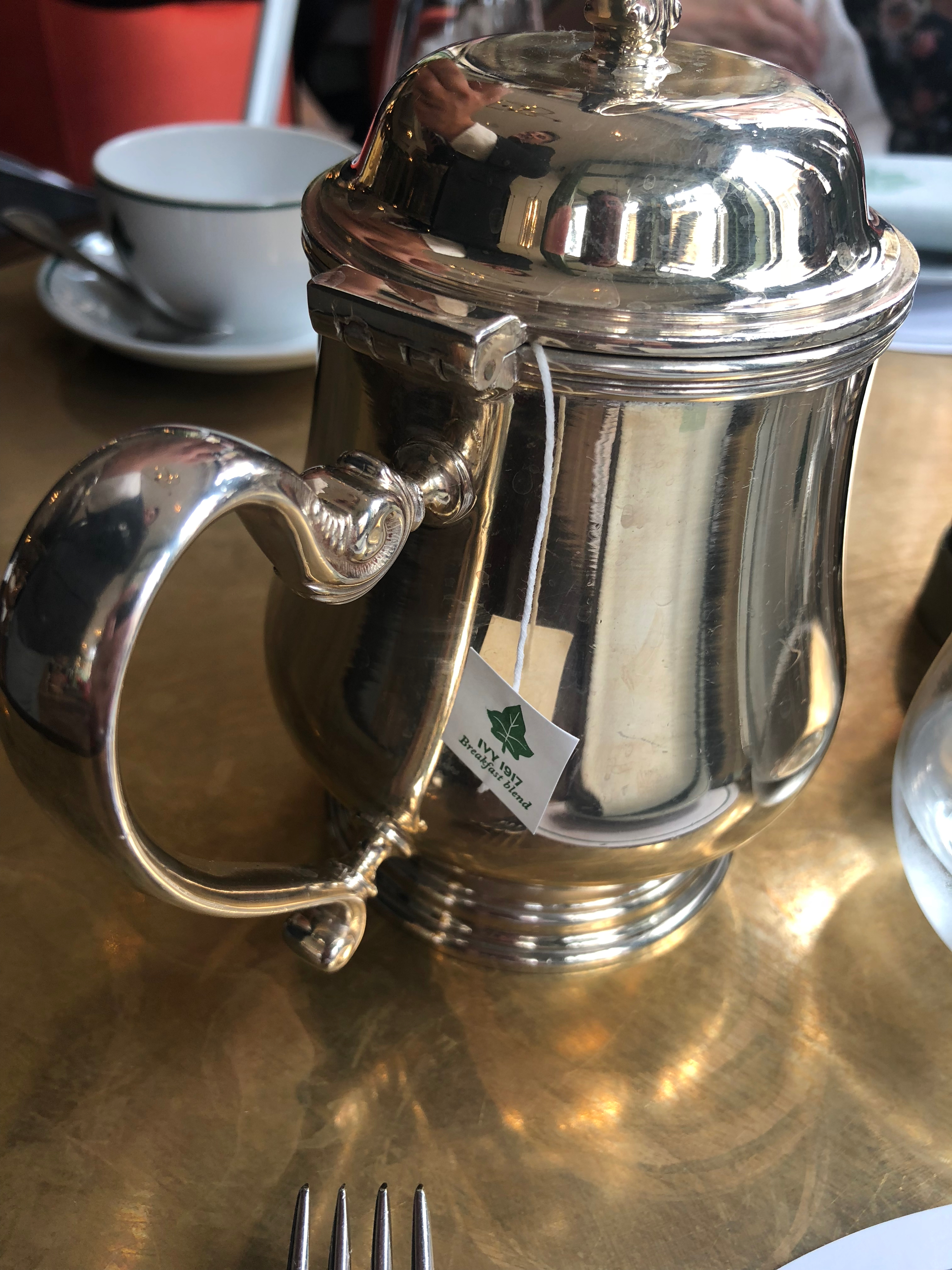 The servers had our tea (the drink, not the meal) with us in short order which was served from beautiful silver teapots that were rendered a little uncomfortable by their impressive heat retention characteristics. I was a little surprised the tea wasn't loose leaf, it still hit the spot though. A cloth wrapped around the handle stopped us burning our hands and allowed access to the hot drinks. Everything else that made up the afternoon tea was soon generously crowding its way across the table. I'd checked out the menu in advance and the selection for £19.75 looked well constructed with a nice mix of savoury and sweet. The presentation hit the standards The Ivy must hold itself to given its reputation so we got stuck in rapidly, starting with the savoury elements.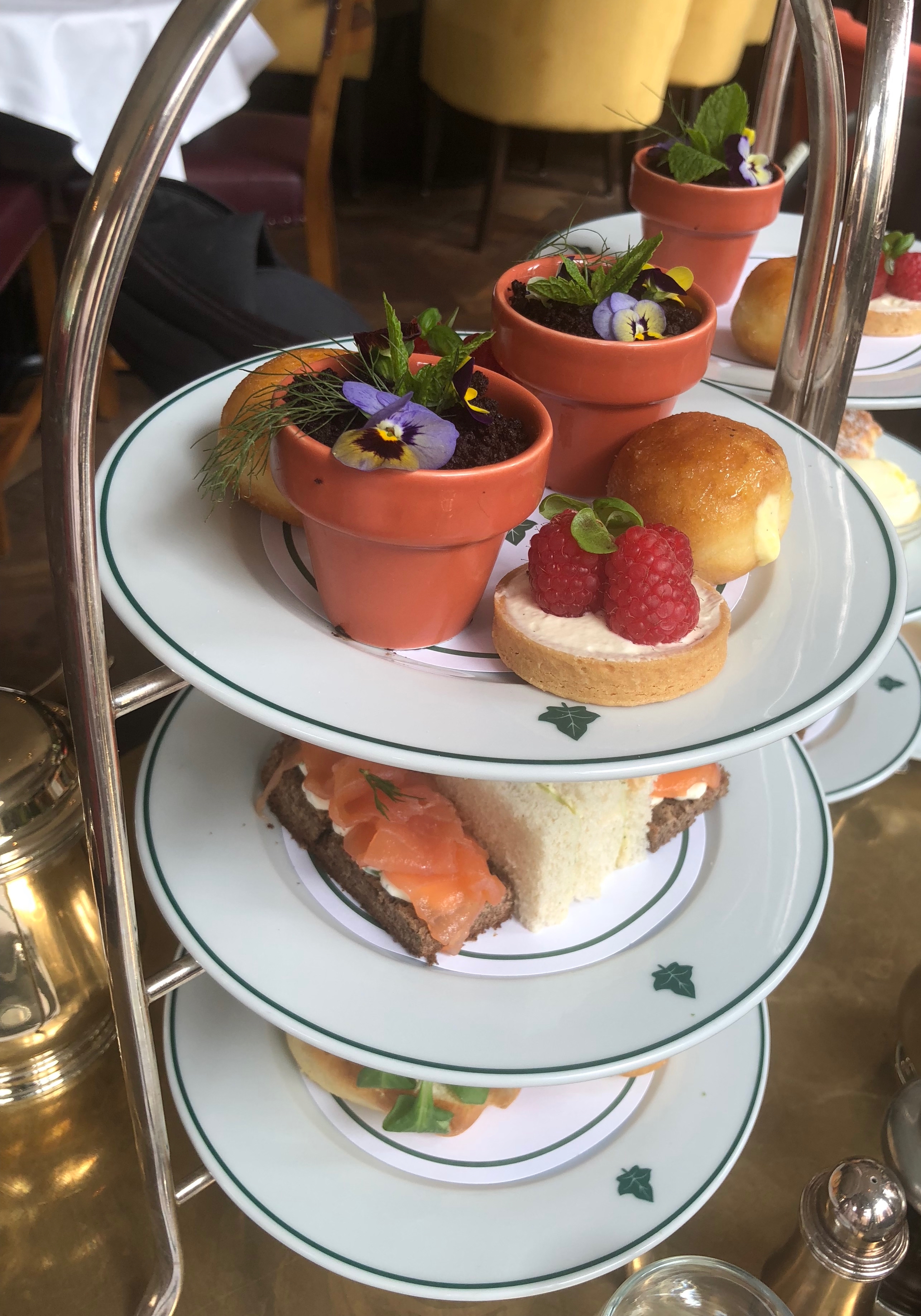 Each of the sandwiches was served on an appropriate bread: truffled chicken sitting happily in sweet brioche, cucumber and dill on delicate batons of white bread and smoked salmon served over cream cheese on a savoury rye bread. All of the sandwiches were impressively well balanced, the chicken not clubbed too heavily with truffle and the cucumber sitting lightly in its bread.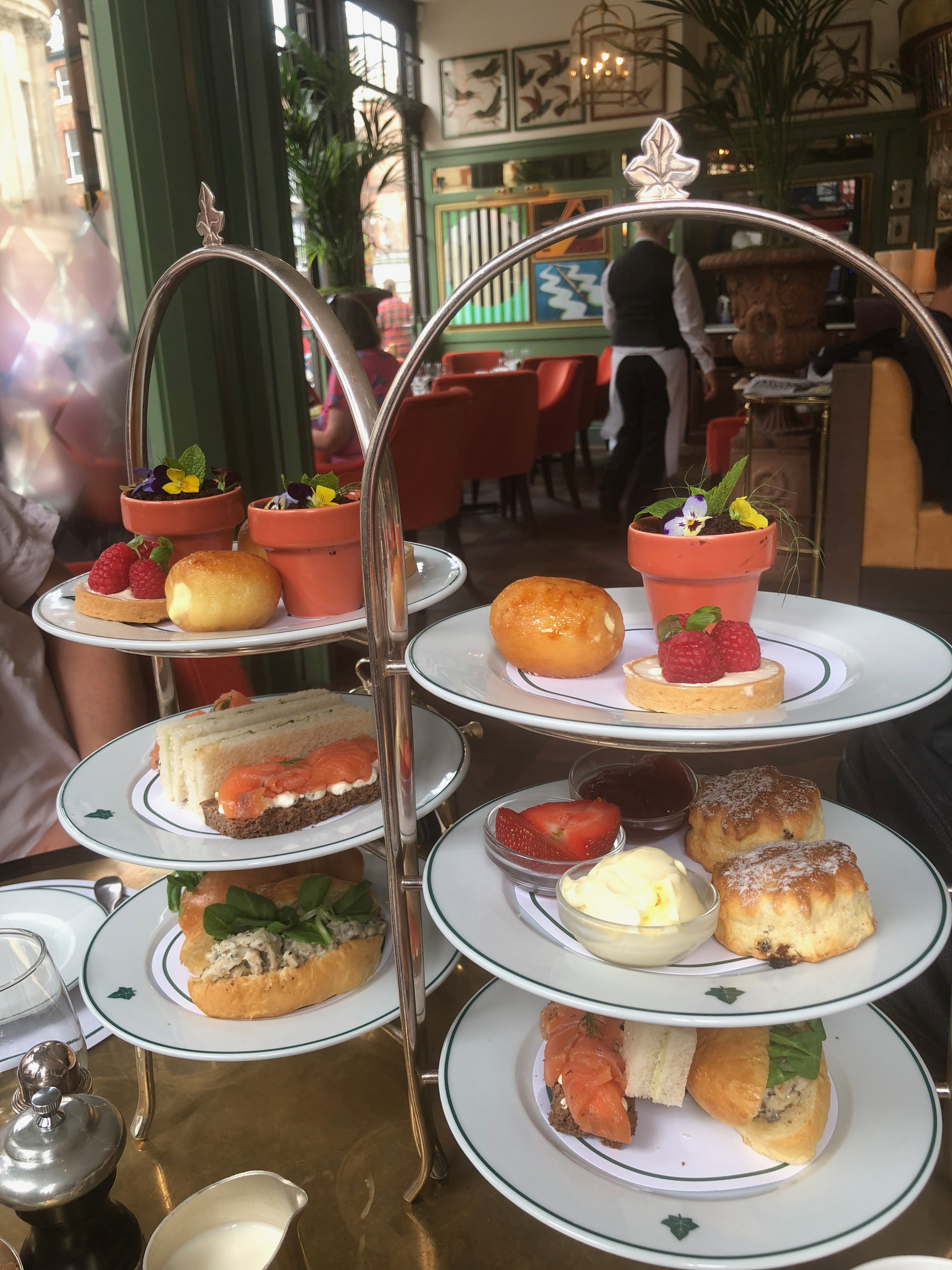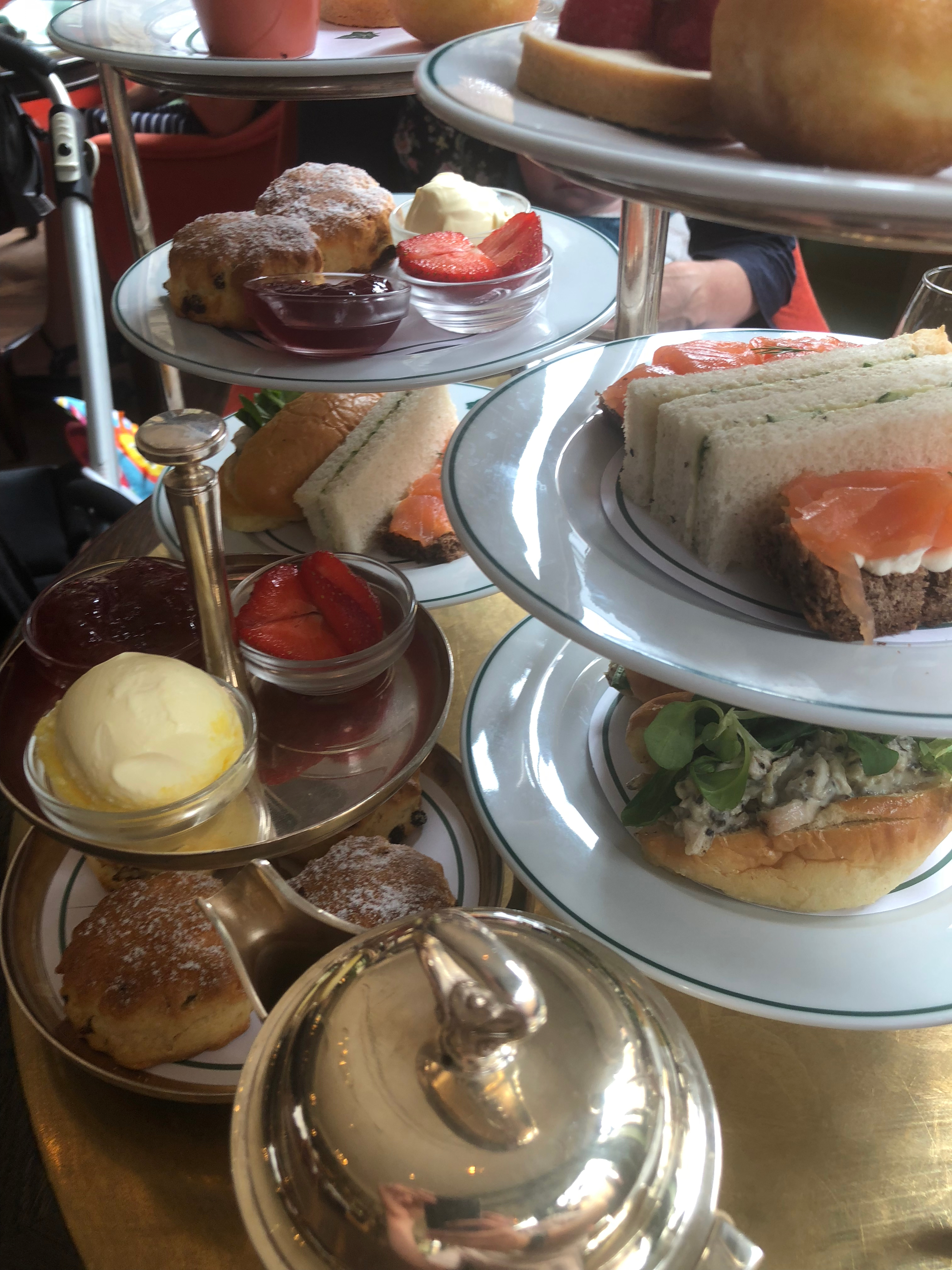 With the savouries polished off, we got stuck into the sweets that included raspberry cheesecake, chocolate and salted caramel mousse and a creme brûlée doughnut. The doughnut was a fun mouthful and led through to delicate cheesecake which made a suitable precursor to the chocolate mousse that was served in a miniature plant pot. The herbs served with this one were a little to ready to dominate but the sweet flavours were still able to stand up for themselves.
Having worked through this, all we had to get through were fruited scones with mandatory preserve and clotted cream. Each of us wrestled with the jam/cream first dilemma and arrived at our own compromise before struggling through to the end of our appetites and getting the leftovers boxed up in snazzy branded boxes to make our way home.
Afternoon tea can be something of an overblown affair, but I thoroughly enjoyed the experience at The Ivy. There was clearly a lot of thought that went into everything we were served and it all added up to a fulfilling and fun afternoon. These experiences can be taken as a licence to jack up the price so under twenty pounds feels like a very fair amount for the experience.
Disclaimer: No charge was made for this meal. Opinions are impartial.​