There are few more basic satisfactions than tearing one's way into a good steak. Seared meat that still drips blood is a primal sensation that as a society we've turned into something arguably more sophisticated than it needs to be. Here in York we've a few places that specialise in satisfying those primal urges such as El Gaucho but it's not hard to argue that the Whippet Inn Steakhouse is the most prestigious.
I've talked about the Whippet Inn Steakhouse before and visited a further couple of times so when I was invited back to sample things again I jumped at the chance. Things were buzzing nicely when we arrived at half eight on a Tuesday evening, so we set about the menu with a meaty single mindedness befitting the establishment.
With a good red on its way, we adopted the classic 1-2-1 strategy, sharing starters and desserts but with a main each, and asked for a warm crab tart to precede sirloin and ribeye steaks.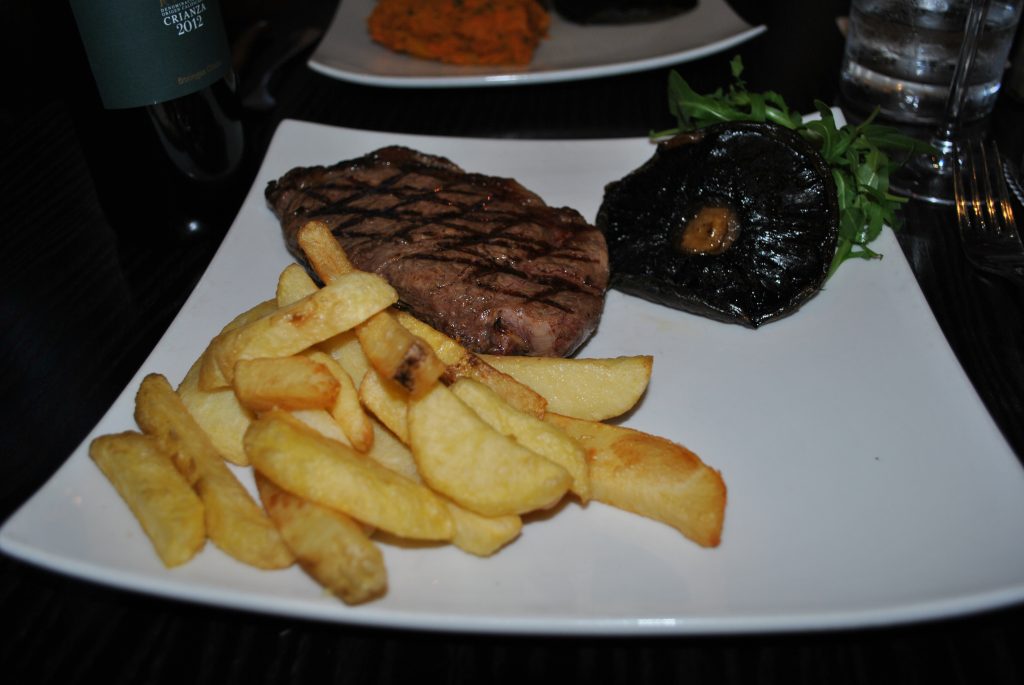 The crab tart arrived quickly, simply presented on some leaves, and was cheesy and well-filled but with slightly dry pastry. We both felt this was a perfectly serviceable starter, but was keeping us from the meat that we'd made the focus of our visit. It's likely that I'd have been more positive about it otherwise. Still, steaks… meat…mmmm.
I'd taken slight umbrage when ordering at the server's suggestion that I order my ribeye medium rather than rare (I'm the customer! I'm right) to ensure the core of fat was sufficiently softened. However, on the advice of chefs whose opinion I value, I'm convinced this was good advice and was backed up by the quality of the steak presented. It was richly crusted with a moist bite that spoke of an expertly prepared piece of meat and properly rested by someone who understands meat. The sweet potato mash side was exactly as nice as sweet potato should be.
The peanut butter parfait was an original way to end the meal. I'm not usually disposed toward sweet dishes so the nut flavour brought things down to my level nicely. The bill sidled into view wearing around seventy pounds including service – fair remuneration for a high standard. On previous visits I've entered into conversation about steak and found myself sinking further into extravagance, eventually hitting a slightly jarring bill, so I was keen to take a 'straight' option from the menu. Nothing was a disappointment, though I have to say the service slipped onto the invasive side of attentive. Being asked if everything is ok while chewing the first mouthful of a dish doesn't tend to be the most productive use of anyone's time.
Summary? Steak. really good steak. Go eat steak. Mmmm steak. Oh, and don't whip out anything other than your wallet. That'd be frowned upon despite the slightly risqué wallpaper.
Disclaimer – I was invited for this meal and didn't have to face the bill. As ever, opinions are not swayed by this.]