A few years back, Chef Norman Musa opened Ning in York just opposite Cliffords Tower in the former Jade Garden building. Despite quickly building a good reputation, it passed onto new owners after a reasonable period, rebranding as Quinii's Restaurant but retaining a similar sense of identity. I've no idea if Mr Musa felt too thinly spread by the addition of this venture or the financial burden of the flooding that afflicted the business a few years back, but since then its brand is a little diluted and I don't seem to hear so many people talking about it.
These days we have an "Asian" restaurant that seems to have very reasonable prices and a slightly generic presence. Its taken a while to get back to trying this current incarnation, but when I finally got to round trying it out last week I was warmly greeted and efficiently seated at a nice window table. All good omens.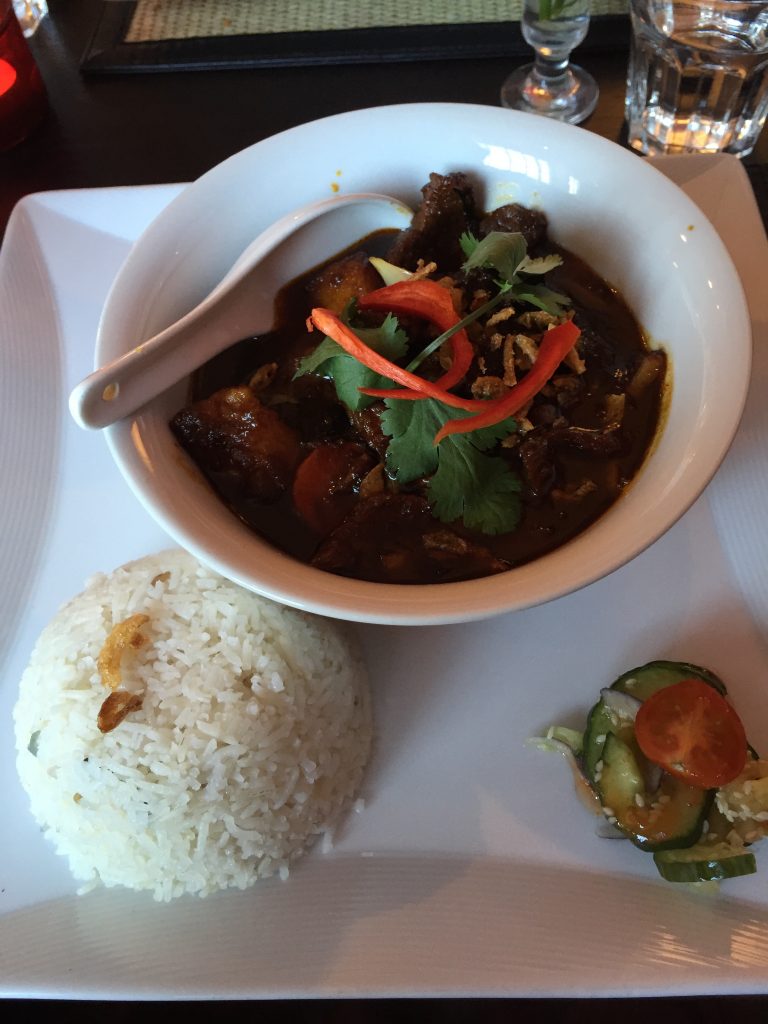 We kicked off with a Singaporean chicken stuffed pancake parcel and salt and chilli squid and we decided to ignore what impact the set menu might have had on our ordering. The starters weren't the most encouraging start to a meal I've ever had, more than functional, but not terribly noteworthy and perhaps a touch under seasoned, but the Viognier we were on at £17 the bottle was good enough to smooth everything out while the mains were on the way.
Indonesian dark soy beef curry and Malaysian style fried flat noodles arrived shortly afterwards and raised the standards of proceedings very considerably. Tender beef and sticky, sweet soy was several notches above expectations while the jasmine rice in an attractive pot with the flat noodles was fluffy and tasty, if not entirely necessary on top of the noodles. When the ticket arrived we found ourselves on the hook for £50 – reasonable enough that 24 hours later I was wondering if they'd screwed the bill up (if I underpaid, sorry). When ordering takeaway you even get 25% off… bargain! I last had their food when it was under the Ning banner, it may not be the world's most refined dining experience right now, but the value is impossible to fault and the quality not far away.