It's slightly apt that I'm writing this so close to Marina O'Loughlin saying nice things about The Man Behind The Curtain in Leeds given that restaurant's York roots. I never made it to the Blind Swine during its Swinegate tenure, in fact to be brutally honest I wasn't hugely tempted after watching a rather self-absorbed demo from Micheal O'Hare at the Food Festival. Everything suggested that the food was sensational, but I couldn't quite crest the peak of irritating self-assurance insulating the whole thing. Opened by the Blind Swine's former sous chef Josh Overington as a sister restaurant in summer 2013, six months later Josh and Micheal went their separate ways with Josh taking charge of Le Cochon Aveugle, thankfully no longer with bra stalactites.
Mrs YoaF-to-be was sadly otherwise engaged with some wedding organisation, so I drafted a friend into her place to make up the foursome along with the inimitable Puboholic and his engaging partner. After meeting in the Walmgate Ale House we took a five minute stroll to Le Cochon Aveugle and strapped in for a nicely paced walk towards culinary satisfaction.
Greeting us were side plates of fresh bread and butter. Well done beurre noisette fastened such nutty flavour to the fresh bread that it was almost an event in itself.
Next up, Potage of Brie de Meaux & Jerusalem artichoke with braised lamb's tongue and truffle crumble. Take a second and think about that description, it's not a dish; it's a range of textures and flavours you'd not expect but turn out to be wonderful. Any semblance of professionalism melted away as I rushed through the dish before realising I had a camera, let alone intended to write about it.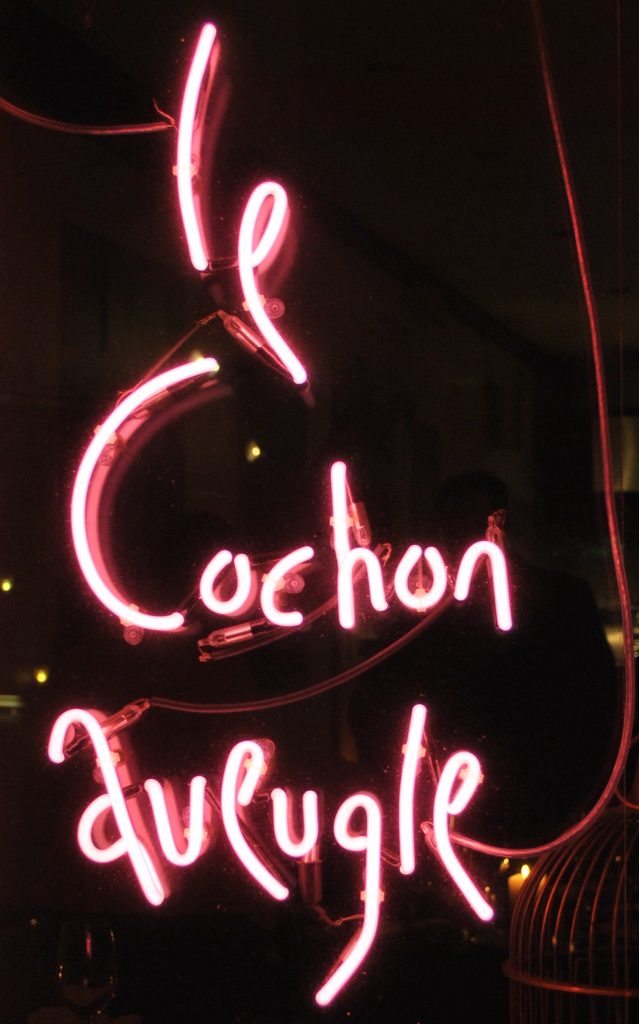 Never mind, squid and cauliflower risotto. A chance to redeem my professionalism, such as it is. This 'risotto' was topped with crisped curry leaves and settled into a bath of prawn head broth. The overall effect was a sense of earthy seafood headlines from the broth while the solid elements focussed on the meat at the heart of the dish.
Moving into the meat course, the table hushed around 12 hour short rib with onion textures. Accompanied by unusually light black pudding, the meat melted away as one would hope from that cut and cooking combination. Jostling to lighten the meat, smears and crunches of onion invaded the plate to complement one another and show the range of sensations that can arise from a single vegetable.
Charged with finishing the set courses were warm caneles with banana and rum milk. I'll own up to checking what caneles were on the pretext of a wider comparison but not to any argument with the concept. The milk was sweet and made a nice counterpoint, but was a little more anonymous than the name would suggest.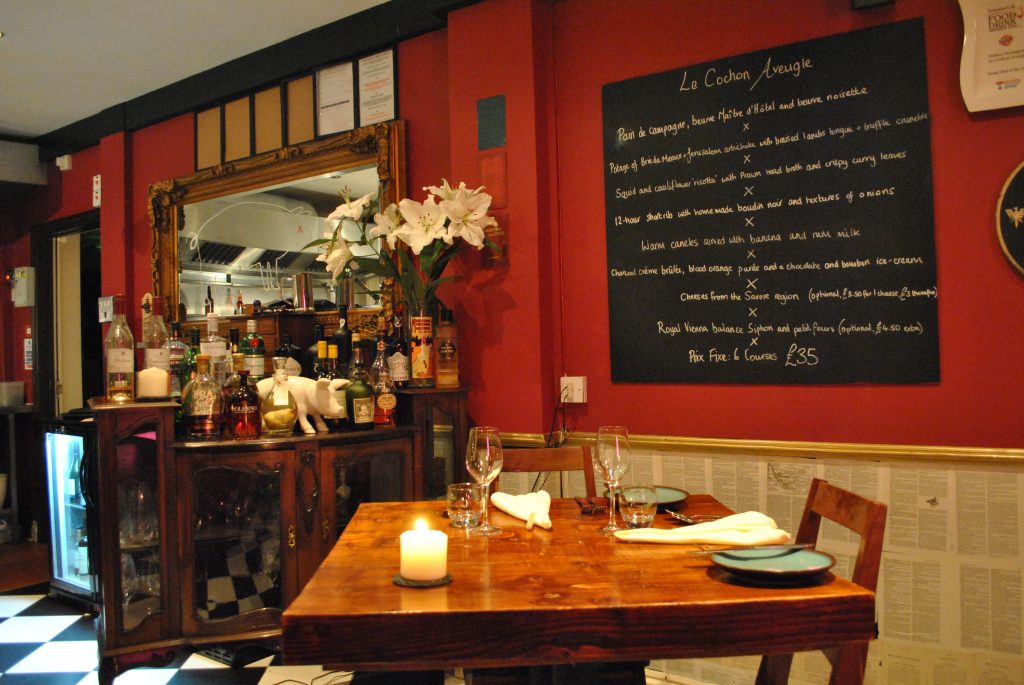 Finishing up, we were served charcoal creme brûlée, blood orange puree and chocolate bourbon ice cream. Similarly to the flavoured milk, the ice cream was a kiss more conventional than expected, but the overall sensation worked admirably. Perhaps the crisp of the brûlée could have been slightly more obscene but, forsaking coffee and cheese, it was a lovely way to end a lovely meal.
Thirty five pounds a head for food of this standard is a bargain. Looking for criticisms, the mushrooms we had to start the meal were too sharp and it'd be nicer to see some of the flavours shout about themselves more loudly, but I immediately recommend Cochon as one of the finest places to eat in York. Nice ideas, well executed, with unfussy service: everything hung together nicely. Guess I'll have to take Mrs YoaF to give it a whirl soon.