"What do you mean you're going to a barbecue? It's February?" It was only when someone posed that question to me that I realised that a winter barbecue might sound odd. In actual fact the slow process of meat preparation took place off site so we weren't a crowd packed around a freezing brazier somewhere grim, rather we were comfortably situated in a charming pub in the middle of Knaresborough with an excellent selection of local beers ready for a BBQ Crackerjack
Andy Annat is something of a barbecue legend, so it's pretty fortunate to have him based in our region. His enthusiasm for barbecued meat is astonishingly infective and palpable in every conversation. His upcoming plans for Yorkshire Day are particularly ambitious and off (or rather on…) the wall. We should have some more details of that in our June ezine for you to disbelieve. Under the name 'Crackerjack BBQ', Andy runs pop up nights like this.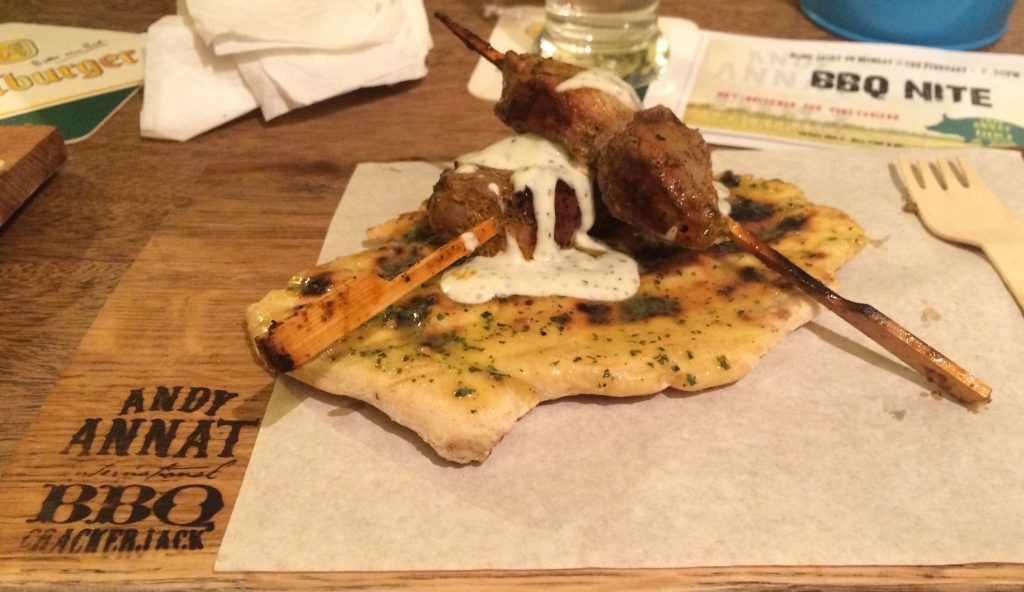 Bagging a table on the first floor of the pub alongside a dog who could scarcely believe the potential of his evening, we settled into a wonderfully hopped pint and waited for the first leg of our meaty odyssey with BBQ Crackerjack.
Chicken was up first, with a delicate tandoori spice and a side of rice, onion bhaji and popadom. The onion bhaji was cooked to perfection, balancing crispy extremities with a cooked-through centre, while the chicken kicked its way through my (high) expectations with wonderful moistness. Thigh meat in particular was packed with flavour. Around this time we realised the potential magnitude of the task; two more meat courses of this size would certainly challenge our appetites, thankfully without entering into Man Vs Food territory.
Next up we headed to Greece for a lamb souvlaki. Skewered chunks of lamb exploded with flavour and moisture in the mouth while counterpointed against grilled garlic flatbread. Of the two flatbreads we shared, the more charred example had a greater depth of flavour, but this minor inconsistency was far from a big deal. With such a heavily meat-based menu, the danger would be a lack of differentiation between courses, but with both meats showing great depth of flavour and texture alongside carefully prepared and presented sides, everything was clearly in hands as expert as Mr Annat's reputation would suggest.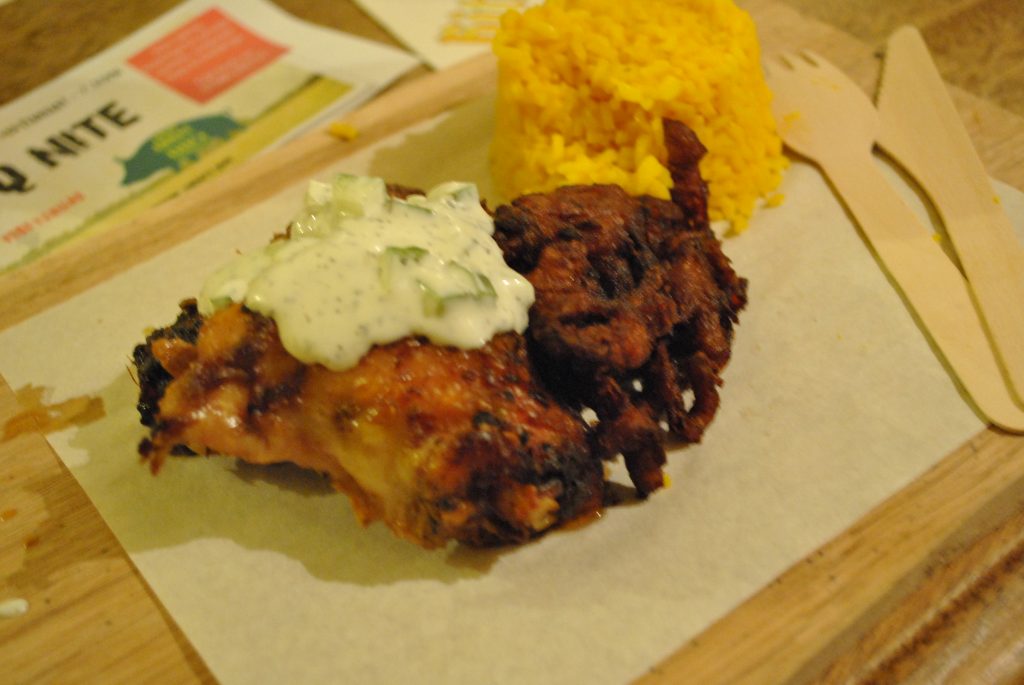 Last meat course then. Enigmatically described as "Porkie Pie Ploughmans", it was indeed telling porkies! If the evening was of a more pretentious nature it could have been described as 'deconstructed', but that wouldn't give full credit to the commitment and skill on the plate. A couple of discs of pastry nodded toward that 'pie' description while sharply-dressed slaw cut against the smoke-infused meat.
Two hour apple and maple "big pit" pork was a perfect headline: meat dropping aside at the merest suggestion of a forking, infused with (not overpowered by) smoke and with a sweet glaze… beyond reproach. As with previous courses the quantities were generous, indeed challenging, so we bothered the staff for some foil and awaited dessert with the tiny amount of space remaining in our digestive systems.
A small plant pot filled with chocolate "Mouse" wore a layer of edible "soil" with a few shoots of cress reaching from it and a slightly redundant jelly snake recumbent around the rim. Crunching through the wonderful topping and letting the light mous(s)e dissolve in the mouth left a chocolate pebble sat in the bottom of the pot, handily plugging the hole in the base!
The price on all this? Twenty quid. One of the nicest parts was even still to come the following day: the leftover pork made a fantastic sandwich! Ridiculously cheap and in a fantastic venue, I can't recommend enough getting yourself to one of these nights. It really is a cracker, whether you're called Jack or not.
Disclosure: The food was complementary, though no editorial requests were made with regard to this piece.