I don't know where to start with this one. There's been so much hype and positive publicity around the Man Behind the Curtain that this review is likely just going to be another to throw on the pile of praise. Still, I can't shirk my duty so here we go.
After his adventures in York with the Blind Swine, Michael O'Hare set course for Leeds and found a new home on the third floor of an upmarket clothes store (we spotted one jumper that far exceeded our bill for this meal), just difficult enough to find to qualify as cool. Since then, you may have seen him making a national name for himself on the Great British Menu and heard about his receiving a Michelin star in double quick time. Demand is understandably huge so it was after months waiting that we found ourselves ascending in a lift with expectations so high that I was concerned the lift would need extending to reach them.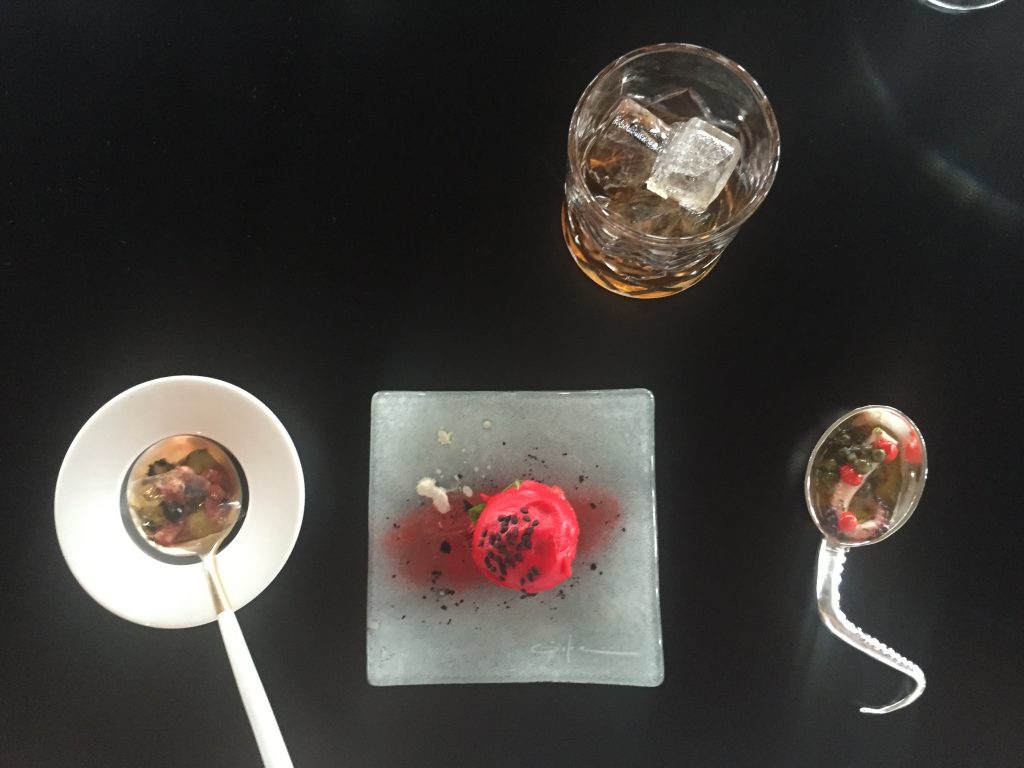 As we exited the lift, I have to admit I had a pang of trepidation. Would the inevitably younger, prettier and cooler staff sneer at my tucking my shirt in as a half-hearted attempt to meet the dress code? Thankfully not. We were seated quickly and efficiently and, while certainly younger and prettier than me, the staff were also enthusiastic, knowledgable and friendly to a fault. We confirmed we wanted the full seven course selection and the food started to arrive quickly, prepared to a wonderfully high standard which didn't dip through the whole menu.
We started with an oyster simply presented with blackberry vinegar and a 'pearl' of emulsion, the sharpness of vinegar not overpowering the throat-coating oyster saltiness.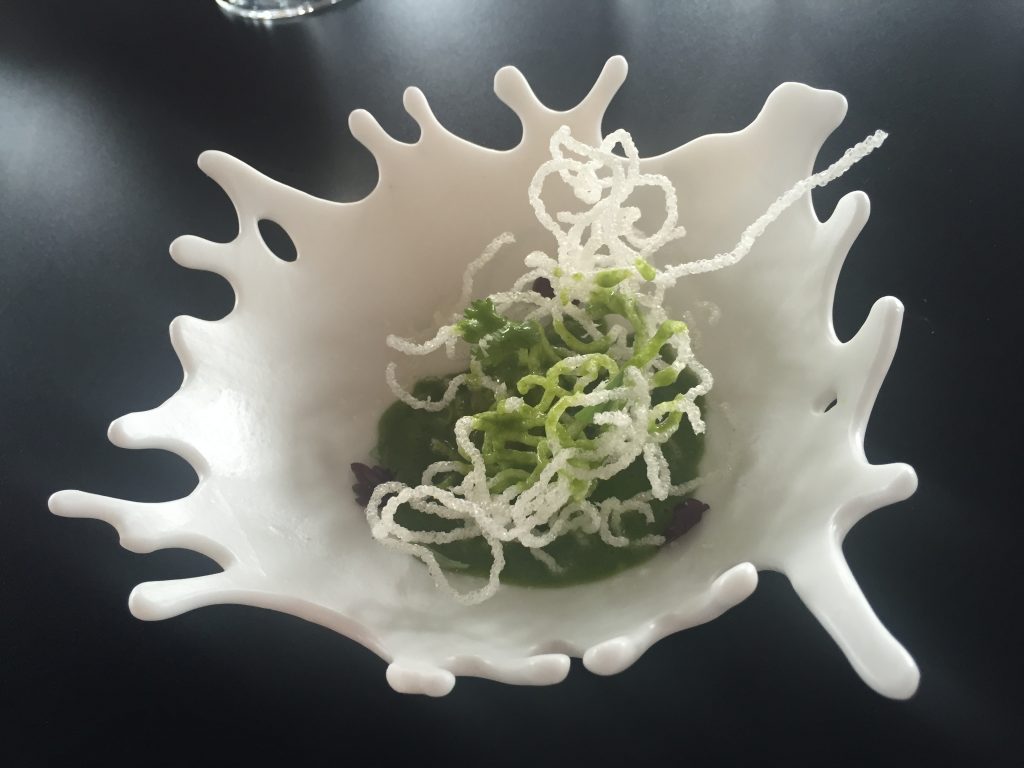 The next course was the first to really underscore the invention and fun coming from the kitchen. A selection of three mouthfuls: hand-massaged octopus, caper and lemon butter, and paprika emulsion; XO steamed bun, veal sweetbreads and pickled shiitake; and raw wagyu and rendered fat. All three were wonderfully presented and proportioned to deliver a single bite of complementing flavours and gorgeous textures. Along with those mouthfuls, we had a vermouth that was flavoured with olives and lemon. Neither too sweet nor sharp, this really pushed home the care that had gone into the food and drink pairings.
We were then presented with salted hake throat and a tripe dumpling. Perhaps not the most appetising sounding dish (my mother-in-law made a memorable face when I described this to her) but delicately adorned with saffron and imbued with subtle flavours, this was an absolutely wonderful plate.
The langoustine Thai green curry with crispy rice noodles and parmesan came in a beautiful piece of crockery resembling a splash of white on our black table. Thai curry may sound quite conventional, but if you've seen @hairmetalchef on Great British Menu or sensed the theme of this review, then you'll realise that not much is going to be predictable here. The curry sauce was poured over the dish as we stirred the noodles through it, as instructed, for ten seconds to get a variety of textures from the combination.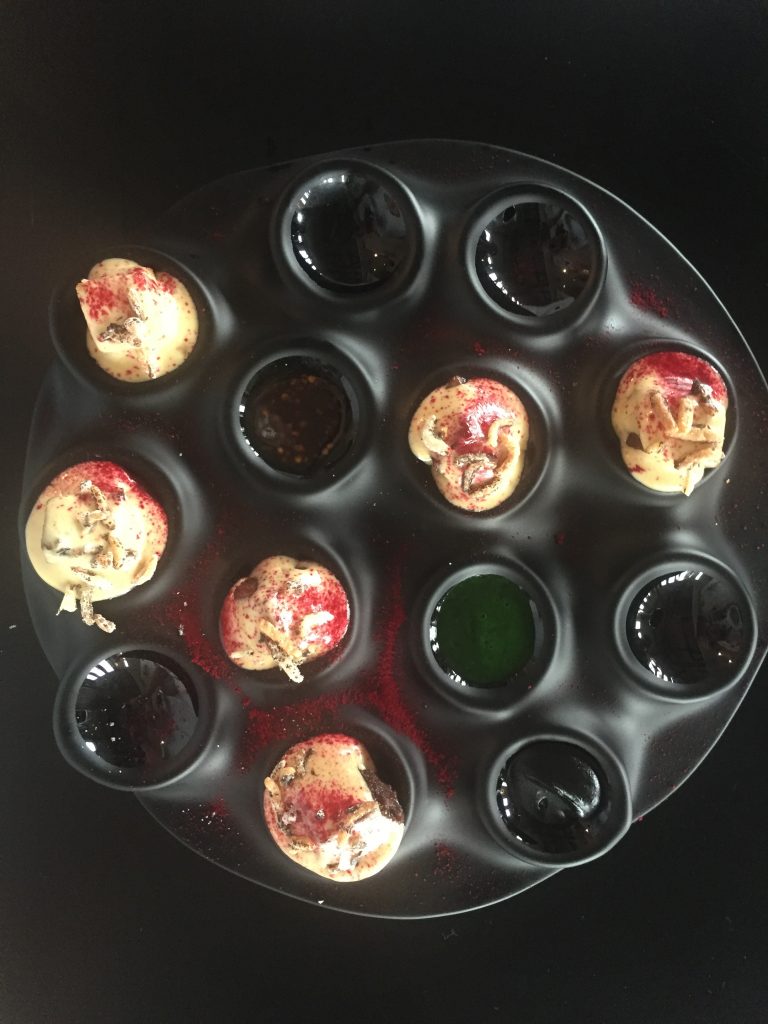 More playfulness followed with a dish so black it could have been a Spinal Tap album cover or a Douglas Adams plot device. Described as black cod, dashi, potato, ink and vinegar, the simple presentation was accented with gold. A bowl of tiny deep fried crustaceans followed the same aesthetic.
After a period of squid ink removal from hands and faces, the next course arrived. Presented in the indentations of a circular dimpled plate, the mouthfuls of ox cheek were stunningly soft. Contrasting flavours filled some of the other indentations and gave rise to wonderful flavour combinations; the truffle in particular led to us dropping any pretence of dignity as we mopped it up with our fingers.
With all the savoury dishes done, the next bowl featured potato custard, bright silver tempered chocolate, violet ice cream and potato puffs. By this point, the staff were openly amused at our reactions when they checked all was well and this dish just left us in fits of giggles. I've refrained from voicing opinions about any of the previous dishes as it seems wasteful to write the same thing repeatedly. Every plate was as surprising as one might hope from someone with Mr. O'Hare's reputation. While all complex and very precisely presented, there was no hint of anything being done for the sake of form that didn't deliver 100% in function and flavour. The surprises had kept coming and our mood lightened further with each plate, hence by this point giving up on trying to complement the serving staff and just giving a conspiratorial giggle.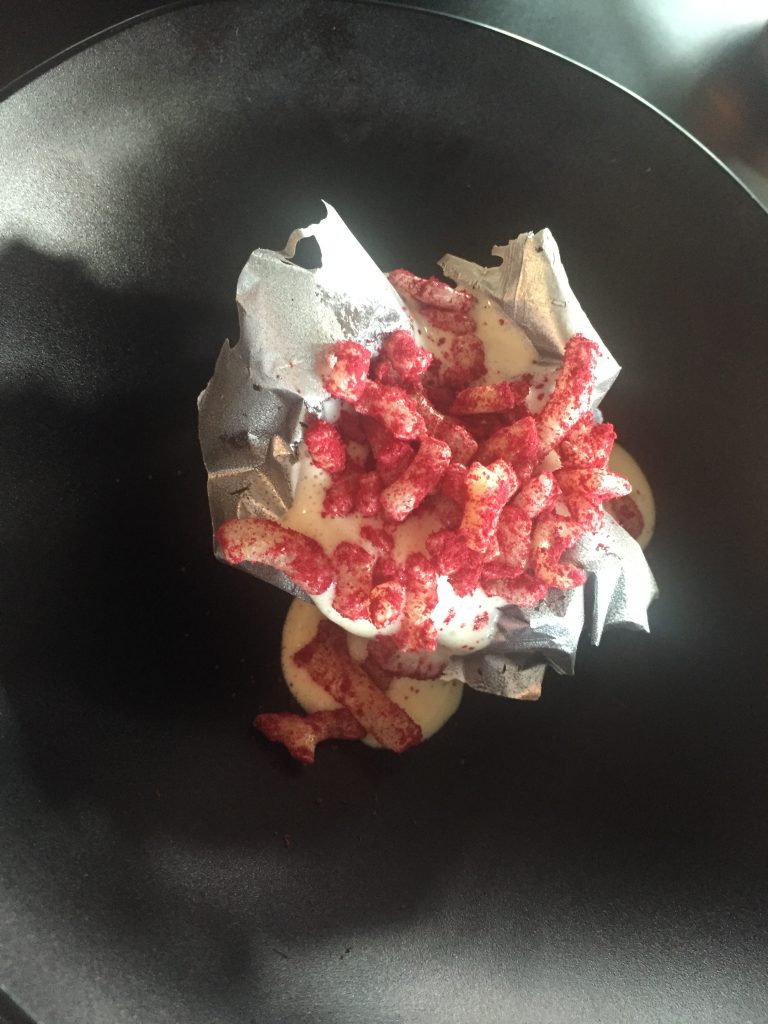 The final dish of cucumber and lime sorbet drew a suitably fresh-tasting line under the sequence and we finished with a couple of praline and passionfruit bites that could have served as a distraction from the bill if there was somehow any lingering belief that you'd pay less than all of your money for this food. In fact for two of us to have the seven courses, a single wine pairing to share, a decent tip and a couple of extra drinks the final number was £240. Fair enough, that's a a lot of money for a meal for two, but in the context of superb restaurants I believe represents excellent value for a meal that I'll be going on about for years. Raid your savings, assault your credit card, sell your pets or even an organ, just get yourself there and enjoy the ride.