I've already had a good moan on here about how hard it can be to eat out as a Coeliac sufferer so the invitation to go and try a new gluten free menu just outside York at the Durham Ox in Crayke was a very welcome opportunity to reopen that debate.
Venturing out of York on a Tuesday evening after borrowing transportation from a generous friend, we found it just a short hop from home on the other side of Easingwold. Crayke is a picturesque village with The Durham Ox in Crayke at its centre, I'll be looking out walking routes that could end in a pint here over the summer!
Being welcomed into the friendly bar and presented with menus, I made a couple of notes that warranted further discussion. While every precaution is taken, and there are no gluten-containing ingredients on the menu, it should be noted that the kitchen does work with gluten-containing ingredients, so there remains a risk of cross contamination. That's the kind of comment that's hard to judge how to take without knowing the lengths that the owners feel reasonable. Still, let's check the food out and come back to that later.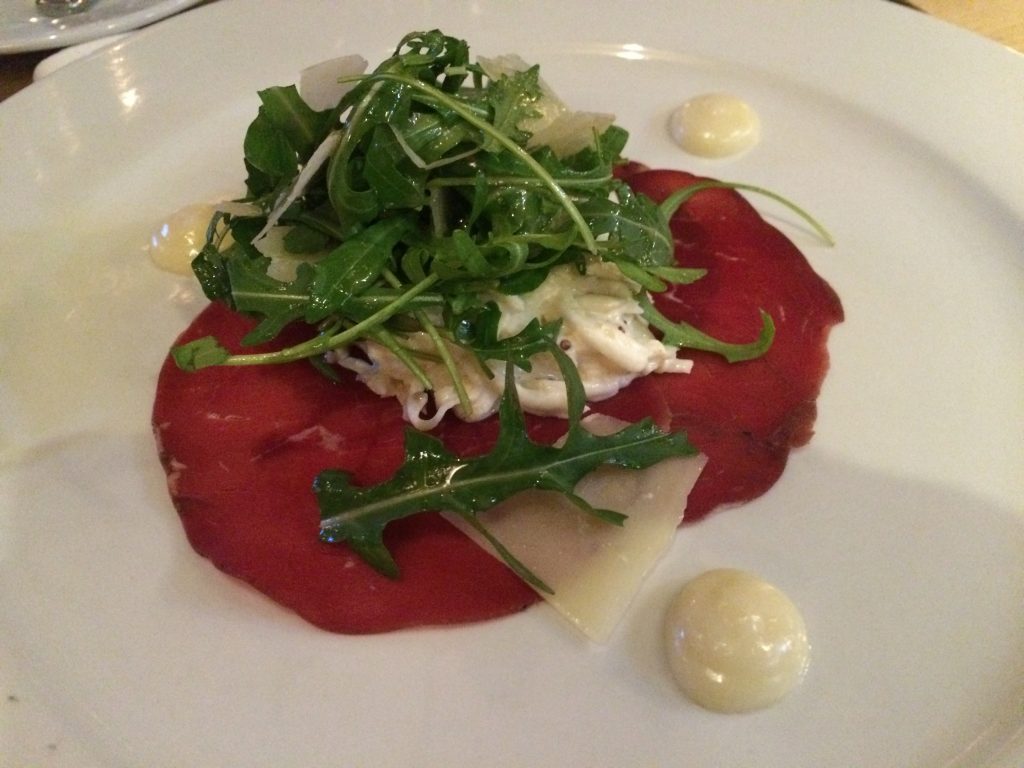 I started with a beef carpaccio dressed with celeriac and shavings of parmesan, while my companion tried the prawn cocktail. The celeriac was the most notable flavour in the dish, perhaps to the beef's detriment, but wasn't overpoweringly dressed. So often dressings like this are lip-swallowingly tarte, but here the softness of the beef was complemented nicely, strong parmesan interspersed amongst the textures.
The prawn cocktail sat on a bed of finely shredded lettuce and was complemented by a trio of roasted baby tomatoes. Another well-flavoured sauce had a nice tang of tomato to the prawns. This is a difficult dish to really make exceptional, but this was a more than respectable stab at it – crunching lettuce, tangy sauce and soft prawns and a good balance of quantity and flavour.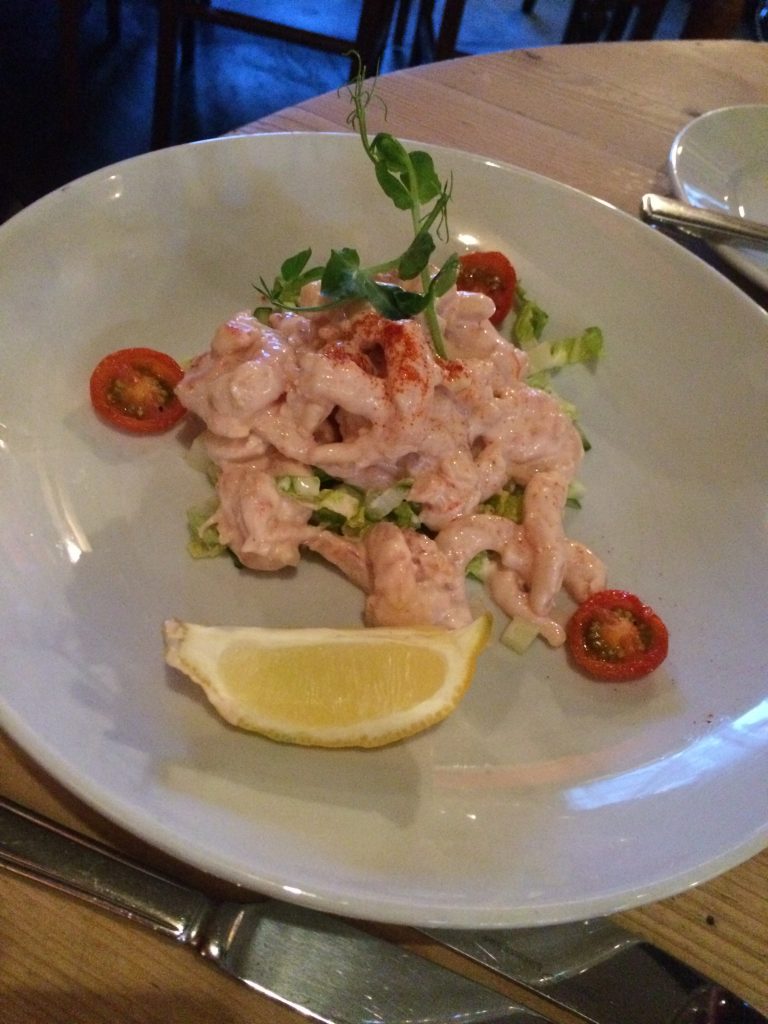 We were also given gluten-free bread on the side which was perhaps a touch bland – though in mitigation, I've eaten much worse gluten-free bread – but as it was livened up with tapenade to give a little more heft, it was more than acceptable.
Next up we got stuck into our mains of lamb rump and eggs Benedict. Lamb can be a bit of a balancing act between rare and undercooked, so it was a relief to find it still moist but no longer requiring butchery. Roast new potatoes soaked up the well-restrained jus. The chargrilled veg on which the lamb was perched weren't quite such a success; they were charred without being burned but losing some texture after sitting in the jus. Still, a well-executed dish full of flavour.
The eggs Benedict gave up big, runny yolks over crispy bacon with a smothering of Hollandaise (rather predictably I guess) that, in the words of my companion, was "the winning part of the course". The gluten-free muffin was maybe a touch denser than normal, but acceptable given it was still there (often the casualty of making a meal gluten-free) and given the absence of gluten.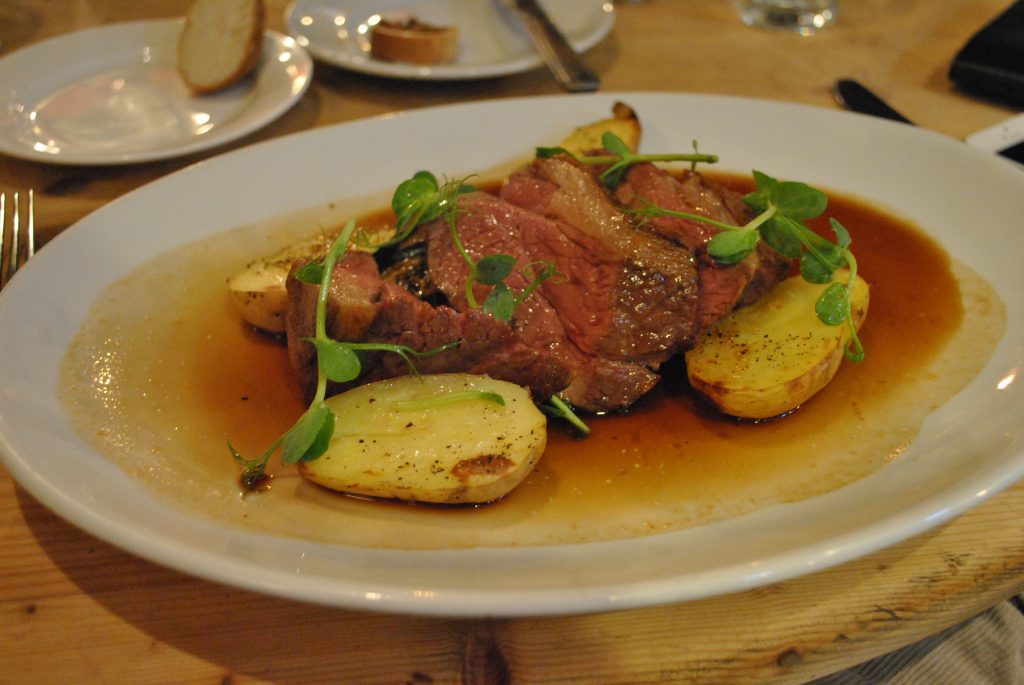 I gave up at this point, but my companion struggled onward to a dessert of hot cherries, accompanied by cherry ice cream and mousse. I'm reliably informed that this was an unusual dish that made an interesting fruit-based sweet option that was something other than a fruit salad. When pushed for criticism, I gather that a larger chocolate element would have helped, though I suspect that's a point the commenter would make about most things in her life!
So having established the food is worth it, what about those cross-contamination issues? I'd intended to discuss it with the chef on the evening, but being a busy service I didn't feel it fair to start demanding information, so I've been in correspondence since then. The amount of detail in the reply speaks well of the restaurant's understanding of the issue. If the response had been short enough to include here, it wouldn't have been as reassuring! Perhaps another step to give even further reassurance would be to aim for Coeliac Society accreditation.
We had a lovely meal at the Durham Ox in Crayke with friendly service and the concerns I had about cross- contamination were answered openly and with apparently knowledge of the subject. I'd certainly call that a success!
Disclosure: We were invited to sample the gluten free menu and as such didn't have to settle the bill for this meal. All opinions are, of course, impartial.