When I started this site just a few short months ago, the first place I chose to feature was The Star Inn the City. Its newness seemed a neat match to the beginnings of this site while expectations were high after previous visits to its elder sibling in Harome. Those high expectations were met, so I came away very impressed and determined to pop back as soon as time and funds permitted. However in trying to get round as many of York's places to eat, my only repeat visits since then have amounted to breakfast and cold drinks on the terrace, So, when the Chef Manager Matt suggested I come back and take a run through of the updated menu, I was only too happy to accept the offer.
There needs to be a clear disclaimer at this point. As I say, I was invited back to The Star Inn the City and as such didn't foot the bill. For context, the bill for two would have come to roughly £150 + tip. I hope if you've read anything else on here you'll realise that, while I don't make a point of finding criticisms for the sake of it, I'm honest enough to make constructive points.
Receiving a warm Star Inn the City welcome (predictably I guess given the invite) we took a drink in the bar before getting stuck into the food. The Yorkshire Lager is nicely refreshing and at only 4.2% doesn't pack an undue punch or sacrifice flavour. Something I've previously proved in the hot sun on the terrace. For the sake of balance, on that occasion I had a good whinge on twitter about the slow and disorganised service.
Before we took our table the Chef Manager, Matt, joined us to say hello and explain the thinking behind the dishes he'd picked and highlight the local provenance of the ingredients. Confirming that we'd no dietary requirements or allergies our waiter, James, was introduced ready to pick a wine for us. Not having any idea what we were about to be served there seemed little point in trying to choose blind so James recommended a Portugese Vinho Verdi that was "Summer in a glass" Fortunately he was right and can therefore be forgiven the hyperbole.
We started with summer herb soup, which was presented as its neatly-arranged constituent parts in a bowl over which broth was poured to complete the dish. The neat trick to this was the changing texture and flavour as the hot broth melts the chunks of goats cheese, further softening its flavour against the mint undertones and fresh peas. When curiosity got the better of us and we asked what herbs were in the soup, we were presented a few moments later with a comically-long list, comfortably topping twenty entries. The soup was elegantly topped with an edible nasturtium flower, slightly better to look at than swallow.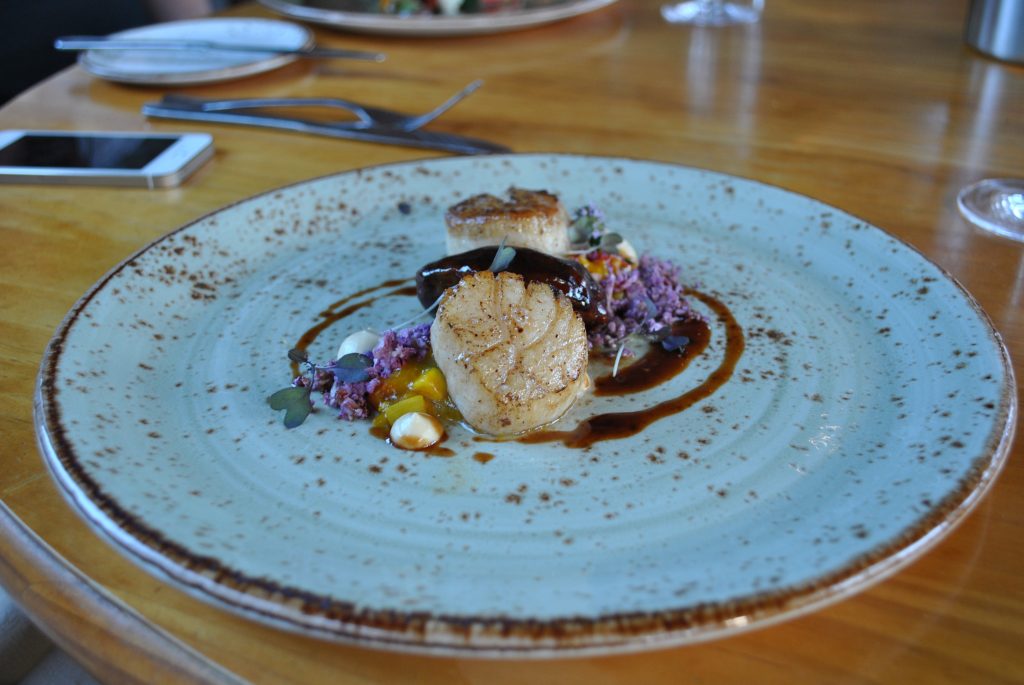 The presentation of the starters was immaculate; generous chunks of lobster scattered with soft-boiled quail eggs and French bread toasts (which it must be said seemed to bear more than a passing resemblance to the croutons in the soup) complemented the aioli beautifully. The lobster meat soft and tender, I can't recall nicer lobster outside of that there London's Burger and Lobster.
The other starter was of seared scallops with braised pork cheek set against cauliflower puree and piccalilli. Initial concerns about this being a slightly eccentric flavour combination were very quickly allayed. Coming across as a modernist 'Surf & Turf', the curry notes of the piccalilli brought out the moisture and textures of the scallops which were seared to perfection having clearly been subjected to a very high heat before a confident chef allowed the residual heat to cook them through.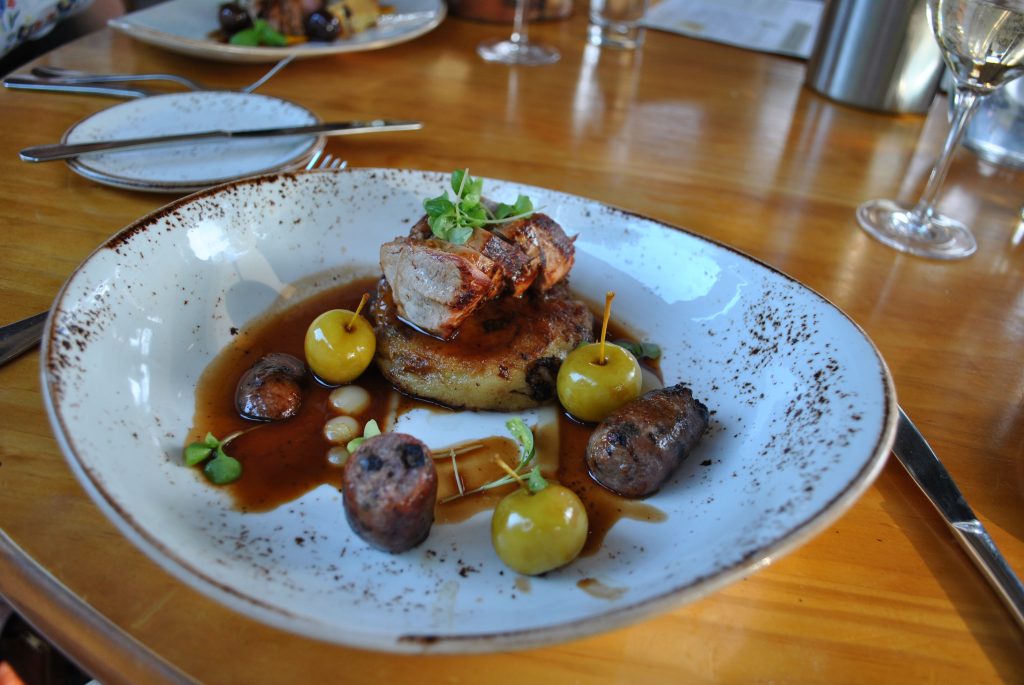 Pausing to consider the view of the Museum Gardens from our privileged table and the good weather, our main courses soon arrived, headlined by locally reared pork fillet and duck. The roast pork was presented on a bed of sage-y bubble and squeak and supported by black pudding faggots over which a cider gravy provided a sweet backdrop. I wasn't a massive fan of the granny smith puree, but that's more a reflection on my palate's foibles than the dish. However, the ethos of using local ingredients was further reinforced by the use of sweet little Ampleforth apples.
The pan-fried Beverly-reared duck breast was cooked to perfection and resplendent on a smear of carrot puree. The accompanying citrus sausage roll didn't seem to shout about the citrus part of its description but was nevertheless well-seasoned. The pickled cherries were not really to my taste.
By this point, we were firmly entrenched at our table and firm friends with James, whose close but not overbearing attentions seemed to be replicated at the adjacent tables. One thing I certainly hadn't expected was the appearance of two cocktails at this point. While I can appreciate the skill that goes into creating such generally objectionably tinted drinks, I've never had the slightest interest in trying them. Not being one to kick a gift horse in the teeth, I sacrificed my otherwise unfailingly masculine reputation and at least tried them. I may not be converted but the 'Ouse Bank Collins' with rose water, white wine and soda was light and refreshing. Accompanying these, a delightfully light raspberry sorbet was served over a few locally picked berries which formed an excellent palate cleanser.
Moving onto the home stretch, belt notches loosened as required, we fought our way through the final course. You may have gathered by now that I'm not hugely keen on sweet flavours but the 'York Coffee Emporium' lived up to a touch more of James' hyperbole, cream topping scattered with a few coffee beans giving way to ever darker flavours. The summer fruit terrine was equally well received by my partner: "This encapsulates everything that's beautiful about an English summer!" she exclaimed.
As I tried to work up the enthusiasm to walk home over an espresso, Matt removed himself from the kitchen to chat things over and see what we thought, showing openness and enthusiasm as he discussed how they'd resolved earlier issues in the kitchen by changing the relative complexity of the starters and mains.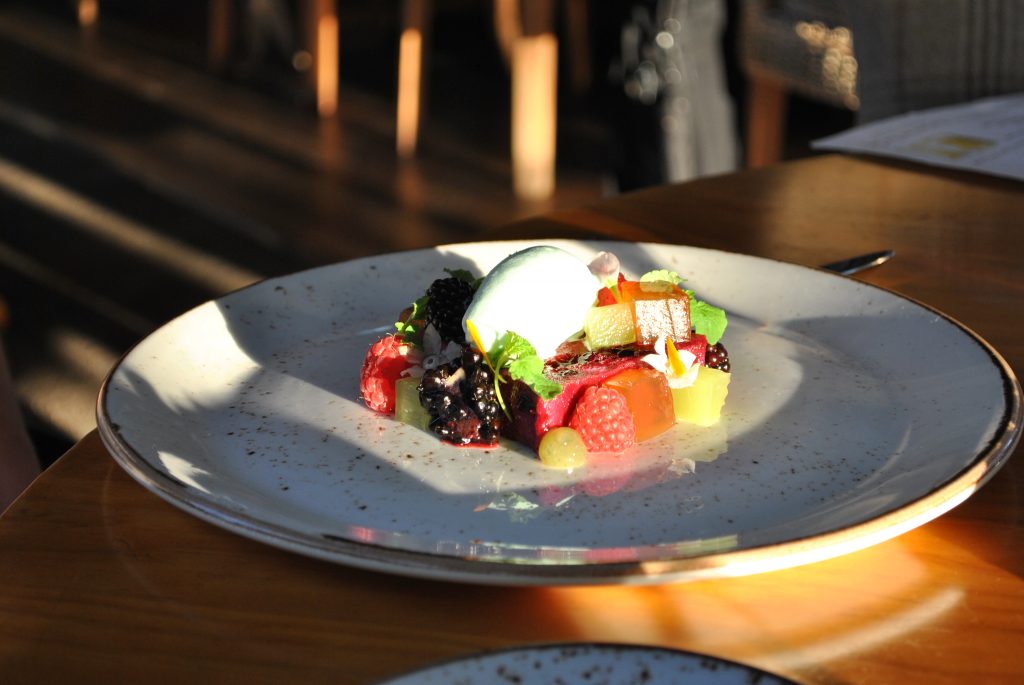 It feels to me a little jarring that recent Tripadvisor reviews of the Star Inn the City have felt pretty harsh to the staff here. As I type this, recent reviews are headlined: "way overpriced", "just ok", "good but not great", "very satisfactory", "atrocious", "not bad but…"
As a rule, I read only the worst reviews on Tripadvisor. At best, they highlight the author's personality and as such give a better idea of what any problems might be and at worst they're funny, or prompt an amusing indignant response from the owner. I was surprised to see such a range though and found this subsequently backed up by friends without agenda whose opinions I trust.
I probably need to call into question my impartiality again at this point as I reiterate that I didn't pay for any of this meal, but I can't really see where they're coming from. Perhaps the Star is striking into an awkward middle ground, neither presenting a hugely complex and labour-intensive Michelin-starred experience or a back-to-basics focus on simplicity. Yes, it's expensive and if I'd been assaulting my own wallet there're a couple of things I'd have skipped, but don't forget I have been here before on my own ticket and left feeling like the meal had been good value – something that hasn't been the case on leaving other expensive York restaurants.
I think that hitting that middle ground is the Star Inn the City strength. This meal is at the extreme end of what they can offer but if you want to sit on the terrace for a quick pint, that's fine. If you want a snack in the bar, then that's fine too. Order one course in a hurry or get closely acquainted with the whole menu, it's really up to you and from what I see here, the team are adamant that this flexibility joins a reliance on local sourcing policies as a bit of a trademark. I'll certainly be back and keeping a curious eye on those Tripadvisor keyboard warriors