The prospect of hurling oneself from a 30 foot cliff face into the sea midway through a testing coastal scramble is daunting. I may have done the same thing 20 years previously but those intervening 20 years have left a few physical and mental scars to add further height to those 30 feet.
St Davids is a truly beautiful place. Nestled just inside the Pembrokeshire coast, it gives a lovely base from which to explore the local walking and beaches, which provide the basis for our subsequent coasteering. Staying with a lovely couple in The Square Gallery, who provided superb coffee and closely attentive service with breakfast, we took stock of our surroundings.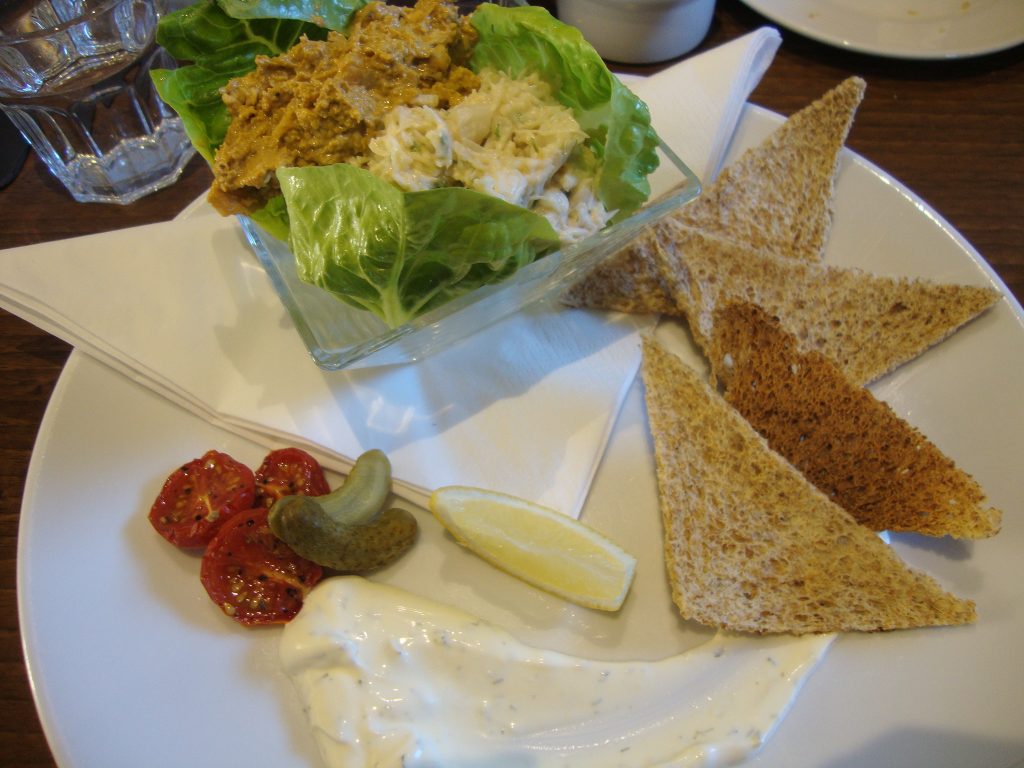 Readying ourselves for the following day, it was clear a table at the most reputed eatery in the UK's smallest city would be perfect preparation. Cwtch is Welsh for hug and brings forward all the imagery one hopes for in a hearty meal. Pre-dinner drinks were a relaxation with the day's papers in The Groves secluded, quiet and picturesque beer garden. I regret not having time to eat there.
Taking up our table at Cwtch St Davids, all boxes were found to be ticked on initial inspection. A saliva-prompting menu, welcoming staff and friendly rather than overbearing service all present and correct.
Crab pate and Gower mussels were a good way to kick things off. The crab presented in good quantity in particular, the mussels were a little gritty but subtly flavoured in a cream sauce.
A pleasant Nero D'Avola eased proceedings into the main courses of pork belly and lamb casserole. The pork belly was perfectly accompanied by delicate fronds of crackling, reaching upwards from a sweet apple sauce that thankfully didn't overpower anything. This is undoubtedly one of the best pork dishes I've encountered. Succulent, retaining the moisture of the fat but without compromising the meat's texture or descending into the increasingly ubiquitous domain of 'pulled' meat.
The lamb casserole with Caerphilly cheese on mashed potato and salsa verde struck similar high notes. Tender meat and neatly textured mash headlining things along a cut of flavour from the salsa.
I really wish I'd had the appetite for a final course but Cwtch St Davids falls victim, as do so many otherwise superb restaurants, of overstepping the quantity required for a good meal. We paid roughly £80 for two courses each and a bottle of wine, not a cheap meal so once that price point is reached it feels self defeating to serve larger portions. I'd happily throw an additional £20 onto the bill to enjoy another round of flavour. It sounds spoiled and churlish to complain about too large a portion, but my greatest respect is for chefs who can devise a meal of 3,4,5 or more courses without the diner feeling overwhelmed.
My enduring memory is not of trying too hard to eat too much, it's of that stunning pork, which it has to be said fortified my bravery for the following days exertions. I have no idea if I'd have had the same courage in the face of a fall into the sea without a good meal, but hey…any excuse.
Notes: Coasteering and cliff jumping organised by the perennially superb Twr-y-Felin with home i've stayed on several occasions since '94. Surely primarily famous as the former home of a record breaking Jack Russell
Also, Keep your legs together when falling from height into the sea, surface tension doesn't react well with gentlemen's more intimate areas