(Ad – PR visit) York has recently developed a rather disturbing habit of tearing down buildings only to rebuild something of equally debatable merit on the same site. Older more notable buildings are obviously protected from this trend but, with the welcome exception of Stonebow, it's rare to see some of the less well conceived modern buildings given much of a glow up. The former Yorkshire House is a fantastic exception to this though, turned from a rather dispiriting insurance office (I can personally attest to this) to a thoroughly modern hotel complete with all the facilities you'd expect with bar, gym, spa, Starbucks, meeting spaces, the Sora Sky Bar and of course a restaurant in the form of Malmaison Bar & Grill at Malmaison York.
It's really quite hard to overstate how much of a journey this building has been on. Other than an impressive wood panelled boardroom, it was festooned with meeting rooms formed of miserably thin walls and 'motivational' posters. Guests won't get a hint of that now though as they enter to a brightly lit, split-level foyer which does a good job of naturally sign-posting guests toward the relevant bit of the building, Malmaison Bar & Grill for us on this occasion. This overlooks what will become the Roman Quarter in due course and is situated just past the bar if you fancy an aperitif. The menu has plenty of bistro staples such as burgers and steaks as well as some more adventurous options which, naturally, my companion and I were drawn to.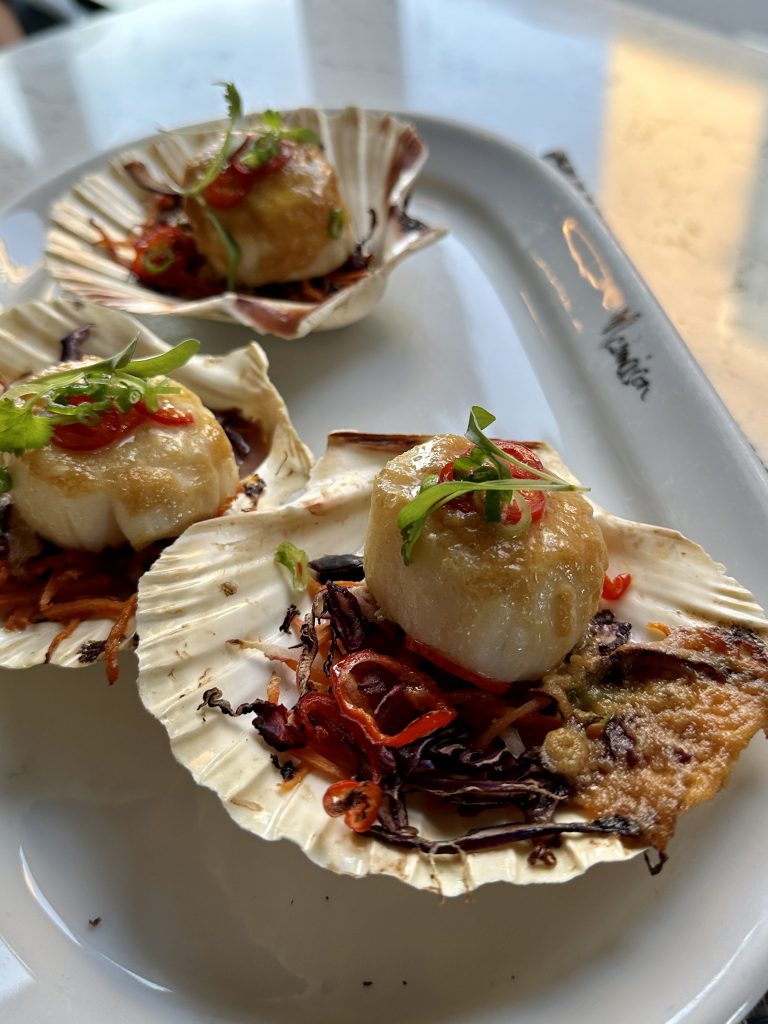 With a very drinkable bottle of house ('maison?) white on the table we were quickly onto our starters which variously featured scallops, beetroot and salmon. Three plump scallops made up one of the dishes and were presented in their shell atop a lightly pickled slaw and a hint of miso and lime butter. Those accoutrements could have been a touch punchier but I'm unlikely to argue too hard in the face of delicious shellfish. Salmon and beetroot is a well trod combination for good reason and this starter was a great example of why. Slightly bitter endive gave a welcome extra element to offset the sharpness of the pickled beetroot and light smokiness of the hot smoked salmon and horseradish cream was also welcome.
Moving onto mains, first to the table was seared sesame crusted tuna with bok-choi and a chilli, ginger and lime dressing. After getting over an initial hint of shock at the amount of tuna I was enjoying myself and finding all the fresh, light flavours I had hoped for. This was a serious chunk of tuna served fairly rare, fine with me but one to be aware of for those less comfortable with rare meat, though I had no worries as to its cooking. The rack of ribs that graced the other side of the table fulfilled all of the recipient's desires to get sticky fingered and stuck in, the bones easily slipping out to leave succulent and smoky meat that was given relief by another light slaw. On our server's advice we had ordered a truffled spinach gratin to pair with the ribs which exhibited a sensible amount of truffle against the earthy spinach.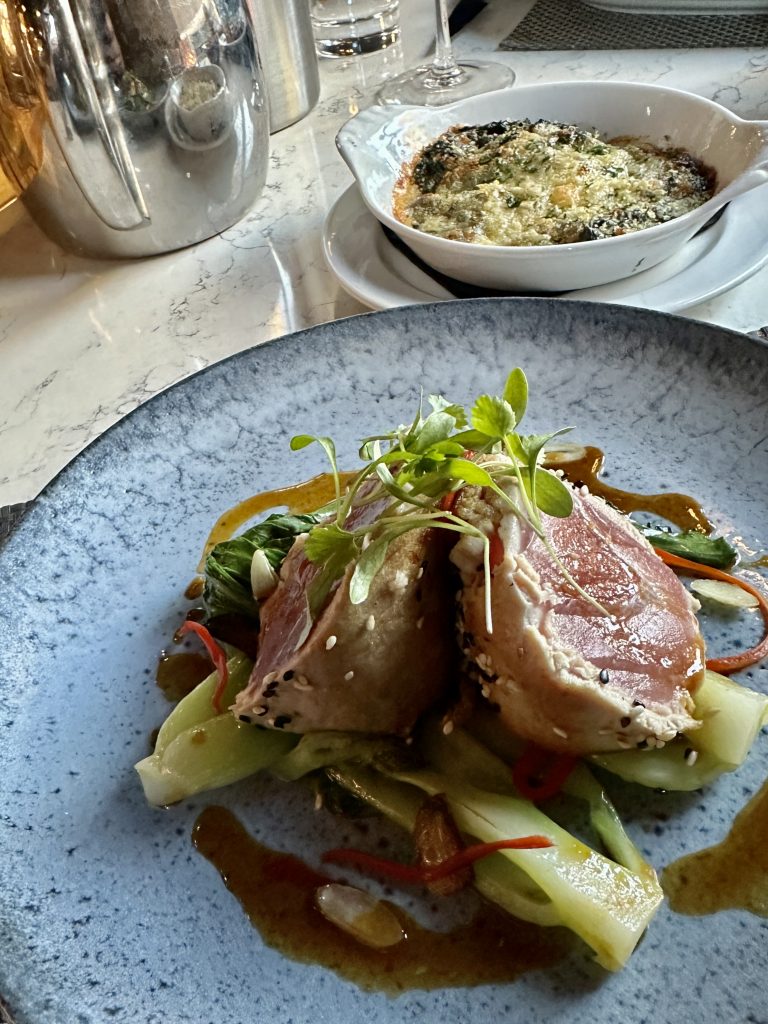 Dessert had to be a shared concern after those hefty portions of tuna and ribs and the 15 minute pause necessitated by selecting the Valrhona chocolate molten pudding gave a further pause in which to recover our composure. When it arrived this was red hot (molten even), gooey, rich and powerful with chocolate for a real sense of indulgence. Salted caramel ice cream on the side lightened things effectively and would be further improved by a bolder punch of salt to further offset the richness of the chocolate.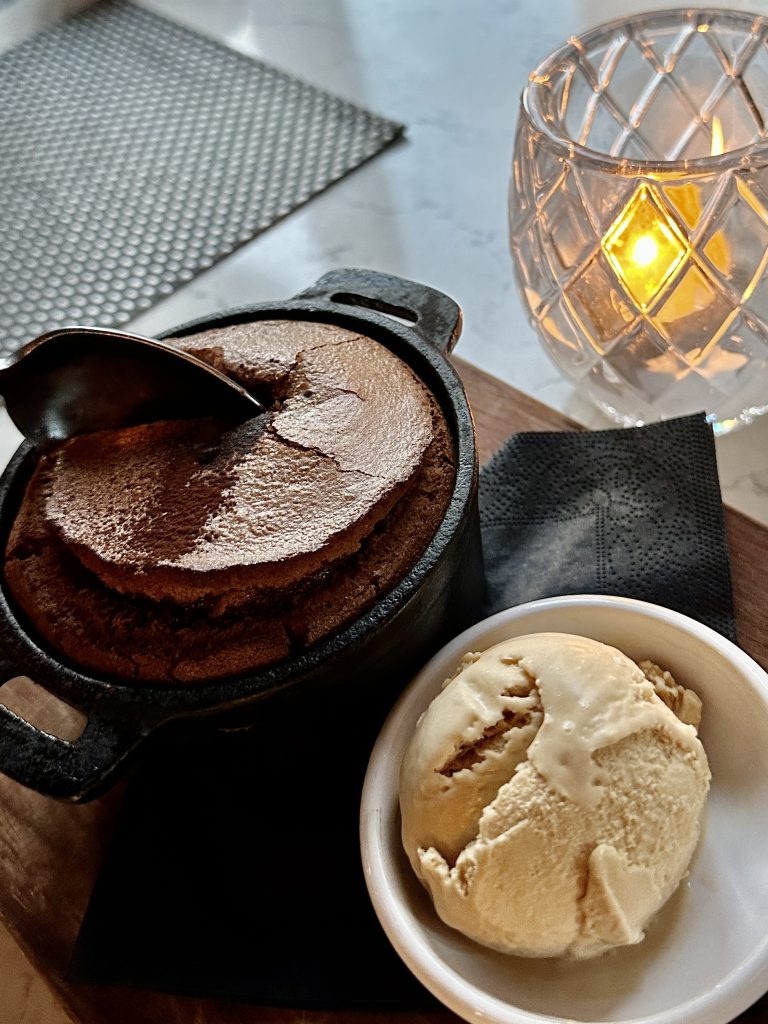 By now I'd largely forgotten the interminable workshops and inductions that this structure was previously home to, a strong testament to both the repurposed meeting and the meal we'd enjoyed. Malmaison brings a striking new hotel to York in place of a dour office block and augments it with a good restaurant, chilled out bar and a unique sky bar. Seems like a pretty good deal to me.